The island of the gods is not only a destination for culture and travel, but also for leisure and luxury. Dive into a truly heavenly Bali spa , from the traditional to the modern, with signature treatments, memorable destinations and award-winning holisitic experiences. 
Bali Spa : The Islands Most Luxurious Spa Destinations 
---
DaLa Spa
Driving north to the land of wellness, Ubud, Alaya Ubud Resort's DaLa Spa should be marked as your first stop – it is one of the iconic Bali spas. Designed to take the experience of Balinese relaxation to the next level, the spa lies next to a rice terrace and overlooks a small flowing river, creating the perfect vibe for a spa therapy session. DaLa Spa is all about vintage decadence with a contemporary twist. Offering a carefully-researched selection of pampering and healing treatments, their spa products are derived from the purest, natural ingredients.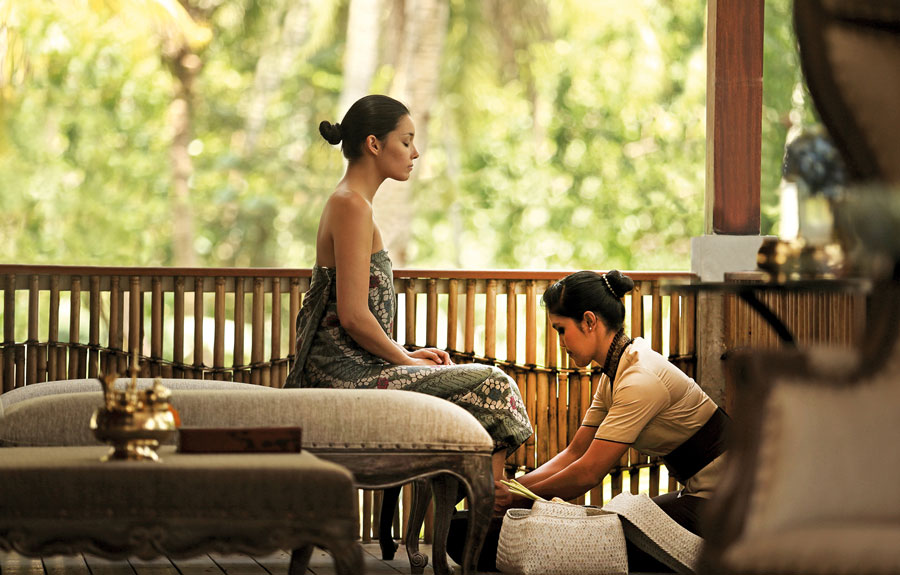 For some unique experiences, the Manis Klepon treatment is a nurturing ritual that draws inspiration from a traditional Indonesian rice flour cake. The treatment involves a foot wash, palm sugar scrub, body mask, fragrant flower bath, relaxing massage and some delicious sweet treats at the end. Another speciality is The Island Cocoon treatment that pays homage to a timeless Indonesian skin care remedy. The treatment includes a refreshing foot wash, warm body compress, body mask of grated corn and coconut cream followed by a herbal bath and warm stone massage to end the treatment.
Address :Alaya Ubud Resort, Jalan Hanoman, Ubud
Telephone : +62 361 972200
Website : www.dalaspa.com
---
So Spa
In the Nusa Dua area, you can awaken your senses and be re-energised at So Spa. The exhilarating and rejuvenating experiences in this Bali spa are the result of mixing ancient traditions from around the world with the skill and refinement of the latest in French cosmetology. Their Canadian Deep Tissue Massage treatment is created to restore and heal over-used muscles by focusing on sore muscles with a deep tissue massage. These over-used muscles are the result of doing heavy exercises or too many hours sat at a desk. The treatment is designed to strengthen the body's vital energy to emerge with a renewed spirit.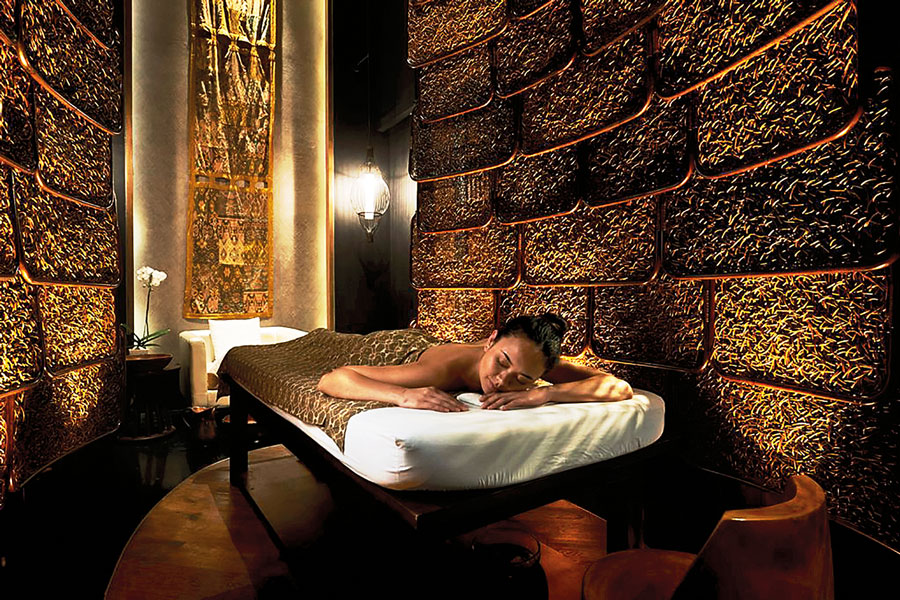 So Spa
Address :Sofitel Bali Nusa Dua Beach Resort, ITDC Complex, Lot N5, Nusa Dua
Telephone : +62 361 8492888
Website : www.sofitel-bali-nusadua.com
---
Heavenly Spa
Still around the neighbourhood, the Heavenly Spa by Westin™ at The Westin Resort Nusa Dua offers uplifting spa experiences to restore body and soul. The Westin Resort Nusa Dua has recently succeeded in achieving the prestigious acknowledgement of being a Global Winner in the Luxury Wellness Spa category of the 2017 World Luxury Spa Awards. With their comprehensive packages, you can expect to experience pure bliss to thoroughly rejuvenate you. Focusing on holistic wellness and Balinese traditional healing practices, this Bali spa aims to put you in a state of total relaxation.
If you are coming with your loved one, opt for the Heavenly His & Hers treatment for some quality time in a double treatment room. During this His and Hers ritual, gentle breathing techniques and energy balancing are followed by a signature traditional scrub for the male. You may want to come 30 minutes earlier before the treatment to enjoy the thermal facilities at the spa. The Herbal Steam Room is perfect for achieving an overall detoxification of your body. If you have respiratory problems, add a eucalyptus essential oil when using the steam room. For those in need of releasing some negatively-charged ions in the body, Himalayan Salt Wall Sauna allows your body to reduce stress, increase energy and boost your mood at a biochemical level. The next best preamble to entering deep relaxation and to relieve pain is to loosen-up your muscle before the massage. The shower and jet pressure at Hydro Jet Pool helps to stimulate blood circulation and treat the symptoms of certain diseases.
Address :The Westin Resort Nusa Dua, ITDC Complex, Lot N3, Nusa Dua
Telephone : +62 361 8498888
Website : www.westinnusaduabali.com
---
Henna Spa
Not far from the Nusa Dua area, in Jimbaran, Henna Spa is devoted to enhancing overall health and well-being by offering a mix of authentic healing massages and ritual treatments. Surrounded by the deliciously heavy scents of sweet frangipani, cinnamon and cloves, the sumptuous-designed spa suites provoke an intimate sense of calm. Escape to serenity that you deserve with their Aroma Therapy Massage. As the exotic fragrances of pure essential oil are massaged on your body, a shower of sensory delights will invigorate your mind and spirit.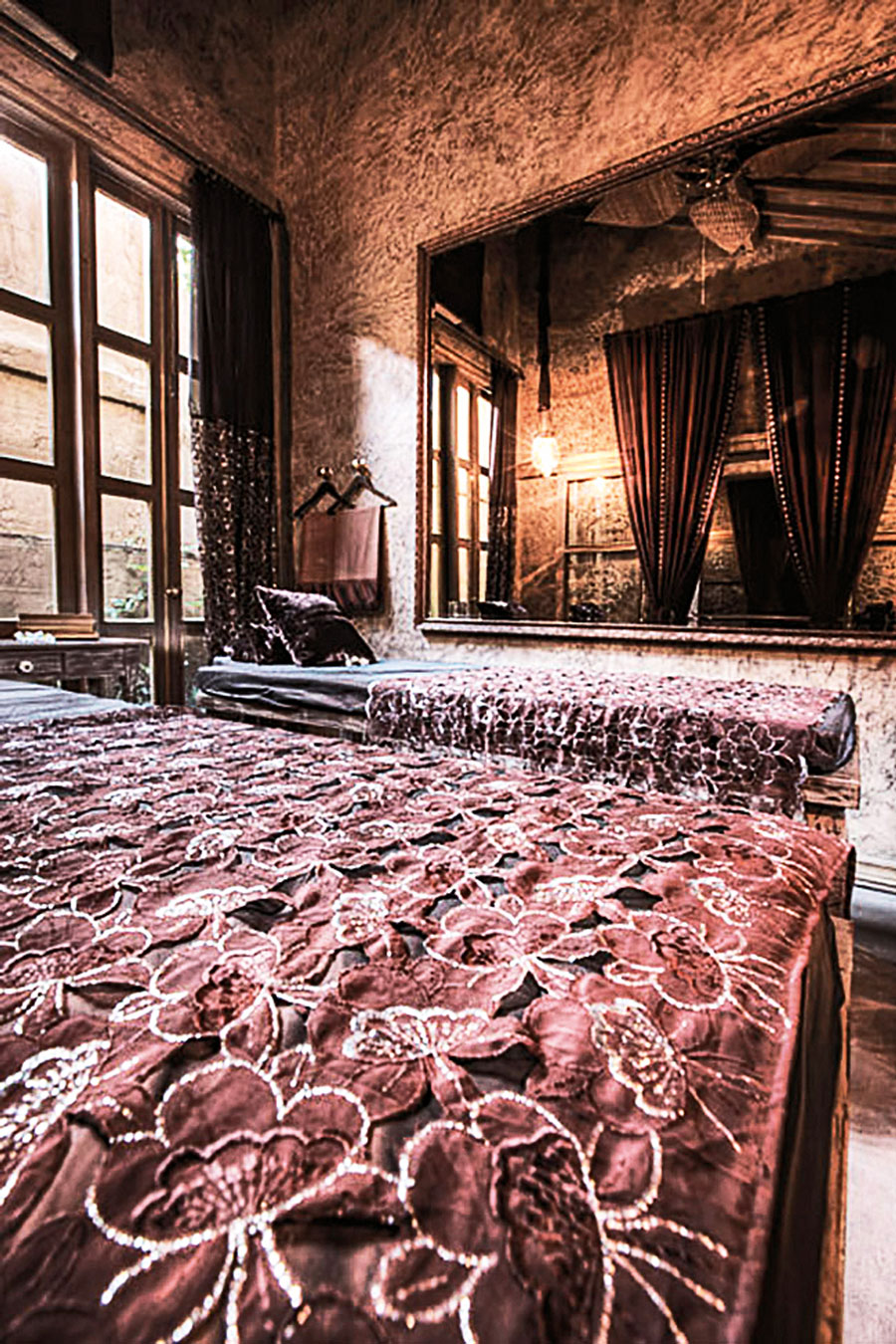 Address :Balquisse Heritage Hotel, Jalan Uluwatu 18 X, Jimbaran
Telephone : +62 361 701695
Website : www.balquisse.com
---
Sakanti Spa
Driving less than 30 minutes on the way to Kuta Beach, The Energizing Body treatment at Sakanti Spa will pamper your body and reawaken your senses. This 90-minute treatment begins with a 5-minute foot ritual, where your feet and lower legs are exfoliated and rubbed using hot mitts. The treatment will continue with a gentle massage, targeting reflexology pressure points. The Frangipani body scrub treatment comes after this. An infusion of exotic oil and frangipani flowers seal in moisture, leaving your skin delicately fragrant. Frangipani is also believed to be an antibiotic, while the effect of the essential oil will ensure the skin remains soft. The end of Soak Fresh Ginger & Lemongrass Body Bath marks the beginning of a 75-minute Hot Sands Detox Body Massage. Using fast circular movements, the frangipani scrub is rubbed onto your skin to remove any dead skin cells and brings the blood to the surface to expel toxins from the body. The treatment is completed with a short scalp massage before getting to wash off the salt scrub, leaving your skin nourished with a healthy glow.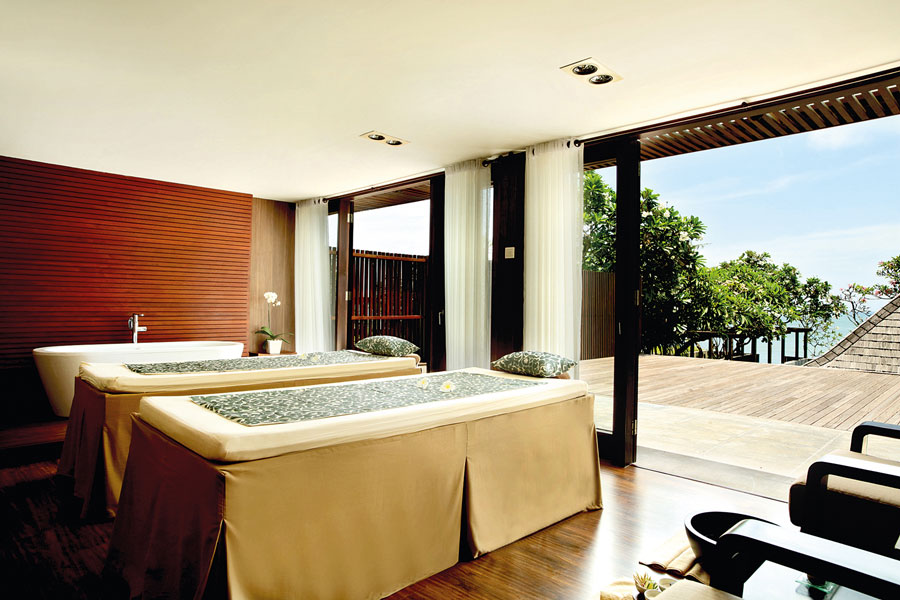 Address : The Anvaya Beach Resort, Jalan Kartika Plaza, Tuban
Telephone : +62 361 759992
Website : www.theanvayabali.com
---
Rock Spa
Facing directly towards the famous Kuta Beach, Rock Spa at Hard Rock Hotel Bali is not just an ordinary Bali spa. It is an escape, a quest to push reset, a recovery zone and a transformative realm of unapologetic indulgence. Retune yourself and let their sensual environment of the spa set the stage to seduce you into a gratifying state of restoration. Announcing Rhythm & Motion to turn up the volume on traditional massage practices. Connecting the healing power through music with the artistry of massage therapy, the massage therapist synchronises movements with an expertly curated playlist as you embark on a journey of the senses.
Retune your skin and rock your soul with a two-part treatment of a 60-minute of Smooth Operator. The treatment starts with the rhythmical Sweetgrass-inspired dry brushing to remove impurities. This ritual softly sloughs rough skin away. Closing the journey by introducing new nourishing elements with a soothing, detoxifying wrap to release impurities, hydrate and smooth the skin. Smooth Operator wraps it up on a high note! Get a 25% discount not just for this, but for all Rhythm & Motion treatment set list. This special offer is valid until the end of April 2018. To redeem the discount, you can simply mention "Now! Rock Spa" before making the booking.
Address :Hard Rock Hotel Bali,Jalan Pantai Kuta
Telephone : +62 361 761869
Website : http://hardrockhotels.net
---
Away Spa
In Seminyak, you can experience a new level of relaxation at W Bali – Seminyak's Away Spa, an almost space-age Bali Spa experience! Combining natural elements and innovative facilities, begin your luxury spa indulgence on a meditation platform to calm your mind. For the guys, you can embrace the What Men Want treatment to cover your grooming routine. Take a long stop from your hectic activities to recharge, replenish and refuel your energy in this 3-hour treatment. Start with a skin exfoliation using aromatic spices of black pepper and cinnamon scrub, continue on to boost your energy with the Balinese secret to vitality Lanang Bagus, and end the journey on your face to combat ageing with Man Up facial to keep you sharp and frosty.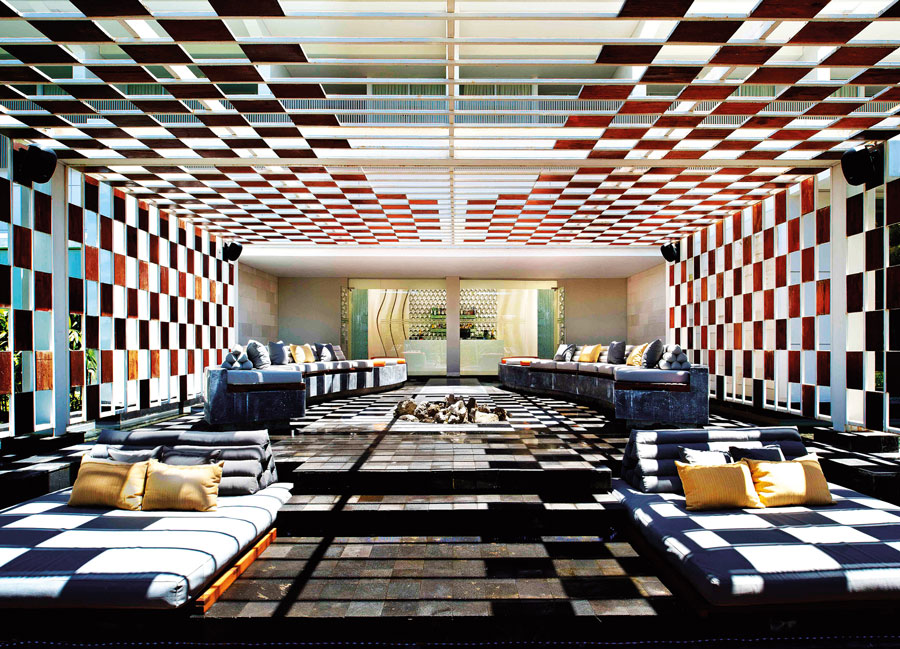 Address :W BALI – SEMINYAK, Jalan Petitenget, Seminyak
Telephone : +62 361 3000106
Website : www.wretreatbali.com
---
Dedari Spa
Back to the main road of Sunset Road, a visit to Dedari Spa at Golden Tulip Jineng Resort Bali will take you on a journey of relaxation to both mind and body. Focusing not only on pampering treatments, their spa therapists are determined to optimise your body, mind and soul. If you are looking for a treatment to stimulate the 'qi' (energy) level around your body, you can go with Balinese Isle of God treatment. This healing treatment is inspired by a classical Hindu medical science (Ayurveda).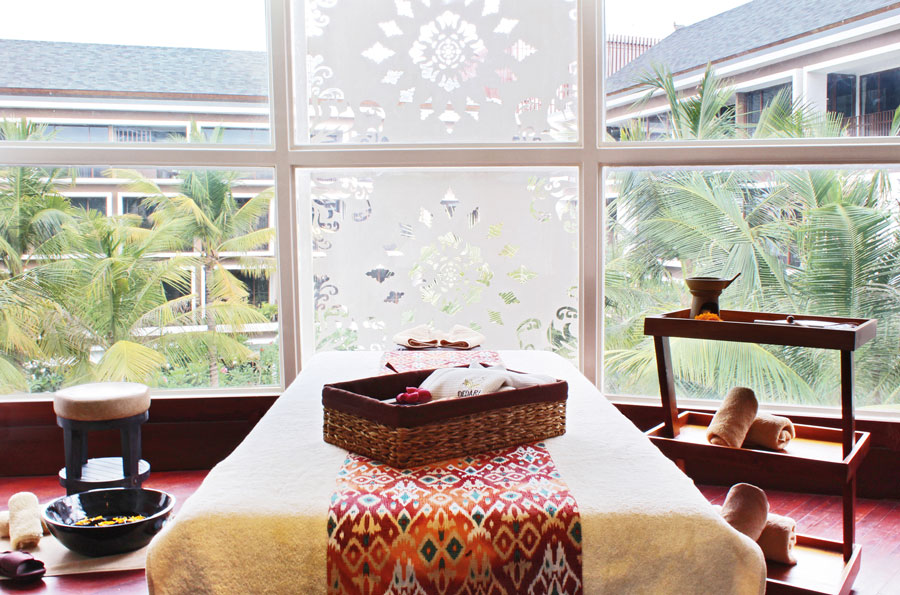 Ayurveda is the oldest healing science, forming the foundation for all other types of medicine. External factors such as stress, improper diet, lifestyle and environment can cause your doshas to become imbalanced, resulting in a variety of health problems. The main objective of Ayurveda is prevention through balance. At Dedari Spa, to bring deep relaxation and wellness, they use a combination of gentle stretches, acupressure and aromatherapy oils to stimulate the flow of blood, oxygen and 'qi' around your body. This Bali spa is incredibly conveniently located, being on Sunset Road means you could even pop in for a last session before heading to the airport!
Address :Golden Tulip Jineng Resort Bali, Jalan Sunset Road 98, Kuta
Telephone : +62 361 4727488
Website : www.dedarispa.com
---
Spa at Maya
Another 15-minute drive to the north will take you to the quintessential Ubud experience of Maya Ubud Resort & Spa. Spa at Maya is comprised of treatment villas, a café and an infinity edge swimming pool that connects flawlessly with the lush river landscape of the Petanu River. Indulge yourself in a soothing, 60-minute Maya Massage! Your journey starts at a wooden walkway along the banks of the river. During the treatment, the sound of the river whispers to you like a meditation guru standing by your side to give you total comfort. This treatment is preceded by a selection of body scrubs and finished with a pampering, fragrant flower bath, leaving you with increased inner strength and emotional balance. This is Bali spa is one of the most tranquil of destinations.
Address :Maya Ubud Resort & Spa, Jalan Gunung Sari, Peliatan, Ubud
Telephone : +62 361 977888
Website : www.mayaresorts.com
---
Lembah Spa
Only a stones throw away, Lembah Spa is situated on Ubud's most tranquil setting and magnificently perched atop a valley with spectacular views overlooking the tropical jungle, such a perfect location for a health and wellness transformation. Their views alone make it one of the most eye catching Bali spa to experience. Their treatments have been distinctively developed, merging modern western science with the age-old wisdom of Balinese healing traditions. In a Romantic Couples Treatment, they use long strokes and essential oils to relax the body and the mind during the traditional Balinese massage. Focusing on your muscles and general well-being, their therapists will make you and your loved one feel rejuvenated after the treatment. This 2-hour experience also includes a body scrub treatment with Pevonia Silky Skin Scrub, a body mask with natural yoghurt, warm flower bath and a session of relaxation through rotating between the Steam Room, Cold Pool and Jacuzzi.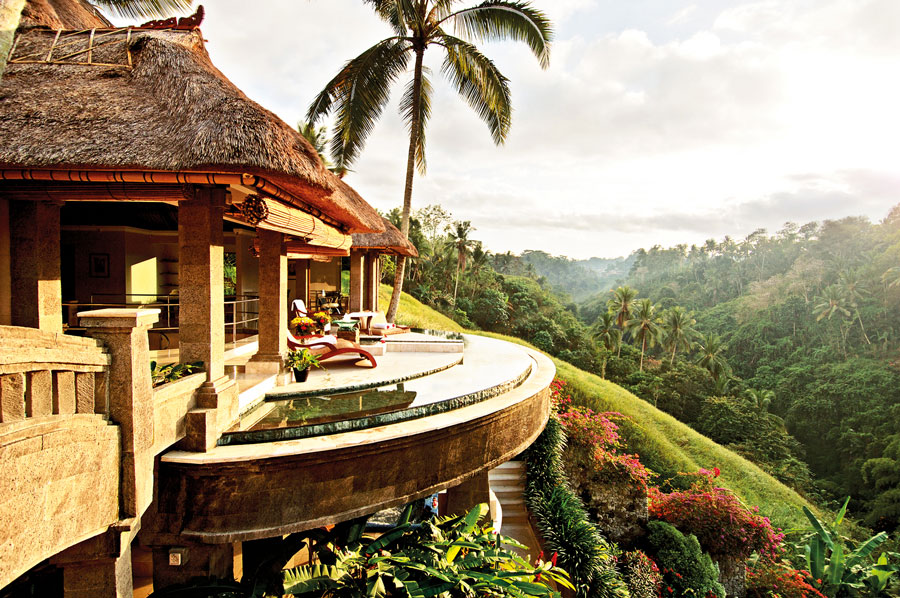 Address :Viceroy Bali, Jalan Lanyahan, Nagi, Ubud
Telephone : +62 361 971777
Website : www.viceroybali.com
---
Shinto Spa
A bit to the west side of Ubud, Shinto Spa is a private sanctuary of serenity, harmony and relaxation. Known as Bali's first and only authentic Japanese style spa, this is a place to beautify and pamper yourself in a stunning setting suspended above Ubud's lush jungle tops. You can reflect and relax as you inhale the pure mountain air and gaze out into the deep tropical gorges and an abundance of natural beauty. This is a sanctuary to discover a renewed state of harmony and bliss.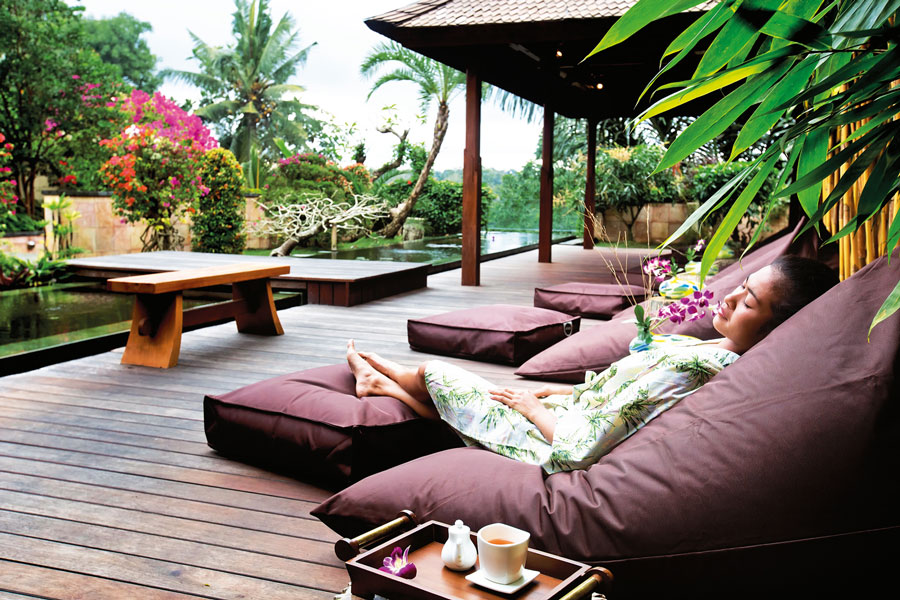 Some of their treatments are ideal after a day of fun rafting down the Ayung River. The Stress Back Relief Massage treatment is delivered using the aromatherapy benefits of Rosemary and Lemon. For pain relief of stiff, sore or pulled muscles and an energy boost, the Hot Compresses treatment can be a perfect option. The warm herbal compresses are used to massage the body gently but deeply. The benefits also include deep relaxation, stress relief and improved circulation. Definitely a Bali spa to clear the senses.
Address :Mason Adventure Centre, Jalan Raya Kedewatan, Ubud
Telephone : +62 361 8989777
Website : www.masonadventures.com