If bursting, exotic flavours of Indonesia combined with a splendid dining experience is what you are out looking for, then this new Ubud restaurant is your next culinary destination, for it's synonymous with remarkable flavours and vibrantly colourful food of the archipelago.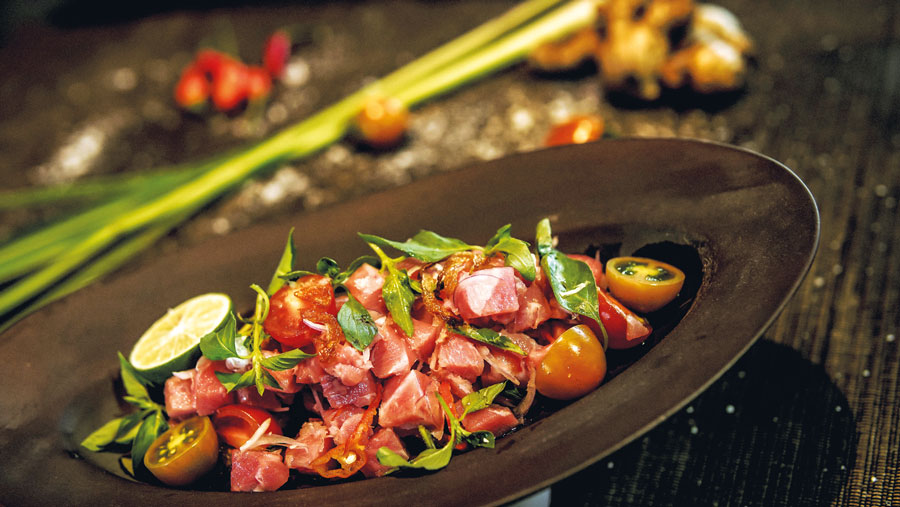 Indonesia is known for its cultural diversity. Yet even with so much diversity, there is a single common thread running through the soul of the archipelago. It is food! Bold, strong and exotic flavours are the driving force behind the burgeoning popularity of Indonesian food. Freshness also abounds in the dishes from across the archipelago with garnishes such as basil, limes, chives, and many others. Each of these ingredients are added for improved sensory perceptions, and to offer a broad array of notes – all in harmony.
And to add another appetising addition to the buzzing, polished Indonesian restaurant scene is Lumbung with its team of highly-talented culinary professionals. Created by one of the most renowned and respected culinary greats, Mandif Warokka, Lumbung provides Bali with a world-class dining experience that showcases rich Indonesian traditions and flavours the way they are traditionally served.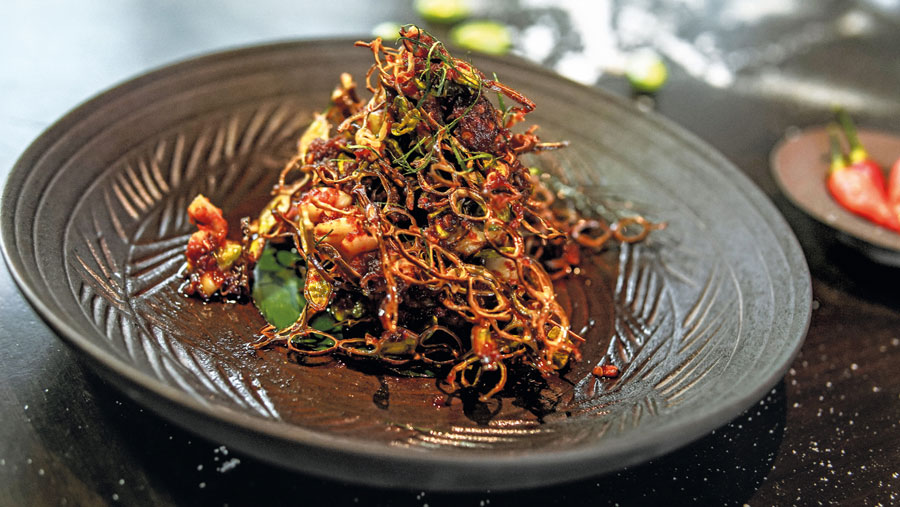 It's simply startling to me how the food at Lumbung has become a passion, an obsession. And if a plate tells a thousand stories, then you'll be filled up with thousands of great ones at this restaurant. On a recent dinner, I was blown away. Authentic flavours of the archipelago really entertained my craving for good Indonesian food. That's right, it's Indonesian, not Indonesian inspired or fusion.
And though the food is refined, it's done in a way that doesn't compromise the original flavours. Take my starter, Indonesian Rujak Platter, for example. Rujak is a spicy salad, most popularly consumed during lunch time and can be eaten as a snack on its own. The flavours of the six choices of the rujak here, originating from areas of Java, Bali, and Sulawesi, are similar to those served at local eateries. I for one was very familiar with rujak bebek, a typical Jakartan spicy fruit salad. Being one of the rujaks from the platter menu, the rujak bebek contains four basic flavours: sweet, sour, salty and bitter. The only difference is the one in Lumbung is served within a sophisticated setting that boasts equally authentic Indonesian decor through the carved woods and braided rattan installed in the establishment.
Other items on the menu definitely breathe authenticity. The soups, the fritters, the satays, and the desserts are beautifully prepared, whilst still preserving the flavours familiar to Indonesian tongues. A must try is the corn and tofu fritters, favourite Indonesian snacks for anytime of the day, and can also be ate as accompaniment for big meals. Also favourites among the diners in Lumbung are the typical Manadonese Dabu Dabu (served with octopus here), the Satay Kambing lamb skewer, and the Penyetan Bebek Goreng.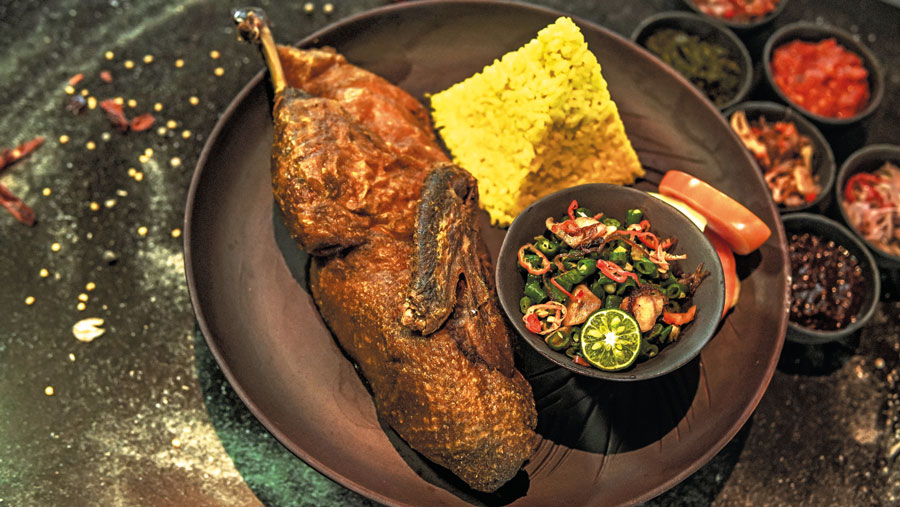 In addition to a number of popular Indonesian dishes, the restaurant also introduces several lesser known foods from the eastern islands of Indonesia such as Gohu Tuna Maluku. The eastern Indonesian's take on sashimi, Gohu Tuna appeals because of the tastiness of the fresh fish fillet and the robustness of spices.
Anyway, Lumbung is dramatically located under the bridge at the entrance of Desa Visesa Ubud, surrounded by the greenery of the Ubud countryside. With that being said, you'll be surprised how this posh restaurant is a great value for money. Prices start at around IDR 40,000, and quite a number of the items on the menu are great for sharing. The service is genuinely friendly in that typical Balinese way, but also polished and highly efficient. My overall experience at Lumbung was unquestionably up to par – it justified the long drive from Kerobokan (where I'm based).
Lumbung at Desa Visesa Ubud
Address : Jalan Suweta, Br Bentuyung Sakti, Ubud
Telephone : +62 361 209 1788
Website : www.lumbungpadiubud.com
---
Mandif Warokka
An award winning chef born in Biak, Papua, Mandif Warokka, Maître Rôtisseur, has cemented the culture of fine food as part of the island's traditions. His food showcases daring combinations of cooking styles and ingredients, beautifully presented on artisan plates made from processed stones and clay. He put Indonesian cuisine in the spotlight when he opened Blanco par Mandif in Ubud, serving the dishes of his home country with impeccable plating. At Lumbung, he dishes out Indonesian food the way it is traditionally served – spicy and tasty.