Upholding a reputation as Southeast Asia's relaxation capital, Bali gifts us with luxurious pampering sessions set against glorious backdrops. Spas on the island understand what it means to both appreciate and take advantage of this paradise isl-and; mother nature has done all the work, so all we have to do is simply enjoy it! These scenic spas present breathtaking vistas, inviting you to take in the best of Bali whilst you indulge in a luxurious treatment.
With a magical outdoor spa setting tucked away in magical Ubud, the spa at Mandapa, a Ritz-Carlton Reserve is situated at the base of a valley just metres away from the natural splendour of Bali's longest river. The unique spa experiences here are inspired by ancient Balinese traditions. Offering an intimate riverfront setting where the sound of the Ayung River's flowing water lulls you into a state of pure bliss, Mandapa Spa combines a peaceful locale and age-old practices to provide a secluded temple for meditation, deep relaxation, food for the soul, and an escape to another world. From relaxing, skin-soothing rituals to stress-relieving massages, the menu features a rejuvenating lineup of facials and massages, including body treatments as well as services especially designed for men and teens. Signature treatments include the Mejipet massage that beautifully blends Balinese and Javanese techniques; or try the Mandapa Hot River Stone massage to soothe and warm the skin, known to be an energy balancing treatment inspired by the Ayung River running through the heart of the resort. The spa has recently partnered with bespoke French skincare brand, Biologique Recherche, to elevate your luxury facial treatments. The world-class facial experience from the brand is designed for purifying, anti-ageing, brightening, and balancing complexion. The Ultimate Radiance Skin option, rich in Omega 3, will hydrate all skin types and smooth sensitive skin leaving the skin supple and glowing. Whilst the Essential Lifting Facial treatment is specially designed to stimulate elastin and collaged for mature skin.
Treatment Room

Couple Treatment Room
Mandapa, A Ritz-Carlton Reserve
Address : Jalan Raya Kedewatan, Ubud
Phone : +62 361 479 2777
Website : www.mandapareserve.com
The most southern tip of the island is blessed with majestic cliffs, which gives you a front row seat to an uninterrupted expanse of the Indian Ocean. At Karma Spa, on the cliffs of Ungasan, unparalleled views meet Karma's wellness concept of nourishing, healing and nurturing. Karma Spa at Karma Kandara is the brand's flagship spa and whilst they do prioritise in-house guests, they welcome guests from outside of the resort to experience their truly stunning views and treatments.

The body workers at Karma train with Chinese medical practitioners and reiki healers to deliver deeply therapeutic experiences. To top your holistic treatment, all ingredients used at the spa are sourced from sustainable farmers and growers. The Cliff Spa consists of traditional thatched-roof bales set into the rugged limestone cliffs with 180-degree ocean views. A focus here is on the detox process with the centrepiece being the Cliff Sauna Experience, an open-air Infrared Detox Sauna and Soaking Pool. Down the newly renovated hill tram is Karma Beach, the resort's private beach and location of the new Ocean 'Segara' Spa in an old reclaimed fisherman's hut. Guests can experience sea-infused cures, soothed by the sounds of lapping waves. At the nearby seaside Yoga Bale, guests can enjoy complimentary Yoga, Tai Chi and Pilates sessions and learn Muay Thai Boxing, as well as Sunday Thai Massages in the open-air bale overlooking the ocean. For the jet-lagged travellers, try the Arrival Revival cure; or for the stressed-out business people, opt for the Screen Escape or Slow Down Seep ritual. Additionally, the spa has launched full-day wellness programmes that consist of two spatreatments, infrared detox sauna, yoga or fitness, and a 3-coursewellness lunch.

Karma Spa at Karma Kandara
Address : Jalan Villa Kandara, Banjar Wijaya Kusuma, Ungasan
Phone : +62 361 848 2200
Website : www.karmagroup.com
Perched magnificently atop an Ubud valley overlooking the Petanu River gorge, Lembah Spa offers the most tranquil setting for one's pursuit of holistic health and wellbeing. The treatments at Lembah Spa are age-old, time-honoured Balinese wellness techniques that have been handed down over centuries, meticulously developed with Western knowledge. Ubud originates from the Balinese word "obat" which translates to "herb" or "medicine", meaning Lembah is at the centre of healing with authentic wellness traditions. Lembah's local therapists have been trained over the years by accredited Swiss therapists to ensure a world-class spa experience enveloped in nature. The spa facilities include a cold plunge pool, sixty-eight jet therapeutic American Jacuzzi, beautician room, steam room, and relaxation decks overlooking the Petanu Valley. Fully immerse in the Lembah Spa experience by taking advantage of the spectacular view as you sip on herbal tea post-treatment. Lembah Spa is expanding its facilities, which is planned to have a new pilates studio, couples and single treatment rooms, water salt therapies, and their own glass water bottling plant to entirely move away from single-use plastics.
Lembah Spa at Viceroy Bali
Address : Jalan Lanyahan, Banjar Nagi, Ubud
Phone : +62 361 971 777
Website : www.lembahspa.com
Located directly on the pristine beach at Jimbaran bay, The Beach Spa at Belmond Jimbaran Puri Bali is where you indulge in a pampering session under shaded palm trees to the lapping of waves of the ocean.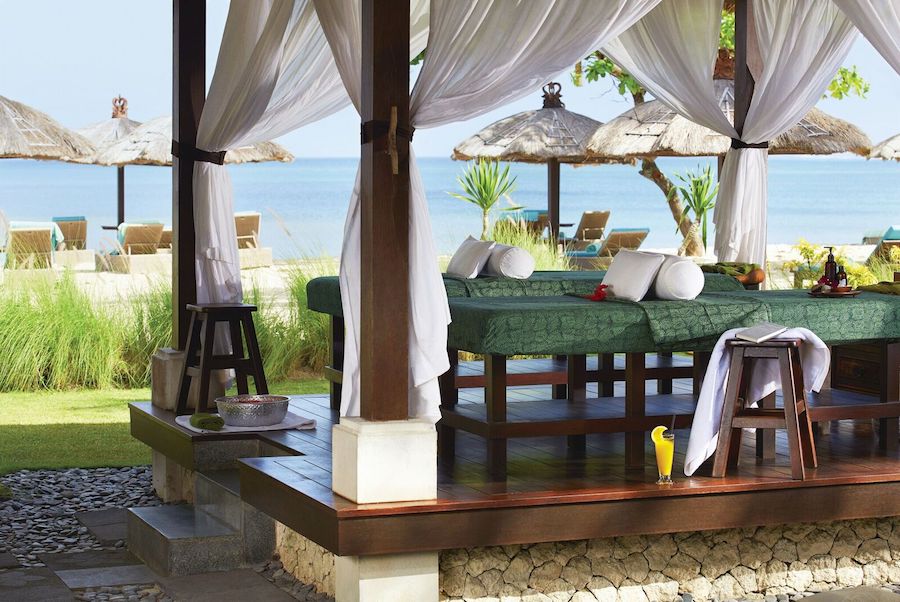 The spa maintains ancient principles to bring Bali's healing spirit to life, combining modern techniques with ancient beauty rituals. Heavenly sensations are on offer – relax to the traditional open-air terraces and listen to the soothing sounds of the sea as you immerse deep into your spa journey. The spa houses three gazebos for single or couple's treatments complete with double whirlpool bath terraces and an array of luxury treatments. Enjoy a traditional Balinese massage, Reflexology, Four Hand Massage, Ayurvedic Treatments, body scrubs, wraps and polishes, bath treatments, warm jams massage, and more. A floral and herbal hot tub baths are available to treat both the body and mind.
The Beach Spa at Belmond Jimbaran Puri Bali
Address : Jalan Uluwatu, Yoga Perkanthi Lane, Jimbaran
Phone : +62 361 701 605
Website : www.belmond.com/hotels/asia/bali/belmond-jimbaran-puri
When The Sanctoo created their spa and wellness sanctuary located minutes outside Ubud, the Earth was their inspiration. They believe Mother Nature has the power to heal and balance us, as children of nature, who are constantly drained of energy from exhausting routines. Take a break from it all and recharge in a safe haven surrounded by panoramic views of pure greenery. Sanctoo Spa treatments utilise the unique healing power that lies in a pair of human hands. Using sensitive hands, the treatment that best suits you will be given to guide you to a state of bliss and revive your senses. Try the Revitalising Massage to uplift the mood and spirit, or the organic Black Tea and Sorghum Facial to improve skin elasticity and redefine your facial contour.
The Sanctoo Spa & Wellness
Address : Jalan Ulun Suwi 2, Sukawati
Phone : +62 361 471 1222
Website : www.thesanctoovilla.com
Refresh the body and soul beside swirling waters of the Petanu River, amidst the lush rainforest, below the luxurious Maya Ubud Resort and Spa. Spa at Maya is a riverside haven of sensual and silent bliss. Soothing hands will take care of you and deliver treatments designed to stimulate and pamper. Whilst private pavilions provide an individual oasis for one to relax, double treatment pavilions allow couples to immerse in a shared luxuriating spa experience. Opt for a flower bath to experience bathing in the middle of a jungle with views out to the river and lush river valley, in a bathroom that seems to hang over the river itself. The specialties include a gentle four hand massage, relaxing Balinese massage, natural facial treatments, and organic body scrub. For an ultimate post-spa wellness experience, enjoy the resort's healthy cuisine located at the adjacent River cafe.
Maya Ubud Flower Bath
Maya Ubud Resort and Spa
Address : Jalan Gunung Sari, Peliatan, Ubud
Phone : +62 361 977 888
Website : www.mayaresorts.com