Ketut stands at the gate of his very Balinese home, waiting to greet us! After asking a dozen friends about healers, I finally hit gold. Ketut, who is known to be an excellent healer, lives in Batuan, one of the more traditional villages on the way to Ubud.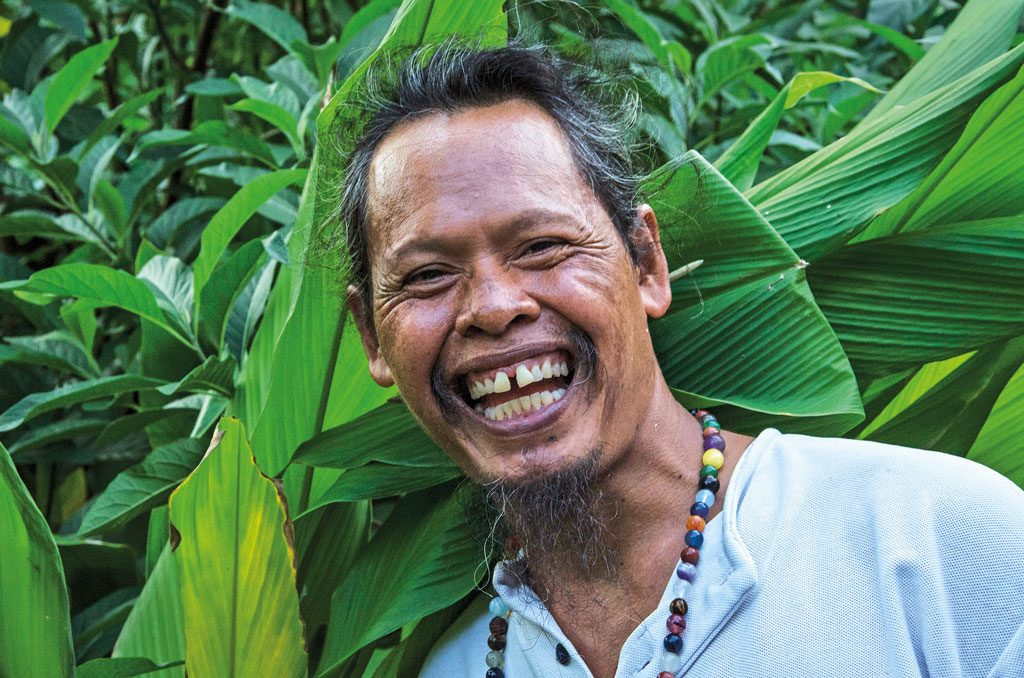 He is a balian Usada, that is, his knowledge has been passed to him in mysterious ways. While his great grandfather was a respected healer, the next generations followed other lines of work, until Ketut received signs that healing was his calling.
Today he lives in a traditional compound with some family members and his huge pet pig that looks rather like a hippopotamus. The garden is filled with exotic healing herbs including every known variety of turmeric. There is bell turmeric, yellow, temuluwak, temukunci, black turmeric, all of which contain antioxidant and healing properties. Other plants are reputed to help cure diabetes, and another, cancer. It is a veritable pharmacy in the garden with not a chemical in sight.
Many of the herbs are bitter, too bitter to manage in fact, but they can also be taken in capsule form; thus saving our spoiled palates from a ghastly fate. He creates massage oils using the essence of maybe 100 herbs to maximize efficacy and he has also created a rejuvenating tonic, of a hundred or so herbs preserved with Karangasem's best high quality arak. As he tells us, you only need a small amount of this alcoholic restorative to stimulate the senses, but not enough to drown them.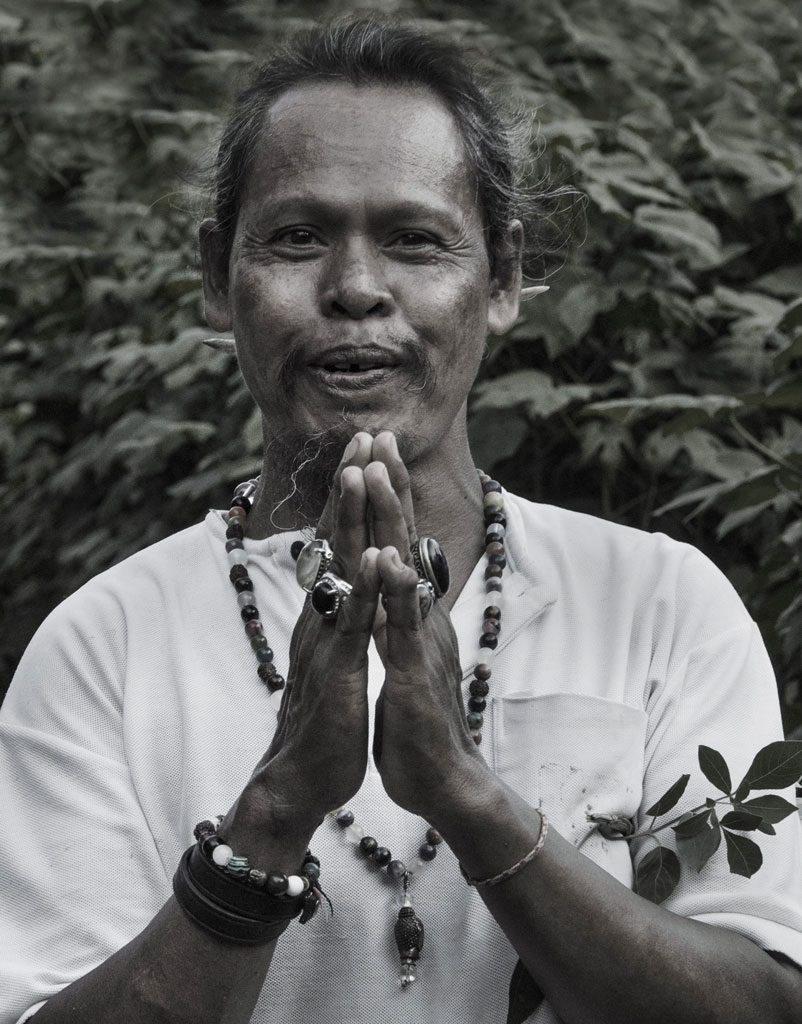 A trip into Ketut's treatment room is an adventure in itself. In the corner stands a Rangda effigy (that comes with a story), to watch and protect. All kinds of esoteric things are placed about and a photo of his mother looks down upon the room. His array of reflexology tools look a little like torture instruments, although they are sure to be effective. Some of the tools have been handed down from his great grandfather, and although I have yet to try this treatment, I expect it will be painfully effective.
In one of Ketut's former incarnations, before he got the calling, he worked as a tour guide, so his good English makes communication a breeze – it is easy to gain access to some of his knowledge. He has a great wealth of stories too, which are as entertaining as they are educational.
So what does a traditional healer offer to a visitor to Bali?
Although there are many different kinds of traditional healer, the one thing that is for certain is that many traditional healers are effective at healing diseases and curing problems that western medicine may not be able to reach. Ketut works with stress issues, and a variety of stress related diseases. He creates herbal treatments for other diseases that could include some kinds of cancer that western medicine may not be able to manage. His excellent oil massages with herbal infused oils are very effective, even for those who just want to try a very relaxing treatment. Because of his excellent English, he can give you insights into Balinese culture and folk lore that one would never usually discover on a visit to the island, and even long term stayers are sure to discover things they never knew before.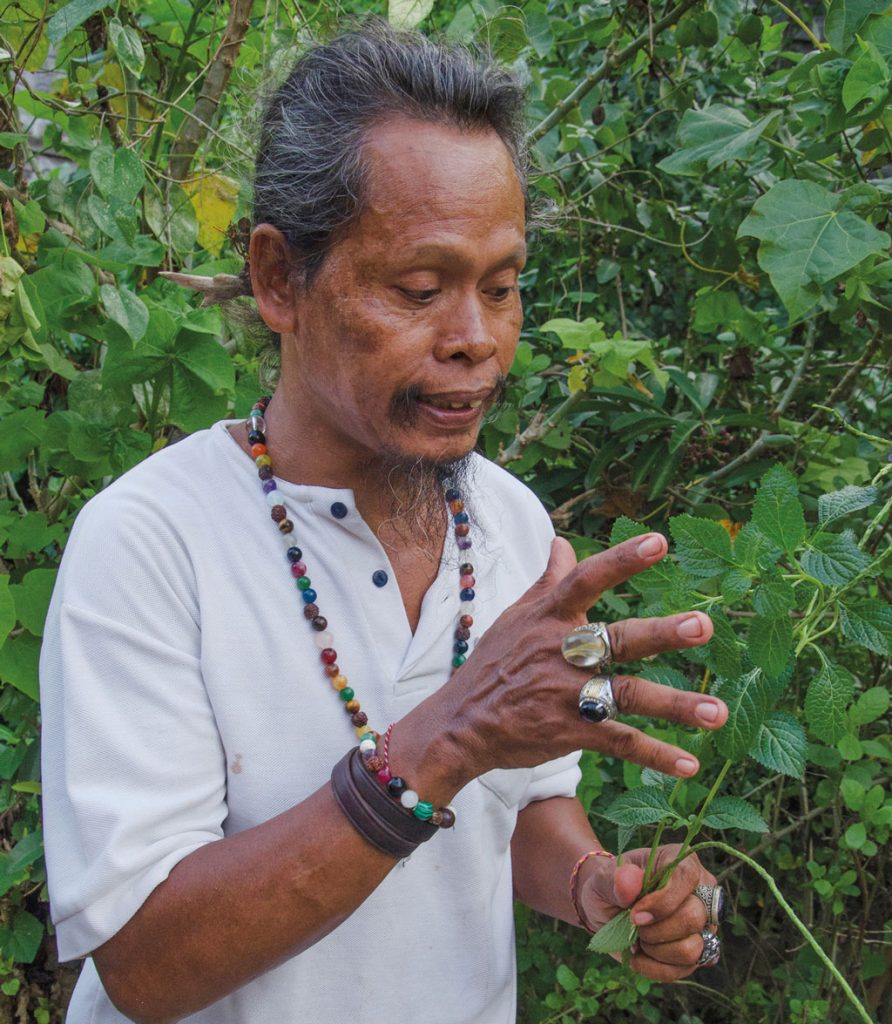 He is also happy to take guests to some of Bali's special holy places for a spiritual cleansing (melukat) or to make a blessing ceremony. All his work is authentic and his philosophy includes the thought that in many cases, fun and laughter are as healing as any medicine!.
I Ketut Jaya – traditional Alternative
T:+6287862491927
E: ketutjaya1967@gmail.com