One of the best things about Bali is that it offers a whole host of outdoor experiences, great for children and adults alike. With its rugged and mountainous landscape filled with verdant forests, down to the coastline where white sands and sparkling seas await, the island is one giant playground for the adventurous soul. There are a host of family activities in Bali, from outdoor adventures to creative and equally stimulating indoor experiences.
From cycling along rice fields to tubing down rivers and learning to surf, here are some great outdoor activities families can do together in Bali.
---
Mountain Cycling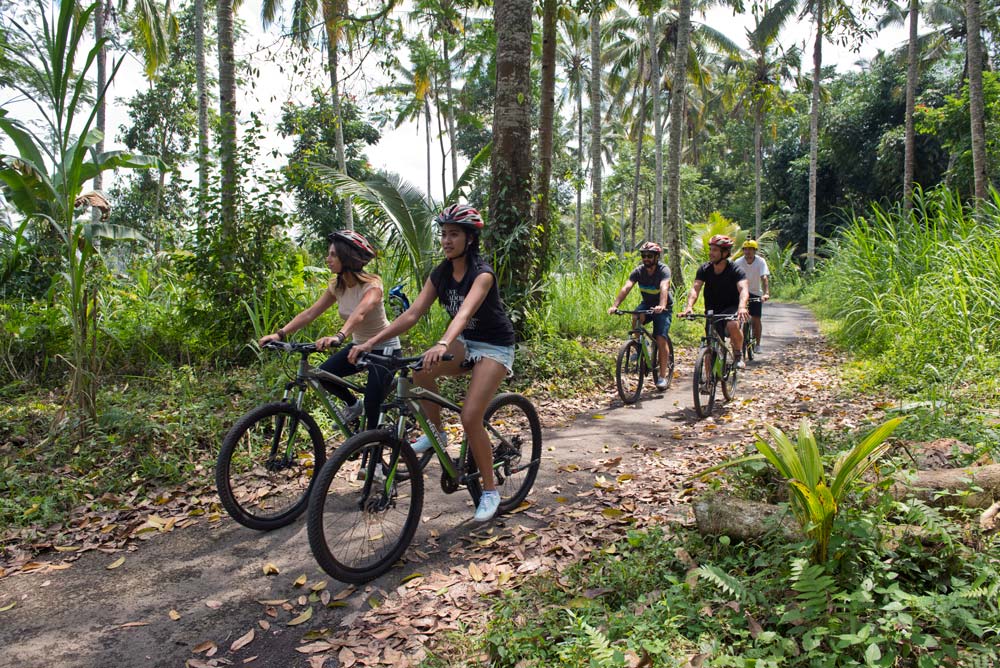 There are some things you can only see when you get off the main road and explore Bali off the beaten track. To do this, we suggest you travel on two wheels and join Mason Adventure's Mountain Cycling Tour, where you'll come face-to-face with the rural countryside, embracing the elements, fresh air and sunny weather.
This scenic journey starts in Kintamani, on the edge of the jaw-dropping caldera that looks out over Mt. Batur and Lake Batur. Thus begins a 30km downhill cycle that takes you through forests, rice fields and plantations; you'll stop at Hindu temples and local villages, and sample local fruits at their natural source. This is great for sporty families who want to see witness a wide range of epic Balinese landscapes. The tour is best suited for families with children above the age of 10 years, but this is definitely one of the classic family activities in Bali.
Your cycling tour with Mason Adventures includes lunch, water, shared transfers, a bicycle, safety equipment and insurance.
+62 811 3979 480 (WA) | info@masonadventures.com | masonadventures.com
---
Learn to Surf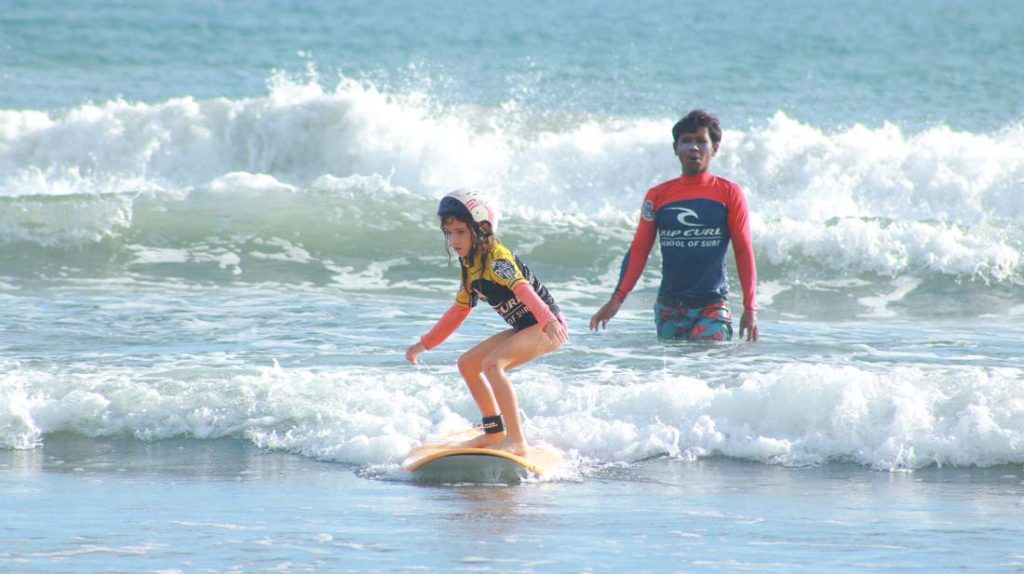 What's a more iconic outdoor experience than surfing in Bali? The island's south coast is blessed with a variety of surf breaks, from beach to reef, meaning this classic water sport is accessible for beginners, amateurs and pros. With that, Rip Curl School of Surf is the perfect jumping-off point for those keen to hit the waves for the first time.
With surf schools at both Sanur Beach and Legian Beach, you can choose which Rip Curl School of Surf location is best for you. For children under 13 years old, you'll find the 'Little Ripper' program, specifically designed to teach the skills and knowledge of surfing using specialised surfboards and methods developed for kids. One-on-one classes promise total safety and attention. Meanwhile, parents can also get on a board! Rip Curl School of Surf offers three levels of courses for those above 13 years old, Beach Surfer, Reef Surfer and Power Surfer, in order of technicality.
+62 361 733 081 | info@ripcurlschoolofsurf.com | ripcurlschoolofsurf.com
---
Quad Bike Tour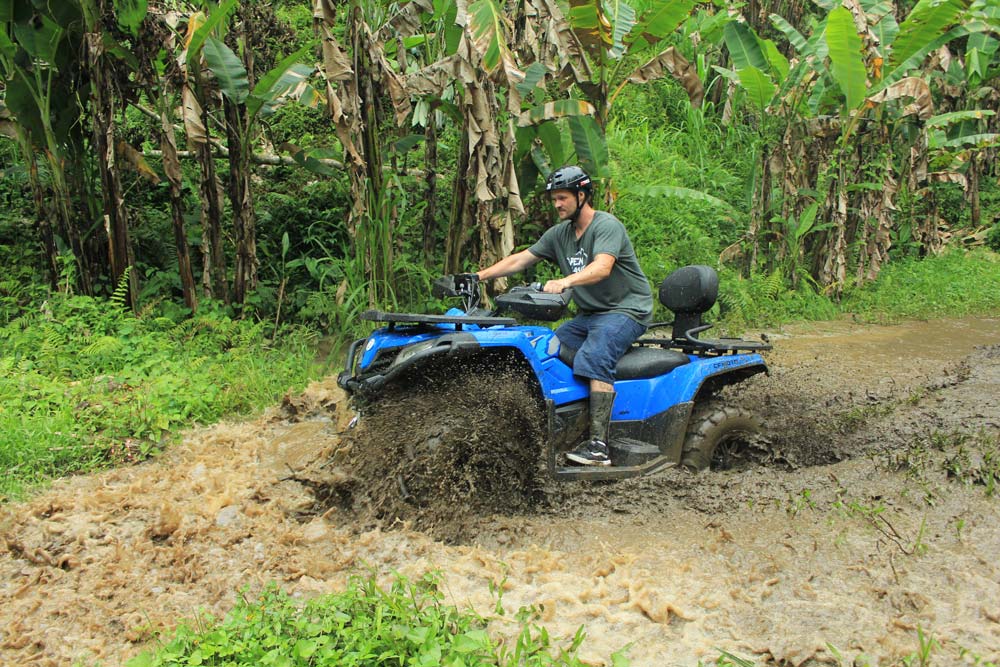 Sure, you can trek through Bali jungles, but if you're after more of an adventure why not drive through the jungle mud on a revving 4×4 quad bike! Bali Quad Discovery Tours was established in 1999 with the aim of providing unique tours into Bali's great outdoors for all age groups, making it one of the favourite family activities in Bali.
Take a ride on the ultimate adventure vehicle and guide it through Bali's rugged landscape, past rice fields and plantations, and through friendly villages and dirt roads. The quad bikes are equipped with power-steering and are easy to handle: guests will watch a safety video and brief upon arrival before trialling the vehicle on the training track. Young children (starting at the age of 5 years) can ride with a guide or parent on the quad bike, joining this adventurous journey — 4×4 buggies are also available. All-inclusive tours include transfers, an instructor, a hot lunch buffet, tea / coffee, insurance, changing rooms and hot showers, towels and safety equipment.
+62 361 720766 | info@baliquad.com | baliquad.com
---
Canyon Tubing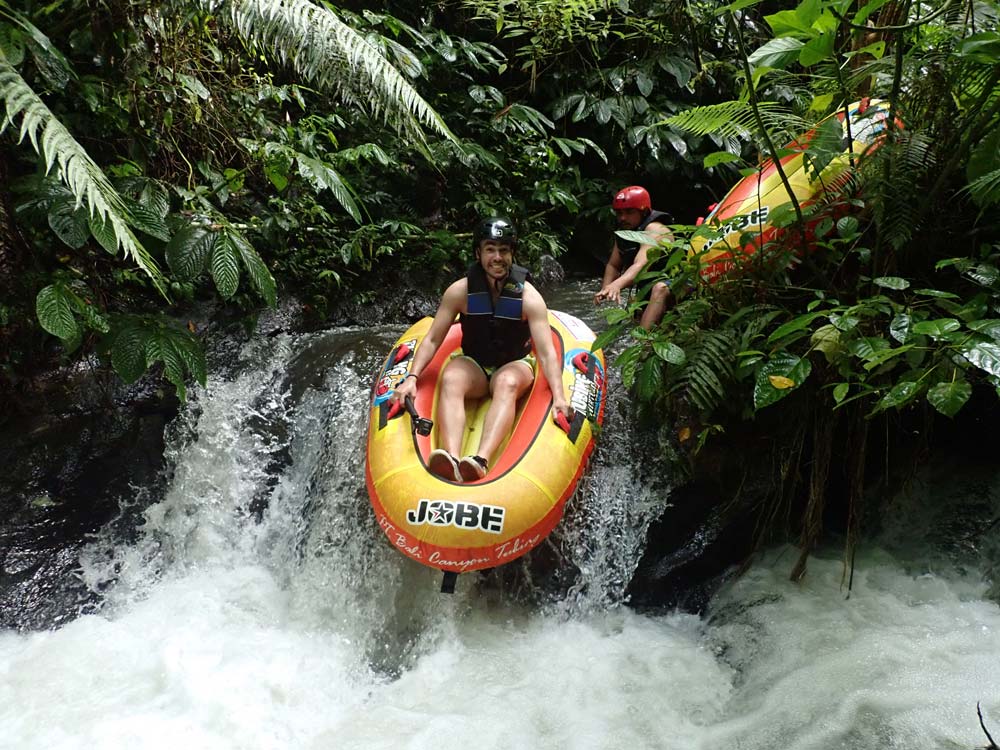 Explore the depths of a hidden canyon in the most unique way possible: tubing down its centre! Also run by Bali Quad Discovery Tours, the adventure starts with an exciting off-road transfer that will take you from the base to the head of the canyon, filled with crystal-clear waters. This is where you'll jump into an individual inflatable tube and float through the stunning canyon surroundings.
At specific points in the journey, you'll have to walk across suspension bridges and wooden footpaths, exploring sections of the jungle on foot; there's also a 100-metre-long zipline that flies through the canyon offering a bird's eye view. Again, children above the age of five are allowed to take part and will be joined by a guide in the tube. Canyon tubing can be combined with Quad Tours for the ultimate land and water experience. The all-inclusive package offers a delicious hot lunch buffet and hotel transfers to and from the hotel with air-conditioned transportation.
+62 361 720766 | info@baliquad.com | baliquad.com
---
Horseback Riding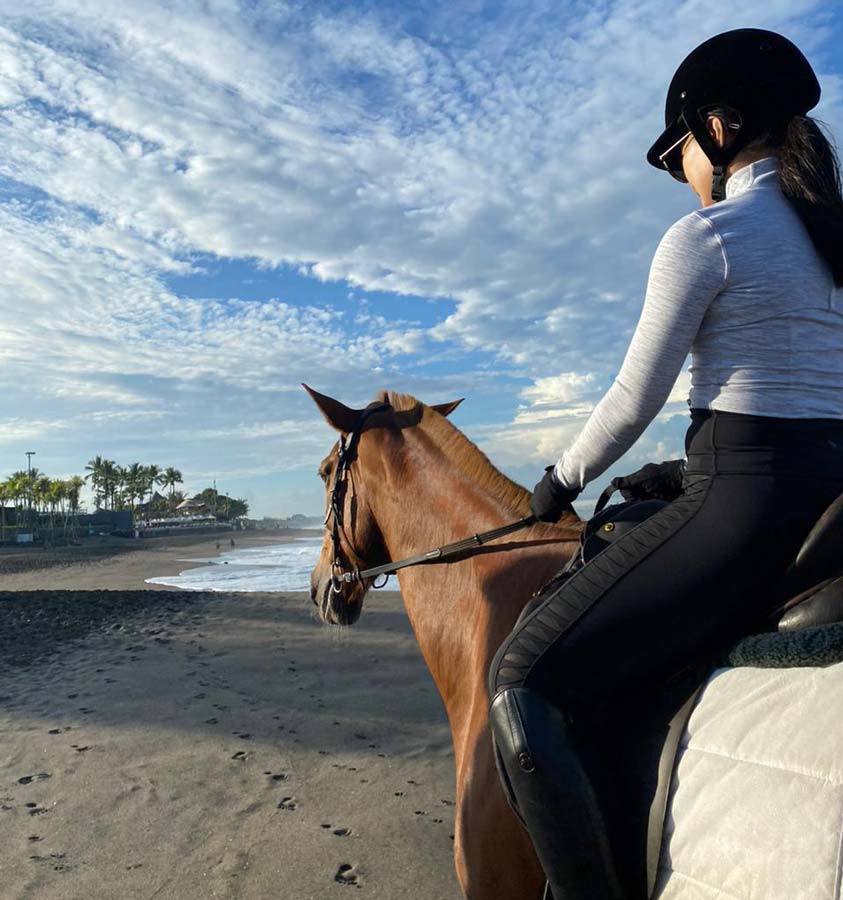 Another fun way to enjoy Bali's great outdoors is on horseback! Surrounded by temples, and just a stone's throw away from the Canggu beachfront, is Royal Sporthorse Bali, a stable providing a variety of horseback tours as well as riding lessons. Starting from the stables, you'll be taken around the Pererenan area, down to the beach, and passing through villages and rice fields along the way. On the beach, riders can enjoy the pleasant sea breeze and even take their horse into the cooling seas and waters for a dip.
For those hoping to improve their horseback abilities, Royal Sporthorse Bali offers riding lessons for adults and children, with professional trainers able to teach students the art of dressage and even some jumping for more advanced riders. Particular fun for younger children is the Kids Pony camp, where not only will they be taught how to ride these adorable animals, but also how to groom and care for the ponies. For lasting memories, family photoshoots can also be organised.
+6287 761 47 2220 | royalsporthorsebali@gmail.com | horseridinginbali.com
---
Snorkelling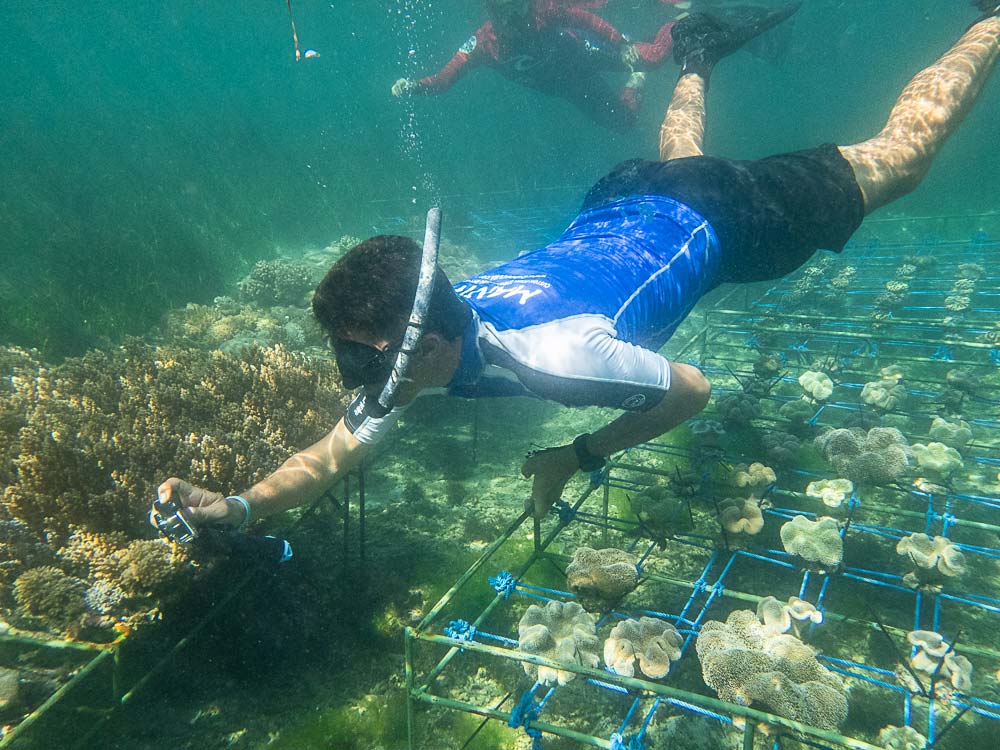 Most of Bali's south coast is dominated by surf beaches, but over in Sanur, the Rip Curl School of Surf invites you not only to snorkel but to support the recovery of Bali's coral reefs. Through their collaboration with the NGO 'Ocean Gardener', as well as neighbouring Prama Beach Hotel Sanur, they have installed the first Coral Gardner nursery on the reefs of Sanur Beach.
Sustainable Coral Farming is the practice of farming using the principle of ecology, the study of the relationship between organisms and their environment. Farming the right species in the right environment. Visitors are therefore invited to plant coral as they snorkel the Sanur seas, an activity that simultaneously brings increased awareness and understanding of ocean habitats and their preservation. This fulfilling experience is available directly with Rip Curl School of Surf – Sanur and is one of the more meaningful family activities in Bali you can find.
+62 361 287 749 | info@ripcurlschoolofsurf.com | ripcurlschoolofsurf.com
---
A Day of Nature Walking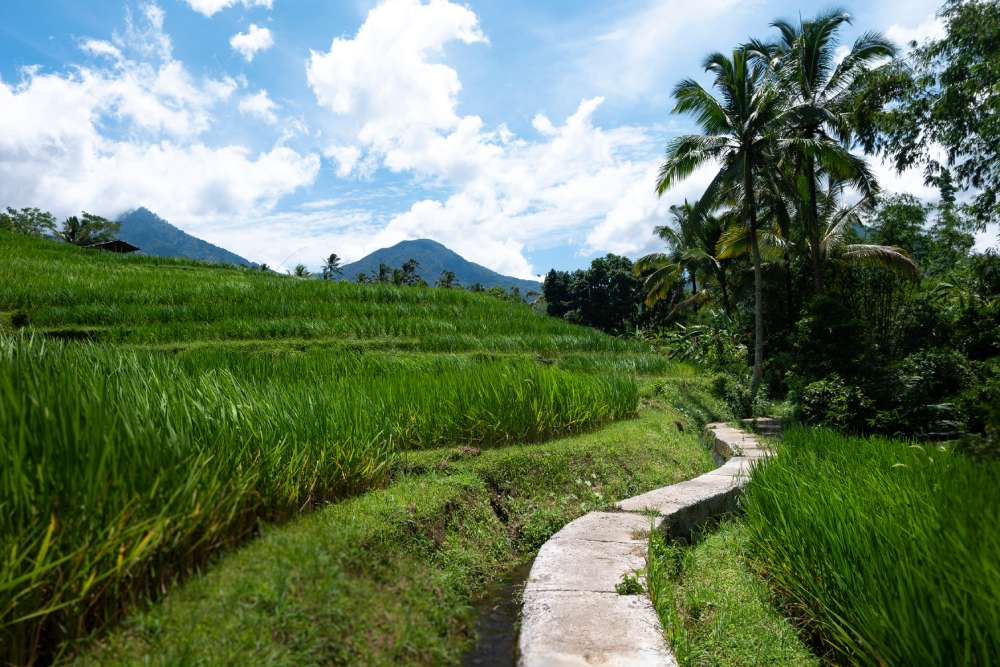 Simple, but memorable, going for a walk out in nature is an excuse to pack the bags and travel somewhere together. A reason to get out the house, get off devices and go on a little road trip. There's many great walks in Bali, of varying difficulty and distance. The beach, is of course an obvious walk, but for those who want to travel a little further and enjoy a more green scene, here are two walks you can go on which are easy for kids of all ages.
A great walking destination is Jatiluwih Rice Terraces in Tabanan. At the area's central point you'll find a network of paved trails through the rice fields of different lengths and difficulties, all mapped out and colour coded.
The trekking routes range from 1.5km to 3.1km, with a longer route for cyclists (5.5km) available as well.On clear, sunny days, the climate in the area is fair. Being 700m above sea level the air here is cooler, making for pleasant temperatures as you walk. As you wander through across the terraced ridges and valleys, backdropped by Tabanan's rolling hillsides, you'll see many farmers working on their near perfect plots. You'll find two eateries inside the terrace area, which make for a great lunch of refreshment break; or you can take a seat at one of the many restaurants that line the roads of Jatiluwih, overlooking the horizon of rice fields.
If you're just after an afternoon stroll, the most accessible route is without a doubt the Campuhan Ridge Walk in Ubud. This charming little trek spans a comfortable 2km and takes you across the palm-lined spine of ridge, overlooking two valleys. Paved the whole way, it's an easy route that offers fresh air and verdant views of the Ubud jungle surroundings. You can start at Pura Gunung Lebah temple at the centre of Ubud, or from the Keliki side of the ridge, just outside the town centre, thus requiring you to walk one way and back again to get back to where you started.
---
A Day Cruise To Lembongan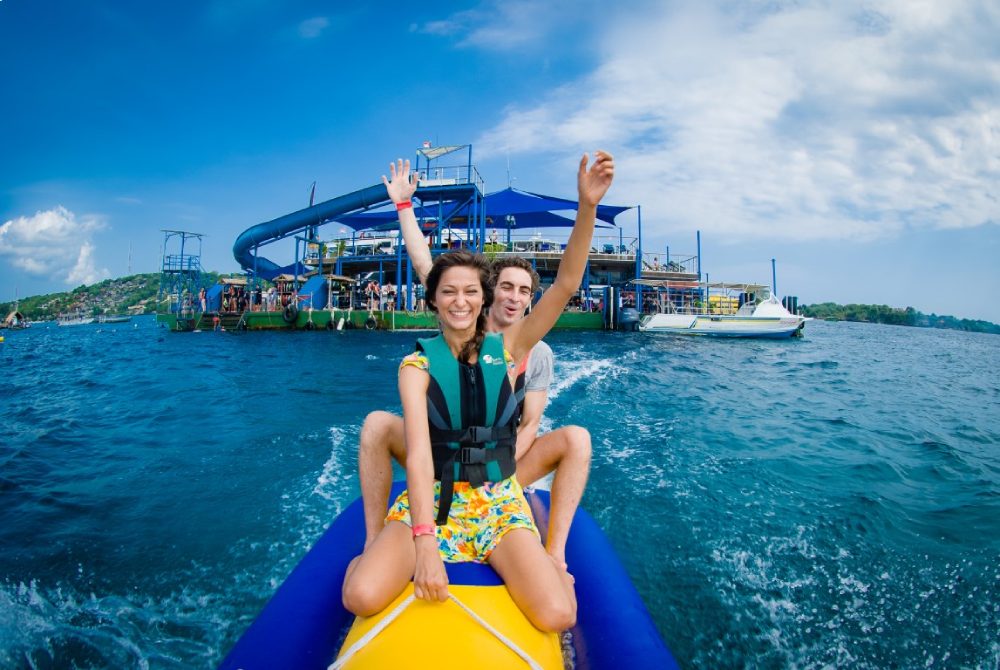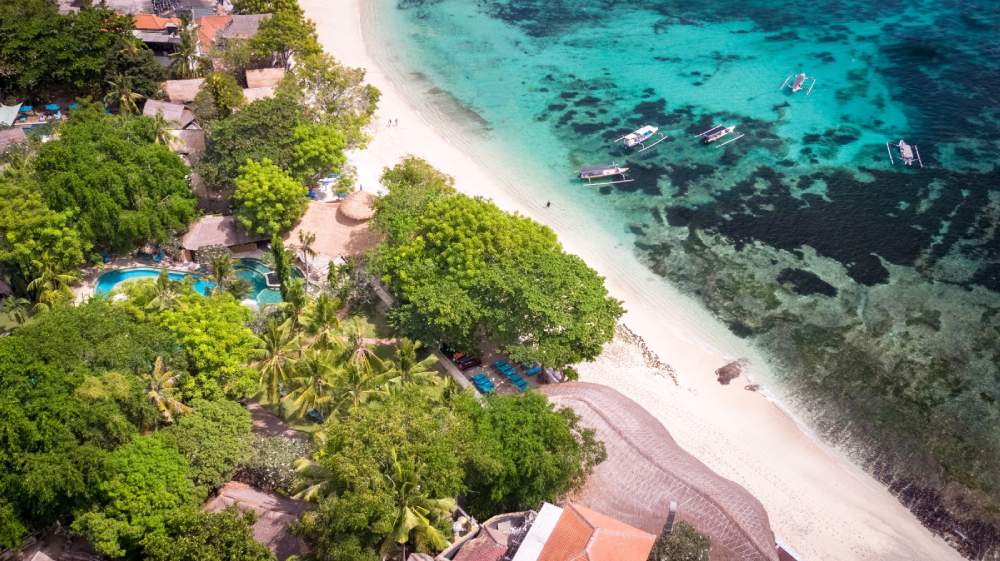 Perhaps you're a seafaring family who love the spray of sea and ocean breeze in your hair, for this we highly recommend a day trip to Nusa Lembongan, one of the small island just off of Bali's southeast coast.
No one does this better than Bali Hai Cruises, whose 'Beach Club Cruise' is fun for every member of the family. Departing from Benoa Harbour at 9.15am, you'll cruise on the luxury catamaran 'Bali Hai II' over to Nusa Lembongan, landing on the golden shores of Mushroom Bay. Here, the Hai Tide Beach Resort becomes your beachfront playground for the day, with a total of five full hours to do as you please. Available activities include: snorkelling, stand up paddle, kayaking and unlimited banana boat rides. You're allowed to use the many facilities of the resort, including the swimming pool and volleyball court. For those who want to explore the island further can join the Lembongan Island Tour, or the latest Coral Reef Restoration Tour.
The day out includes a satisfying BBQ lunch at the Hai Tide poolside cabana, featuring a feast of salad, grilled fish and meats, and much more. Top this off with a cocktail from the Beach Club Bar and your afternoon of relaxation is all set. Oh, the kids? Don't worry, they'll be looked after by Bali Hai's Kid's Attendant who will entertain them whilst parents enjoy some much-needed relaxation. Then, after a full day of sun, sea and sand, it's back onto Bali Hai II for a 4.15pm return and the end of super family day out.
+62 81 1398 4068 (WA) | sales@balihaicruises.com | balihaicruises.com
---
A Day on the Farm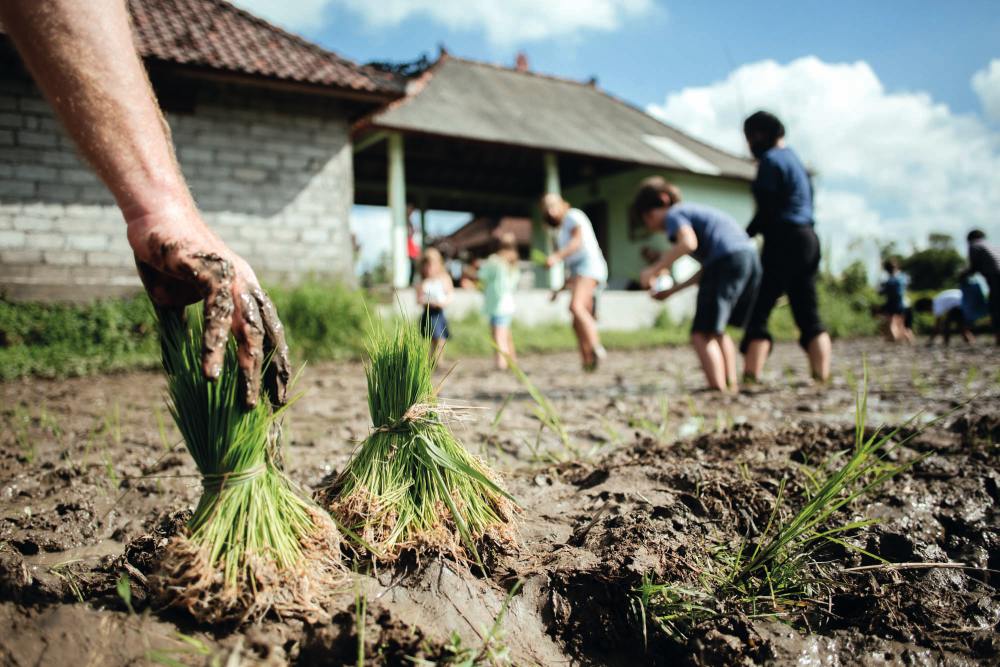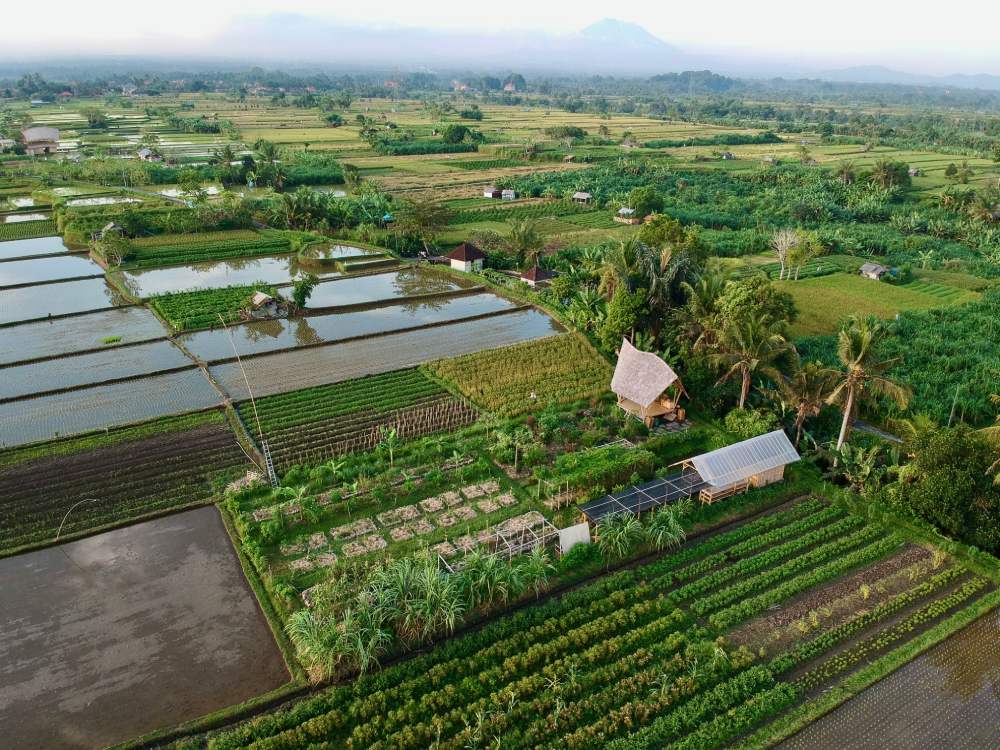 Out in the rural farmlands of Abiansemal, south of Ubud, Astungkara Way invites people to try their hand at the most fundamental of human activities: farming. This unique, learning-based experience encourages people to immerse themselves into Bali's agrarian way of life to understand what it means to be close to our source of food and to the cycles of nature.
Through Astungkara Way's 'Half-Day Farm Tour', people are invited to learn and discover the basics of agriculture alongside the farmers of the lush Abiansemal countryside.
The experience takes place at Astungkara Way's Regenerative Farming Learning Center in Sibang Kaja, where they have built a beautiful bamboo headquarters in the centre of the farmlands. The day begins with a blessing: collecting the followers for the canang sari offering around the farm, which is then used for a blessing at the shrine of the bale subak. This is done by the Balinese farmers themselves every morning and perfectly encapsulates Bali's tri hita karana philosophy, which advocates each person's relationship with nature, with God and with each other to ensure harmony and balance. Then you'll get stuck into the farm work, and as you can imagine, this involves getting your hands (and feet) dirty!
Back at the bamboo headquarters, a delicious lunch is prepared for you by Ibu Tatik from the local community, using the organic ingredients from the farm that you've just been working on. Nothing is more satisfying than savouring the food that you've harvested, from the farm that you've just worked on
The 'Half Day Farm Tour' takes place from 8.30am to 1.30pm, and is great for both adults and children. It is an opportunity to understand Bali's agrarian way of life, to learn this fundamental human skill, and cultivate a connection with nature again.
@astungkaraway | contact@astungkaraway.com | astungkaraway.com