Vacations with family means spending quality time with your family. Full stop. We sometimes make excuses for not taking a family vacation, we either have too many other things to do or it is money related. However, at some point, we will be mentally and physically exhausted from the everyday routine. There's only one solution; get away from it all!
Hard Rock Hotel
Without a doubt, this island provides so many stress-free destinations for family vacation, but not many accommodations have great fun facilities for children. In Kuta, Hard Rock Hotel is the only place on the island where you can reawaken the atmosphere of old-time rock and roll culture. Be amazed at the pictures, memorabilia and icons of music all over the walls of the building, even the rooms.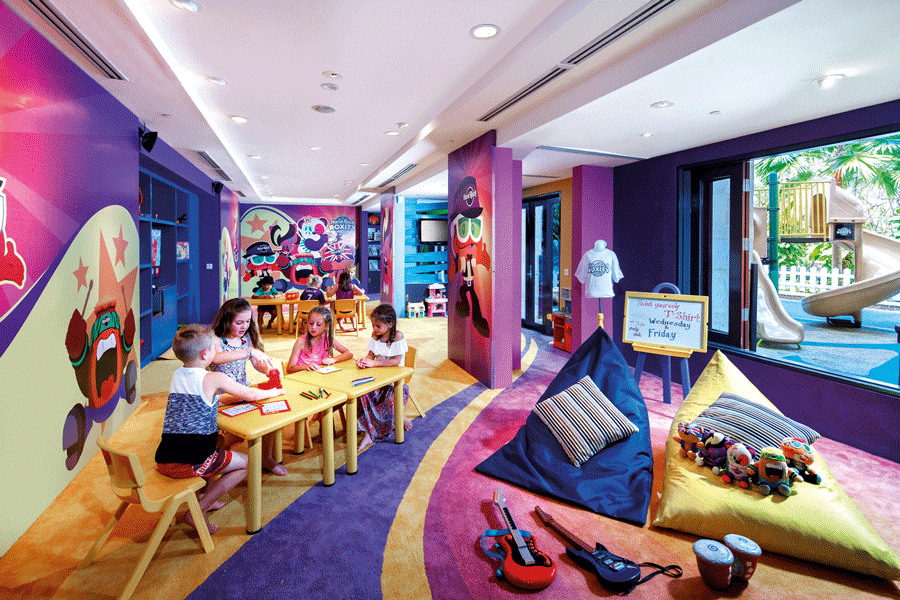 For parents with kids below 12 years old, a 64-square-metre Suite Room can be a perfect option, featuring one deluxe master bedroom with King Size bed and an additional kid's room with bunk-bed. To make sure that your little ones have a great time, the kid's room also comes with a PlayStation 3 and other entertainments suitable for children.
Staying in the Suite Room will automatically give you access to Roxity Kids Club, an adult-free zone just for children where they can move around and participate in imaginative plays. If your kids are teenagers, TABU Teens Club is a venue for the young adults where they can chill with multi-purpose DJ Booth and spend time at the Gaming Lounge with Wii U, Xbox and PS4 facilities. The club also comes with a private cinema, bar and pool table.
Hard Rock Hotel Bali
Address : Jalan Pantai, Pande Mas, Kuta (See on Map)
Telephone : +62 361 761869
Website : bali.hardrockhotels.net
---
Padma Resort Legian
Just steps away from Kuta, in Legian, Padma Resort Legian offers an art sanctuary for family surrounded by nature. Showcasing modern Balinese artistry wrapped in total comfort, their Premier Room features a private terrace with a tropical garden view. Guests travelling with children can also opt for a Family Room, facilitated with one master bedroom and one kid's room with bunk-bed. Beautifully designed with a twist of art and comfort, this room is assembled elegantly with a large swimming pool with three slides and enticing lush gardens.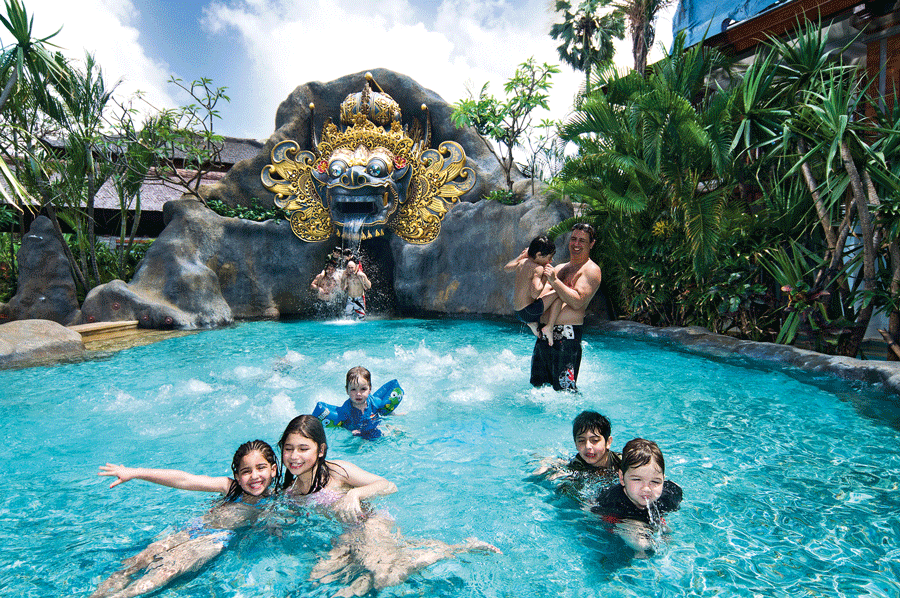 Should your kids need more activities, take them to Wolly Kids Club & Games Centre. Providing choices of indoor and outdoor venues for children between 4 to 12 years old, you can expect your little ones to explore their creativity in crafts, t-shirt and face painting, mask making and some cooking lessons. Next to the Kids Club, The Games Centre is equipped with Nintendo Wii and a PlayStation. In the main room, kids can have fun with air hockey, table soccer and a billiard table. The experienced and friendly personnel will guide them, so parents can stop worrying and do their own thing.
Padma Resort Legian
Address : Jalan Padma #1, Legian
Telephone : +62 361 752111
Website : www.padmaresortlegian.com
---
Mason Elephant Lodge
A-two-hour drive from Legian to Ubud will take you to Mason Elephant Lodge. Situated within the world-renowned Elephant Safari Park, you will get a once in a lifetime experience spending a night in luxury among Bali's largest herd of rescued Sumatran elephants. Your kids will love the idea not just to watch the elephants from a close range, but also to listen as they fall into a peaceful slumber at night. Ask your kids to wake up early to witness their morning bathing rituals by the lake.
One of the Lodge's unique features is the opportunity to climb on an elephant from your front door and head down to dinner or into the jungle. Your stay also includes personal elephant chauffeur service and free roaming access across the entire park to experience all elephant activities and facilities. Your little ones can enjoy numerous ways to get up close and personal with these majestic creatures as well as interacting with them as they go about their daily lives.
Mason Elephant Park & Lodge
Address : Jalan Elephant Park Taro, Taro Village, Tegallalang, Ubud (See on Map)
Telephone : +62 361 721480
Website : www.masonelephantlodge.com
---
Did you know?
The name Candi Dasa derives from the words cili dasa, meaning "ten children". This temple, Pura Candi Dasa is dedicated to Bali's goddess of fertility and is where Balinese Hindus come to pray to be blessed with an abundance of children. But there's more to the story than that, which is usually the case with almost everything in Bali.
According to Bali's mythology, there was a goddess named Hariti who was infertile but wanted offspring to continue her godly bloodline. She fell in love with a handsome god but failed to provide him an heir. One day, she heard some Balinese people praying for rain and when she looked down from her perch in heaven, she saw a Balinese couple who offered their prayers, standing atop a high hill and addressing their prayers to the clouds.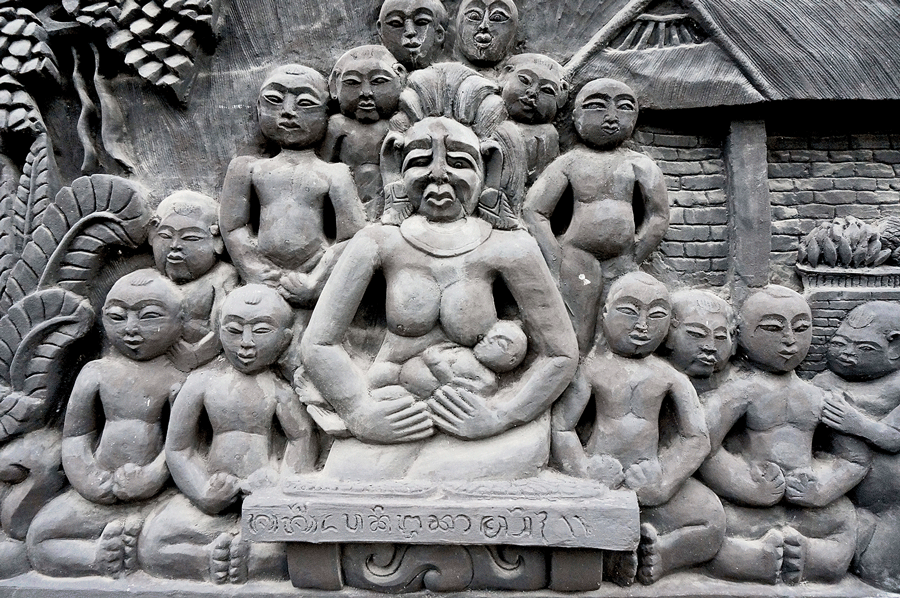 Sure, they wanted rain, but Hariti knew that they lacked much more. She knew that they were barren – unable to produce a child that they wanted so badly. The goddess took pity on them; their plight made her so sad that she began to cry and her tears fell as rain upon the couple. In the heat of the sudden passion of the moment, presumably caused by the magic raindrops, the couple made love right then and there.
No doubt by now you've guessed that their spontaneous union resulted in a pregnancy and the birth of their first offspring. And from that moment on, the goddess Hariti was fertile. So fertile that she immediately gave birth to ten children thereby making her god-husband very happy. From that time until now, this hilltop temple is the place where the Balinese come to pray for fertility and rain – not necessarily in that order. It is said that if a couple spends the night here making love, they will be blessed with many children – especially if it rains on them! But of course we don't recommend you following that tradition because Bali now has laws against doing that sort of thing in public.