300 kilograms of rubbish recently occupied the prodigious Potato Head Beach Club – but not in the way you might think. This was no seasonal wash-up from Bali's beaches, this was the venue's latest art installation done in collaboration with prominent Indonesian artist Eko Nugroho.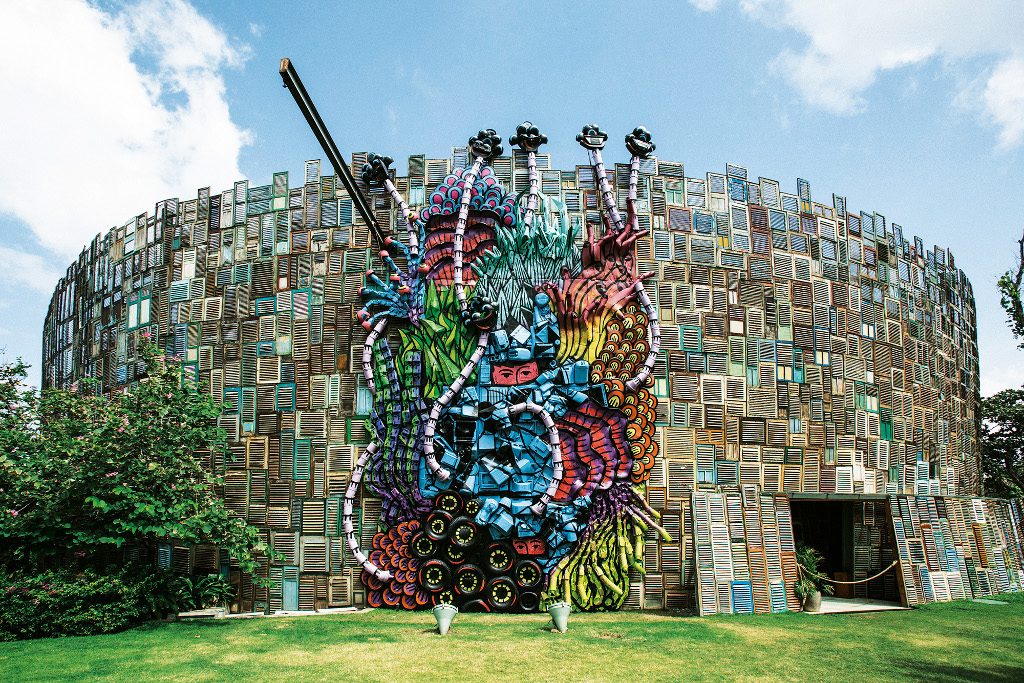 Waste management has always been one of the country's biggest problems; a lack of education and infrastructure has lead to litter lining streets, rivers and has contributed to Indonesia's new reputation as the second-largest marine plastic pollutant in the world. It was this issue precisely that artist Eko Nugroho tackled with his towering beach club display.
On Potato Head Beach Club's already impressive façade – the Colosseum designed by Andra Matin – Eko erected a 10 metre high and 7 metre wide installation made from 300 kilograms of collected waste. Everything from discarded tyres, old computer monitors, plastic toys and bottles and more were used; which he then assembled and painted over to create this monumental masterpiece dubbed "The Bouquet of Love". Gills, kelp, coral and tentacle-like shapes emerge from the piece as the artist's reminder of the oceans we are tainting with inorganic, non-degradable materials.
Why give it a name that contrasts the very thing its made of? The Jogjakarta-based artist explains, "My love for Indonesia inspired me to create 'Bouquet of Love', it's a rich, magnificent tropical country… I was deeply drawn to this project because environmental damage and pollution will have an effect on every aspect of life, not just art," he added. With his colourful creation, Eko proves that the very things we discard can be repurposed into something beautiful.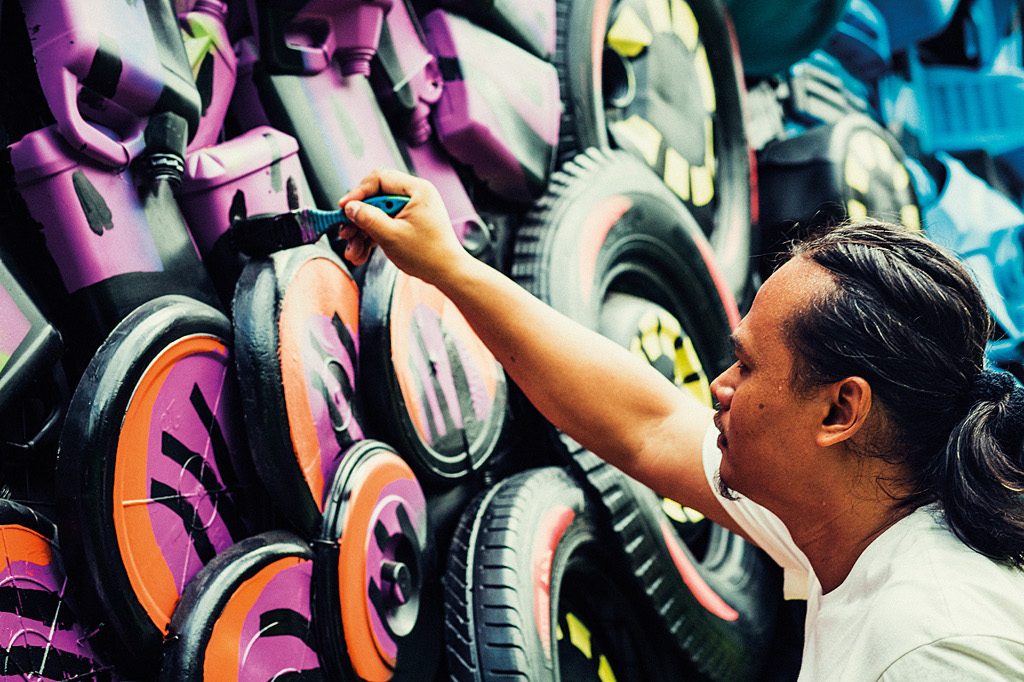 The installation is part of Potato Head Family's mission to provide "good times and do good." Open in 2010, Potato Head Beach Club is one of the group's most iconic properties, known for its unique architecture and pristine tropical surroundings and uninterrupted view of the Indian Ocean. Because of this, conservation and environmental issues are important to Potato Head Bali. The Potato Head Family regularly collaborates with local and international creatives from the fields of art, music, fashion, design and beyond. Potato Head Family CEO Ronald Akili adds, "This installation continues our effort of presenting thought-provoking, original creativity to our guests and puts the notion of waste responsibility in focus, reminding us to take part in this movement."
Eko's artwork was launched days before the two-day Sunny Side Up Tropical Festival at the beach club, an apt time to spread the message to the thousands there over for the party weekend. The festival itself was also a showcase of sustainability, with a stage made from 19,000 plastic bottles, use of cornstarch Avani cups and other art installations promoting sustainability.
Art and events such as these stand as crucial reminders of the waste problem the country is facing. However, when done in a vibrant and positive manner, the message is that, with work, the future remains bright. The installation will remain for a limited time, see it for yourself.