Sandat Glamping is a two year old establishment which has started to emerge as a favourite, if unique, accommodation option. If you seek an exceptional stay experience on the island, SandatGlamping might be one of your 'must-visit' premises. Situated in a quiet part of Ubud, SandatGlamping offers you a glamourous camping experience, in luxurious tents. Although it is only few minutes away from the heart of Ubud, the area is off the beaten track – a perfect romantic hideaway for a couple!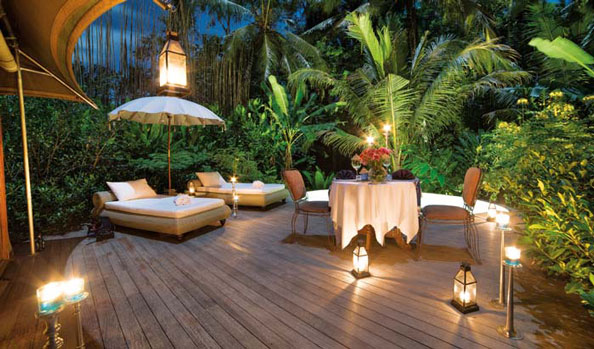 Arriving at the compound, I was overwhelmed by a strong feeling of serenity. An extravagant cactus garden and a huge bamboo construction immediately caught my eye. Five tents were built hidden between trees and other lush vegetation that filled the landscape. Emanuela Podon, the owner, carefully designed the area with a lot of consideration for sustainability and without changing the form of the land.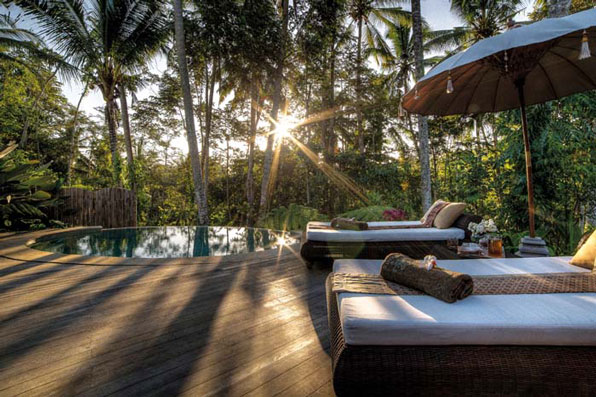 The tents, which are of the highest quality, imported from South Africa, are strong and have impeccable air circulation. Local mosquito and insect repelling plants are planted around the tent. However, being amidst nature one really can't expect zero insects. Each tent has a Balinese themed name, some examples being Ogoh-ogoh, Sarong and Ylangylang, and each is furnished with unique artisan furniture and absolutely gorgeous interior details. So all five tents in the compound feature a different colour theme, different interior and face a different direction. Each tent is completed with a private plunge pool with a jungle view.
Also in the compound, there are three lumbung – traditional Balinese rice storage barns – with a shared pool. The lumbung, named after the Balinese classical dance, have a cool chill-out open air space on the ground floor, air conditioned bedroom on the second tier, and charming outdoor bathroom. Just like the tents, each lumbung features its own carefully chosen interior.
The dining area is a massive bamboo structure that fits in very well with the landscape. The buffet breakfast is served at this charming white-washed restaurant, which overlooks a well-manicured garden.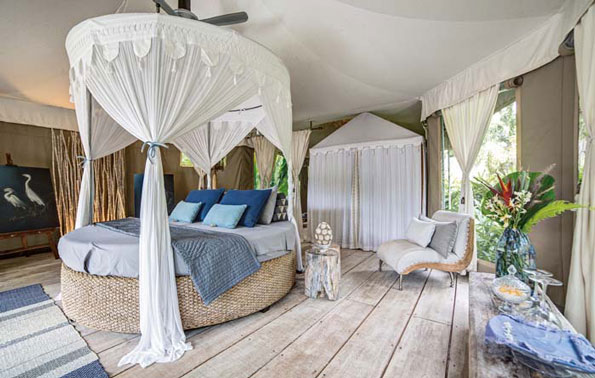 During the day, the compound is quiet. The guests seem to enjoy the serenity of the compound. But if any guests desire to explore the island, the staff are happy to assist and even tailor-make an itinerary. When night falls, only the sounds of nature can be heard; the wind caressing the leaves, the sounds of the insects and nocturnal animals. Here, you can also gaze at the beautiful night sky which is teeming with sparkling stars.
Sandat Glamping Tents
Jalan Subak Sala, Banjar Sala, Ubud
Phone: 0821 4408 1998
www.glampingsandat.com
Text by Kartika Dewi Suardana
Photos Courtesy of Sandat Glamping