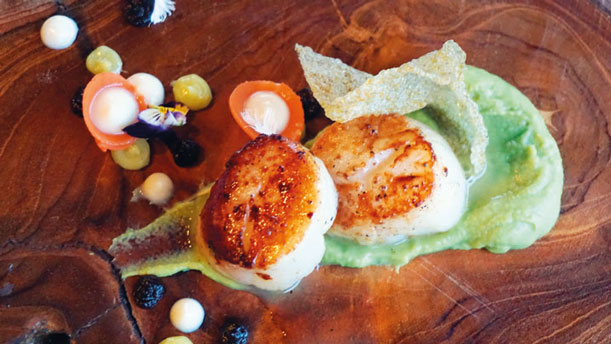 Sultry Ubud is always a place for romance. Look what happened to Julia Roberts in the movie, "Eat Pray, Love". You could almost say, "love is in the air" without being too far off track.
So as a place to celebrate Valentine's Day what could be better. Plenty of options avail themselves and which one to choose? Degustation can be too much if one is in a romantic mood and some prefer a free choice. A menu brimming with delightful options can be just the ticket. Couple that with an intriguing wine list and fabulous cocktails and the scene is set for romance.
So we set sail to Cascades, the gorgeous open sided dining room with a view. Part of the lovely Viceroy Resort, Cascades looks out over the wild and historic Petanu River that has rushed down from the mountains through much of Bali's history and fabulous ancient sites.
Seated at one of the white linen clad tables, one can just sit back and peruse the menu. Cocktail in hand, lights aglow, it's lovely to be there to watch the light soften and fade over the natural surrounds.
The menu created by Belgian chef Nick is varied and interesting. Highlights include a dish of extra fresh seared wild American scallops with a green pea Parmesan crème, fermented garlic, and other surprising taste sensations.
Our roasted New Zealand lamb racks were cooked to order with just a little beetroot infused couscous and drops of roasted beetroot by the side. Our companion's Tasmanian salmon cooked with sous vide lemon zest and thyme looked indeed good enough to eat. The lovely thing with á la carte menu is that there is always plenty more to try next time and that is what I plan to do.
One of our desserts, the deconstructed lemon mojito tarts, were little mouthfuls of tangy pleasure. One little bite and it was gone, but the memory lingers on. We also tried the heart shaped chocolate Parfait with ValrhonaChocolate and Banana Texture and if there was space, well the Brie de Meaux – the fried Brie in Filo pastry with raspberry vinegar and Honey Strawberry crumble sounds too good to be true – it is certainly on top of the waiting list for next time! At the time of writing, their very special Valentine's Day menu was not ready, but it is sure to be worthy of the day.
Soft music and coffee, maybe a little fine cognac or a liquor to finish off a very pleasing meal. Move to one of the very inviting lounges and just let the night slip into the early hours.