On Saturday, 18 February 2017, members of the international dining society Chaine Des Rotisseurs of the Bailliage de Jeunesse de Legian, gathered together to experience one of Bali's newer dining destinations, Opia Bali. Whilst some may have considered it a risk to host a Chaine event at a 'fresh' establishment, Opia managed to quell all concerns with a unique 4-course, cocktail-paired dinner.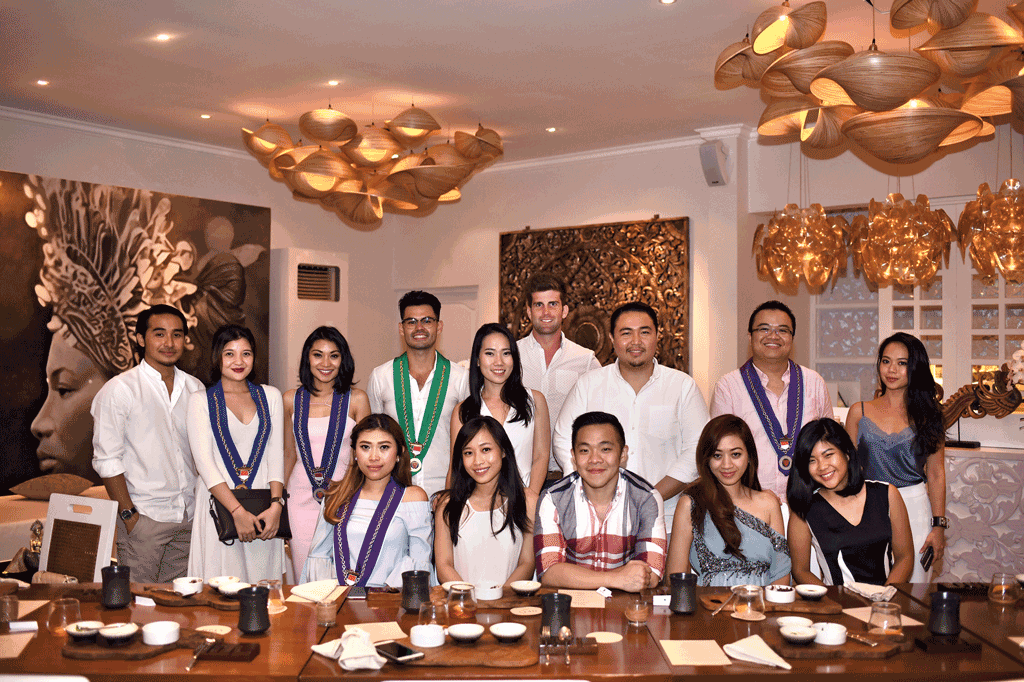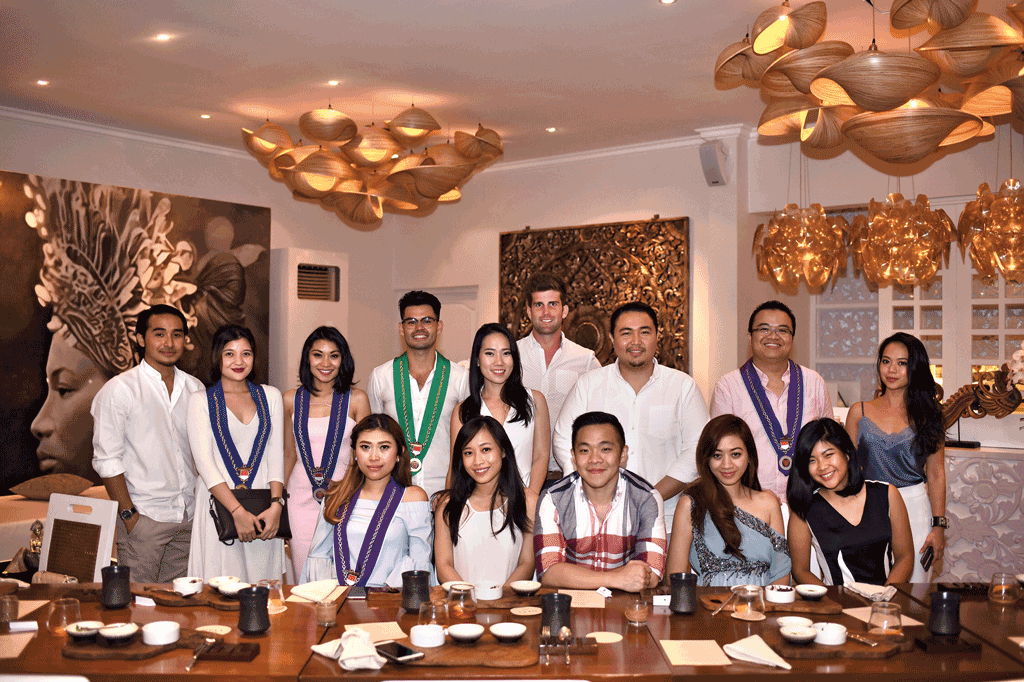 Opia hangs out over a quarry, its sandstone walls blending the restaurants borders with its craggy surroundings. It boasts views out to the famous Jimbaran Bay and its semi-outdoor setting enjoys the breeze of the 'bukit' (cliffside). Opia is all about 'the elements', from their natural setting to their use of raw materials for an intriguing plating experience. Yet, natural does not mean unpolished. The venue is by all means stylish whilst sticking to its natural theme, the adjoining wedding chapel beckons for that initial wow upon entry.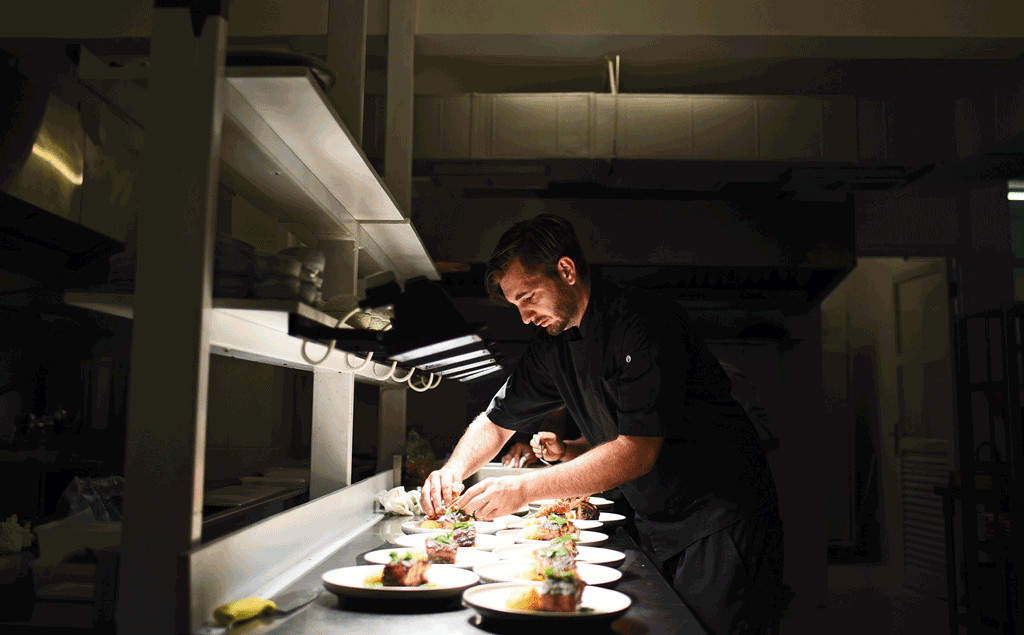 Whilst the setting itself was certainly a pull for this event, the real allure was that Chaine Jeunesse member Chef Nicolas Lazzaroni was newly in-charge of the kitchen. Chef Nic's skills have been tested around the island, previously chef in Ubud's Como Shambhala wellness resort, then executive chef at an Italian fine dining restaurant. In-charge of both kitchen and bar at Opia, Chef Nic's Chaine peers were eager to savour his newest creations; an Asian-inspired menu that adds a modern, sophisticated twist to classic delicacies and dishes.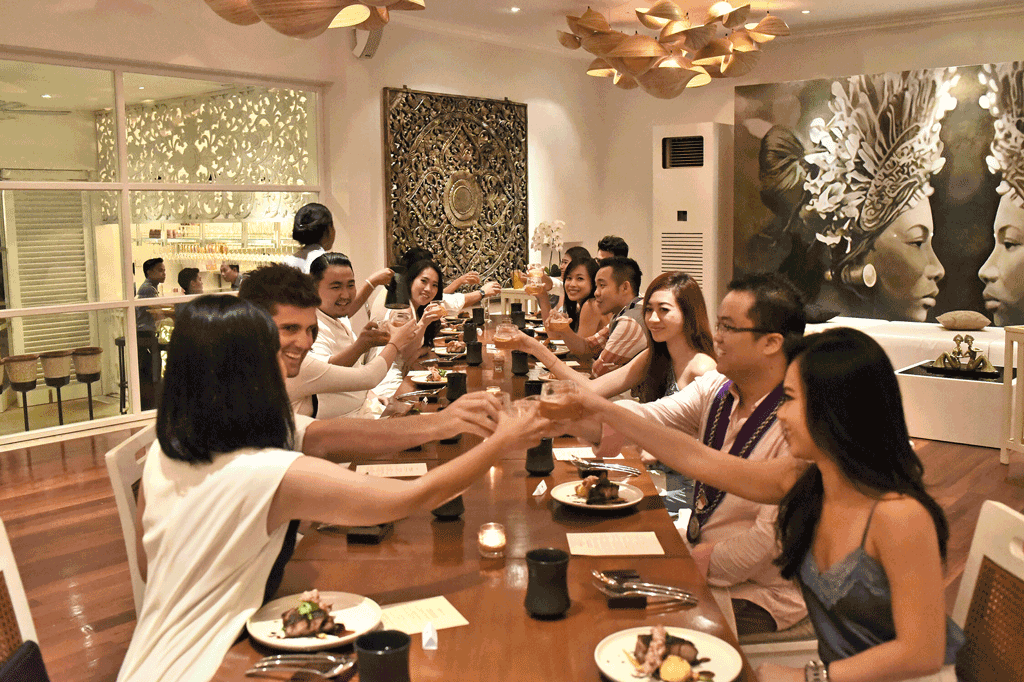 It was early evening on the chosen Saturday when 14 members and guests gathered at Opia. Dressed in white to match the pearly interiors of the venue, all enjoyed a round of specially concocted 'mystery' drinks by Chef Nicolas himself whilst the purple hue of the setting sun faded in the distance. This was the first event of 2017, so members were excited to be together once again.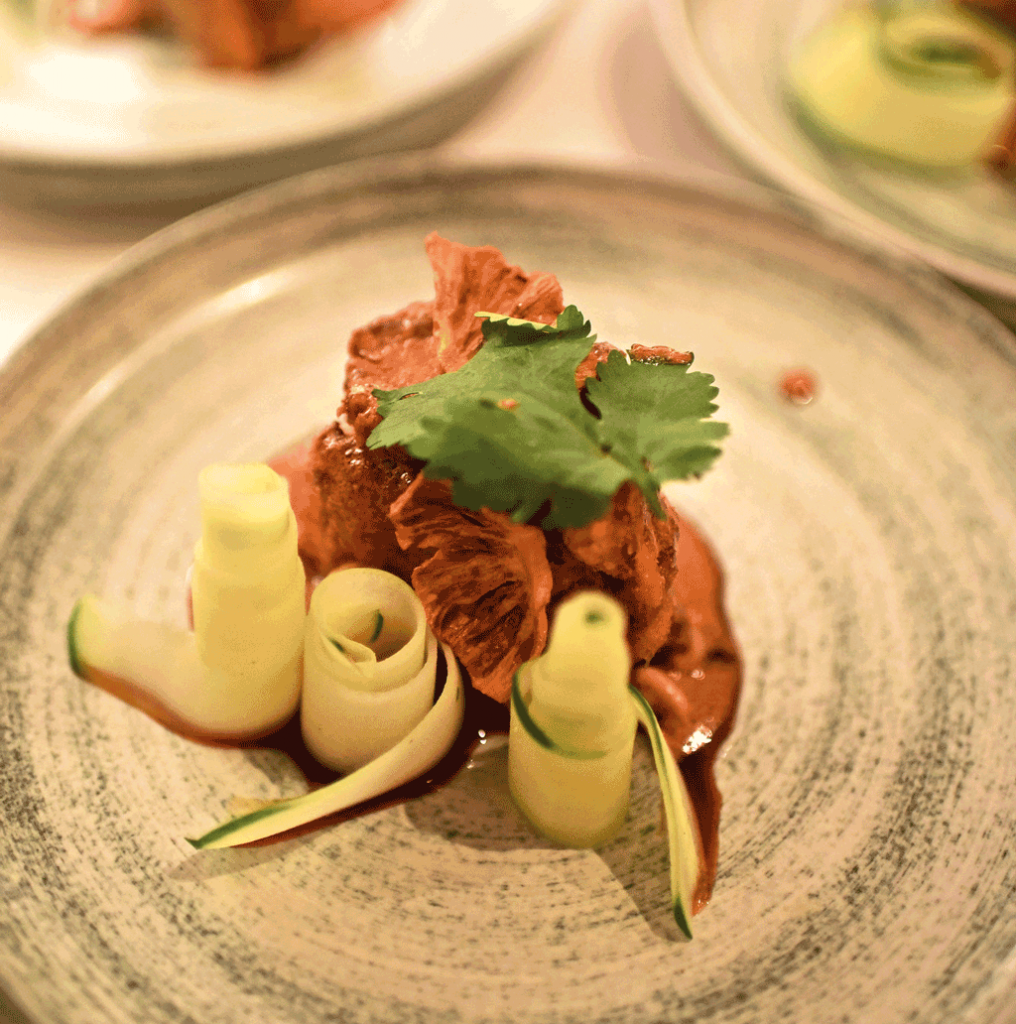 Finally, guests were seated indoors, near to the kitchen so that Chef Nicolas could reappear easily from behind his workstation. After a warm welcome from Bailli of the Jeunesse, Chef Nicolas and General Manager Santi Triana, the much anticipated meal was about to begin.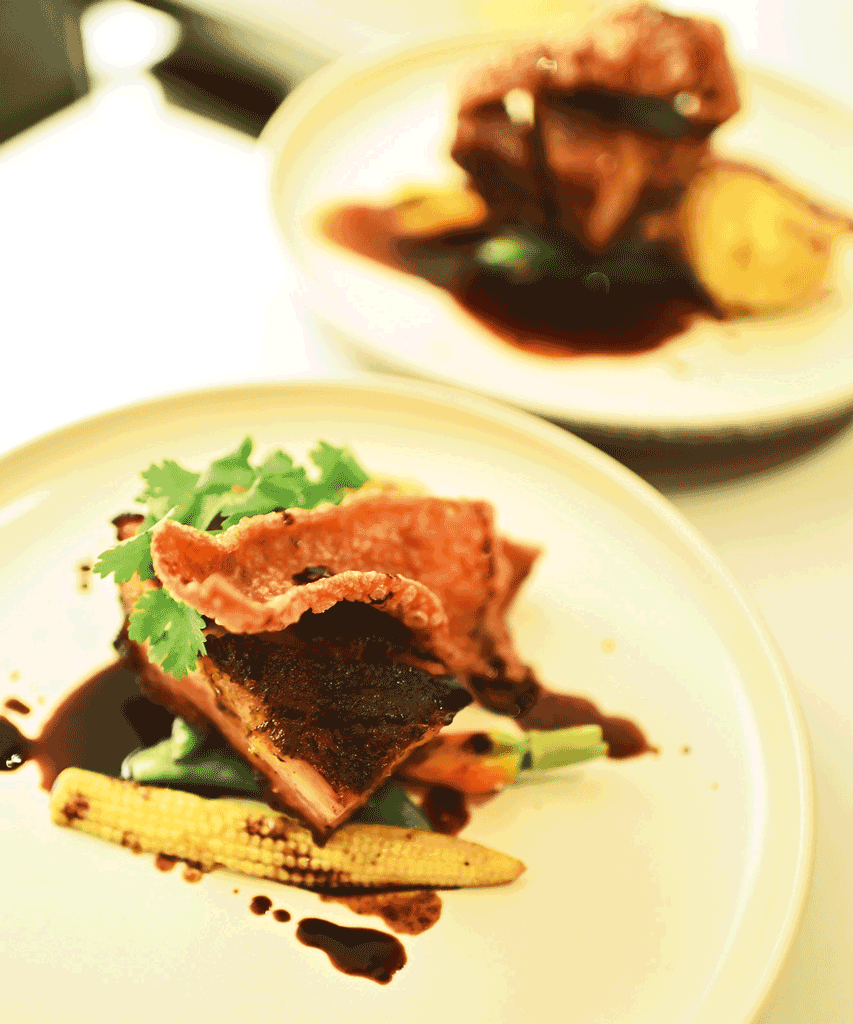 First was the Cured Cuttlefish Carpaccio, served with pomelo, snow pea shoots, edible flowers, coriander and red chilli dressing. A delicate dish; the cuttlefish fresh to the tongue and the pomelo, coriander and chill added subtle Asian notes. This was complimented by a light, kaffir lime based cocktail, the refreshing citrus elements balancing the seafood.
Next, a generous portion of New-Age Peking Duck was served along with a nutmeg meringue, shallot wafer and melted honeycomb reduction. The paired cocktail was an almond and bourbon mixture with hints of cinnamon and dried orange. Unfortunately, despite the individual merits of the dish and the drink, their equal richness made for an overly heavy pairing.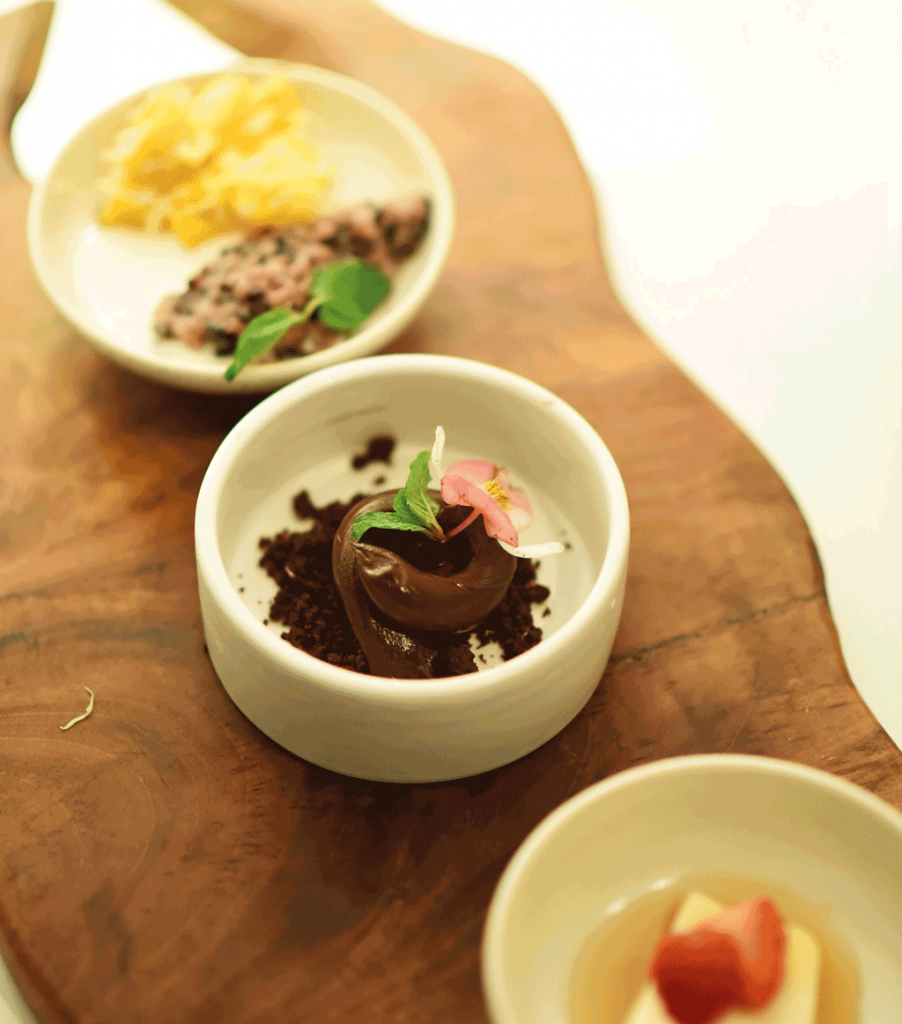 The richness continued with a gorgeously thick slice of Honey Sesame and Soy Roasted Pork Belly, decorated with fennel spiced crackling skin and a neat portion of sticky rice with glazed vegetables. Luckily, the paired cocktail with pepper-infused rum as its base had a sharper tang compared to its predecessor, cutting through the pork's rich flavours.
The finale was an ode to Indonesia, a Dessert Trio of Strawberry Forest Honey, Local Raw Cocoa & Arabica and the classic Ketan Hitam (black rice) pudding dessert. Perfect portions of each were laid out separately, not made to eat together but rather to all pairing nicely with the Cinnamon-smoked Negroni Cocktail to finish, cleansing the palate and soothing the stomach after a relatively meat-heavy meal.
After the dinner, Chef Nicolas Lazzaroni and General Manager Santi Triana were given their certificates of appreciation. Chef Nicolas surely relieved after receiving the approval of his Chaine peers, who were impressed by his command of flavour in both bar and kitchen, a first even for him!
The rest of the evening was enjoyed on Opia's outdoor terrace, chatting with late night coffees and cocktails yet to be trialled in the cool night winds of the Jimbaran bukit.
For more information about Chaine Des Rotisseurs in Bali, both jeunesse (youth) and regular memberships, please visit www.chaine-bali.org
Note: Nicolas Lazzaroni and Santi Triana no longer work at Opia Bali, Jimbaran.