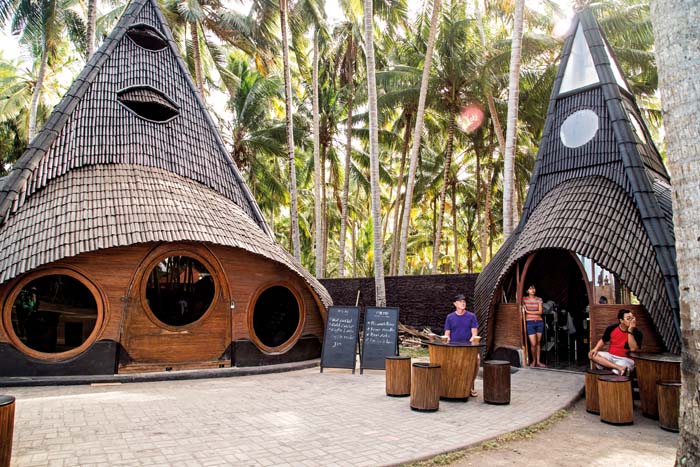 It was a bright Saturday with a blue sky, sunshine and enough cool breeze even at noon. We headed east to Jasri Beach in Karangasem regency. It was a nice drive passing through the bypass road with a great view of the blue sea on the right and rolling hills on the left. We passed by Goa Lawah, Bali's famous temple dedicated to the God of the Sea. We drove through the popular Candidasa area with its serene seaside and vibrant café scene.
After almost two hours on the road, we saw a small sign reading "Bali Chocolate" on the wall of a building on the right hand side of the road. We turned off right into the dusty road that led to an enormous coconut orchard. We offered a small amount of money to the man waiting on the road just before entering the coconut orchard. In return, he gave us directions to a place he called 'Rumah Coklat' – chocolate house.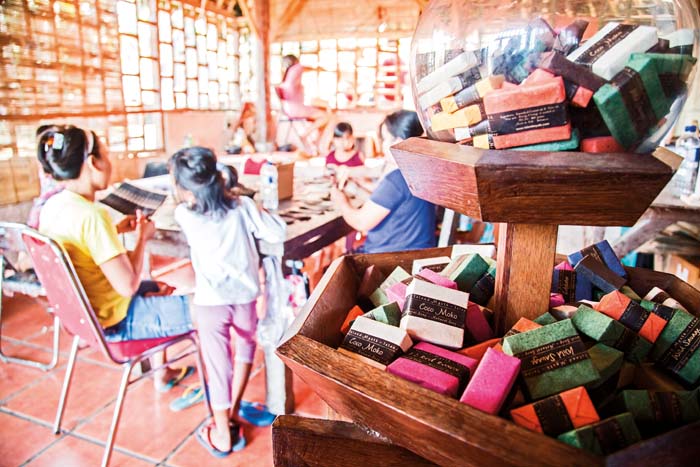 The winding dusty path took us to the edge of the shore. We parked behind a wall, under a coconut tree. Inside the wall was the compound of Charly Chocolate Factory.
Charly, the owner of the factory, lives on the premises and we were lucky enough to meet him. He guided us around each of the unique buildings in the compound with the chocolate factory itself reminding me of a cross between a hobbit house and a pyramid. Here, we were able to observe the process of chocolate making and also taste the products.
Charly, an American who first came to Bali 17 years ago, fell in love with Jasri because of the serenity of the area and the great surfing conditions. Wanting to empower the local women, he started up a soap factory using the ingredients available in the area.
After a while, he decided to expand the factory into a chocolate factory. He chatted away about the history of the factory as we sipped on cold chocolate at the factory's outdoor café.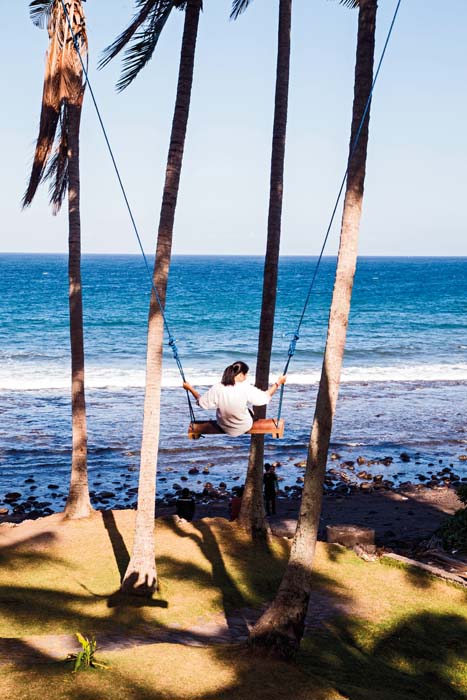 As well as visiting the chocolate factory, we took a look at the humble laboratory where the ladies make soap – I can't describe the fragrances that filled the air! Next we visited the hut by the sea to observe how the ladies packaged the soap while nursing their children.
Most of the employees have been working in the factory since its establishment, and they affectionately referred to Charly as "Pak Wayan" or "Bang Jaya," his Balinese name.
Then came the final highlight of the trip – the Chair of Instant Enlightenment. Basically, it is a simple swing made of plastic rope and wood. How to get enlightened? Climb up to a 3-metre high platform, breathe, grab the rope with both hands, sit on the wooden swing and let go! Leave all your fear and stress behind as you float merrily through the air. What a delight!
Written By Kartika D Suardana