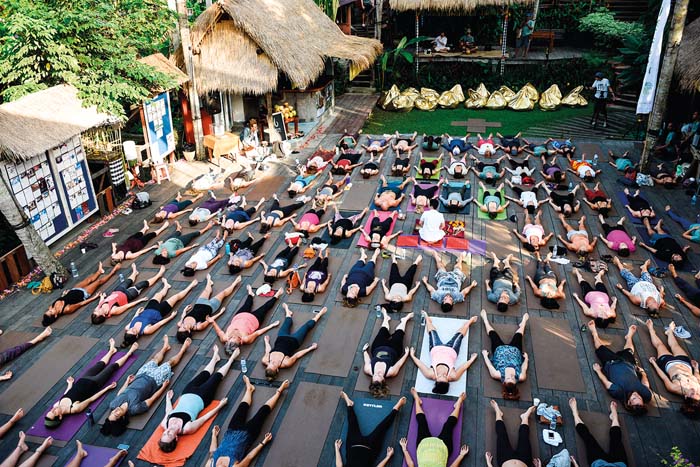 This month NOW! Bali spa pages are urging you to look ahead and book ahead. High season is upon us and we are in the midst of the best parties, the best weather and we are having the best of times.
To prepare for this non-stop whirl that brings bigger and better events you need to plan ahead. It's not too late to use your social media and get booked in for the pre-party polish, the mid sessions massages or the decadent detox for your final fling.
Let's start with the toes! Your feet will have to bear the brunt of late nights so trot them in quick and smart for a foot reflexology session at Chill in Jalan Kunti. Gentle soaking, scrubbing and a massage will make them feel brand new and sweetly refreshed.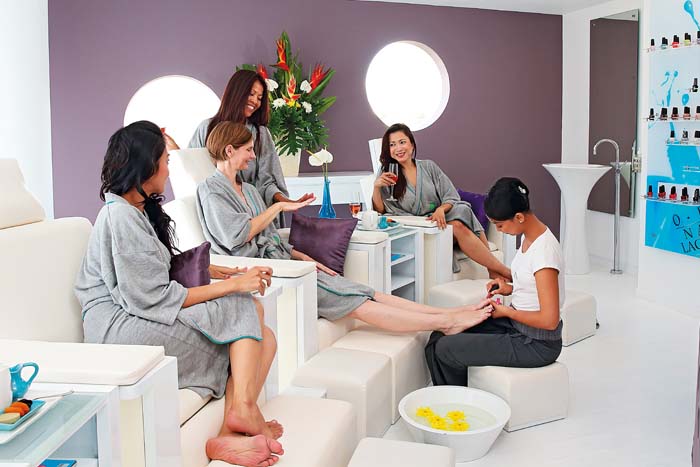 Now they are party-primed head beach side to Double-Six Luxury Hotel's Acqua Perla Spa to refine and polish them with an uber chic mani-pedi treatment. Stepping into their shining, pearl-white interior washes all worries away and when you sink into their plush, white, reclining chairs you'll be ready for your beautification. The Acqua Perla Nails treatment includes an arm and leg massage with organic butter followed by a clear OPI nail application, after this you'll be ready to glow and go.
Now that the nails are done, its time to embellish the rest of you! Slip into the elaborate AWAY Spa at W Retreat & Spa Bali and indulge in their many services that will get you feeling and looking fantastic. Start up top and enjoy their soothing 'scalp treat', a nourishing head massage using chamomile and orange extracts that add lustre to your hair and refreshes the mind. Then utilize the skilled stylists to get your locks looking glamorous for the evening ahead.
Men, no need to feel left out in all this! Bali offers plenty of 'masculine' choices for grooming. AWAY Spa's 'What Men Want' menu is the perfect choice for your just as important adornment needs. Try out their 'Style+' option, a mixture of exercise, exfoliation, massage and pedicure topped off with a whiskey on the rocks – can't beat that! A man needs grooming too, afterall!
Now both genders are groomed and good to go, but what happens after those long tropical nights, when the taste of marquisa and margarita has faded and the morning long past.
It's time for more massages! But don't rush book yourself in for some of the most luxurious spa treatments on the island, run up to the hills of Ubud to soothe away the effects of too much fun, choose from aquatic treatments of soaking in herbal waters, for example the spa at Four Seasons Resort in Ubud, offers treatments that have an exquisite range of Ayurveda treatments that are very grounding.
DaLa Spa at the Alaya Ubud are experts in traditional Indonesian remedies, mixing spa cuisine and therapies to ensure health internally and externally. Their Bunga Rampai Ritual does just this, with a betel nut food ritual to begin followed by a coconut body scrub, Rampai rose petal bath and Rampai signature massage, topped off with a traditional rice mask to draw toxins and nourish the face. With their herbal scrubs and oils your skin will love you for a long time.
For further replenishment sequester yourself in at Fivelements, the stunning bamboo architecture lifestyle retreat just outside Ubud in Mumbal. Here resident and visiting healers will provide treatments, guidance and therapy, the website will give you details of the programs that change with regularity to accommodate the continual advancement in knowledge of sacred and spiritual as well as physical healing.
Now you are renewed and ready to start again, but before you head back down to the bright lights stay awhile and find out what is firing up in Ubud these days. The Yoga Barn hosts Ecstatic Dance that has become so popular there are queues to get in and a range of great yoga classes to get yourself back in shape for another round of high season frolicking.
Chill Reflexology
Jalan Kunti 1, Seminyak
0361 734 701
Acqua Perla Spa at Double-Six Luxury Hotel
Jalan Arjuna No.66, Seminyak
0361 730 466
AWAY Spa at W Retreat and Spa Bali
Jalan Petitenget, Seminyak
0361 3000 106
Four Seasons Resort Bali at Sayan
Jalan Raya Sayan, Ubud
0361 977 577
DaLa Spa at Alaya Ubud
Jalan Hanoman, Ubud
0361 972 200
Fivelements Puri Ahimsa
Banjar Baturning, Mambal
0361 469 260
The Yoga Barn
Jalan Sukma, Ubud
0812 3827 4174
Written By Sarah Prewitt