Mandif Warokka is an honoured Indonesian Chef praised for his European and Asian cuisines. He describes his achievement today as a result of having embarked on his "long-term vacation". He jumped from one country to another "stealing" recipes and opening his mind of world-wide kitchens. His Ubud fine dining establishment, Blanco par Mandif, is his way to pay homage to his country's home foods, such asthe Mie Cakalang.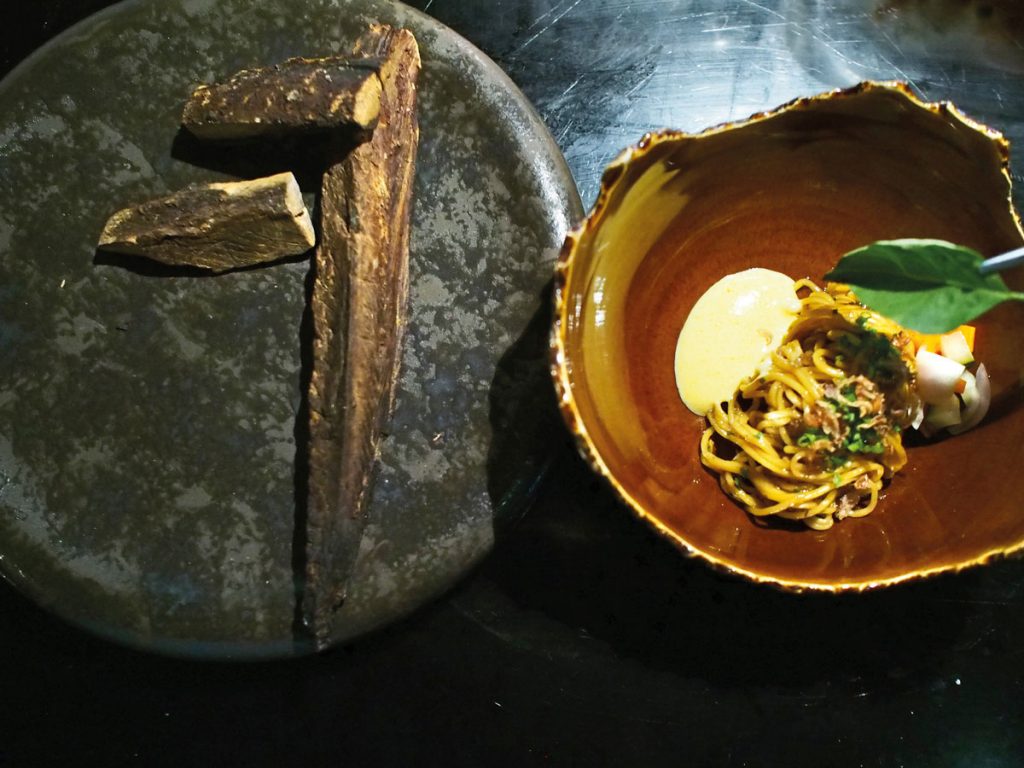 "Mie Cakalang is an exciting combination of smoky and savoury flavours. Its intense yet subtle flavour of smoke permeates the tender fleshed cakalang fish, further enhanced with pickled vegetable acar, and egg sabayon" – Mandif Warokka.
Ingredients:
Garlic Paste
5gr garlic, 15gr shallots – blend with a little oil to smoothen and become paste.
Smoked Cakalang
1 cakalang, clean and nicely cut to fillet, coconut husk to smoke.
Afteryou clean the fish, pat dry the fish and put in the smoker. Smoke with coconut husk for 2-3 hours. Chop the meat and set aside. Sauté chopped shallots with oil, add in chopped smoked cakalang. Sauté until the oil evaporates.
GarlicSoy
5 grgarlic, 3 pcs lime leaves, 15 gr shallots.
Blend all ingredients until they become smooth, and mix with sweet soy sauce.
Homemade Noodle
300 gr all purpose flour, 100 gr tapioka flour, 5 pcs egg yolks, 2 tbspoil, pinch of salt, 90 gr water. Mix all the ingredients and knead well until well combined. Rest for 30 minutes. Using a pasta machine, roll the dough and cut into a noodle. Blanch the noodle until al-dente, and set aside.
Method
1. Sautee garlic paste.
2. Add in the chopped cakalang fish.
3. Add fish stock.
4. Add in the noodle and follow with soy sauce and sweet soy sauce.
5. Add in chopped thai basil and stir until well combined.
6. Garnish with thai basil and chopped chives.
7. Ready to serve.
This dish is also available at:
Blanco par Mandif
Jalan Raya Tjampuhan, Ubud
+62 361 4792 284
www.blancoparmandif.com
---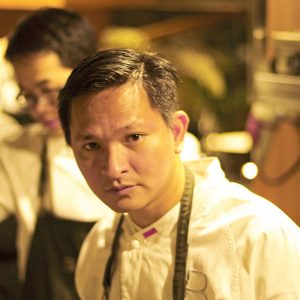 For More about Mandif Warokka go to
www.mandifwarokka.com