The drinks flow for the afternoon brunchers, late-night revellers, and everyone in between at this restaurant's chic lounge. Design lovers looking to imbibe will definitely find Jemme Bali a haven; because not many places can boast both decadent dinner stop meets luxury jewellery shop.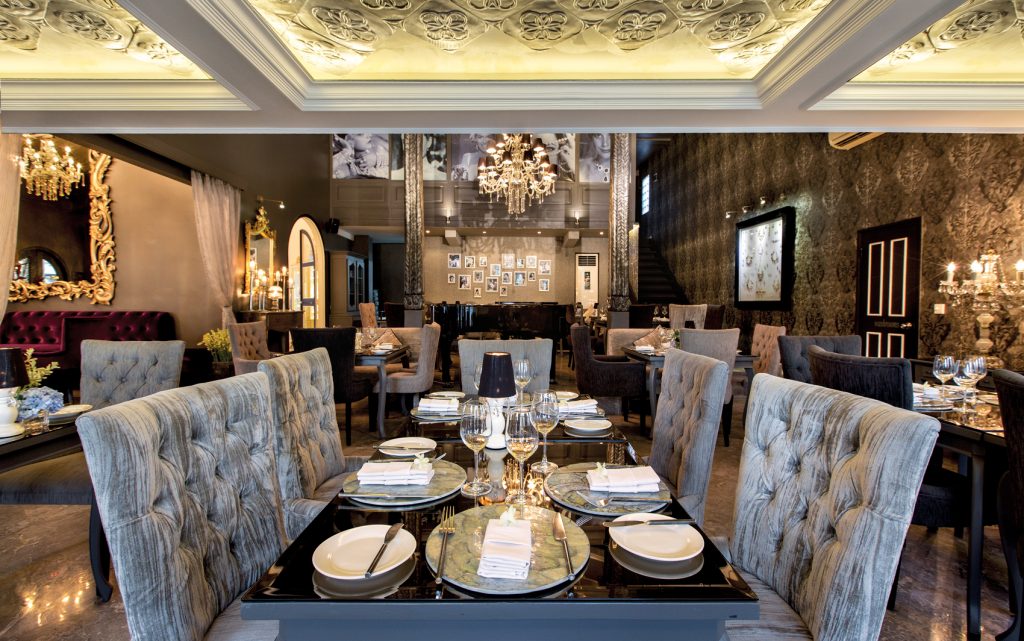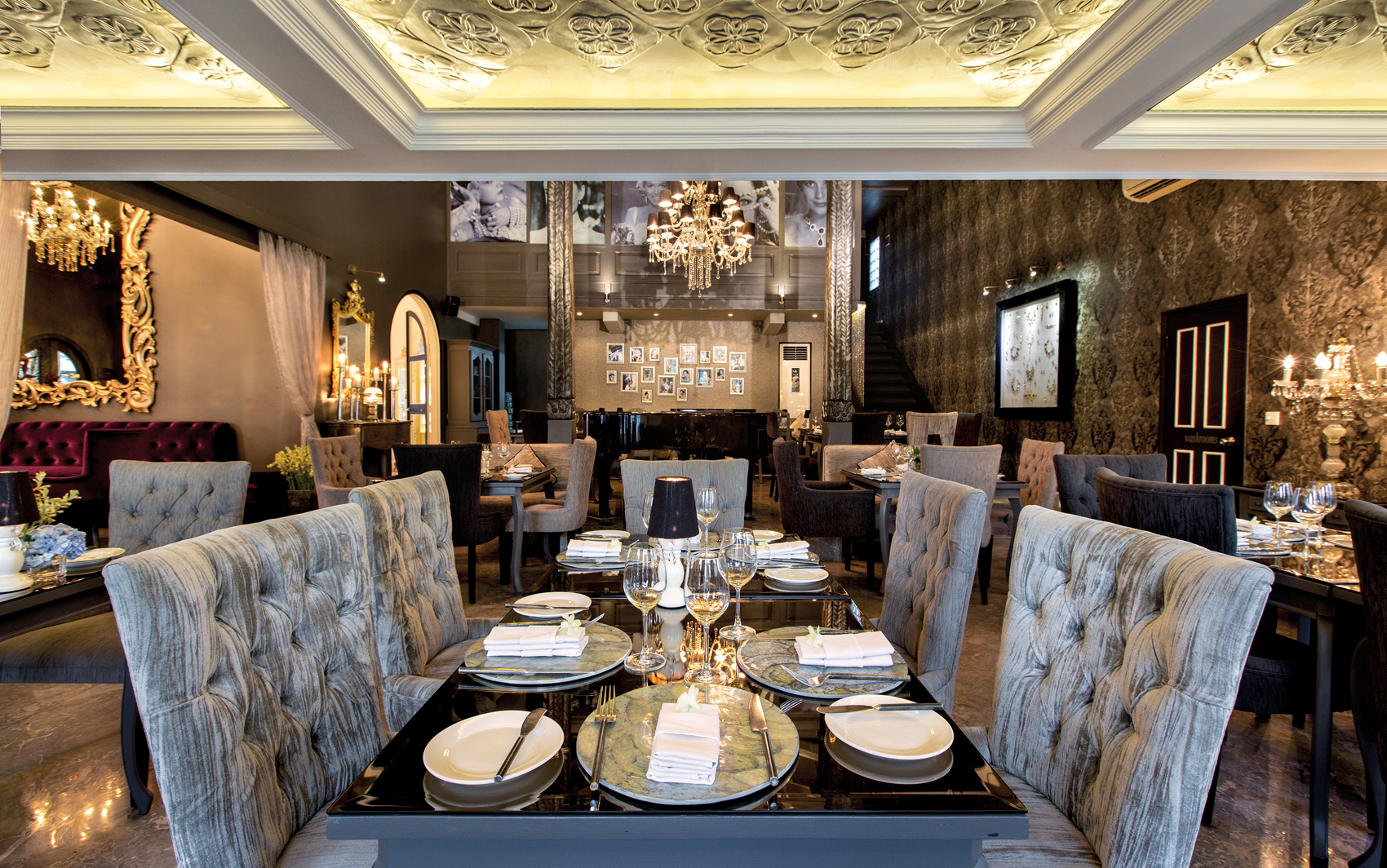 A visual spectacle, the decadent lounge at Jemme Bali has been known as a refuge for those looking to drink, dine and play all at once. Plush sofas, an elegant bar, and chandeliers adorning the lounge add a warm feel to the room, creating an intimate and seductive environment. Here you can indulge in an extensive list of delicious cocktails along with some seriously tempting wines.
Step into the dining area, and you'll be dazed by how this little gem pays close attention to details. The decor is striking in that old Victorian way, and the grand piano as the room's pièce de résistance simply tells you that you're in for an elegant evening. This restaurant has effortlessly become one of those places that make you want to dress up a bit for dinner.
Indeed, the lounge and drinks are examples of the finer things in life, but for a long time Jemme has also been known as the home of fresh classics and comfort food too. Perfect for lunch, dinner, and special occasions, Jemme's menu includes a luxury twist along with decadent desserts. But a favourite at this restaurant meets jewellery shop is the restaurant's Roast Menu.
Perfect for two, the roasts (beef, lamb, chicken, pork) are served with roast potatoes, creamy cauliflower cheese, sautéed green beans, roast almond, roast beetroot, baby carrots, crunchy creamy leeks with bacon, and green peas with bacon. Vegetarian nut roast is also available.
My personal favourite is definitely the Roast Beef that is served with Yorkshire puddings and horseradish sauce. Roll-round-the-mouth juices, marbled fat, the meat folding like a velvet curtain, the roast beef makes the best dinner any day of the week. Then there's the Cumberland Pie. This hearty lean beef and vegetables, topped with creamy mashed potato and grated cheese, is served with buttered green peas and gravy.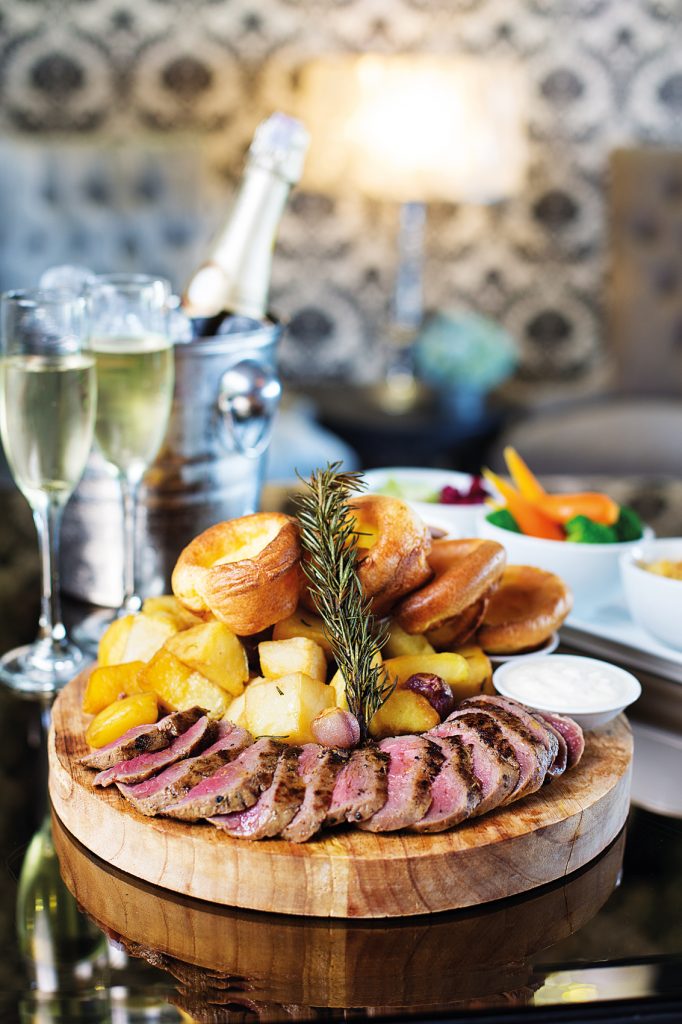 Other mouthwatering choices include the Classic Steak (Served with a creamy black pepper sauce and homemade French fries), Roasted Grouper (with a mustard and citrus crust, served on a potato and chive rosti, and cauliflower cream puree), Seafood Chowder (creamy chowder made with chunks of smoked salmon, barramundi, prawns and potato, topped with poached quails egg), Lobster Vol Au Vents (homemade puff pastry filled with lobster in a creamy sauce), and Baked Barramundi (with a chorizo crust, on mashed potato with a herb and butter sauce).
JEMME'S DAPUR IBU
A food concept that offers fresh Indonesian comfort food, Dapur Ibu is Jemme's way to cater to those cravings for the Indonesian classics. Available Monday to Saturday from noon to 5pm, you can expect sumptuous, popular Indonesian dishes such as Iga Bakar, the Indonesia grilled beef ribs with chilli, served with steamed rice, mixed vegetables, spicy sambal paste and crackers (1), Sop Buntut or Sop Buntut Goreng, beef oxtail soup or fried beef oxtail soup, served with steamed rice, spicy sambal paste and crackers (2), and Nasi Goreng Roa, fried rice with spicy Manado smoked fish (3), along with other Indonesian favourites such as Rendang, crispy duck, and more.
Jemme Bali 
Address : Jalan Petitenget 28, Seminyak
Telephone : +62 361 473 2392
Website : www.jemmebali.com