Away from the glitz of Ubud, rural Gianyar is characterised by its terraced rice fields, dense forests, and dramatic, rolling landscapes. The vastness and beauty can be quite startling to visitors. Any visitors approaching the area will appreciate it, and it is worth stopping just to absorb the beauty of it all.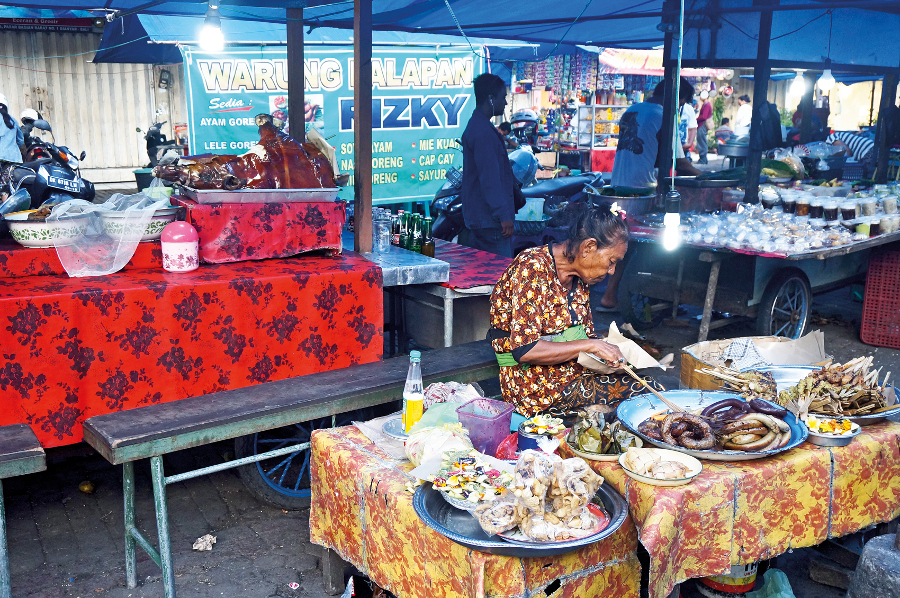 As the second most densely populated area in Bali, Gianyar is widely known for its artistic town of Ubud. That's right, Ubud knows how to be a great host, entertaining its visitors with performances, restaurants, luxury resorts, galleries and museums. But those in the know will find the Gianyar outside of Ubud as equally enchanting. Take downtown Gianyar for example, an area where you can really witness a variety of lifestyles and join the locals in the traditional market.
Driving 10 kilometres southeast from the main Ubud hub, you'll find the capital of the Gianyar regency, which is also named Gianyar. Upon entering the capital, you'll be greeted by government office buildings, all displaying their adaptations of Balinese architecture.
Old Balinese buildings line the two sides of the town's Jalan Ngurah Rai main strip. These buildings, mostly shop houses, sell various goods that range from electronic appliances, handmade music instruments (they have seriously nice guitars here), watches, clothes, and groceries. And to add to that charming, traditional rural atmosphere is the Gianyar Night Market, also located on the street.
Though known as a night market, Gianyar Night Market is already bustling at around 4pm. As a thriving traditional market scene, Gianyar Night Market is the place to indulge in the sumptuous local dishes. From chicken noodles to bakso and satays, and of course the Balinese favourite suckling pig and "halal" Javanese delicacies to traditional snacks, cakes, and desserts – you're seriously spoilt for choice here. For visitors, these meals-on-wheels can serve as an introduction to and serve as an opportunity to unravel various local foods, served in a totally different atmosphere.
There's also a whole host of other vendors selling lots of other goods at Gianyar Night Market. You can find shoes and sandals, t-shirts and shorts, electronics, homewares, women's accessories, offering flowers, toys, and even undergarments here. But if you're here for the food, in addition to the mobile food stalls, there's also a dedicated area right across street where you'll find rows of eateries offering various local dishes.
As the moon rises, you'll enjoy a brilliant mini cityscape with the vendors' many fluorescent lamps flickering. This market is hard to miss; the traffic can be somewhat chaotic especially during the busiest time, which are the weekends, with the many motorbikes and cars parked out along the roadsides.
Heading back to the outskirts of Ubud, Mas village is home to some of the island's finest woodcarvers. Of the many art villages on the island known for their wood carvings, Mas stands out for its intricately designed wooden masks; in fact, some of the carvers from this village, such as Ida Bagus Anom Suryawan, has travelled the world to introduce the typical Mas art form through exhibitions. The creations of decorative masks and performance masks used by traditional Balinese dancers have earned some of the village's carvers a good reputation, even overseas.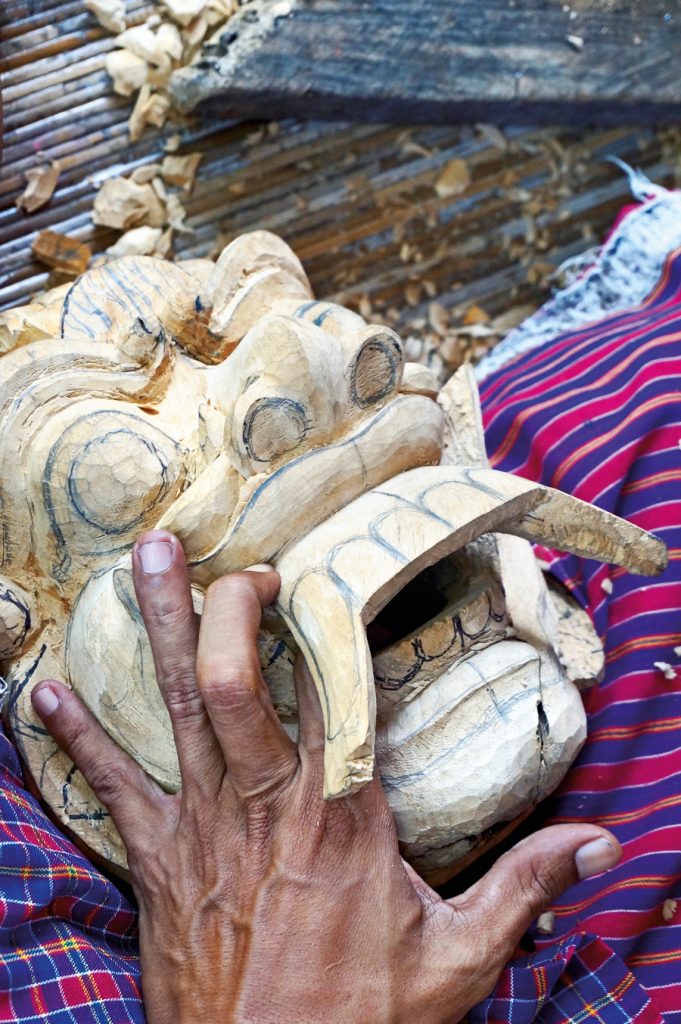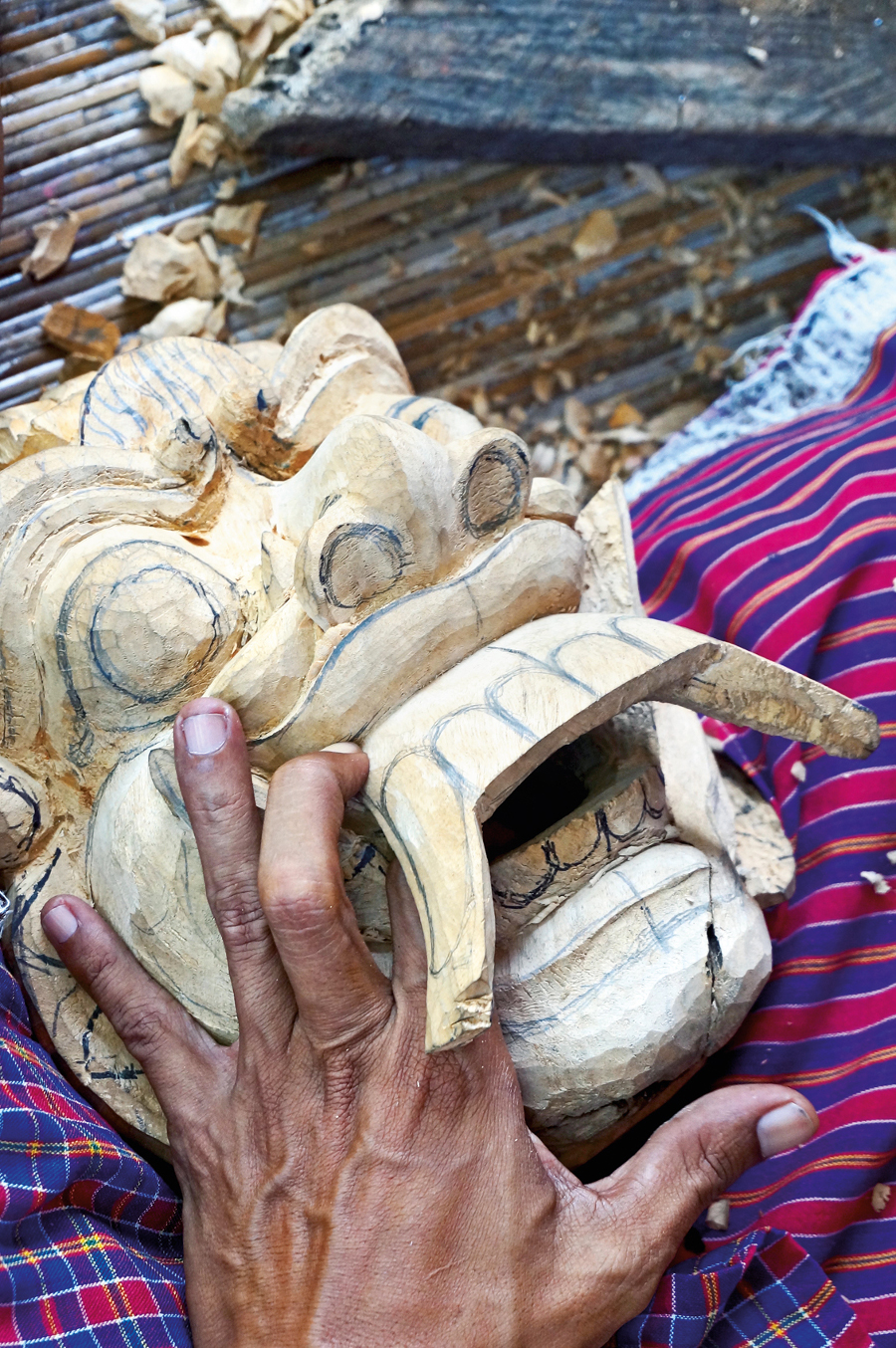 Using over 30 different tools, the carvers at the village take five to ten days to create simple masks, while more intricate ones can take up to a month. Hibiscus is a common wood used to craft decorative masks, and the mask is polished to smooth its contours; hence making its fine grain visible in the finished product.
Performing masks, on the other hand, are made from Pule wood. They are coated with different paints and once finished, blessed through the performance of a certain Balinese Hindu ritual. Suryawan explained that in order to make a perfect performing mask, you need to know the character of the mask and how it moves; that way, you can blow a breath of life into the wood and give the mask a soul.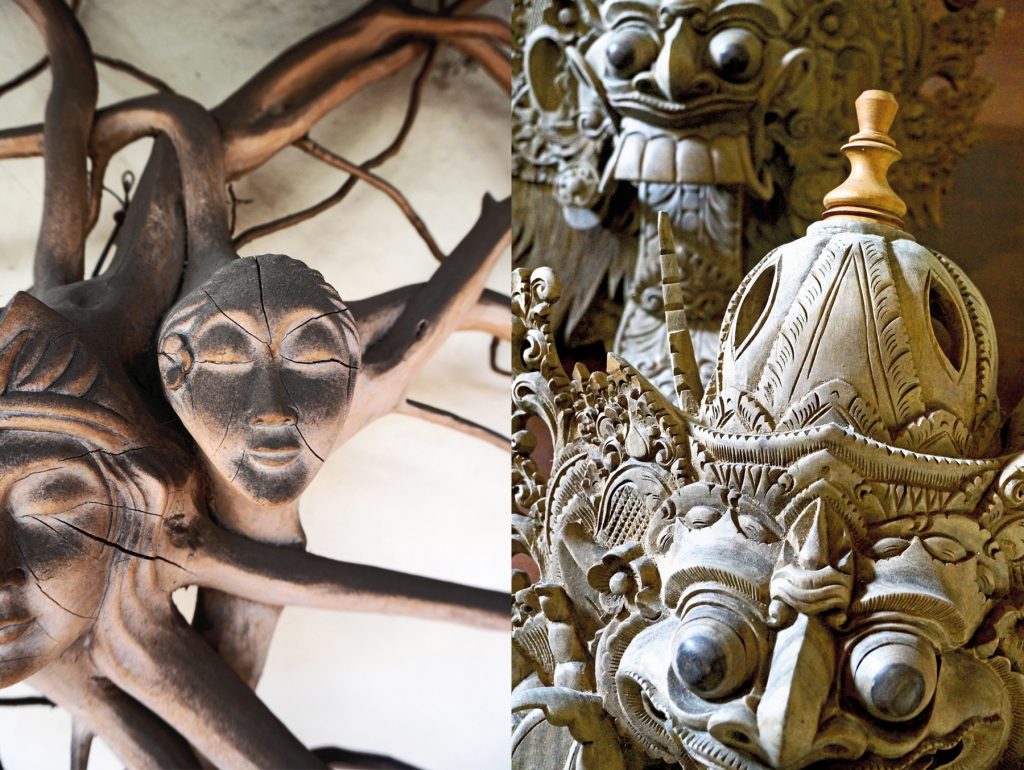 Most of the carvers' studios at Mas is open for visitors. If you're there, don't hesitate to come inside and have a look. You may find something interesting to buy as a souvenir, or for you to keep as a reminder of the Island of the Gods in your living room.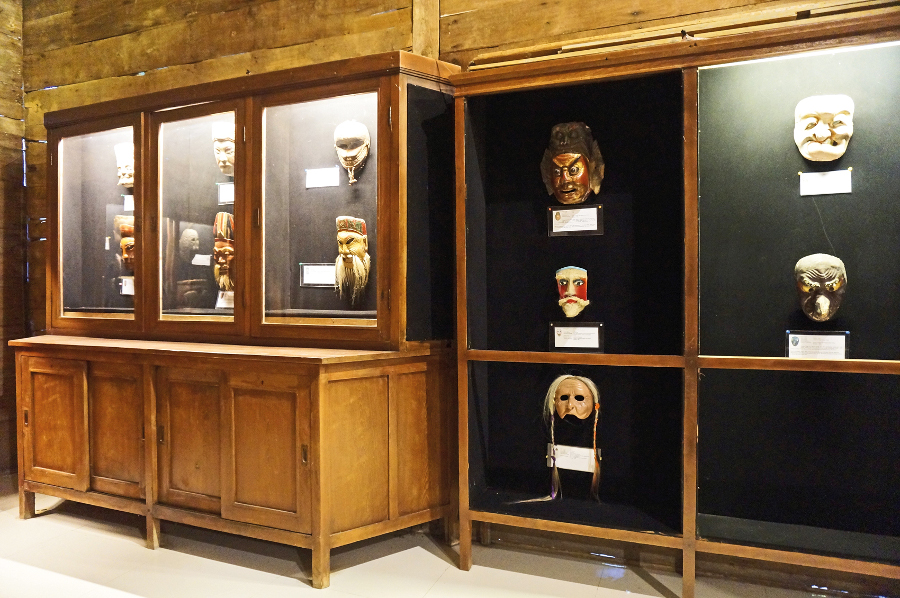 A five-minute drive away from Mas, in the neighbouring Tegal Bingin village, the Setia Darma House of Masks and Puppets celebrates cultures and traditions by housing over 1,300 masks and 5,700 puppets from across the Indonesian archipelago, China, Europe, Latin America, and Africa. But despite being in close proximity to the popular Ubud, this museum remains one of Bali's best-kept secrets and hasn't received the number of visits it really deserves.
In a complex of Balinese bales and Javanese joglos, Setia Darma preserves some of the world's most colourful pieces of art with each house displaying different collections of masks and puppets. The collections at Setia Darma are accompanied by detailed descriptions so that visitors can learn about their function in a particular culture, from the contemporary to the ancient and sacred.
The traditional houses rest on over one hectare of well-maintained, manicured landscape with tropical gardens and rice fields surrounding them. The first joglo on the compound houses a collection of traditional shadow puppets along with contemporary figurines such as those of Agustinus Prayitno, the founder of Setia Darma, and even Barack Obama. The walls of this joglo are adorned with other specimens such as those from the Ramayana and Mahabharata Hindu tales, Sicilian stick puppets that date back to the 16th century and marionettes reminiscent of Pinocchio, together with highly detailed Bunraku idols from 18th century Japan.
In the second house you'll find the most iconic puppets in Indonesia's heritage, the leather shadow puppets or locally known as Wayang Kulit. These puppets are normally performed by a Dalang (puppet master) during Balinese Hindu ceremonies to celebrate rites of passage. The characters draw similarities from great Hindu tales, and convey words of wisdom and lessons of good conduct to audiences.
The collection in the third house comprises of a rich variety of traditional and usually sacred masks, while the fourth house contains more contemporary specimens collected from local village craftsmen. Balinese puppets and masks occupy the fifth house, including the intricately carved masks and full-body costumes of the Barong and Rangda, two mythical characters from the Calonarang legend that depicts the forces of good and evil.
Moving onwards to the village of Taro, you get to wander through a bamboo forest and see the timeless routine of planting and harvesting rice from the endless stretches of emerald green rice fields that unfold before you. Here you'll encounter various flora and fauna, including king and queen palm trees, ferns, wild orchids, hanging liana and a variety of birds such as the Java Kingfisher, and Black Bali Starling. The traditional Balinese family compounds on the village's hills of Boenjaka allows you to see firsthand how the locals do their daily routines and agricultural plantations of coffee, coconut, and palm, as well as tropical fruits such as the snake skin fruit (salak), durian, jackfruit, papaya, oranges, mandarin, mangoes, and mangosteen.
WHAT TO DO IN RURAL GIANYAR
Taro Village, up on the hilly region of Ubud, is home to scenic hinterlands with sprawling rice fields, a bamboo forest, and a rich flora and fauna life, making the area a perfect spot for trekking. In addition to the trekking, Taro is also made famous by the establishment of Taro Elephant Safari Park, a sanctuary that allows visitors to get up close and personal with the friendly elephants.
Late last year, leading tour company Mason Adventures launched Mason Jungle Buggies, giving Taro a wakeup call with the arrivals of thrill seekers in the village. The first of its kind in Bali, Mason Jungle Buggies gives you a taste of how it feels to drive fantastic off road buggies and experience pure motoring pleasure behind the wheel of the off road speed demons!
Your adventure at Mason Jungle Buggies starts at Koko Bambu Restaurant, a beautiful natural structure comprised of bamboo, where you'll be given a safety and instructional briefing and video before you head out to the buggy and put the pedal to the metal. And since this is a thrilling activity unlike other buggy experiences on offer here in Bali, you need to have experience in driving a car and a valid driver's license and must be over 18 years of age.
Once you've donned your helmet, you can then start your engines and get ready to embark on a journey into the jungle to experience Bali's first and only 'purpose-built ATV track'. This thrilling new course, spanning 4.5km over each lap, was crafted with the hardiest adventure seekers in mind to provide an exciting and intense driving experience like no other on the island. The off-road vehicles available are single ACE model for one person with a 325 CC engine and two-seater Polaris RZR model with its 570 CC engine if you want to ride with a friend or guide. To ensure driver safety during your thrilling jungle drive, both of the vehicles boast certified roll cages, three-point seat belts, safety nets and a custom-fitted horn.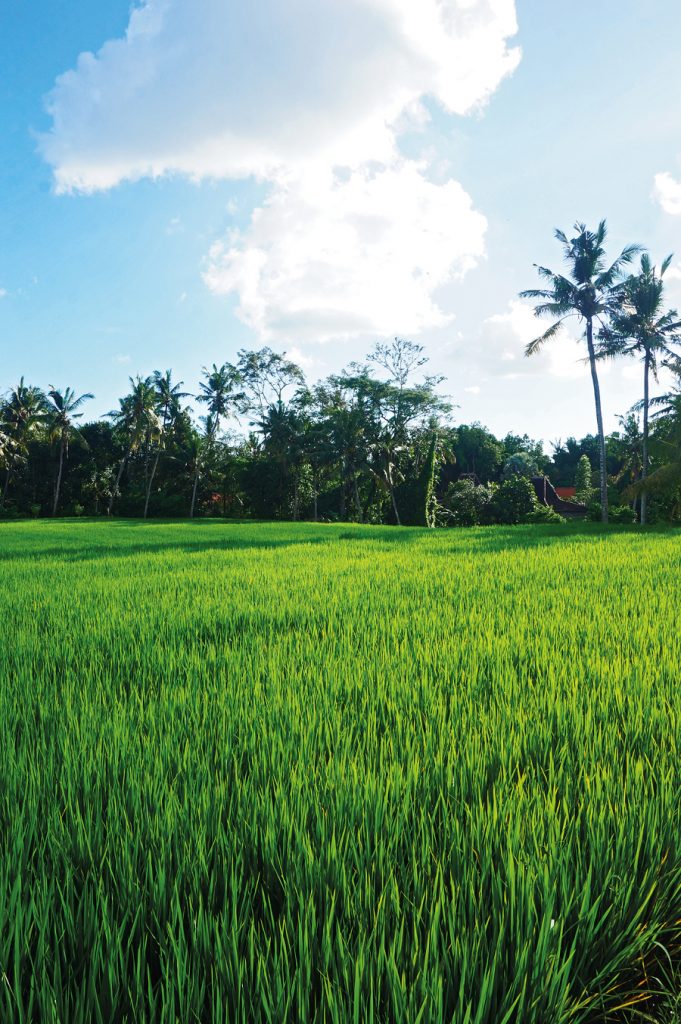 Directional and warning signs are spread throughout the track, with barriers and rubber tires fitted around trees for safety. The limestone and gravel underneath the dirt layer is set to promote sturdiness so you can drift like a pro. There's also a designated rest area with supporting space for you to donut and show off your driving skills.
And after you've had your thrilling fun on the dirt track, you may want to cool your body off and indulge in the homemade gelatos of Mason Gelato at Koko Bambu. The gelatos take flavour inspirations from around the world and marry them with locally-sourced ingredients to nourish those with a serious addiction to this icy goodness. Alternatively you can just easily relax and enjoy a drink or meal by the pool, overlooking scenic rice fields. and the jungle's edge. Bring your swimmers if you want to take a dip in the pool.
Mason Jungle Buggies
Address : Jalan Raya Taro, Banjar Tatag, Ubud
Telephone : +62 361 721 480
Website : www.masonjunglebuggies.com
Of course, cycling is also a fun healthy way to explore the countryside. We recommend that you go on a guided cycling tour to enjoy the experience to the fullest. The Maya Ubud Resort & Spa provides a healthy getaway for those who enjoy cycling along the quiet country lanes of Ubud. The resort takes care of everything, kitting you out with a good quality bike and providing detailed, well thought-out itineraries.
A qualified resort guide will lead you off the Ubud main roads to discover amazing historical sites, visit ancient temples, or simply enjoy the natural beauty of the rice paddies, slopes of the mountains, gushing rivers, and natural springs. You will also get to enjoy a short walk into the rice fields where you can observe the farmers tending to their crops.
As you discover the countryside of Ubud, your guide will lead you to visit the workshops of the local painters and wood carvers, as well as traditional houses and village markets. Certainly, your guide will go at your pace; you don't want to end up having sore muscle here and there from forcing yourself, do you? All in all, the tour is guaranteed to leave a memorable experience for your travel diary.
Maya Ubud Resort & Spa
Address : Jalan Gunung Sari, Peliatan, Ubud
Telephone : +62 361977 888
Website : www.mayaresorts.com
SLEEP IN RURAL GIANYAR
Winner of the 2016 and 2017 World Luxury Hotel Awards – Best Eco Lodge, Mason Elephant Lodge is situated within the world renowned Mason Elephant Park and comes with everything a discerning guest will need. Here you'll be amongst the herd, watching and interacting with them as they go about their daily lives.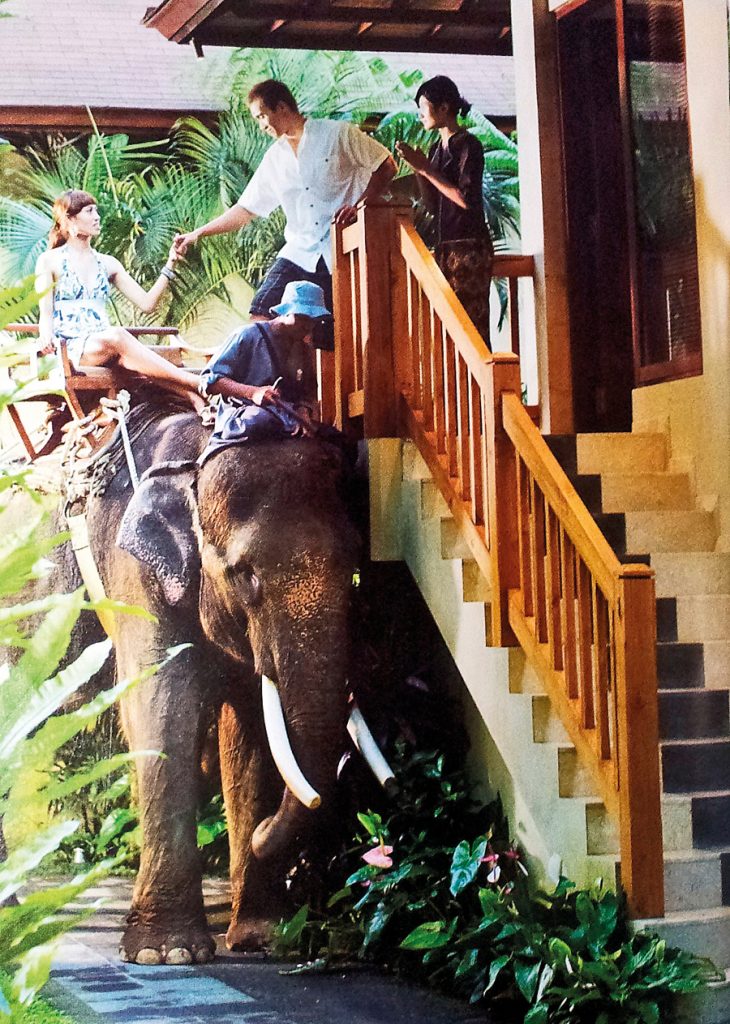 The boutique hotel of 27 rooms has a variety of different accommodation types to suit any taste, each with their own distinctive elephant touch. Mason Elephant Lodge provides the only experience in the world where you can hop onto an elephant from your front door and journey into the jungle!
Mason Elephant Lodge
Address : Jalan Elephant Park Taro, Taro village, Tegallalang, Ubud
Telephone : +62 361 721 480
Website : www.masonelephantlodge.com