Welcome to Bali! A wealth of extraordinary experiences awaits you if you plan your holiday correctly, so start planning now and don't leave it too late!
The whole point of being on holiday is to refresh and revitalise yourself is it not? No, that doesn't mean ten days sitting by the pool, although for many that's what they like to do. It means revelling in different experiences, and in Bali those experiences go from absolutely free to absolutely faboulous.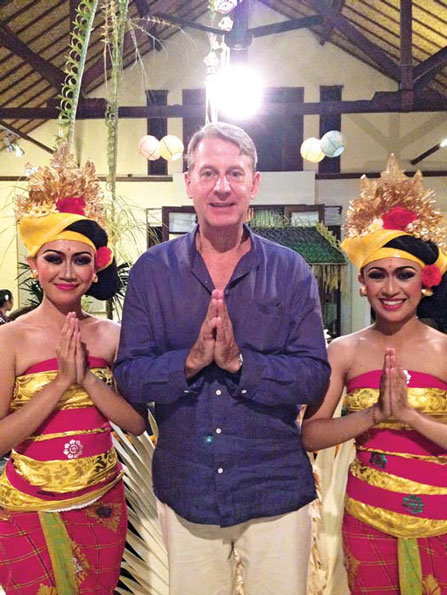 I'm a big fan of mother nature, whose bountiful beauty can be enjoyed in Bali for next to nothing and who provides unique, possibly life changing experiences of the highest order. From trekking above the clouds on Mount Agung or Mount Batur, to diving below the waves in Nusa Penida or Nusa Lembongan (or simply snorkeling off the beach in Amed) it's all wonderful. Then walk through the lush fields (without disturbing the farmers, their crops or their stock please) or raft down tropical rivers through beautiful gorges and riverbanks. You will enjoy every moment.
But for top end luxury experiences Bali has more than its fair share too! In our pages this month we have selected some really fun things to do, at a price of course, but if you want to go home feeling "wow that was a great holiday", then dig deep and splash out!
You can fly from helipad to helipad, swooping over the fields, you can crank up your superbike and feel the power in your hands, or luxuriate on board a beautiful luxury yacht. All this and more is available to you.
Or if you want something completely different, try immersing yourself in art, trying your hand as a farmer or having a royal tea party. Bali really has some amazing things to do.
While you are at it, don't skimp on the dining either. Bali is full of wonderful restaurants which combine great food, warm service and amazing atmosphere, so if I see you sitting in a fast food joint here in Bali, I will not be happy. You can do that at home – here enjoy everything that Bali has to offer from the delights of nature to extraordinary experiences.
Enjoy!
Alistair G. Speirs