Here in Bali, you can witness the dynamic spectacle of underwater life without a heavy oxygen tank on your back.
That's right, you won't need to attend a diving school nor get dressed in all your scuba gear – sea walking requires nothing but a waterproof helmet.
Bali Marine Walk is exactly as it sounds, an experience that invites you to literally walk underwater along the seabed. With Bali Marine Walk you'll be taken to the crystal clear waters around Nusa Lembongan, the island found southeast of mainland Bali.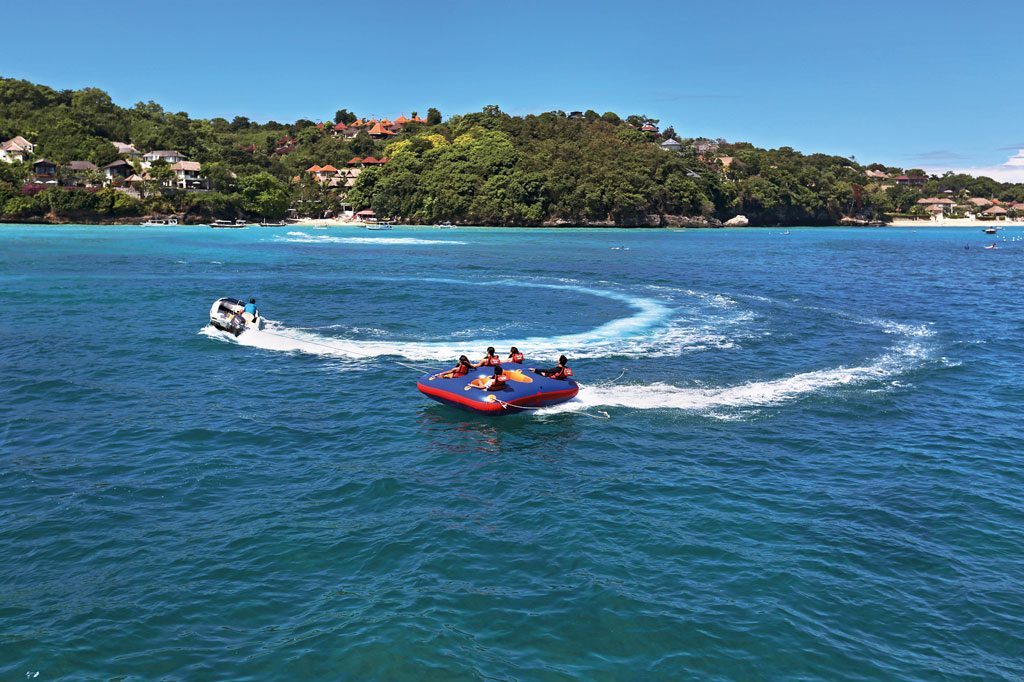 Accompanied by a team of certified dive instructors, you will descend with an oxygen-fed helmet down into the depths of Bali's waters roughly 5 to 6 meters below the surface from their floating pontoon.
To reach the seabed you will climb down a ladder with the helmet nestled on your shoulders, each step assisted by a professional diver. There are steps of 'settling in' when you are submerging however, as your ears adjust to the pressure. The key to this is to pay attention to the guide and breathe normally through your nose. You will be taught sign language beforehand for you to communicate with each other. Once you have touched down on the sea bed, that's when the fun really begins.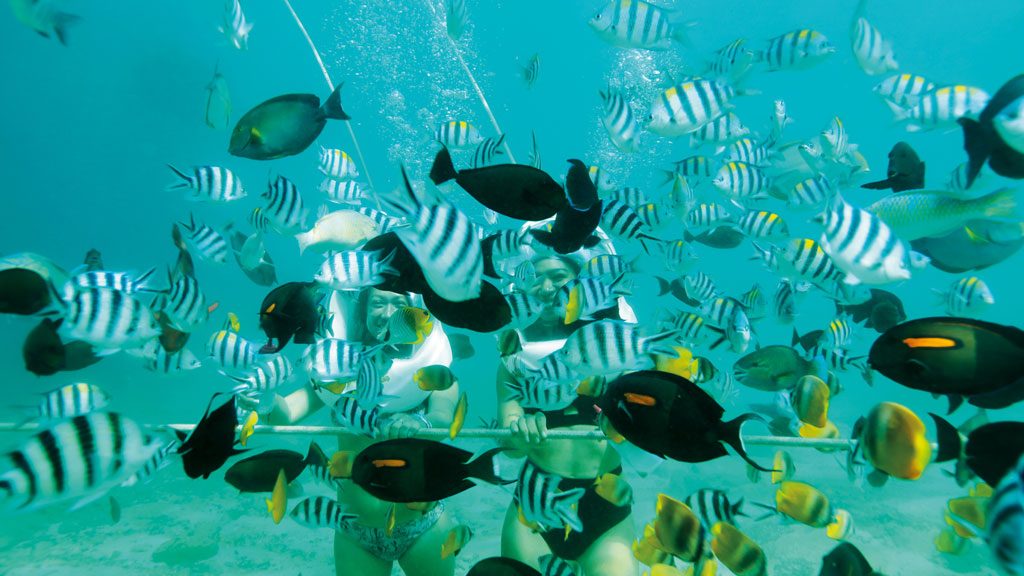 The first sensation you'll realise is the feeling that you've been stripped of your actual weight, you'll feel as light as a feather. Then, as if out of nowhere, you'll be swarmed with schools of swimming colours, as fish big and small give you their undivided attention. You'll see swatches of the rainbow and shades of blue – they really put on a show.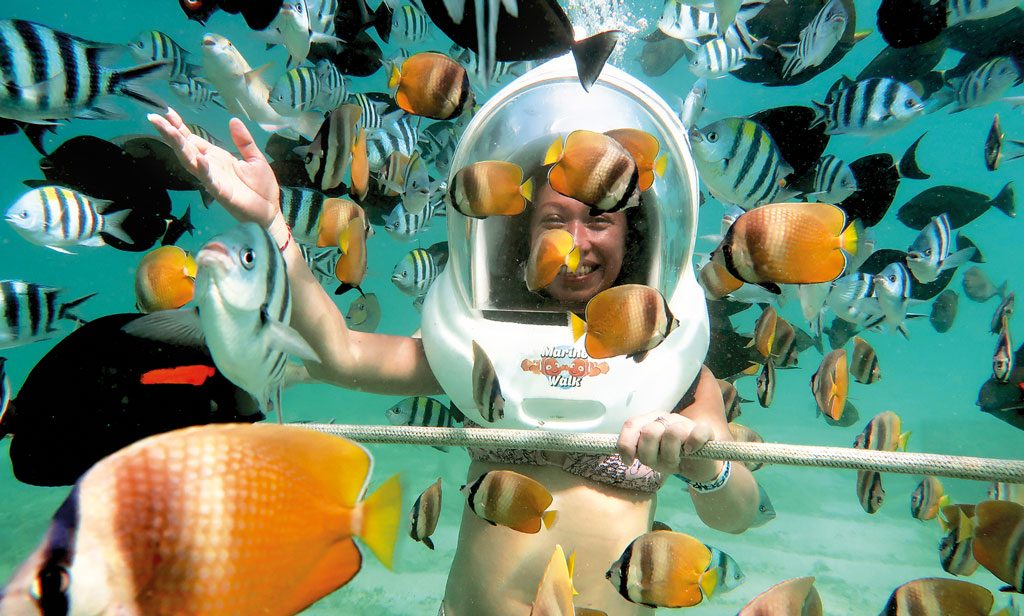 You'll be given around 15-minutes to wander around at the bottom of the sea, taking in the underwater sights, following the path outlined by a rope you can hold onto. You'll feel like you're walking on the moon as you step weightlessly along the seabed. The helmets provide an incredibly clear view of everything around you too, but the best part is your face stays completely dry. Some ladies commented on the fact that they could even keep their make up on to look good for the underwater photos the Bali Marine Walk team takes for you. Now, you can't do that when you're scuba diving!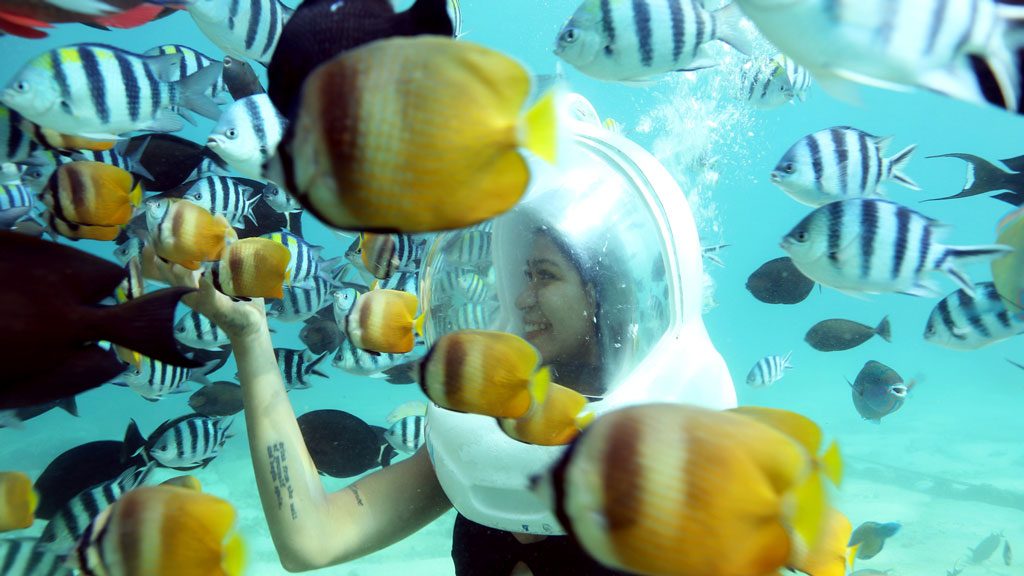 On this fun day out at sea, you'll have the opportunity to experience a number of different activities other than just the marine walk. You can enjoy snorkelling, banana boats, village tours, beach kayaking, and more. They have their very own beach club and hotel on Nusa Lembongan, Sammada Hotel & Beach Club, for those looking to stay the night or the whole weekend.
Bali Marine Walk was established in 2008 and is the first leisure company in Bali offering the unique experience of witnessing the rich marine life of Nusa Lembongan by walking on the sea floor using special helmets and gear.
Bali Marine Walk
Address : Gang. Nusa Indah Desa Jungut Batu, Nusa Lembongan
Phone : +62 361 282654
Website : www.bali-marinewalk.com