Back in 2008, Putu Witsen, a former Taekwondo athlete, developed a unique style of martial art combining Balinese tradition and culture with Taekwondo techniques, he called it Mepantigan. Being a Balinese raised in Jakarta, there was a space between him and the Balinese culture and tradition. His move back to the island was purely career-driven, hoping to become part of the tourism industry. However after his arrival his creativity and freethinking guided him into the creation of this new martial art.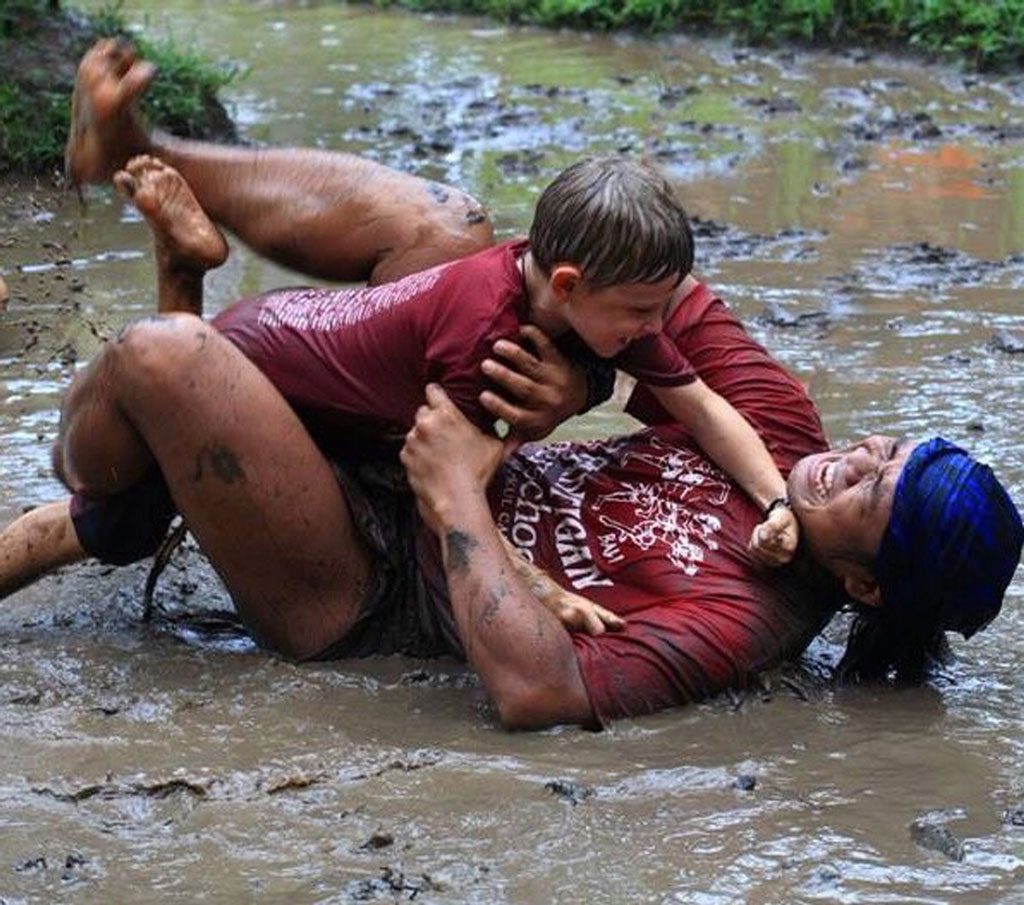 "I asked my friend what the Balinese word for 'throwing people to the ground' was, and he told me the word was Mepantigan", explained Putu, smiling widely as he reminisced his beginnings. It was 2008 at the Green School when the mud game captivated the public and the press for the first time. At that time Putu had been teaching Mepantigan to students of the famous Green School Bali, the unique, wall-less bamboo school.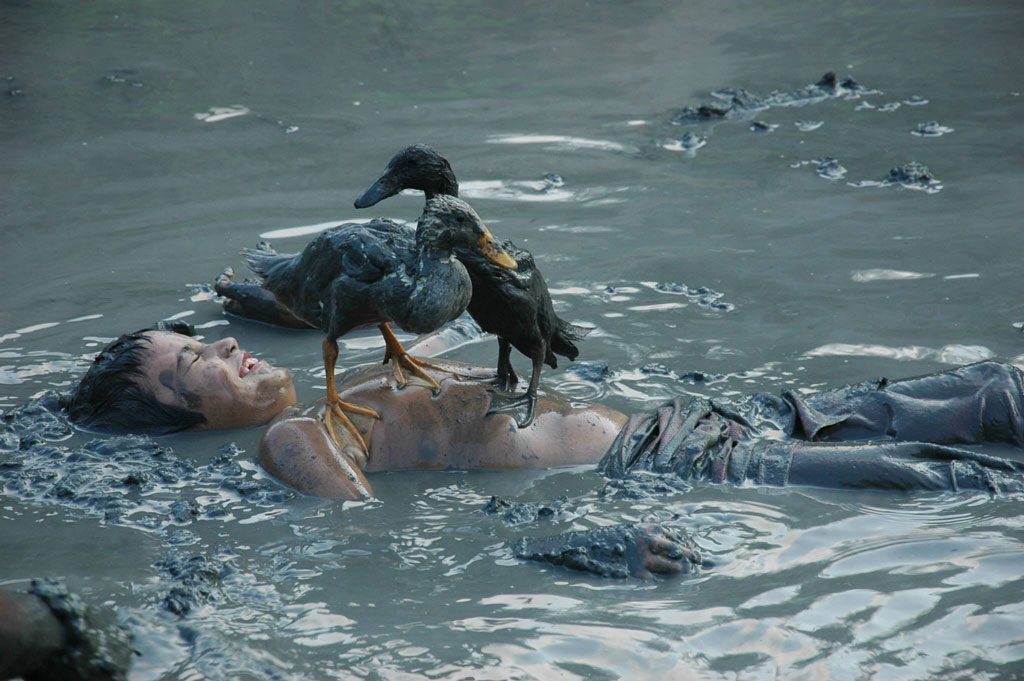 Now Putu and Ayu, his beautiful wife and great cook, host Mepantigan enthusiasts at their very own Pondok Mepantigan in Batu Bulan. Pondok Mepantigan is designed to minimise impacts on nature and is inspired by the real meaning of pondok, which is a simple house made of natural material amidst a traditional farm. 
A visit to Pondok Mepantigan is a great way for children and families to spend some time outdoors, in the natural bounties of Bali's environment.
Mepantigan takes from and uses several martial arts techniques and blends them together with Balinese drama and contemporary dance, including the gamelan orchestra in the background, creating a fight performance art. It can be done in a rice field, or muddy grounds, even on the beach. It's difficult to imagine, but it involves a lot of wrestling, throwing and submissions, all whilst dressed in Balinese traditional attire.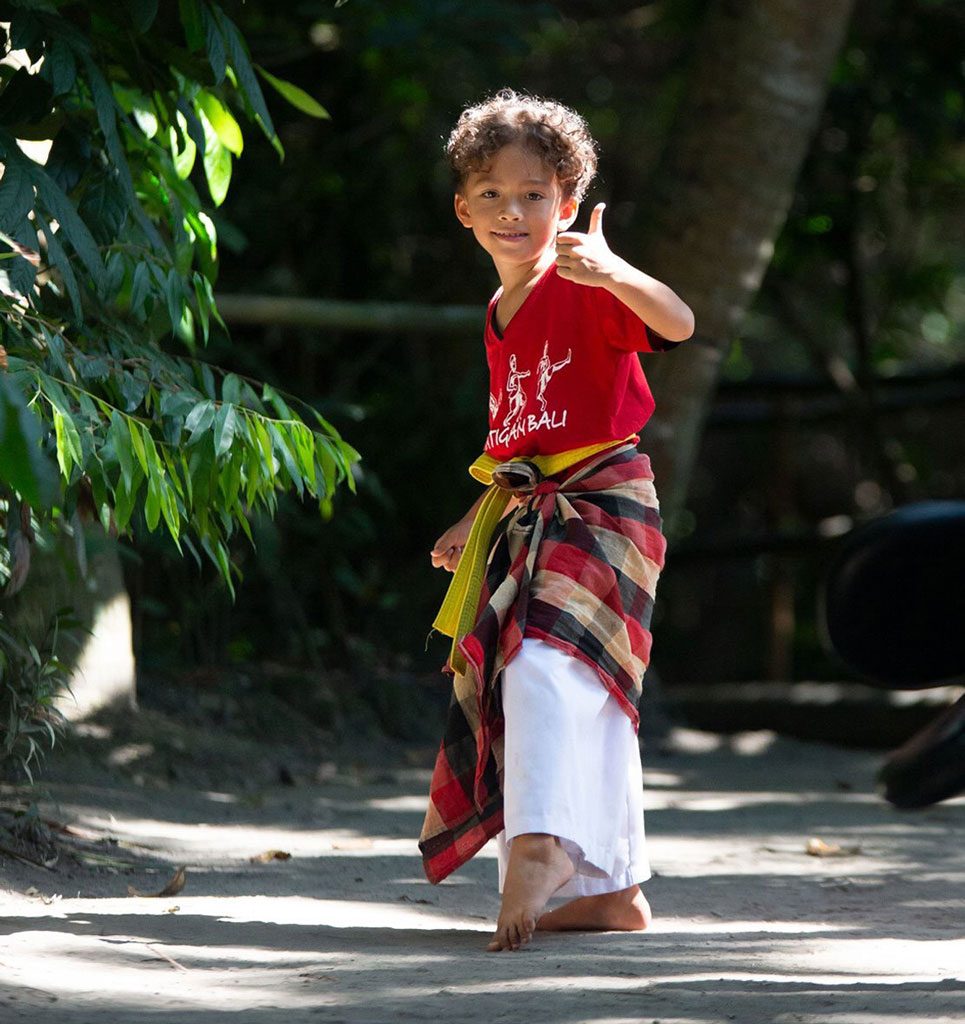 Upon your visit to Pondok Mepantigan, you will go through some training and warm up exercises first, including boxing, kicking and also some Balinese dancing – all done with their signature chant. Other training exercises are also necessary before continuing.  
Then, it's on to the mud! The Mepantigan group will first perform a dance ritual, officiating the start of 'the games'. The scene is truly set here: Bib and Bob, Mepantigan's iconic geese, are waiting for the contenders at the edge of the mud pool. A group of men wearing masks play the kul-kul, musical instrument made of bamboo, to add to the atmosphere.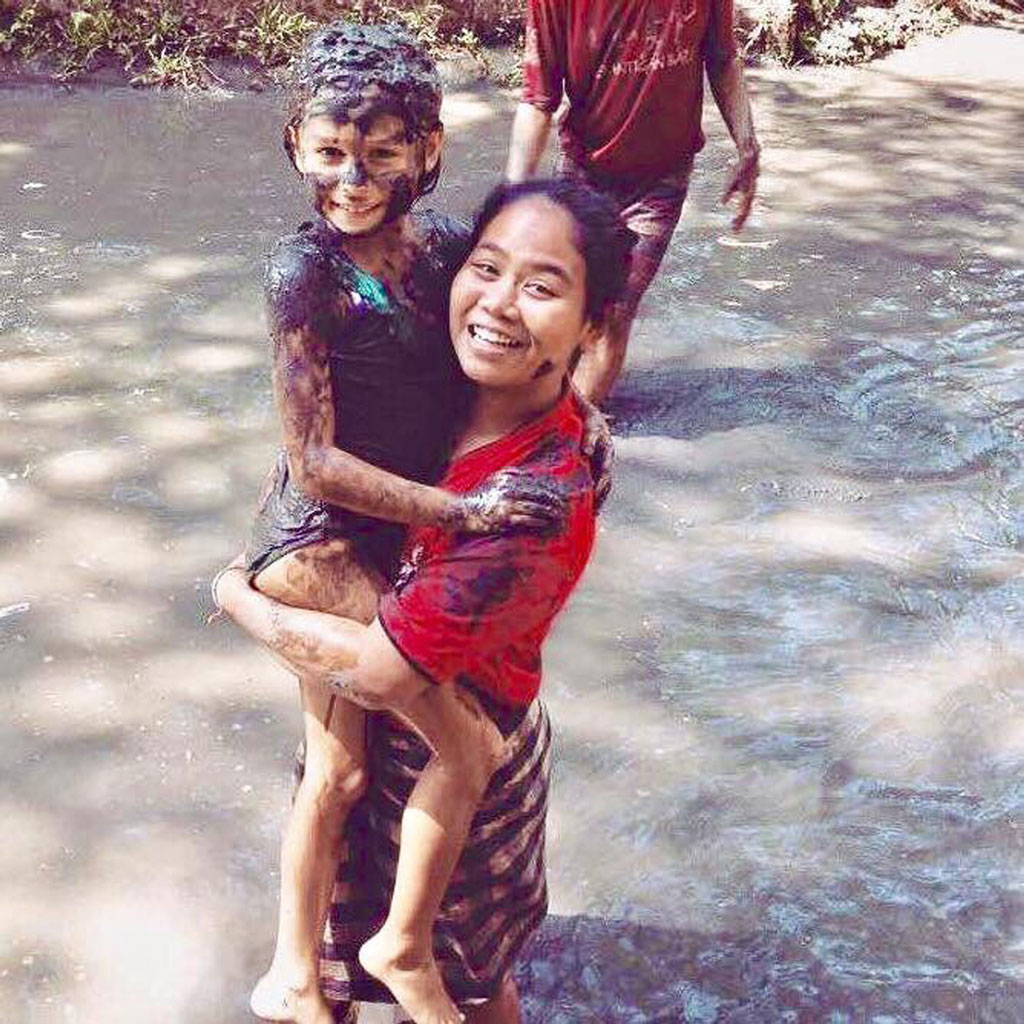 Finally, the games begin. You'll be mud wrestling, dancing, chanting altogether. This newfound sport is available to all ages, and like all martial arts has been made not to train 'fighting' but rather to foster a sense of respect and bond with others. It's an incredibly active sport and will have you and the children working up a good sweat, whilst simultaneously experiencing this unique sport only found in Bali. In these past five years, PondokMepantigan has hosted kids from local and international schools, multicultural families, international TV channels and world famous celebrities.