Bright and decadent, tables covered in white cloth, glisteningly clean wine glasses already laid out, the Kayuputi Restaurant in the St.Regis Bali Resort was ready to welcome the island's most prestigious international food and wine appreciation society, the Chaîne des Rôtisseurs, for a Saturday luncheon.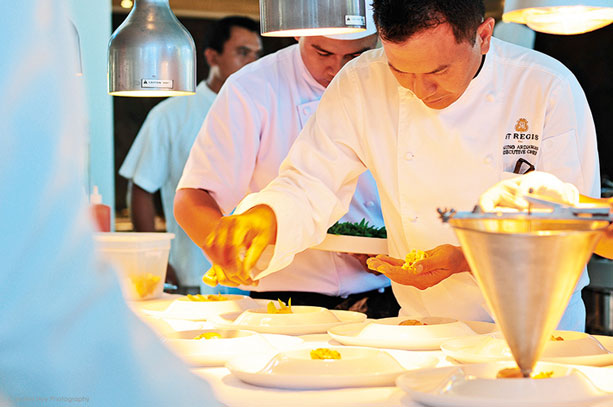 Diners sat at the beautifully prepared dining area, doused in natural light, as the sun shone down through the large bay windows of Kayuputi that overlook Nusa Dua beach.
Harald Weismann, apart from being a Chaine member, is the St.Regis Bali's Chief Sommelier, and also contributor to NOW! Bali's wine section 'My Inner Voice'. For this Kayuputi luncheon event he had prepared a fantastic 6-page booklet that contained not only the menu for the day, but also an in-depth description of each wine served, including their area, grape type, nose, mouth, colour, appropriate food pairings and other interesting information; it is this detail that has granted Kayuputi 4 Wine Spectator Awards.
The immaculate food menu, paired together so elegantly with the different wines selected by Harald and his team, were what really pulled the lunch together. Kayuputi's open-plan kitchen makes it possible to witness the preparation of each dish, at every stage. They have nothing to hide of course, on the contrary in fact, they wish for you to see the work, detail and finesse put into each dish. It is like being granted access into an artist's studio as s/he works on a masterpiece…
Some highlights were the Ultra Rare of Yellowfin Tuna with small flavourful sides of pickled kyuri, encapsulated sushi rice and ponzu pearls. A dish that – although difficult to understand in writing – the mouth really appreciates! It's subtle, light tastes were paired with a 2013 Kim Crawford Spitfire Sauvignon Blanc, New Zealand; aromatic, unique and truly a delight on the tongue.
The Black Angus Beef Fillet, together with foie gras, truffle-potato cake and butter-glazed vegetables, was a satiating main. The strong flavors were equally matched with the weight of the paired 2012 Bishop Shiraz from Australia's Barossa Valley.
Finally, the meal was closed with specially prepared dessert of Valrhona Chocolate, with griotte compote, caraibe dark chocolate mousse, bittersweet chocolate ice cream and an edible printed logo of the Chaîne des Rôtisseur. This was savoured with not only a wonderful dessert wine (2011 Recioto Della Valpolicella) but also a sip-full of a rich espresso de cassis.
The lunch showcased to The Chaine members the absolute detail Kayuputi Restaurant places into each meal, from the fine food preparation of Chef Agung Gede to the wine selections of Chief Sommelier Harald Wiesmann. The luncheon had set the bar for future events announced Frits Henskes, Bailli Provincial de Bali. Who also announced that 2015 was a year of rejuvenation for the Bali Chaine.
The Bali bailliage of the Chaine des Rotisseurs meet every month, gathering to enjoy the island's finest food and wine, amongst like-minded cuisine enthusiasts. Find out more about Chaîne des Rôtisseurs by visiting www.chainedesrotisseurs.com or www.chaine-bali.org for news of the Bali  Bailliage.