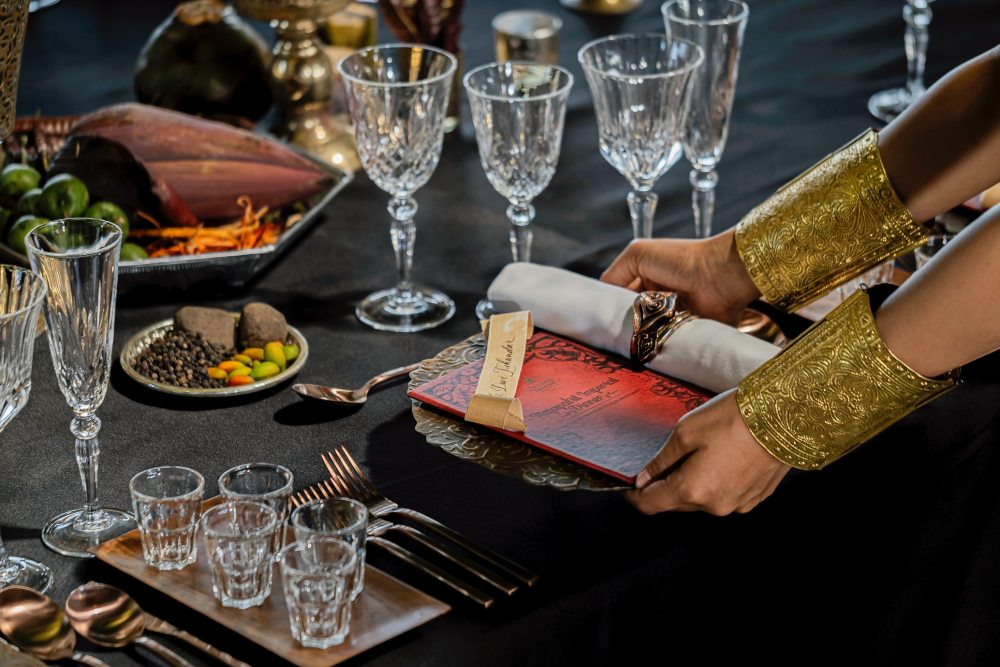 Recently launched at the impressive Nusa Dua resort, The Apurva Kempinski Bali, comes a private dining experience of royal proportions. Channelling the majesty of Indonesia's historic Majapahit Kingdom, the inspiration behind the resort itself, 'Majapahit Imperial Dining' presents a culinary journey that echos the grand feasts that once graced the tables of archipelagic monarchs.
Majapahit Imperial Dining is an extravagant banquet experience hosted at the resort's regal Pendopo Lobby. Suiting Kempinski Bali's 'open-air theatre' philosophy, it is a narrative dining journey where dance, music, flavours and magical storytelling immerse guests into an ancient period, presented throughout a five-course degustation menu.
Working closely with Javara Indonesia, a renowned social enterprise founded by Helianti Hilman centred on sustaining Indonesia's forgotten food biodiversity, the dishes feature ingredients that are indigenous to the archipelago. They are sourced from organic farms, foragers, fishers and food artisans, aimed at preserving and promoting the country's rich culinary heritage, part of the resort's own sustainability commitment. This mission was inspired by the ancient Javanese wisdom of 'Mitreka Satata' for a harmonious relationship between people and nature.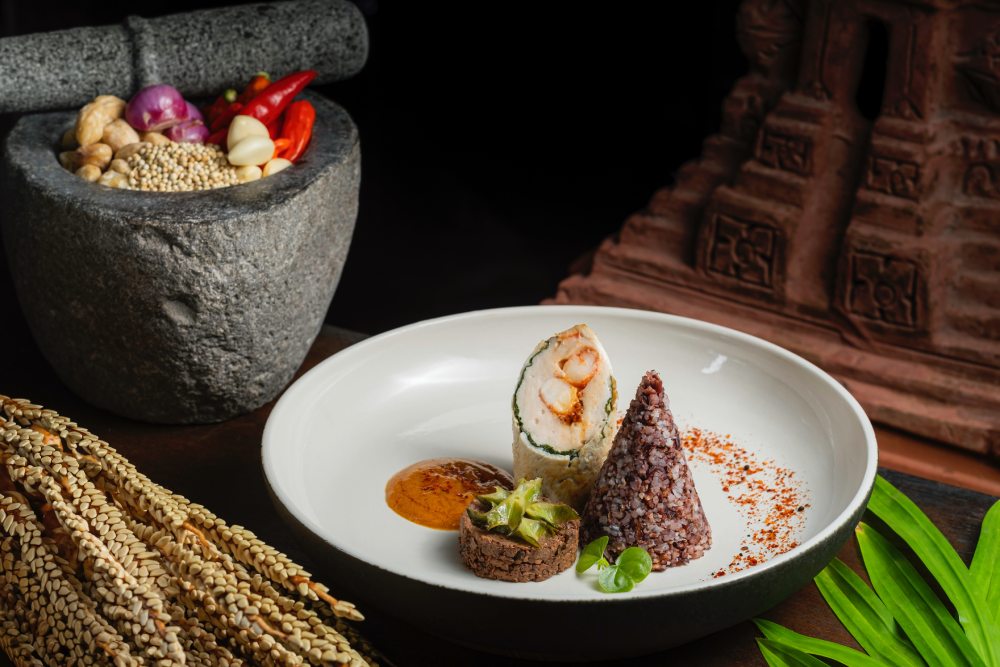 With these ingredients, the curated menu explores lesser-known dishes. These include the likes of 'Urap Hayuyu' which uses an unconventional grain known as jewawut (Foxtail Millet or Setaria Italica); 'Rawon Lembu' enriched with kluwek (Pangium) for its dark broth; 'Manuk Urang Manggar' is infused with a citrust and spicy kick from Andaliman Pepper. At the heart of the set menu is the remarkable 'Melik Parijatha Rice' – a unique variety grown on the slopes of Mount Ijen in Banyuwangi, East Java, known to have been exclusively served to the kings of Majapahit. Time-honoured techniques of grilling, roasting, steaming and frying are used in the preparation of each dish, adding to the authenticity of this heritage-focused dinner.
Going beyond just the flavours, the dinner provides a rich historical context of the Majapahit Kingdom's own cuisine, and how trade history between India, China and the Middle East influenced the food. It also explores the sophistication of agricultural practices at the time: how rice was transformed into a staple and how the famous Indonesian spices became the wealth of the empire.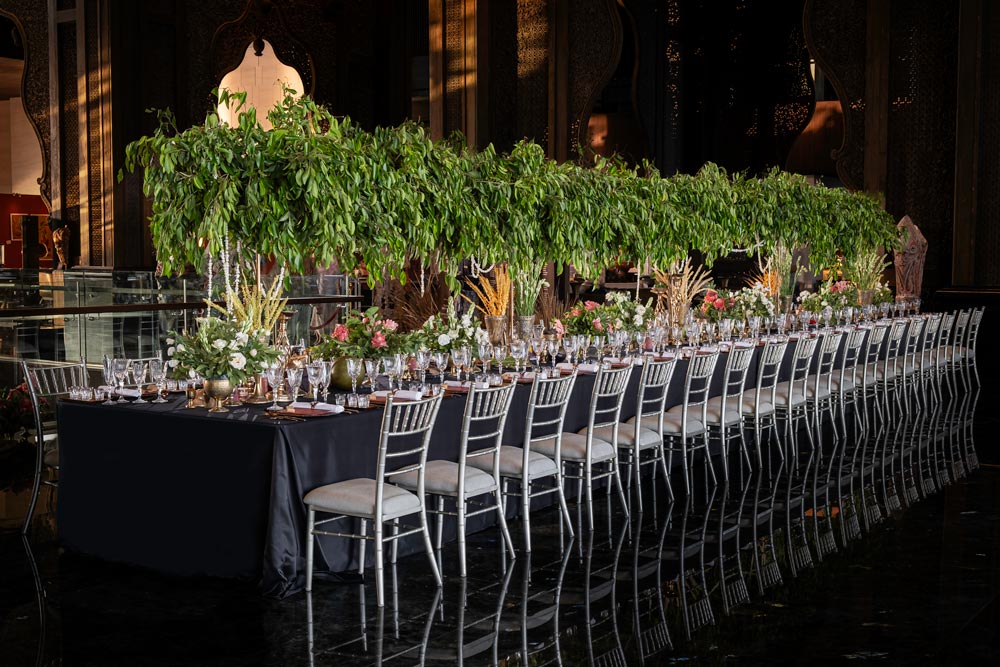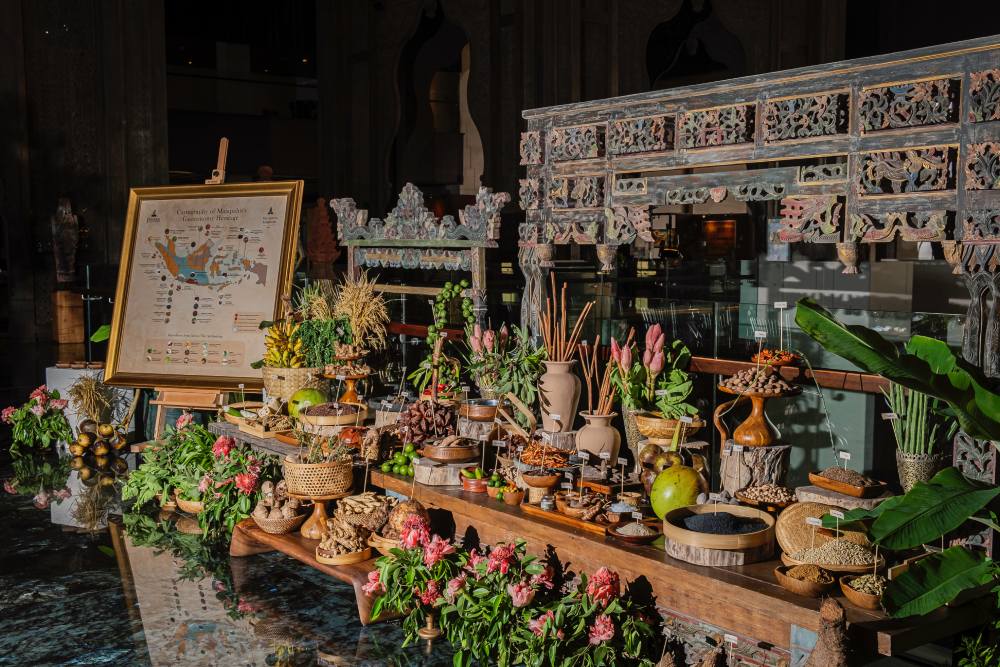 Enriching 'Majapahit Imperial Dining' is an extravagant banquet decoration developed by Designmill.Co, whose thoughtful use of traditional accoutrements has created a lavish setup. Adding to that, just like the feasts of old, the dinner is enriched with a theatrical dance performance, created especially for the dinner by Kitapoleng. The vibrant show tells the story of Tribhuwana Tunggadewi, the Queen of Majaphit and mother of King Hayam Wuruk.
This extraordinary culinary journey is available for a minimum of 10 guests with advance reservations, a sensational private dining experience set to create a truly spectacular and memorable occasion. Contact the resort's Culinary Concierge for details.
The Apurva Kempinski Bali
Jl. Raya Nusa Dua Selatan
+62 361 209 2288
restaurants.bali@kempinski.com
kempinski.com/bali