They say flowers are the most romantic gift you can have. And when it comes to flowers in your food, well, it is just too impossibly romantic for words!
People have been serving flowers in food for a long time – nasturtium leaves in the salad – an accent of bright orange flower – it always adds a special touch. Zucchini flowers can be dipped in batter and fried, there are plenty of combinations.
While several restaurants in Ubud serve food with flowers, most notably the famous Mozaic Restaurant in Sangginan, Will Meyrick's latest offering, Hujan Locale on Jalan Sri Widari and The Sayan House in Sayan. Eelke and his partner Ray at Locavore – the current number one eatery in town according to Trip Advisor – have taken flower power to a whole new level.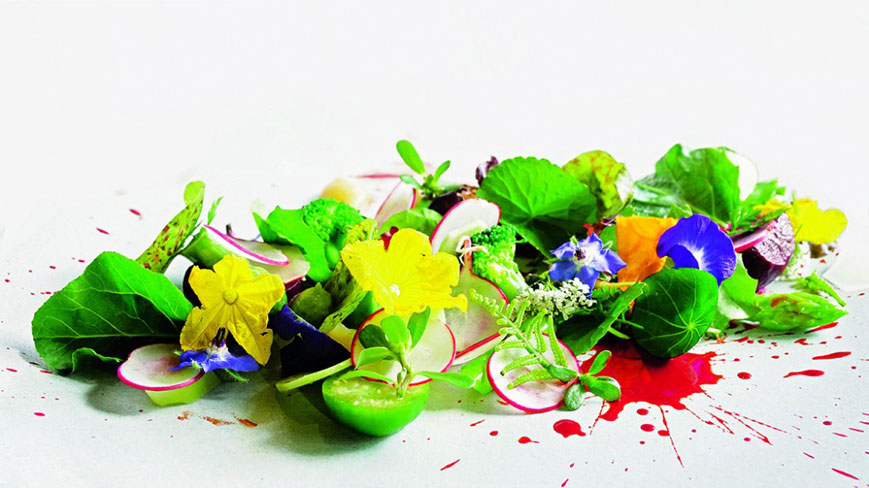 Eelke revealed to me that all herbal flowers are edible – and he gave me some to taste. The beautiful and delicate coriander flower tastes exactly like coriander while the star fruit flower has the same distinctive tang as the fruit. We tried dark cornflower blue flowers, marigolds, and an electric daisy which tingled the taste buds. The cinnamon flower, he told me, is also very special. Some of the flowers are used in special cocktails, created by his talented barman.
The flowers are incorporated into the food. While they may have medicinal properties, Eelke is happy to leave all that healthy stuff, to the myriad raw and other healthy food style restaurants that have sprung up around town. He is far more concerned with their appearance and especially, the taste and only chooses the flower that compliments the flavours of a dish. He never uses them just for decoration. It is a science after all!
His prawn dish, for example, comes with a prawn reduction and a lemon balsam topped with cucumber flowers, which, according to Eelke give just the right tang and a subtle taste to highlight the flavours.
Courses at Locavore are degustation style – and can be chosen as either vegetarian (herbivore) or Locavore style – which encompasses all food items. Choose seven courses or five for the less hungry. Locals and regulars get even more choice for a quick lunch and can choose just three courses. Eelke likes to think of his restaurant as a friendly neighbourhood restaurant where you can even drop in for an excellent espresso coffee.
Menus are changed regularly and each month will see almost a total change of dishes, although not all on the one day. Over the month, as inspiration strikes, more choices are added, whilst others are taken away. It saves regular customers from getting jaded although a few popular items, I think, need to stay.
Each meal comes with a few surprises; a little amuse bouche or a taste sampler of some new dish. It is certainly a fun way to eat. Seasonal produce is used too, so whatever is in season is sure to find its way to the table.
These lovely restaurants are scattered across Ubud. While Locavore is located on Jalan Dewi Sita, Hujan Locale can be found in Jalan Sri Widari, just over Jalan Raya. The Sayan House is on the Sayan Ridge no. 9 and Mozaic is on Jalan Raya Sangginan – all almost equidistant and equally good; only the focus changes, with each having its own unique ambience.
Text & Photos By Ayu Sekar