Not everyone relishes the joys of hardcore athletic training. If this sounds like you, there are plenty of other ways to work up a good sweat whilst making the main focus on "fun". From rafting down the Ayung River to swinging like Tarzan on the hills of Bedugul, you'll learn that even sightseeing around this beautiful island can keep you fit and active.
RAFT DOWN THE AYUNG RIVER
Ayung River, notably the most scenic river on the island, offers a dichotomy of experiences. On one side, it is a serene and peaceful natural sight and setting, whilst simultaneously it can also be somewhere to get your adrenaline pumping as you hurtle down frothing rapids! Yes, a trip to Bali is not complete without an exhilarating adventure on the spectacular Ayung River. Whether you are 5 or 65, a natural or a novice, white water rafting in Bali is safe, fun and a breathtaking experience to be enjoyed – especially if you do it with Mason Adventures. That's right, your safety is Mason Adventures' first priority, and your enjoyment comes in a very close second.
With Mason, the action starts when you launch into a 9.6 km river stretch, navigating through 35 class II and III rapids set to a backdrop of wild unspoiled rainforest, towering gorges and magnificent rice paddy terraces. Professionally trained and experienced guides pilot safety-equipped rafts through the best river runs, dramatic drops and spectacular waterfalls to make your rafting ride a fun and awesome experience. Whilst you may not feel it during your journey, by the end you'll notice you've worked those arms out well!
Mason Adventures uses only Incepts and AVON rafts with foot cups and hand ropes fitted to all, as recommended by the World White Water Rafting Association. With seven sizes of jackets available, correct fitting is assured for every person. Aside from that, providing you a 5-star service from the start to finish, Mason offers a fully computerised reception centre coupled with fast walk-through equipment outfitting and easy access to the river via safe, engineered steps, complete with hand rails and scenic viewing platforms.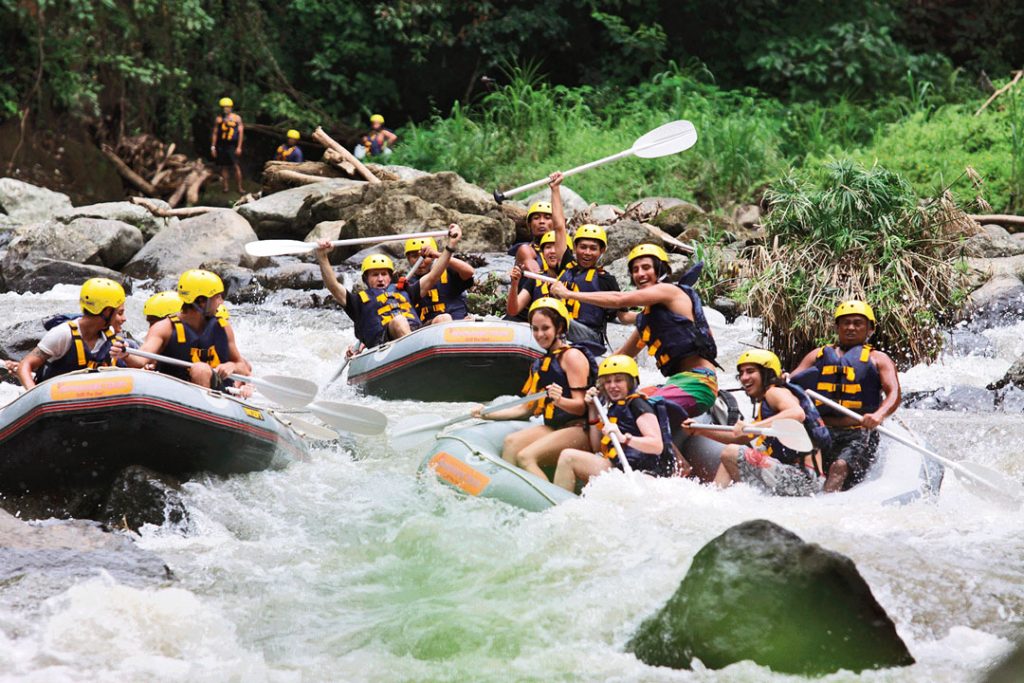 Mason Adventures 
Desa Melinggih Kelod, Payangan, Ubud
+62 361 721 480
http://www.masonadventures.com
WATER FUN AT FLOWRIDER
Below palm trees, in the midst of waterslides, pools, and 3.8 hectares of tropical gardens stands a 9.8m by 16.45m Double FlowRider sheet wave surfing machine. The power behind the wave is incredible and guarantees for some heart-pounding action in the water. This double sheet wave generator leaves ample room to carve, lie down, stand, and stunt on an endless wave.
If you're not a surfer – or even if you are – the FlowRider will give you an experience just like surfing, except in a safe and controlled environment. Sessions run from 10am to 5pm daily. Riders must be a minimum of 130cm to bodyboard and 140cm to stand up ride on FlowRider. Come enjoy a few turns on the perfect combination of surfing, skateboarding, and snowboarding or sit back with a cocktail while observing the action. Right beside is a brand Thaitalian Theatre concept restaurant, beautifully decorated and with an exotic menu that keeps hungry customers coming back for more. The restaurant provides the perfect space to take a break and become the spectator of the skills on the body and stand-up board.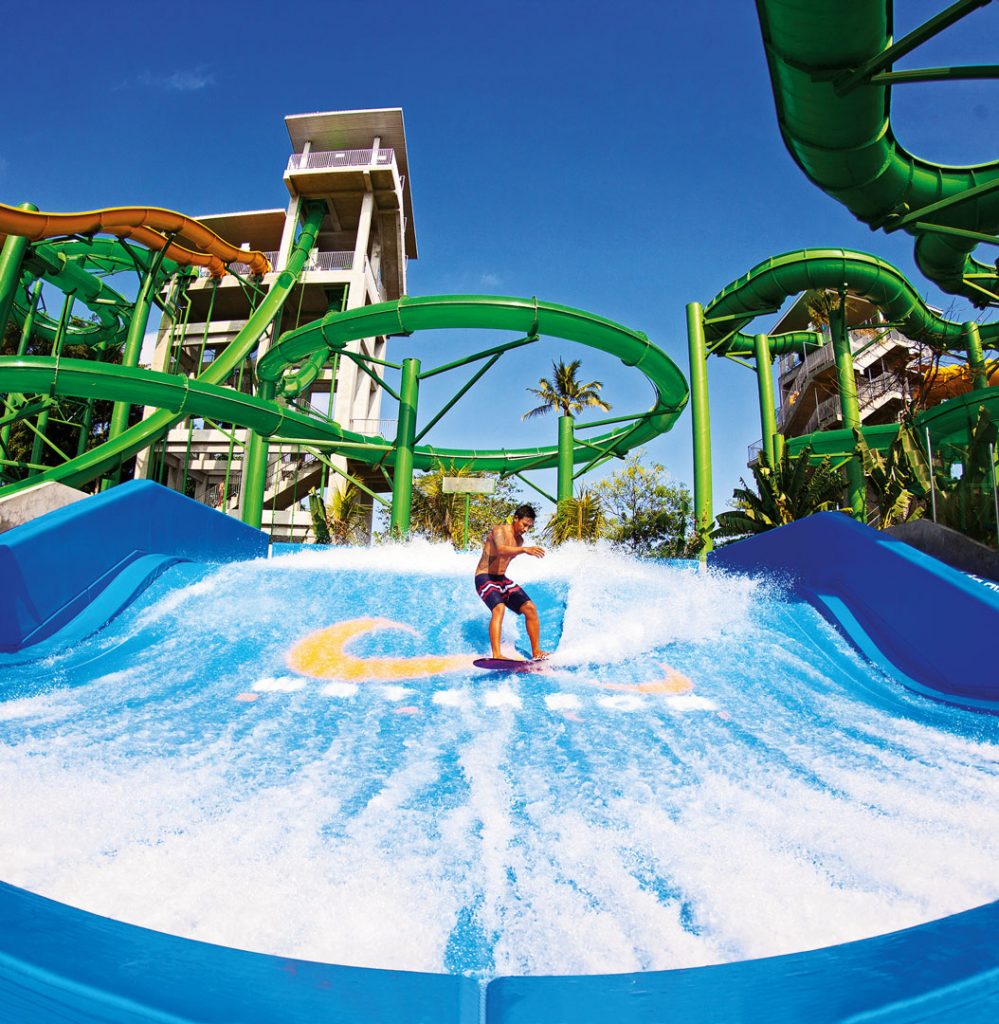 FlowRider at Waterbom Bali
Jl. Kartika Plaza Tuban, Kuta
+62 361 755 676
www.waterbom-bali.com
FUN AND FIT RECREATION AT FINNS
Another way to exercise while having fun is provided at Bali's first trampoline centre, found at the Finns Recreation Club. Unlike home trampolines, Bounce has a specially designed, spring-loaded frame allowing you to bounce higher than you have before! All frames and springs are covered by 2-inch thick safety pads. You can free- bounce and practice tricks all day, or you can join organised activities like trampoline dodge ball or basketball. It may look like a piece of cake at first, but after ten minutes of non-stop bouncing you'll see how good a work out it actually is!
Aside from the free jump arena, which has stolen the hearts of many, Finns Recreation Club also provides other sports activities that will keep you active and entertained. such as Splash Water Park and Strike Ten Pin Bowling.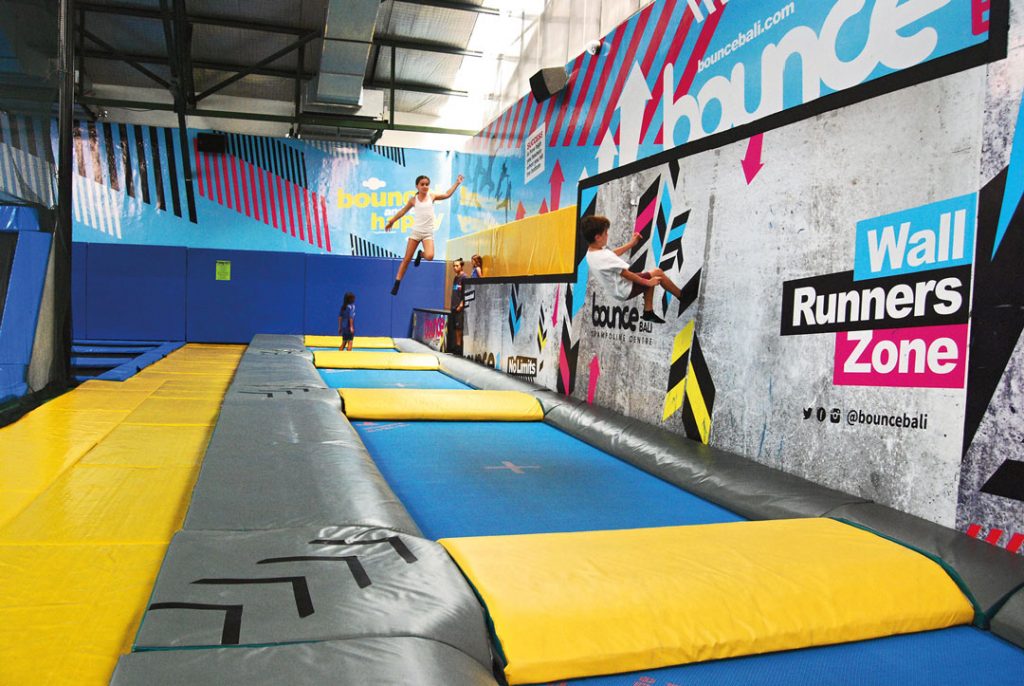 Bounce Bali Trampoline Center
Finns Recreation Club West
Jalan Raya Pantai Berawa, Canggu
+62 361 848 3939
www.bouncebali.com
TREETOP ADVENTURE
Some of us just love role-playing. And what is a better role to play than Tarzan? Bali Treetop Adventure Park allows you to swing like the king of the jungle. With different circuits, you can find the right challenge for your level and age. Suitable for those aged 4 to 60 with a maximum weight of 120kg, the challenges offered at the park are set amongst towering trees amidst the cool breeze of Bedugul.
But don't worry, throughout the course you will remain attached to a life-line support. Patrol guides will also be situated along the circuits, ready to advise from below and assist as needed. There are seven levels of circuit with 72 challenges; Squirrel Yellow circuits (for kids aged 4 to 6, 95cm minimum), Green circuits (over 8 years old, 120cm minimum), Red circuits (over 10 years old, 130cm minimum), and Black circuits (over 12 years old, 140cm minimum). As long you respect the minimum height requirements for each circuit, you are free to try as many circuits as you please in two and a half hours.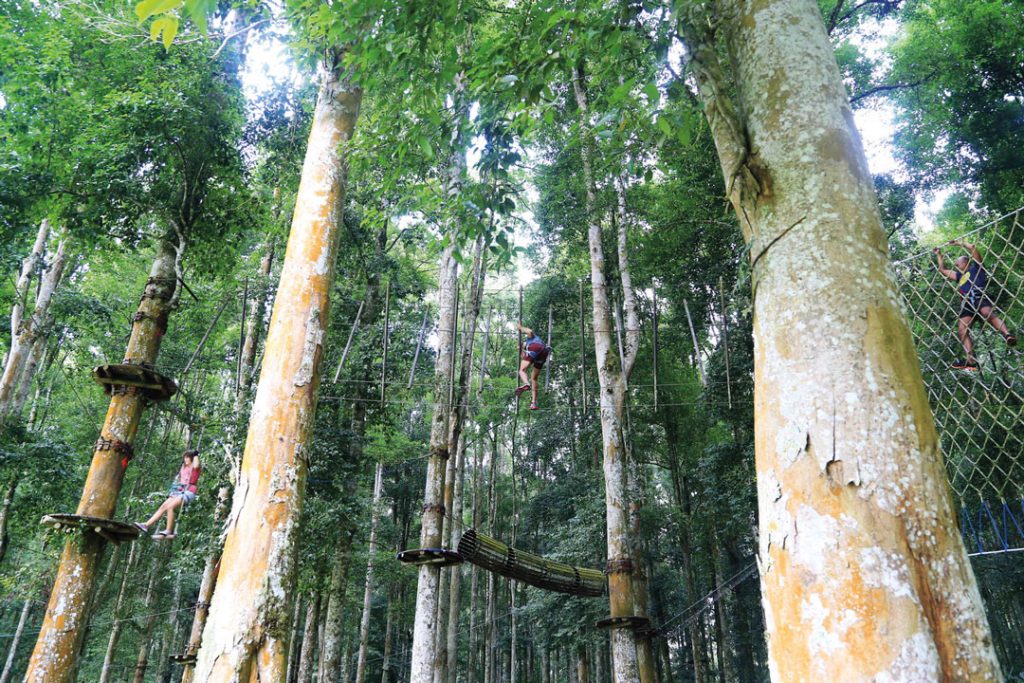 Bali Treetop Adventure Park
Kebun Raya Eka Karya Bali, Baturiti, Bedugul
+62 361 852 0680
www.balitreetop.com
THROW AN AXE
Urban axe throwing, or hucking, is a burgeoning activity that is receiving more and more attention globally. Not exclusive to lumberjacks, axe throwing is a Canadian pastime that casually takes place in one's backyard which has found a home in Bali. The sport may seem daunting but is an all-round enjoyable activity to break a sweat and have a laugh with friends. Whether you want to channel your inner lumberjack or just try your hand at the latest sport now taking the world by storm, Mother Huckers is where it's at.
Firstly, you will need your friends. Each lane typically fit groups of 12 and they have not set a minimum amount of people, so call up your comrades or set up a daring date night. Mother Huckers currently accepts bookings only, which means no walk-ins, to guarantee a lane for your group. It's advised to arrive 15 to 30 minutes before the scheduled time as you will be asked to sign a waiver, rent out a proper pair of shoes if yours aren't deemed appropriate, and you'll be given some coaching. The team also recommends wearing comfortable, breathable, and loose-fitting clothing – you'll want to be able to move your whole body when you huck.
The venue is equipped with a fully stocked beer bar offering around 15 different beers to choose from if you need a cooling refreshment.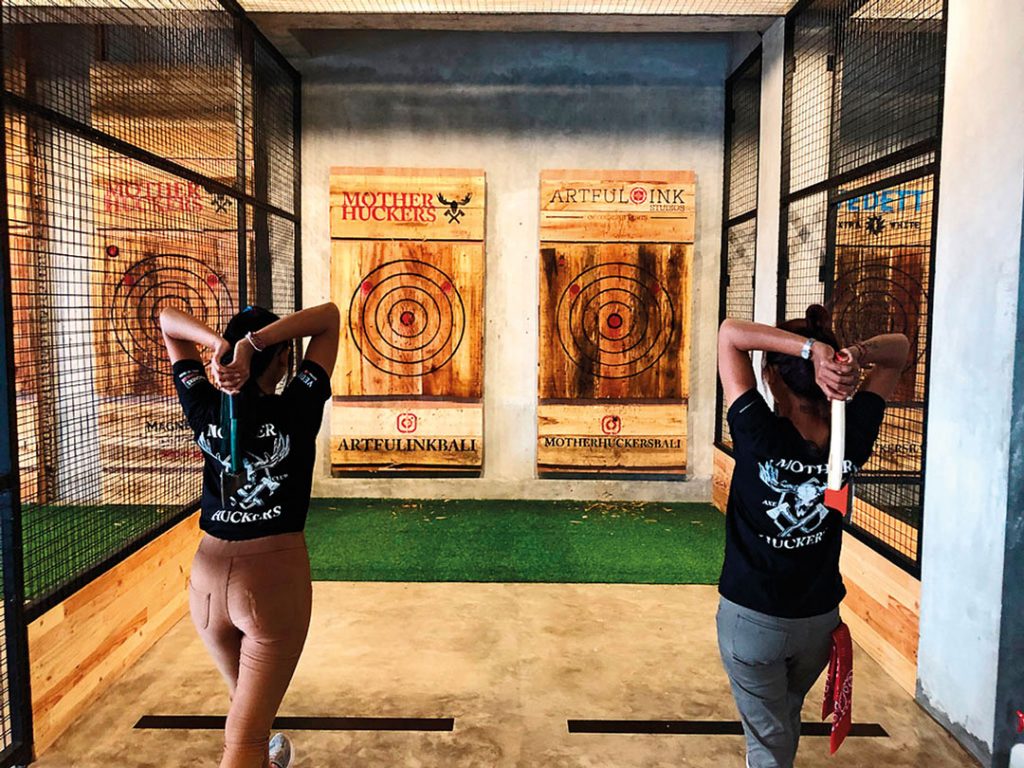 Mother Huckers Bali
Jalan Batubelig, Kerobokan Kelod, Seminyak
+62 878 6000 6482
www.facebook.com/motherhuckersbali