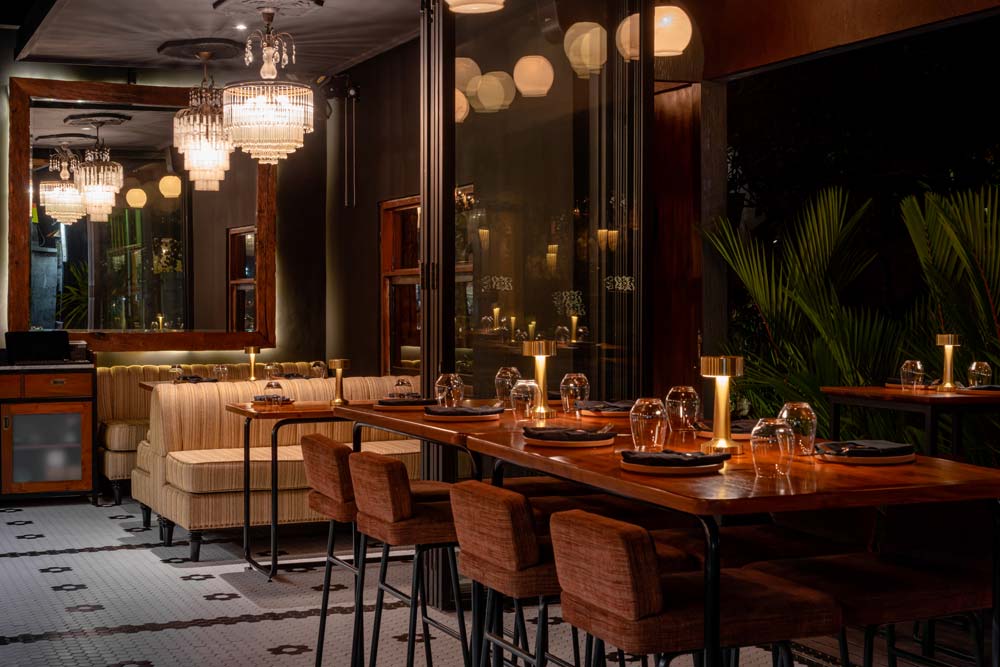 For fans of Will Meyrick, Honey & Smoke will be a welcome surprise, as the Australian chef and restaurateur ventures away from his renowned Southeast Asian cuisine and presents a superbly original menu at this new wood-fired bistro.
Honey & Smoke sits on Ubud's central Monkey Forest Road, now bustling with life again. This cosy, petite eatery is made up of an al-fresco ground floor and indoor first first floor, which doubles as the clandestine late-night bar.
Size, it turns out, doesn't matter as much as style, which this alluring restaurant has in spades. At night, it glows warm like a classic dinner hall, the interiors designed to be reminiscent of a 1920's-style train carriage. Lounge seating designed like booths, classic window dressings, dark-stained woods, that gorgeous jade-green hue, and even luggage racks complete the look. Will says he was inspired by the aesthetic of Wes Anderson films (think more Grand Budapest, less Darjeeling Limited), which has manifested to create a very suave yet easygoing space. Classy, but not stuffy.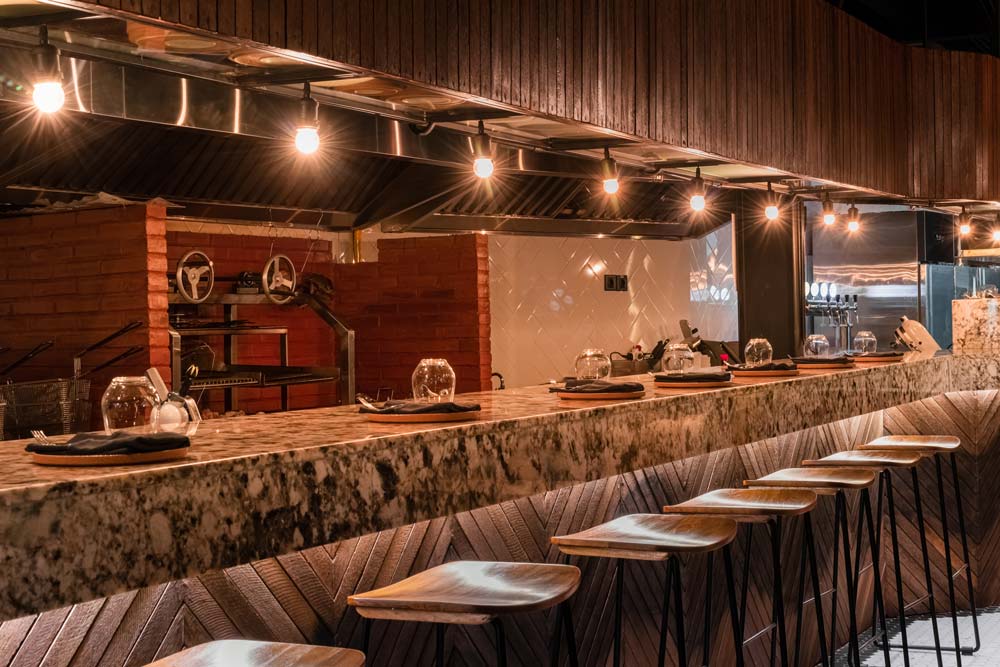 Downstairs, a glistening white marble counter abruptly breaks the train aesthetic: the open-kitchen, with the hot, glowing embers of the wood-fire grill. This is the burning heart of Honey & Smoke, and where Will Meyrick has shown his new colours. Having been based in Australia over the pandemic, he embraced a more rustic cooking style at his Perth outpost, Will St. This he has brought back to Bali: the Modern Australian dining philosophy of using natural and native ingredients; a cuisine profile with pastoral charm. What really makes the menu come alive is that Will gives Modern Australian cuisine the Asian flair (or flare!) it didn't know it needed, to great results.
Yes, Honey & Smoke presents a cross-cultural experience. A new and inspired application of his known culinary expertise from iconic venues like Mamasan and Hujan Locale.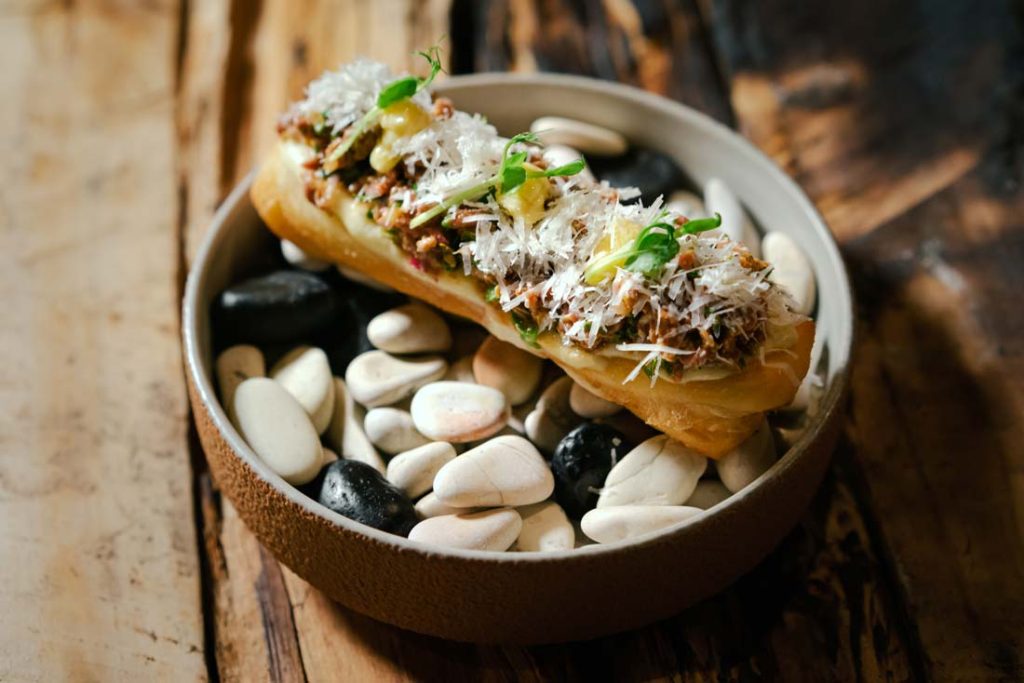 The menu is made for shared dining, featuring an array of small to large dishes, with ingredients from land and sea. Every dish has been introduced, in some way, to the flame.
Notable small plates include: Beef Chop, a remarkable fusion of flavours, where fine beef tartare, potato miso, truffle and salt-cured egg yolk sit on a bed of a crisp-but-fluffy Chinese fried bread (youtiao or cakwe, for some), with a sprinkling of shaved parmesan. The delicate Tempura Zucchini Flowers is a collision of sweet and savoury, where a creamy, zesty whipped goats cheese lemon sauce is paired with a drizzle of rainforest honey, giving the light zucchini life through relish. Another fresh, creamy veg dish is the Broccolini & Asparagus, soaking in fresh yoghurt, with an umami touch of smoked oyster sauce and dried wakame.
Of course, the bigger, meatier dishes are stars at Honey & Smoke. A must-try is the Smoked Pork & Prawn Sausage, a lightly herbed mincing of the two served on a smooth miso beurre blanc sauce, with a literal 'pop' of pork fat bursting with every bite. The Soy-Glazed Peppercorn Chicken is a generous portion of chicken on the bone, smothered in shāchá jiàng, the 'barbecue sauce' of China. Soft and supple is the 450g Slow Roasted Lamb Shoulder, with a more Mediterranean profile, this ultra-tender 'loaf' of lamb nests on a cushion of kenari nut hummus and thyme lamb jus, with a topping of mint chimichurri for extra zest.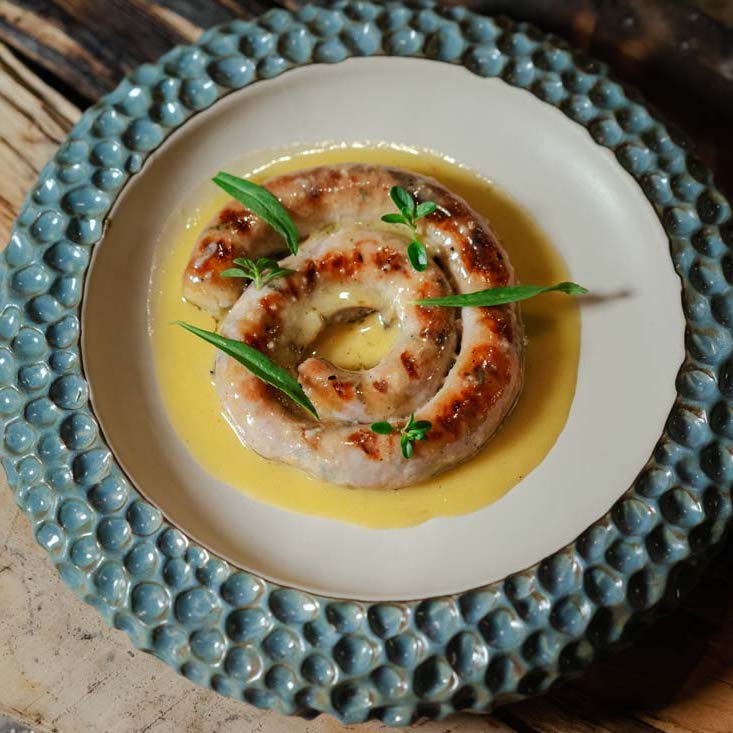 The Wood-Fired 350GR Stockyard Rib-Eye awaits steak-lovers, served with charred local spinach ('bayam'), creamed corn and salted-egg sauce. Those in the mood for seafood can dig into the Wood-Fired Grouper, also sitting on that exquisite miso beurre blanc; or try the Chargrilled Prawns, cooked in lard, served with pinenut milk, burnt lemon, saffron and chermoula dressing.
The dessert menu, for those who have space, features bombolone-like doughnuts, stuffed with melted choc and served with coconut ice cream; a tropical Rum Baba using a 'spice islands' rum; and a selection of local cheeses.
To complement the food, Honey & Smoke has a list of both signature and classic cocktails, plus an impressive list of imported wines. These are best enjoyed in the sultry 'salon' upstairs. Between 12PM to 3PM, you'll find lunch specials, and for dinner (5PM-1AM) diners can also try the Feed Me Menu, a generous set experience featuring highlight dishes.
From the furnishings to the food, Honey & Smoke brings something original to the eat streets of Ubud, with a selection of palate-puzzling dishes that will no doubt surprise and please patrons.
Honey & Smoke
Jalan Monkey Forest No. 67B – Ubud
+62 822 15151586 (WA)
honeyandsmoke.co