How do some traditions remain whilst others die out? Why can some knowledge be passed down to the next generation whilst others are lost forever in time?
On an island where culture is truly alive it is easy to assume that traditions will always remain, but that is not the case. To remain they must adapt. Change, ironically, is the only thing that is constant, and when it comes to the traditions of Bali's craft scene, change has been the vehicle of both preservation and abandon.
This is Part 2 of a three-part article on 'Keeping the Craft Alive', to read all three parts download our May-June Edition for free here.
---
Part 2: Creating in New Dimensions
Unlike the textile weaving industry, Bali's leaf weaving craft needed no help for revival. It persists through the local communities as a daily necessity. In fact, it has become larger than life, transcending its traditional forms and functionality to create works of art.
Leaf weaving is a common skill in Bali, one that most Balinese will know as part of their contributions to communal and ritual life. The daily canang sari offering is an example, with its base woven from busung, the young, hard and yellowish leaves of the palm. Other offerings and decorations are made using this, from the embellishment of the penjor bamboo poles to the circular tamiang offerings that hang on shrines. The slepan, older palm leaves that are soft, wide and green in colour, are woven into large sheets called kelangsah, used as floors mats, walls or screens in the temple. These are required for most major ceremonies, and everyone lends a hand to prepare them.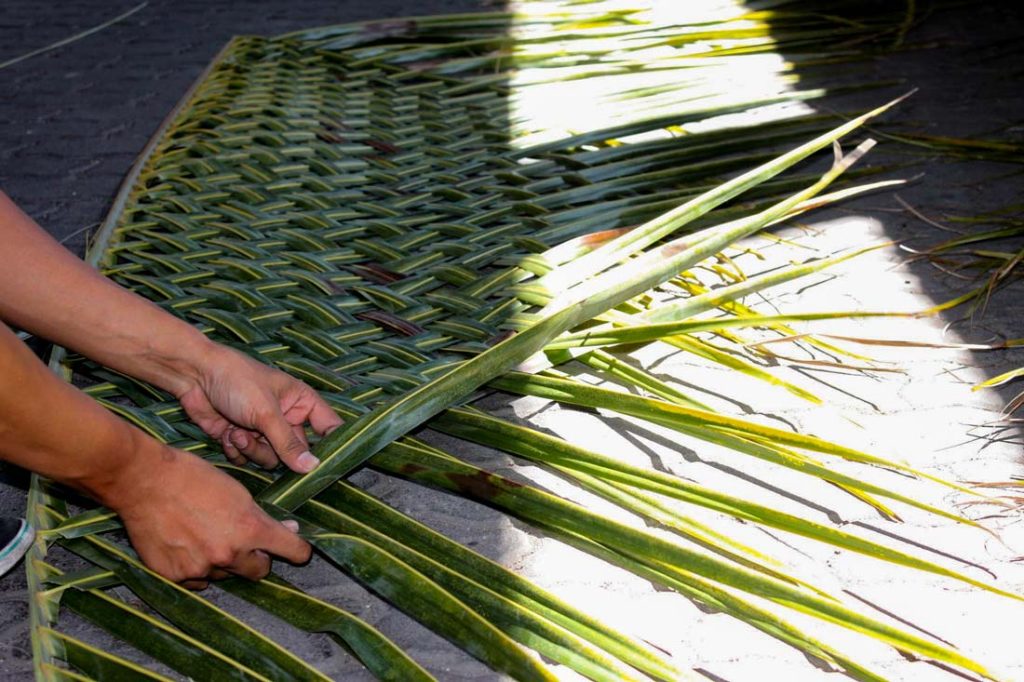 However, one Mengwi weaver saw more potential in these pliable palm leaves. Getting creative, Ida Bagus Gede Ari Artana (Gus Ari) reimagined the possibilities of janur (palm leaves) and created an intricate tableau of slepan and busung leaves to decorate the entrance of his friend's wedding. It was a beautiful, all-natural mosaic of jade green and honey yellow checks.
When Chloe Quinn, a stage and theatre designer from the UK, saw the works of Gus Ari, she was blown away. Seeing the creative possibilities of blending contemporary design and traditional craftsmanship, together they founded Make a Scene Bali, a one-of-a-kind leaf-design studio.
What made Make a Scene's (MAS) creations really stand out was that they quite literally changed the dimension of leaf weaving. From flat, 2-dimensional planes, MAS extruded their creations into lifelike 3D structures. A new art-form was brought into being: large-scale sculptures in the shape of intricate gateways, to tangling forests and majestic, mythological creatures, all made from palm leaf that had been woven, swirled, folded, twisted and crafted by hand.
The creations started a green movement, and across the island many Balinese returned to all-natural decorations, especially for weddings. But the team at MAS continues to push the boundaries of the material and the technique. Chloe has noted that the more innovative one is, the more attention one can attract. Jewellery, wearable art, permanent interior sculptures, immersive pieces, stage design… dreamlike creations were being made by the MAS weavers, all completely novel to this type of craft.
The founder added that Make a Scene believes they can inspire craftsmanship and artists in Bali, noting that a lot of its dwindling as many prefer to take standard jobs which are seen as more financially consistent. Though she has observed the impressive foundational skills and knowledge of craftspeople on the island, but, unlike Gus Ari, many do not innovate and so the craft remains stagnant.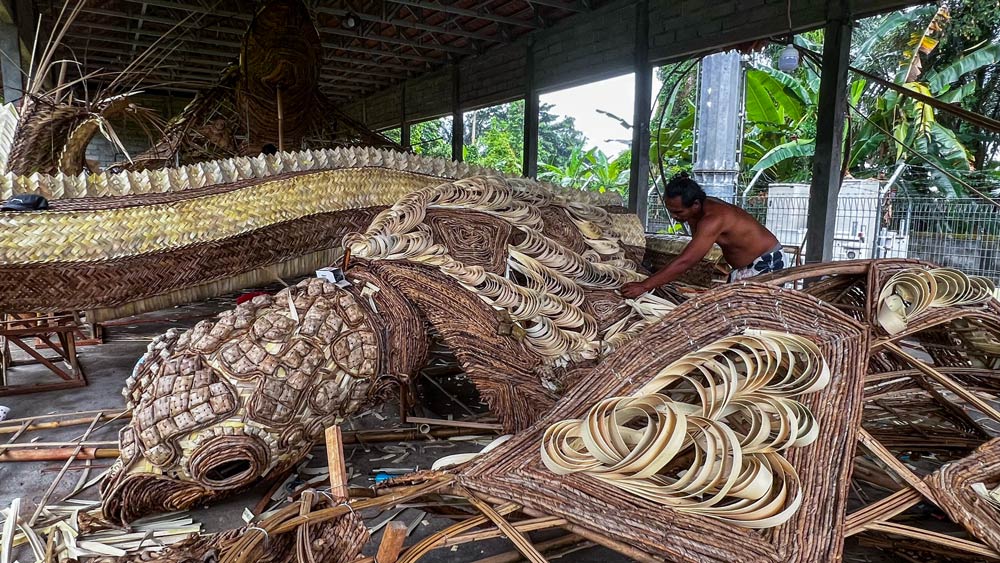 ---
Even for the masterful weavers at MAS, with widely-renowned pieces under their belt, it took a long time for them to accept that they were indeed multi-disciplinary artists, such was their humility. Often not realising that it was their vision and expertise that was creating the value. For example, their series of jewellery carved from dried lontar leaf, is made from a common and inexpensive material — clearly it is purely their creativity, time and skill that is being valued.
The team at MAS hope that their creations will inspire others to what is possible in the field and beyond; pushing others to think outside of the box and challenge themselves to create.
Adding to that, Make a Scene was invited to design window displays across ten John Hardy jewellery stores in the United States; essentially putting what was originally a humble communal craft on view along most elite street fronts of the USA. This showcase of Balinese craft outside of Indonesia is another watershed moment, one that sends a signal to local craftsmen on what is possible. The visionary stage designer hopes that they can foster a greater understanding of 'value' in local crafts.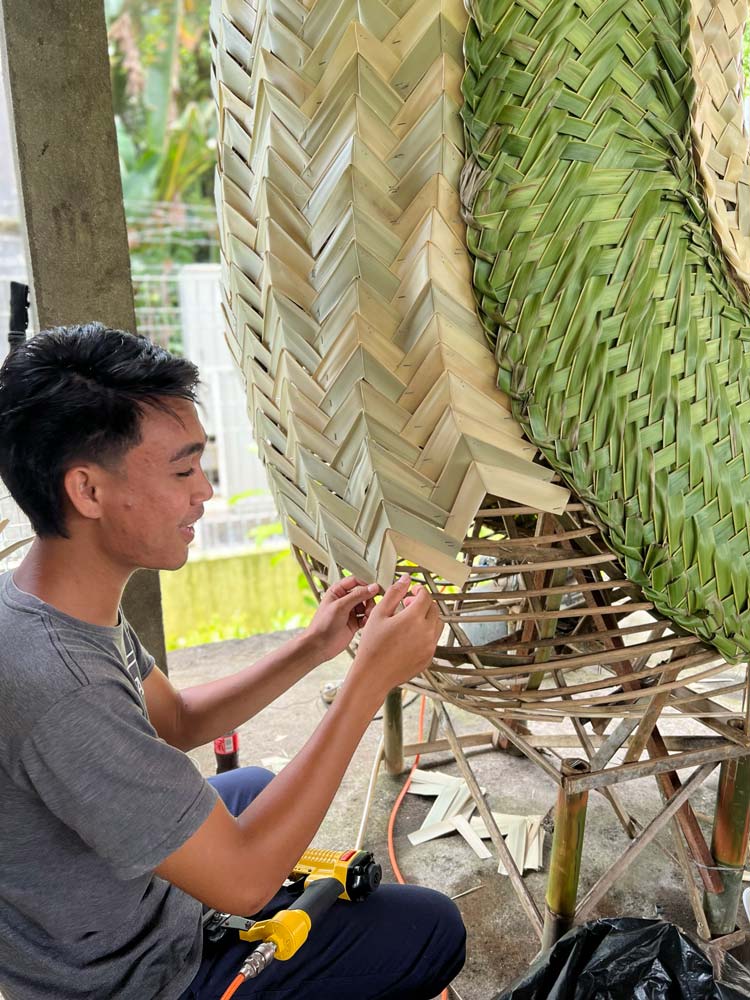 ---
The demographics are indeed changing. Younger men are returning to the crafts, easing the pressure of an ageing generation. And at Make a Scene, the work is split evenly between men and women. More and more local businesses are beginning to offer leaf-weaving services, but the demand too is getting bigger. Weddings, events, venues all seeing the interest in presenting something uniquely Balinese.
If there is a market, there will be demand for the work. As for Make a Scene, as the 'tip of the spear', they'll continue to carve the path forward, innovating the space to new heights.
Make a Scene Bali
Instagram: @make_a_scene_bali_
Website: makeascenebali.com
This is three-part article on 'Keeping the Craft Alive', to read all three parts download our May-June Edition for free here, or go to:
• Part 1: The Stories on the Tapestries
• Part 2: Leaf Weaving in New Dimensions
• Part 3: New Canvases, New Opportunities