"To become a good dancer, first you must become a good person," I Made Bandem said to me. Balinese dance virtuoso and scholar Prof. Dr Bandem radiates charm and youthful enthusiasm as he shares his father's most valuable advice. "The three cultural pathways to becoming a good person are known as Tri Kaya Parisudha: manacika (think well, focused & clear), wacika (speak well, humble & respectful), and kayika (work and act well with integrity & discipline)."
Bandem then took great delight in showing me his mask collection gifted to his father by former kings and priests. His father, I Made Keredek (1906-1979), was a famous mask dancer and teacher who travelled throughout Bali performing for the royal courts and the community and instructing. Bandem made impromptu performances with the masks, identifying the varying movements, voices and characteristics distinguishing each guise. Bandem's charisma, enthusiasm and taksu touch every person he meets. Taksu being the mystical energy that the Balinese believe seeps into people and things.
In this article:
• About I Made Bandem
• 'Masks of Bali: Between Heaven and Hell'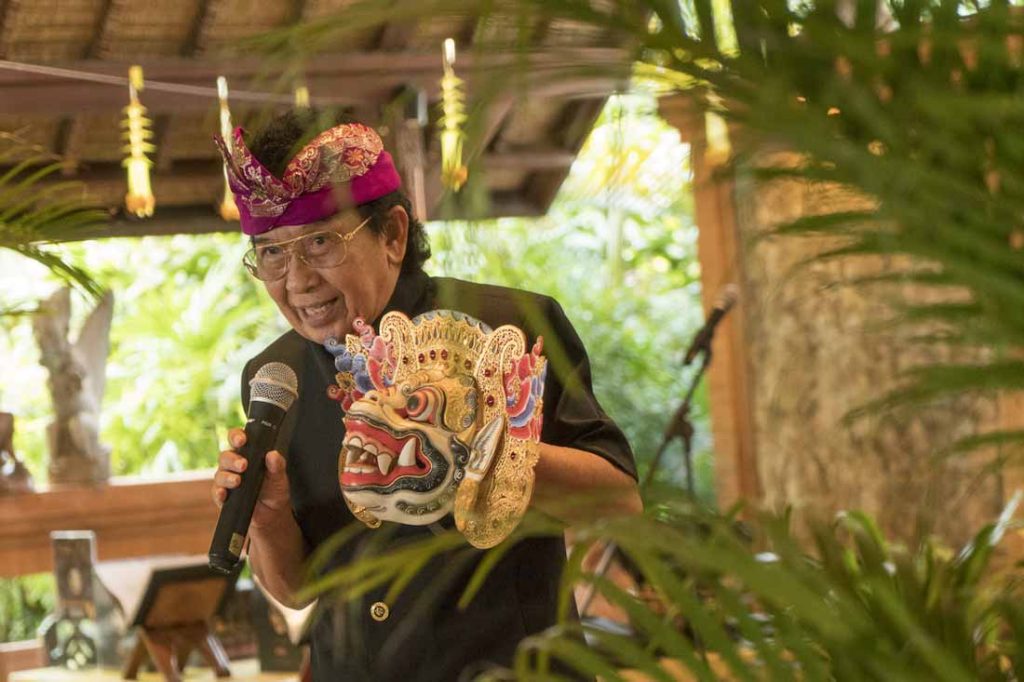 I Made Bandem
Born at the end of the Japanese occupation of Bali in 1945, Bandem's family compound was surrounded by rice fields. Two hundred metres to the east, giant pule trees tower over the Pura Dalem temple to this day. Bandem assisted his father in teaching from age ten, inspiring his lifelong passion for sharing his cultural learnings and observations. His accomplishments and contributions to arts and culture during the past six decades have distinguished him. They are categorised into four domains, ethnomusicology, education administration, art and cultural management and a political career.
In 1965 Bandem travelled to Japan to participate in the Presidential Mission of the Republic of Indonesia. At the time, he was a dance teacher at the Indonesian Karawitan Conservatory Denpasar. After graduating from ASTI (Indonesian Art Academy of Dance), he won a scholarship to become one of the first Balinese dancers to study in the United States. After marrying Ni Luh Nesa Suasthi, aged twenty-two, the couple departed for the US. Bandem earned his Master's degree in dance from the University of California in Los Angeles. Both taught Balinese gamelan and dance to American students. Together they performed in Honolulu, the Los Angeles Music Centre, the Hollywood Bowl, Washington DC, Broadway New York, and other renowned venues. The New York Times in 1990 named Bandem the Joe Papp of Bali.
As a custodian of Balinese heritage, a national and international cultural ambassador, Bandem achieved the accolade of being the first Indonesian to accomplish the PhD title Ethnomusicologist, which he received from Wesleyan University, Connecticut, in 1980. Upon his return to Bali, he became the director of the Indonesian College of the Arts in Denpasar, a position he held for sixteen years. With a potent vision towards the future Bandem became a founder and one of the driving forces behind the Bali Arts Festival, along with the former Governor of Bali, Dr Ida Bagus Mantra. In 2022 the Pesta Kesenian Bali (PKB) enjoyed its forty-fourth consecutive year. A father of two children and grandfather to four, his immediate and extended family life is rich and prosperous.
A scholar of world music, Bandem supports "bi-musicality," a concept describing that music is a universal language, and every ethnomusicologist must comprehend more than one world music genre. This led him to study the traditional music of Japan, Thailand, Korea and China, becoming the foundation of his studies into various Indonesian ethnic music genres. Bandem is currently a Balinese dance and music professor at The College of the Holy Cross in Worcester, Massachusetts, where he teaches music and dance, including the Gamelan.
The publisher of numerous books and over two hundred scientific articles, nationally and internationally, 'Kaja and Kelod: Balinese Dance in Transition' (1981 & reprinted 1995) is highly regarded as a classic by artists of music, dance, and theatre. The book is responsible for generating worldwide appreciation of Balinese arts and culture. Having witnessed enormous transformation during the past half-century, Bandem's concerns about the loss of culture led him on the path of activism – the documentation, preservation, invention and sharing of Balinese heritage to inspire both the global and local community for cultural regeneration into the 21st century. One of his priorities is supporting opportunities for intercultural exchange.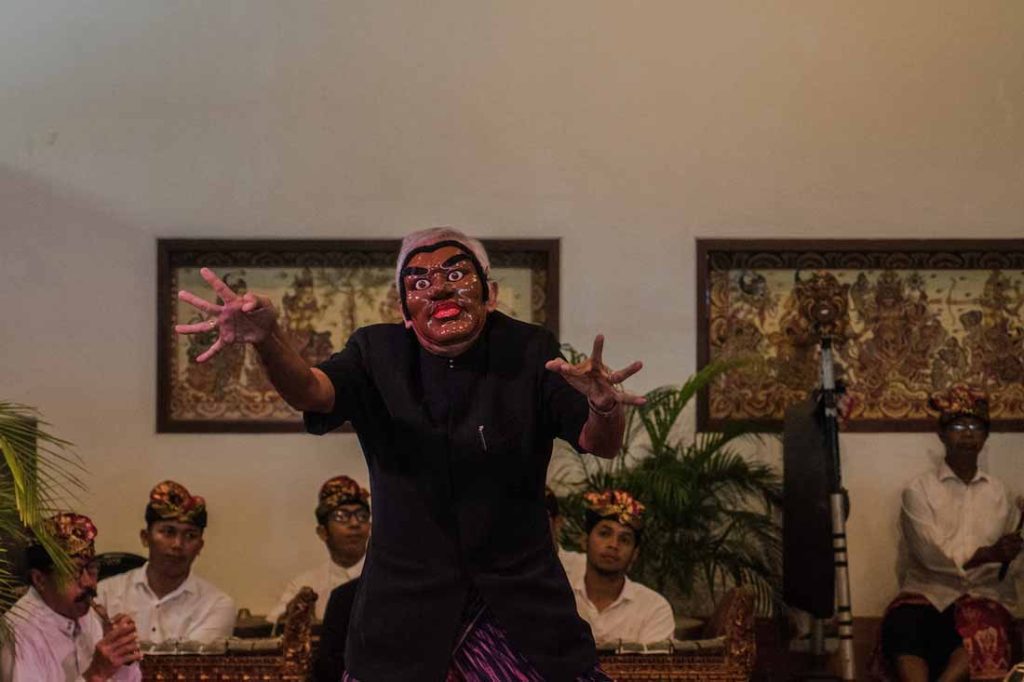 While involved in many committees throughout his life, one of his most significant official appointments includes being the Rector of the Indonesian Institute of the Arts (ISI) of Yogyakarta, the oldest art institute in Indonesia. Valuable collaborations in the field of education and research were conducted between ISI Yogyakarta and Osaka City University, forging closer academic relationships between Indonesia and Japan. In 1980 Bandem received a token of appreciation, "Garuda Bhinneka Tunggal Ika", from the Indonesian Embassy (KBRI) Washington D.C., for the success of introducing Indonesian arts while studying in the United States.
Political ambitions led to Bandem being appointed as the Vice Chairman of the major political party Golongan Karya in Bali from 1982-1998. This position entitled him to become a member of the Indonesian House Assembly (MPR-RI) as state representative for the Province of Bali (1988-1998). He was also a member of the Art Consortium of the Indonesian Education and Culture Department from 1988 to the present. Bandem is the recipient of many national and international awards.
Masks of Bali: Between Heaven & Hell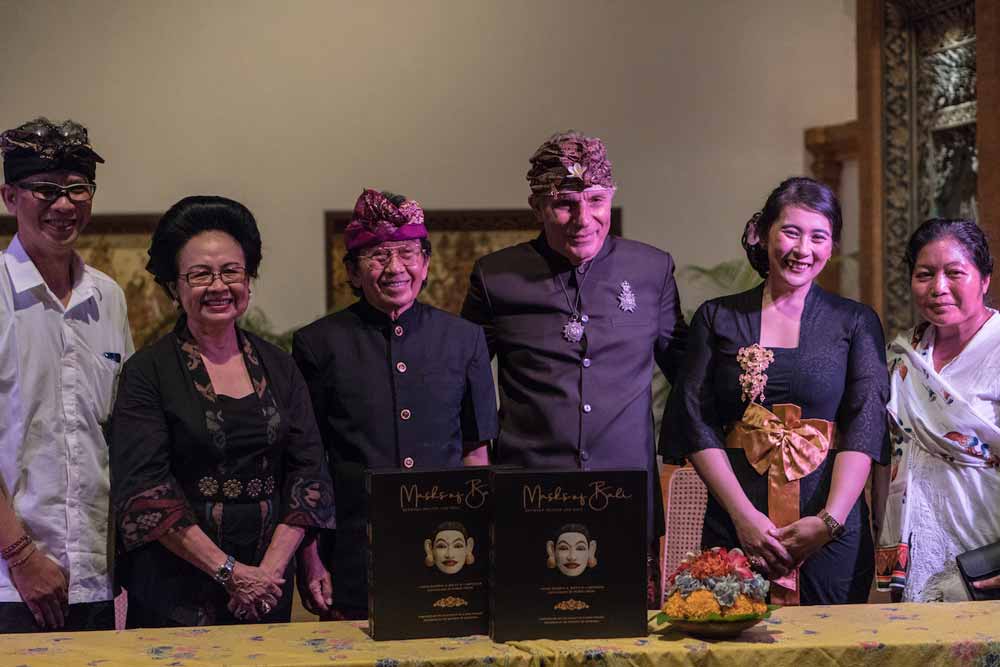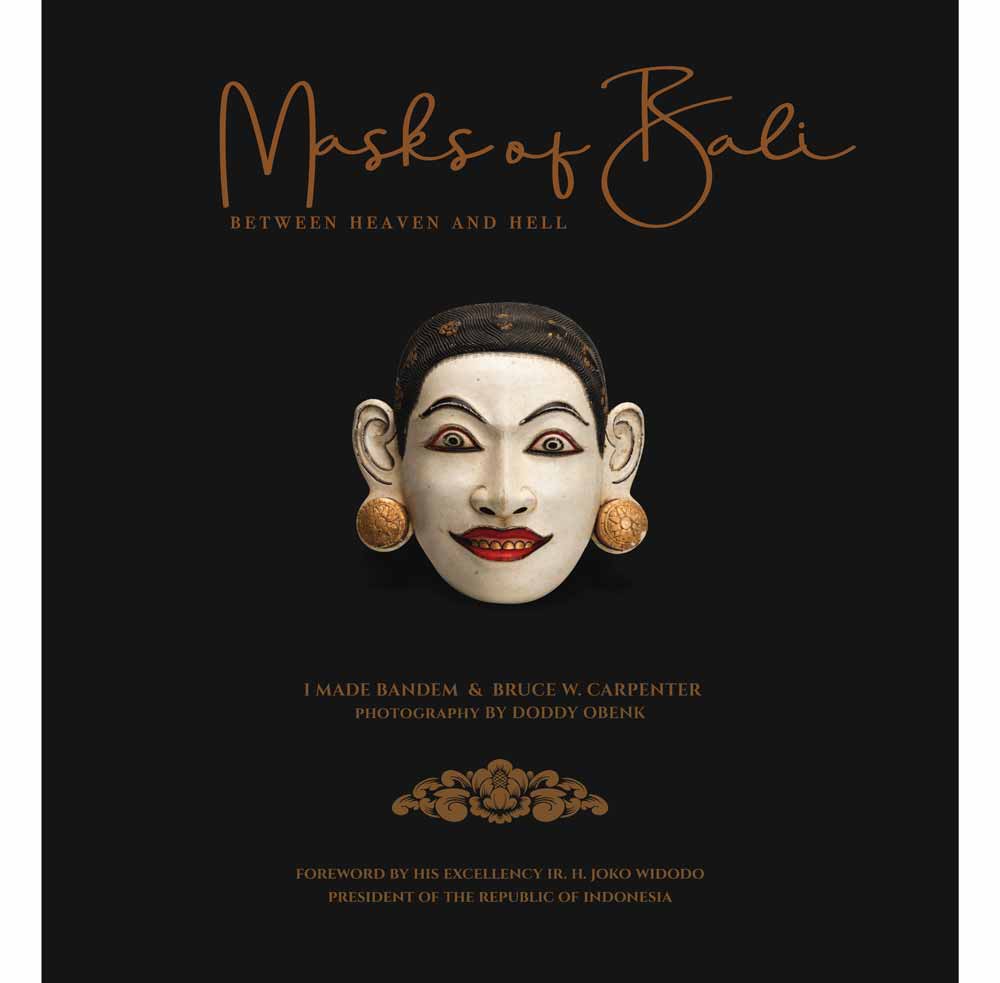 Made Bandem's latest project, 'Masks of Bali: Between Heaven & Hell', co-authored by American art historian Bruce W. Carpenter, is a milestone in cultural research, taking the pair and their team over four years to complete. Published in December 2022, the book is the most fully comprehensive study on Balinese masks spread throughout two volumes and six hundred and twelve pages. Over 1000 beautiful colour images by photographer Doddy Obenk illustrate the book. The foreword by the President of the Indonesian Republic, Joko Widodo, also distinguishes it.
The book was soft-launched on 20th December 2022 at Sanur's Tanjung Sari. One hundred guests attended the evening, including well-known local cultural figures who enjoyed a performance by Bandem with his colleague Prof. Dr Wayan Dibia. The Grand Launching of Masks of Bali: Between Heaven & Hell at the National Museum in Jakarta will be attended by Indonesian President Joko Widodo early in 2023.
Printed in a limited edition, Masks of Bali may be ordered through www.masksofbali.com while purchases outside Indonesia can be made via Amazon and other major bookstores.