"The Masons" are the inspiring couple, Yani and Nigel, and their good looking children. They have created a new place to be called Koko Bambu, a chocolate factory and restaurant on an extra ordinary eco-chic retreat outside of Ubud with magnificent rice field views. At Koko Bambu one can apart from tantalising the palate with chocolate by adding the thrill of racing through the jungle with the new additional adventure of the Jungle Buggies!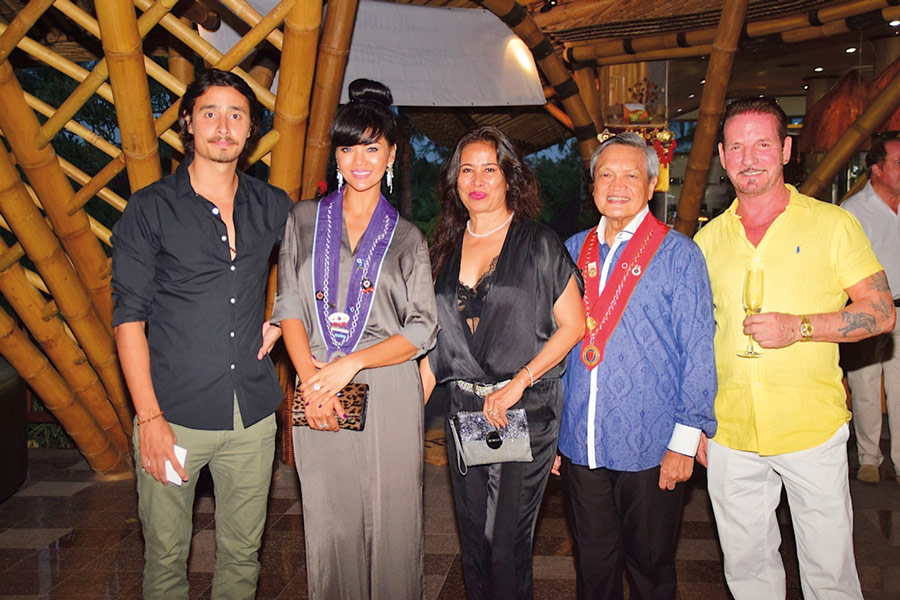 I Made Karyani, born in Bali is known as Yani Mason, a beautiful woman with a very kind heart. You will meet her at almost every charity event in Bali, helping and caring for the people of Island of the Gods with their customs and beliefs. When she met Nigel, a British adventurer and businessman who had by that time travelled the world, they decided to start a business together from scratch. This was back in the eighties, so it must not have been easy, as it was considered taboo for a Balinese woman to be with a "Tamu" (foreigner). Through a "smart love affair", combining their business minds and ambitions they created their first enterprise, "Yanies warung" in Kuta.
Now after more than 30 years together, working side by side they have built a small empire formerly known as the Bali Adventure Tours, which has recently been rebranded as Mason Adventures. An Elephant Safari Park and lodges with luxury accommodation, water rafting trips, cycling tours, restaurants and spa, helicopter tours and now the latest addition "Koko Bambu" Restaurant and Chocolate Factory with the "Mason Jungle Buggies" based just a couple of kilometres away from the Elephant Park in Taro, Ubud.
Only open for a few months, the Masons were willing to host a Chaine des Rotisseurs Amicale Dinner at Koko Bambu, with chef Tiwi creating a special tailor made feast inspired by chocolate. Each dish was designed with cocoa, the basic ingredient of chocolate. Chef Tiwi, a jovial Balinese woman who previously catered for Freeport, was recruited by the Mason's some years ago to start the restaurant at the Bali Elephant Park Taro. Her cooking managed to really impress the 30 guests who attended.
The canapé of bacon candied stick with dark Sulawesi chocolate, rolled camembert cheese with grilled zucchini and chocolate balsamic reduction on tenderloin with onion jam and béarnaise cacao butter sauce was a magical creation. Accompanied with bubbles, a sparkling Saint Michelle Brut of Colombia Valley, Washington, USA, made for a very good start.
The first entrée which really stood out was an amazingly fresh and vibrant start of Seafood Cheviche ,with Roasted Cocoa nibs from the island of Sumba paired with a 2013 viognier from the Yalumba Eden Valley, Australia.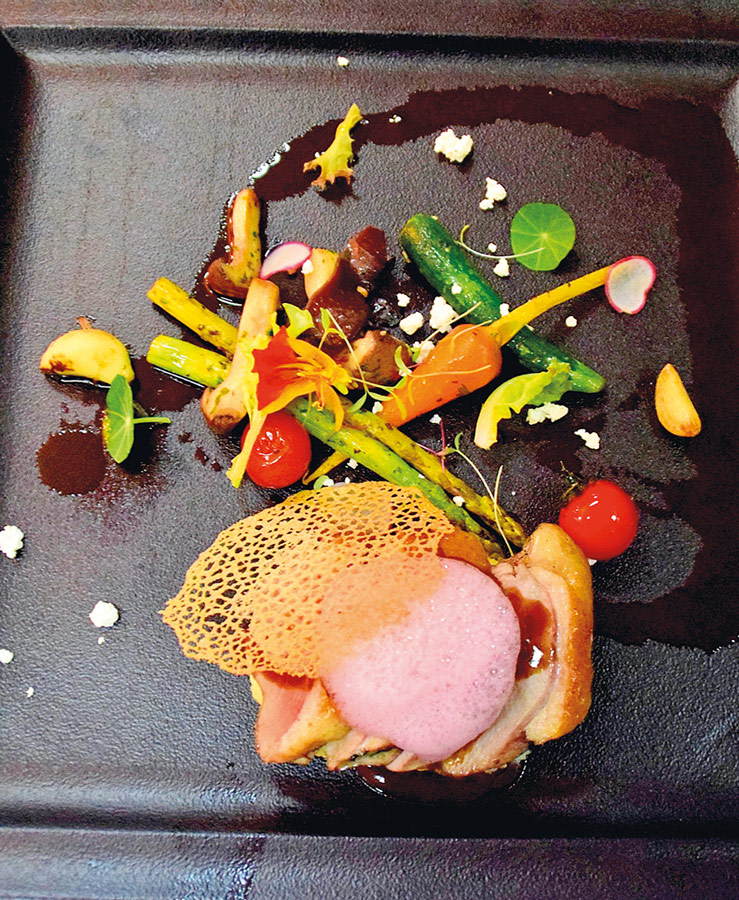 There were two main dishes. The first dish was a Seafood Trilogy; King Prawn and Salmon with cocoa butter and chocolate herb sauce was extremely well received so when you visit there one day make sure you try. Harald, paired this dish with a Rose from Tavel Rose Familie 2012 of Code du Rhone, France.
For the carnivores, the Duck Breast with the chocolate orange balsamic chili reduction with the parmesan potato puree and grilled sweet baby vegetables as a side dish was simple and perfectly grilled! Paired with the 2015 Shiraz from Torbeck Woodcutters from the Barossa Valley Australia.
The first dessert was an exiting combination of sweet, sour, fresh and tardy from the cheese – delicious! I could have had a second helping if I had not already finished 6 courses, not to mention the canapés that were paired with a cold Moscato D'Asti Nivole Michele Chiarlo Piedmont 2015, Italian of course.
We finished it off with a chocolate dome where we had to pour the hot melted chocolate onto it to open the dome where we found a white pannacota and wild berries compote. This was paired with an ice cold Alratico 2012 from Tuscany, Italy. More chocolate to share during the after dinner chat accompanied with lots of laughter till way after midnight.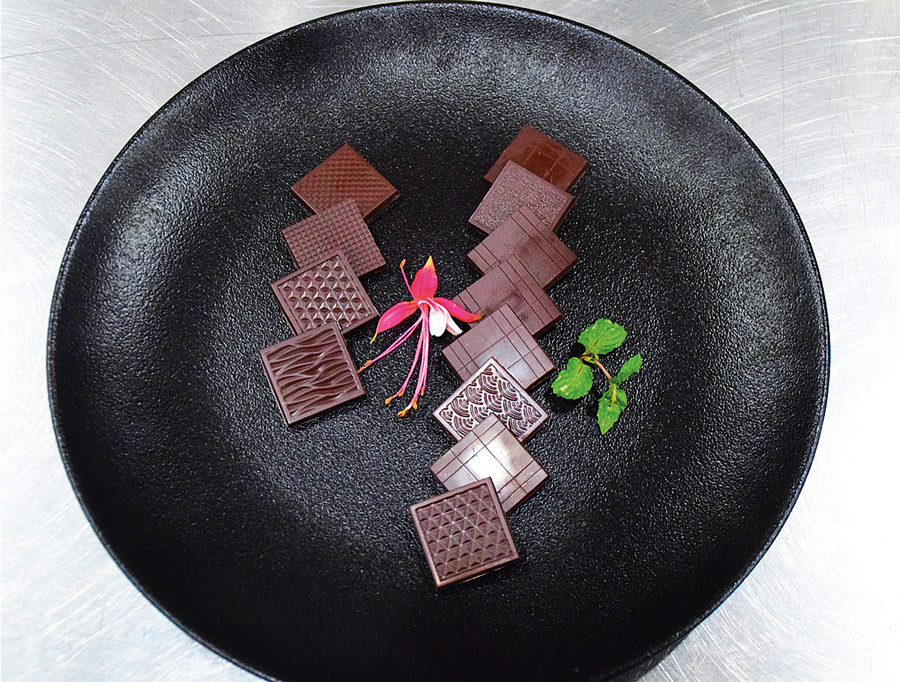 This was a special evening sprinkled with Cacao nibs, The Mason's, Chef Tiwi and her team, together with the Chaine des Rotisseurs Bali Team consisting of Herald Wiesmann the Bali Chapter sommelier, Sashi Rajan, Vice – Charge de Culinair, Danielle van Poppel, Bailli de Bali Regional, and myself. Truly an unforgettable menu of 7 courses.
It was a successful evening where we shared good food, good wines and stories together. Bravo to Yani and Nigel and the entire team of Koko Bambu.
And thank you to Steve and Amir, our guests from KL and to Farah Quinn, our Chargee de Missions Jakarta, for joining our Island Style Fine dining evening. It was an honour to host you, and we hope we can welcome you back again for our next event.
Vive la Chaine!