Not exclusive to lumberjacks, axe throwing is a Canadian pastime that casually takes place in one's backyard which has found a home in the heart of Bali. The sport may seem daunting but is an all-round fun activity to break a sweat and have a laugh with friends and family. Date nights, birthdays, or work outings will be a guaranteed hit with this extreme sport.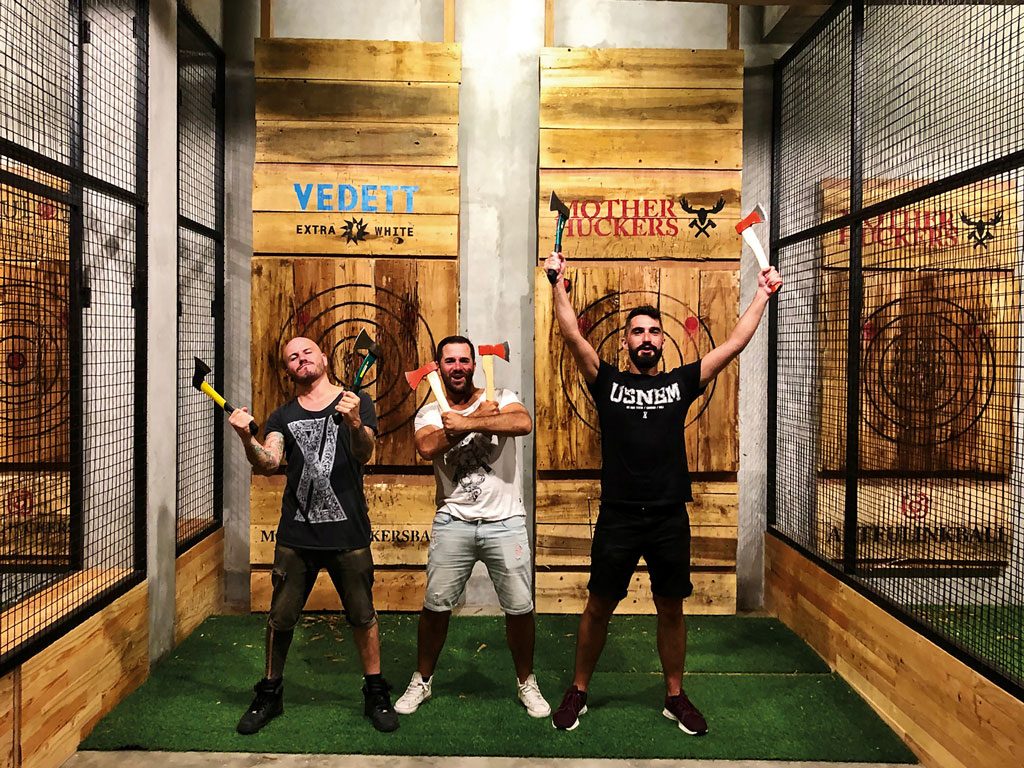 Urban axe throwing, or hucking, is a burgeoning activity that is receiving more and more attention globally. Canadian native Ryan Irvine has brought us the thrills of this favourite backyard pastime to Seminyak's buzzing neighbourhood, giving residents and visitors another box to check on their Bali to-do list. Mother Huckers is Bali's first and only indoor urban axe throwing club where channeling your inner angry, competitive lumberjack is encouraged to release some stress!
Firstly, you will need your friends. Each lane typically fit groups of 12 and they have not set a minimum amount of people, so call up your comrades or set up a daring date night. Mother Huckers currently accepts bookings only, which means no walk-ins, to guarantee a lane for your group. It's advised to arrive 15 to 30 minutes before the scheduled time as you will be asked to sign a waiver, rent out a proper pair of shoes if yours aren't deemed appropriate, and you'll be given some coaching. The team also recommends wearing comfortable, breathable, and loose-fitting clothing – you'll want to be able to move your whole body when you huck. Plus, the venue is equipped with a fully stocked beer bar offering around 15 different beers to choose from if you need a cooling refreshment. It can get a little steamy for some of us!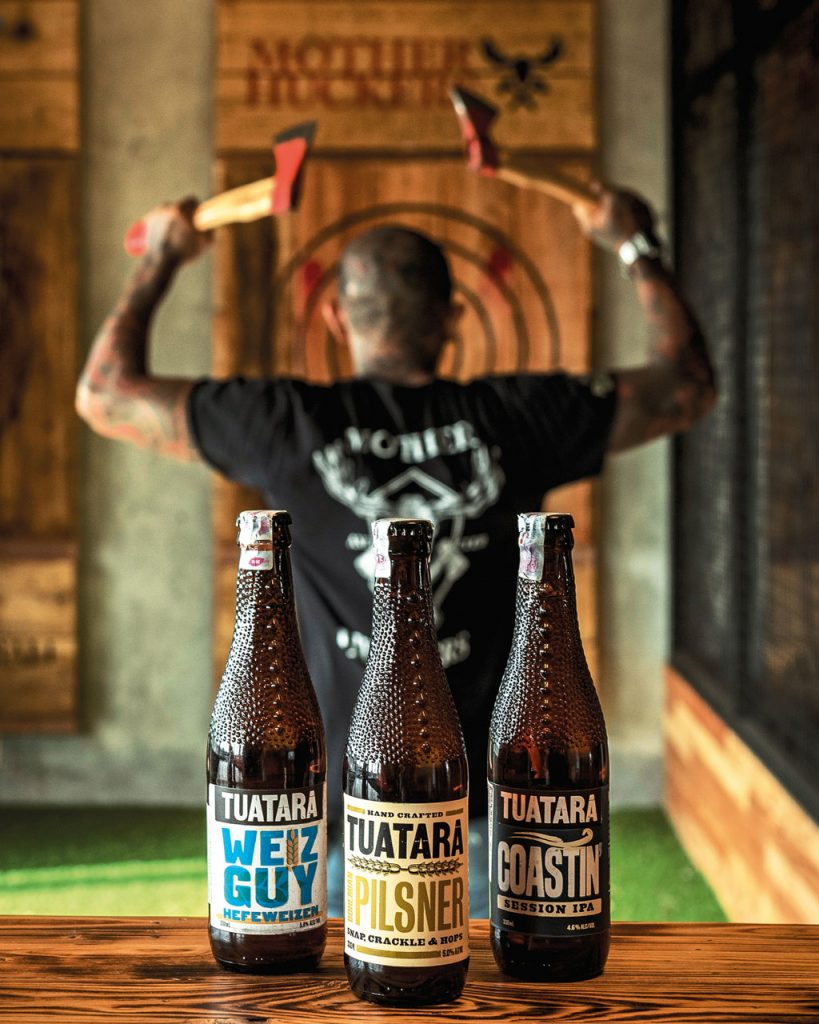 When you have completed the practical needs, you will proceed to the coaching session. You'll be assigned to a dedicated axe throwing coach and scorer who will ensure all tools are thrown at the correct places and essentially guide you throughout your whole hucking experience.
The one-on-one coaching was designed to show you the ropes, give you time to get the hang of throwing the tools, whilst also learning a thing or two about this Canadian hobby. Rest easy knowing that the axes are actually blunt, however just sharp enough to penetrate through the wooden target board – it's perfectly safe to get the whole family out to give it a go.
If you take pride in having exemplary hand-eye coordination, this may just be your chance to shine, though the team will keep reminding you that no skills or previous experience are necessary. All you need is a sharp aim. The goal is to let your body leverage you forward so you are simply swinging the axe and it'll do its magic for you. Overhead is important, meaning you will have to do a little lifting – minimal exercise, we promise.
When you're all coached and warmed up, the axe battles begin! Mother Huckers adopts a round-robin system for everyone to get a chance to play each other and compete in an epic head to head tournament to crown the baddest Mother Hucker amongst your group.
Fun Tip: When the fun and games are over, you can ask your coach to teach you cool trick shots to prep you for your next challenge with the crew!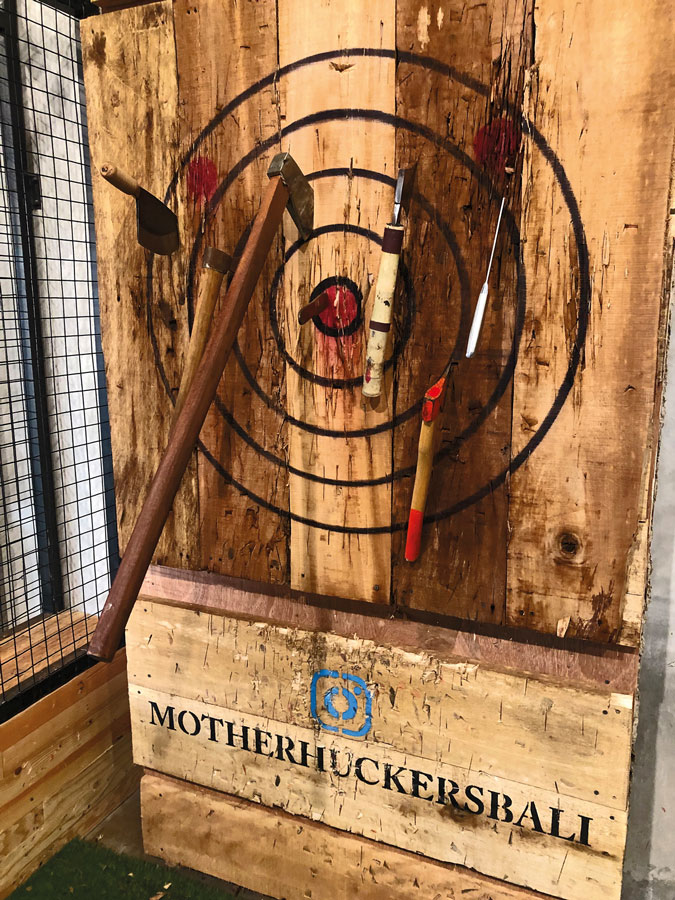 Mother Huckers is open from 2 PM to 10 PM everyday except Wednesdays with last groups starting at 8.30 PM to 9 PM depending on group size. The current promo price is IDR 250,000/person. They also organise entertaining nights throughout the week, like their Tinder Tuesdays which get you 2 for the prices of 1 session fees, meaning more money to spend on drinks!
Mother Huckers Bali
Jl. Batubelig, Kerobokan Kelod, Kuta Utara, Kabupaten Badung, Bali 80361
+62 878 6000 6482
www.instagram.com/motherhuckersbali