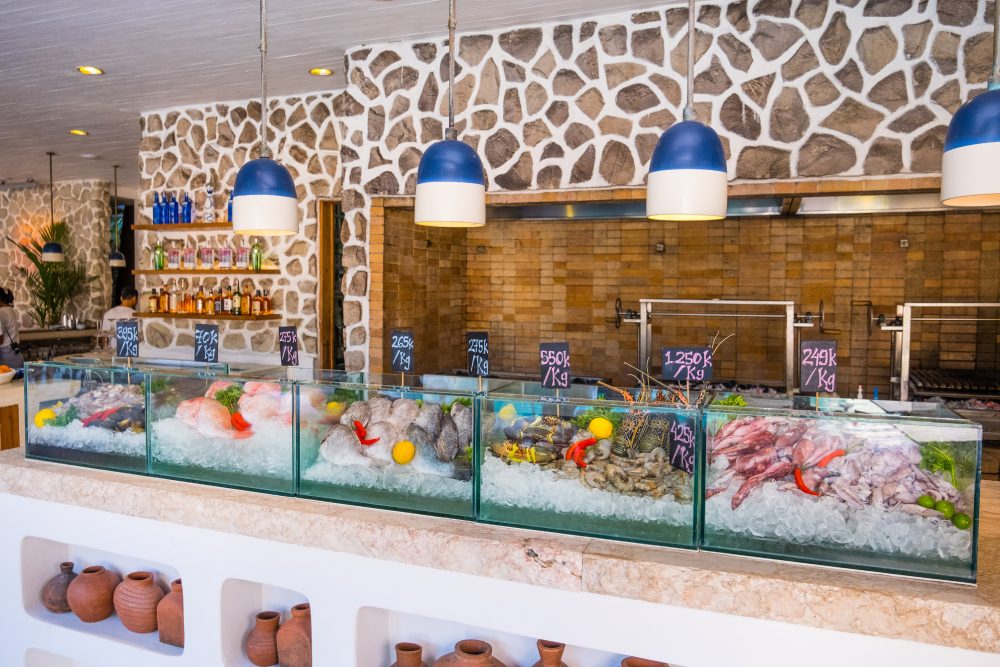 Adding a new culinary experience to their array of offerings, Mrs Sippy Bali launches their 'Seafood Market', where guests can tuck into a Bali-style barbecue featuring an array of fresh seafood.
From day to night, the favourite Seminyak pool club, Mrs Sippy Bali, keeps guests entertained with great music, drinks, poolside Mediterranean fare, and of course sunny, tropical atmosphere. Lively and vibrant, the all-day destination is known for their iconic oversized swimming pool, complete with diving platform, where guests lounge under the palm trees with generously sized cocktail in hand.
Looking to give guests something to look forward to every evening, the pool club has launched their Mrs Sippy Seafood Market. From 5pm to 9pm a special themed dining experience adds a Bali twist to their usual Mediterranean menu, with barbecues lighting up in ode to the famous Jimbaran seafood flavours.
Presenting fresh catches and hauls of the day, displayed on ice, guests can pick out their favourite ocean fare to be grilled up a la minute. Whole red snapper and barramundi, baby octopus, clams, crabs, prawns and even lobster are part of this new menu, grilled to perfection with Jimbaran-style sauces and spices. This means guests don't have to make their way down to the Jimbaran coastline, they can simply keep their day going at Mrs Sippy and have those succulent flavours come to them! All at great prices too.
The delectable coastal cuisine is served with three different chilli relishes, or sambal, as is customary for Balinese seafood selections, plus sautéed water spinach and bok choy. Fries, white or red rice and a traditional rice cake (lontong) are served with the flame-grilled food.
But wait, there's more! If you crave a classic poolside bite, you can have that too. A series of seafood-focused dishes will be served alongside the barbecue. Tiger prawns with chimichurri dressing, salt & pepper calamari with jalapeno aioli and Baja fish tacos. There's even a hearty snapper burger if you're needing something really hearty.
The atmosphere shifts at the pool club, as its transitions from tropical sunshine during the day to a sultry evening hangout when the sun goes down. Of course the live DJ playing house music, colourful list of cocktails — from Espresso Martinis and Watermelon Mule — keep the energy up during and after dinner!
Try out the new Seafood Market at Mrs Sippy any day from 5pm to 9pm; best enjoyed after a day of lounging by the pool beforehand.
Mrs Sippy Bali
Jl. Taman Ganesha, Petitenget, Seminyak
+62 821 4500 1007
mrssippybali.com | @mrssippybali