The island's world-class food and beverage scene continues to grow and innovate, adding to the already fantastic variety of venues in which to eat, drink and enjoy. Brand new venues – be it a late-night speakeasy, the latest fine-dining destination or a comfy new café – are still popping up across Bali and herewith we bring you some of the most notable new kids in town. So, if you're looking for the best new restaurants in Bali in 2023, or the most intriguing new bar
Browse new restaurants in Bali by month:
We'll be updating this article every month, so make sure to subscribe to our newsletter to stay in the loop! Missed out on the new spots in 2022? Check them out here.
JANUARY UPDATE
New restaurants in Bali that opened in December 2022 and January 2023.
Mozaic Restaurant Gastronomique
Reopened / New fine dining restaurant in Ubud (December 2022)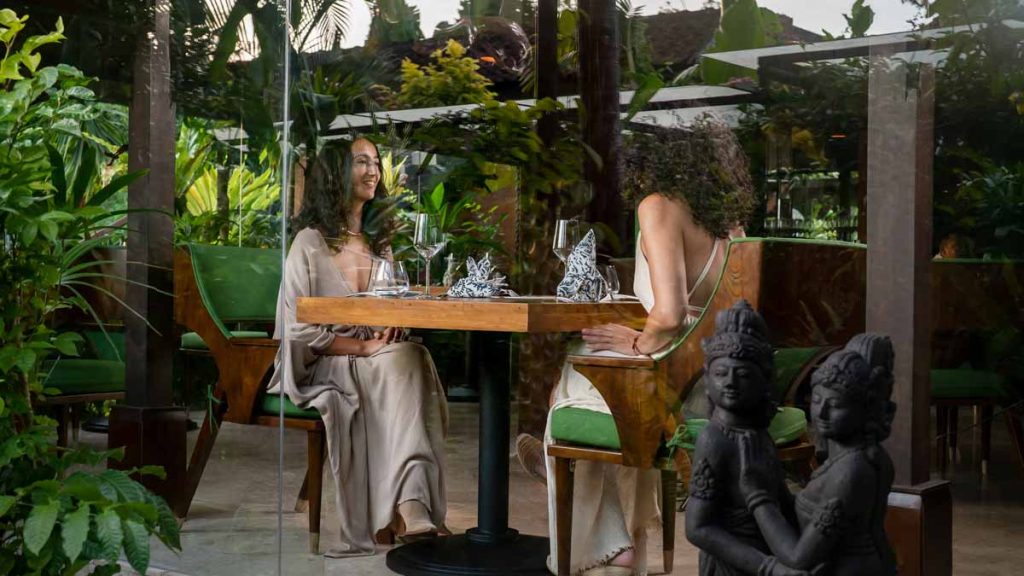 Having officially closed its doors for 11 months, Mozaic Restaurant Gastronomique, or Mozaic Ubud, reopened its doors on 15 December 2022. The legendary dining destination returns with a fresh new menu, concept, look and feel, inviting long-time patrons and new diners through its doors once again.
Mozaic was opened 20 years ago by Founder and Head Chef Chris Salans, pioneering fine dining on the island with a concept that married Indonesian ingredients and French haute cuisine. Over the decades Mozaic paved the way for Bali's and Ubud's restaurant scene, establishing a 'must-visit' reputation for discerning diners, with national and international renown. The restaurant announced its official closure at the start of 2022, but at the end of the year, Chef Chris Salans decided to revive the establishment, but with a renewed concept, together with a new partner (but ex-associate), Chef Blake Thornley.
Chef Blake was the Executive Chef at Mozaic from 2010-2015, then went on to open restaurants in Shanghai, China, winning several awards. Together, the two chefs will combine their decades of fine-dining expertise and present a modernised menu experience — still sticking to the original passion and value of using select local ingredients, artfully prepared and presented. The chefs promise something really innovative when it comes to the Mozaic Ubud menu, expressing that dinners will have moments of surprise and discovery.
The restaurant remains at its original venue on Jalan Raya Sanggingan, Ubud, but the interior design has been revamped. Chef Blake has introduced a 'fresh' green colour palate to match the tropical vegetation, adding lots of natural wood finishes to add warmth and sophistication. The dining room is now air-conditioned, with contemporary furnishings added. For those eager to try the new, 'reborn' Mozaic, the restaurant is ready to welcome diners once again.
+62 821 47235550 (WA) | info@mozaic-bali.com | mozaic-bali.com
---
The Grumpy Butcher
New restaurant in Seminyak (December 2022)
With a well-established expertise in all things meat, the team that brought the celebrated steakhouse Boy'N'Cow to life has opened a barbecue-focused restaurant in the heart of Petitenget.
The Grumpy Butcher welcomes diners to a spacious open-air venue, presenting a concept that elevates a classic 'backyard' atmosphere befitting their smokehouse offerings. Guests can take a seat on their manicured lawn, or the stylish al-fresco dining area, both of which look out to a stretch of rice fields now rare in the Seminyak area. The open kitchen showcases the heart of The Grumpy Butcher's delights, where the burning embers are at the ready to flavour their dishes.
Expanding its mastery of meat, the barbecue restaurant has perfected the difficult art of smoking. Through patience and utilising age-old techniques, the venue serves up coffee-wood smoked beef brisket, succulent fall-off-the-bone barbecue ribs, and house-made sausages, creating the ultimate meat platter for the island's carnivores. But that's not all.
The Grumpy Butcher also presents an array of grilled goods, from 500g porterhouse to grilled salmon and octopus; their own modern take on classic Southern sides of mac-and-cheese and classic coleslaw; sharing plates of beef tacos, ox tongue tune cake and chorizo; decadent offerings of pavlova to bread butter pudding; and much, much more. To accompany this feast, diners can enjoy great brews on tap, plus a wide selection from their full-stocked bar with a range of fine wines and specialty cocktails.
+62 822 8888 9110 | @thegrumpybutcher | linktr.ee/thegrumpybutcher
---
RAMU Kitchen
New restaurant in Ubud (December 2022)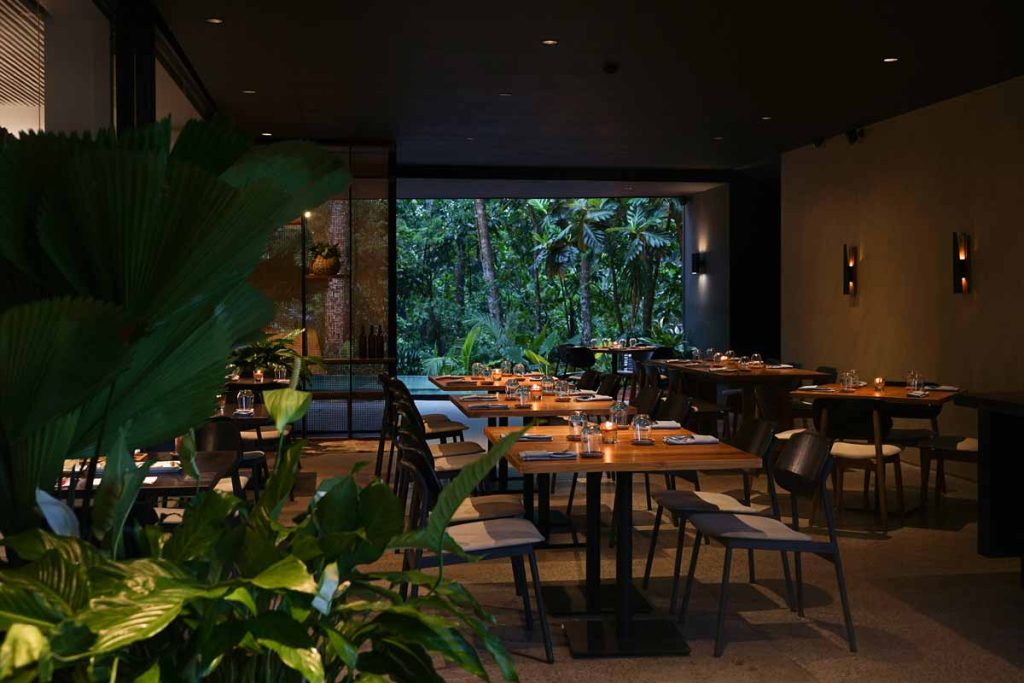 Doubling down on the farm-to-plate experience, RAMU opens in Ubud to highlight the bounty of Bali. Collaborating with Balinese farmers, this philosophy-driven restaurant showcases the best locally-sourced ingredients from the island's soil and ocean to create a mindful dining experience.
Found within the artistic boutique hotel, Titik Dua, in the village of Mas, Ubud, RAMU's concept takes inspiration from the Balinese philosophy of Tri Hita Karana, the three elements of well-being, consisting of the human connection to God, to nature and to fellow human beings. Through food, drink and unique experiences, the restaurant hopes to foster a connection between the diner and their produce, drawing a deeper awareness and appreciation for the ingredients and where they have come from. Executive Chef Joshira Yugopradana thus presents a rotating, seasonal menu that adapts to what is currently available from the local farmers and producers.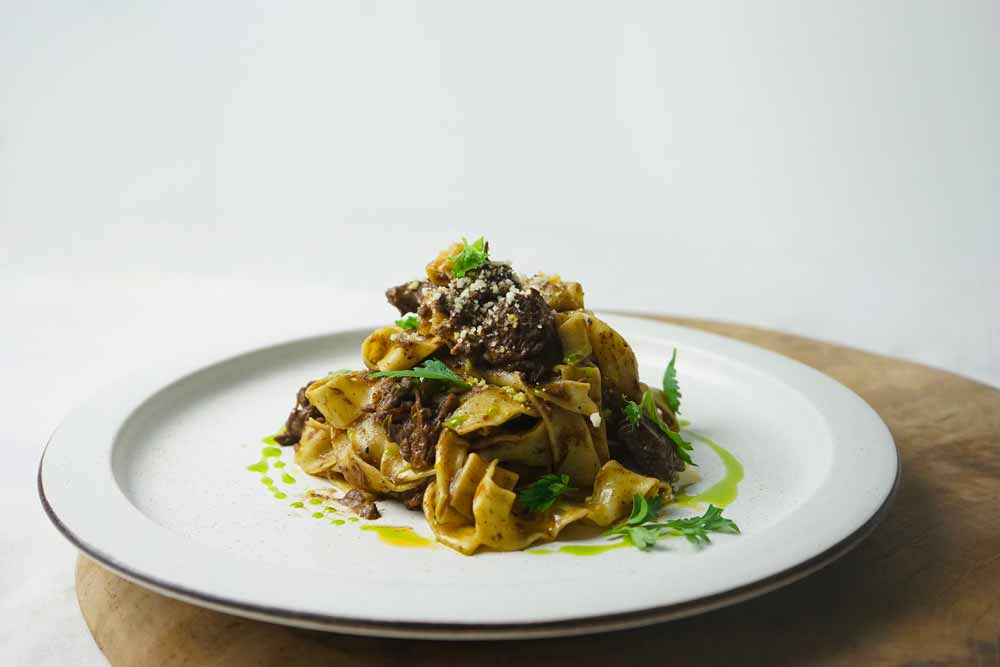 Chef Joshira and his team prepare a variety of Asian-European fusion dishes, served as sophisticated sharing plates, with a focus on creating layers of taste and flavours that highlight their chosen ingredients. This extends to their drinks menu as well, consisting of a balanced selection of non-alcohol and alcohol selections, from healthy drinks and mocktails inspired by local herbs and spices to a range of aperitif and digestif cocktails that complement the RAMU dining experience. The venue's interiors also reflect this admiration of nature, where guests are seated in a stylish, contemporary space that enjoys Titik Dua's verdant surroundings, taking on the hotel's renowned contemporary design.
Reinforcing their philosophy, RAMU also invites guests to join out-of-restaurant experiences. This includes visiting local partners behind the dishes and drinks, exploring farms in Bedugul, and learning how to spearfish or how to make Balinese sea salt. A changing roster of activities aimed at further cultivating an appreciation of ingredients used and those who have made or procured them.
+62 811-3897-976 | ramu@titkdua.id | @ramukitchenubud
---
Mr Chambers
New bar and restaurant in Seminyak (December 2022)
Seminyak welcomes a stylish new dining venue with the opening of Mr Chambers, serving up modern Pan-Asian and Indian cuisine in the popular Petitenget area.
Born in Melbourne, Australia, as a wine and cocktail bar in the swanky South Yarra, Mr Chambers' new outpost in Bali adds to the growing portfolio of the Daha hotel and hospitality group. The upscale flair of Mr Chamber's finds itself in good company, easing into a street-front location neighbouring the area's top resorts like W Bali – Seminyak and Desa Potato Head.
Mr Chambers' signature navy blue colour scheme and evocative art pieces by local artists catch the eye, seen from the open bay windows that offer a peek into the restaurant from Jalan Petitenget. The classy colour scheme splashes the walls and furnishings, where plush sofas and seating are complemented by pearl-white marble tables, securing its sophisticated atmosphere.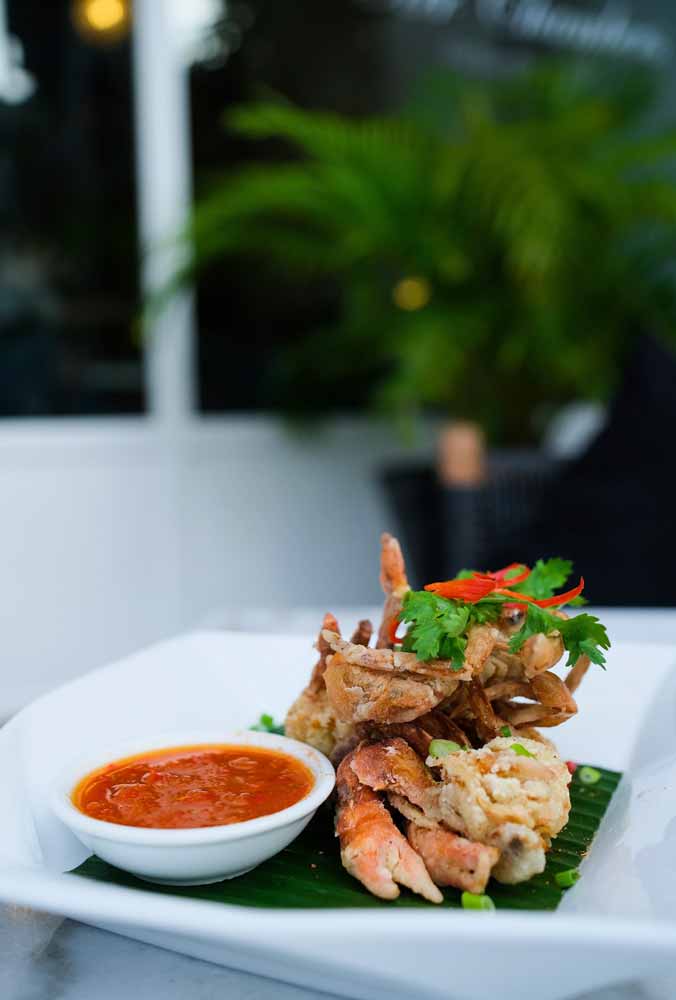 The menu is conceptualised by talented Balinese Head Chef Wayan Priana, best known for his long tenure as Head Chef at Sarong Restaurant. His experience and expertise in his previous post have made him a master of Asian flavours, which he harnesses for the extensive menu at Mr Chambers. Diners can expect bold flavours, with the menu offering a range of Indian and Pan-Asian cuisine, with authentic recipes presented in a contemporary style. Indian dishes are prepared in the tandoor, cooking up specialties like Chicken Banjara, Tandoori King Prawns and Tandoor Aloo. However, Chef Wayan pays homage to the Melbourne menu, which serves an array of modern Asian tapas delights, serving dishes like Crispy Whole Fish, Stir-Fried Black Pepper Beef and more.