Galungan and Kuningan, the two big holy days of the Balinese Hindus, are celebrated in a very special way. Galungan always takes place on the Wednesday the week before Kuningan. Various processions, such as Penampahan which is characterized by women preparing offerings and men decorating temples, are held before Galungan.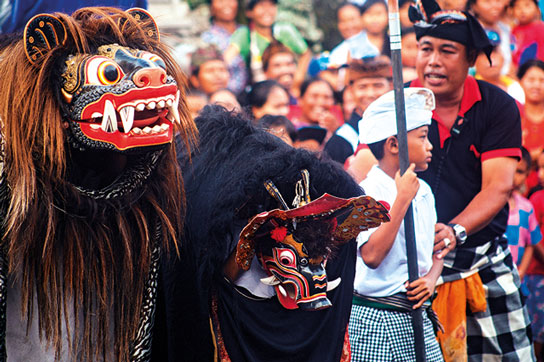 Meanwhile Kuningan is always on a Saturday, this is because Balinese Hindu holy days are celebrated according to the lunar and caka calendars. The day after Kuningan, but also the period between Galungan and Kuningan, a group of children and teenagers gather on the street and perform a show called Ngelawang, meaning "door to door".
In the villages, this unique ritual-cum-performance is a great attraction for residents. The dance performed during the parade is the barong bangkung, which is accompanied by the beleganjur, a simple traditional orchestra. Barong bangkung, which is usually black, is a replica of a wild hog's head. The group visits houses one by one and the people give them canang sari – simple flower offerings with sari (money) in it.
In some regencies in Bali, such as Gianyar and Badung, the ngelawang tradition still exists. Ngelawang is considered an important ritual to drive away demons and bad spirits. The sacred ritual is usually performed by an adult who carries not only the holy barong of their village temple, but also other holy attributes.
Watching the teens parading the barong is a unique experience, especially as the performance takes place on the street and one can see the locals' excitement as they watch the traditional performance. It also shows that the culture and tradition of the island continues and is still passed down from generation to generation.