---
Nonfrasa, a new contemporary gallery in Ubud, has captured my heart and imagination. The brainchild of Balinese creative Krisna Sudharma, Nonfrasa merges avant-garde Balinese and Indonesian contemporary art with harmonic architectural design to induce the perfect art experience.
According to the website, "Nonfrasa is a platform dedicated to discovering emerging artists and rediscovering left-field work from artists in Bali and Indonesia, exploring the range and context of Bali's rich art and culture history through a narrative and practice of actively expanding contemporary identities."
At Nonfrasa, you will encounter the beautiful and unexpected. Objects that delight, others that maybe be unsettling, yet there is always diversity in fresh two and three-dimensional creations. We are a species hardwired for change; therefore, variety in colour, texture, media, content and dimensions is essential to arouse curiosity. Founded in 2021, the gallery consolidated its presence on the local art scene with an array of excellent exhibitions and events, including experimental music performances.
Creative expression, the arts, and aesthetics serve the core purpose of giving birth to new thoughts and ideas. Art is an essential conversation with the self, connecting and informing the mind, body, and spirit while supporting our well-being. My idea of a flawless art experience elevates me somewhere between the celestial and terrestrial realms in a dream-like state where my imagination is revelling in stimulus and feel-good neuro-chemistry occurs. One of the essential aspects of presenting artwork to its utmost potential to create lasting visitor memories is comprehending the sensitive balance between the work and the space. Nonfrasa has an alchemic formula.
---
From the exterior, this quietly unassuming venue resonates a distinct presence within the Sanggingan area lined with stylish hotels, boutiques and galleries. The building's design features, especially its high central roof apex inspired by traditional Indonesian architecture, make it stand alone. Two large front windows impeccably balance the broad heritage wooden entrance. To the rear is a spacious outdoor area ideal for installations, performances and casual socialising.
However, the gallery's interior is most striking. The open and high wooden ceiling emphasises the illusion of space. Viewing art requires a copious vertical room allowing the viewer to feel tall and their faculties unhindered. The strategic placement of a palatial sofa, large wooden table, bookshelf and comfortable chairs add to the user experience encouraging one to sit while engaging with the aura of art, leisurely converse with others, read an art or design book, or appreciate soothing vista to the rear soaking in the vibes of the tropical garden.
---
I recall during the November 2022 exhibition 'Common Beauty', a wall hanging of rich fibrous textiles was complimented by the positioning of a chair on a floor covering with a similar textural character. I slipped my feet out of my sandals and onto the carpet. I immediately engaged in a hyper-tactile happening of natural media. At the same time, visually exploring the colourful, lush materials, both senses being fully engrossed in pleasure. Thank you, Nonfrasa, for the novel experience! Artists and gallerists take note!
Environmental/electronic artist Pande Wardina represents the emerging Balinese generation exploring and experimenting with various forms and new creative possibilities. His installation 'Semu Masa Depan' (Obscure Future) was also a 'Common Beauty' highlight. A fusion of art, environment and technology, Wardina linked electronic sensing devices monitoring the rhythms of indoor plants with a laptop computer and other mechanisms creating an electronic visual and musical score. 'Semu Masa Depan' was positioned upon a mobile scaffolding aligned with the gallery's entrance.
I took note of how visitors engaged with the installation. Some were immediately intrigued. For others, the work's uniqueness seemed to be above their grasp. Wardina, who was the first participant in the Nonfrasa artist-in-residency program, piqued our curiosity by fusing diverse components into a singular artistic expression rarely seen in Bali. In his artist's statement, he poses, "How shall we nurture and foster the one source of creativity, aesthetics, and life resources in the impending future? Let's start by listening to it." For him, this installation is a thought-provoking question about the pseudo-fate of the natural environment, especially protected forests and green belts that are more often reserved and reverberated as political rhetoric.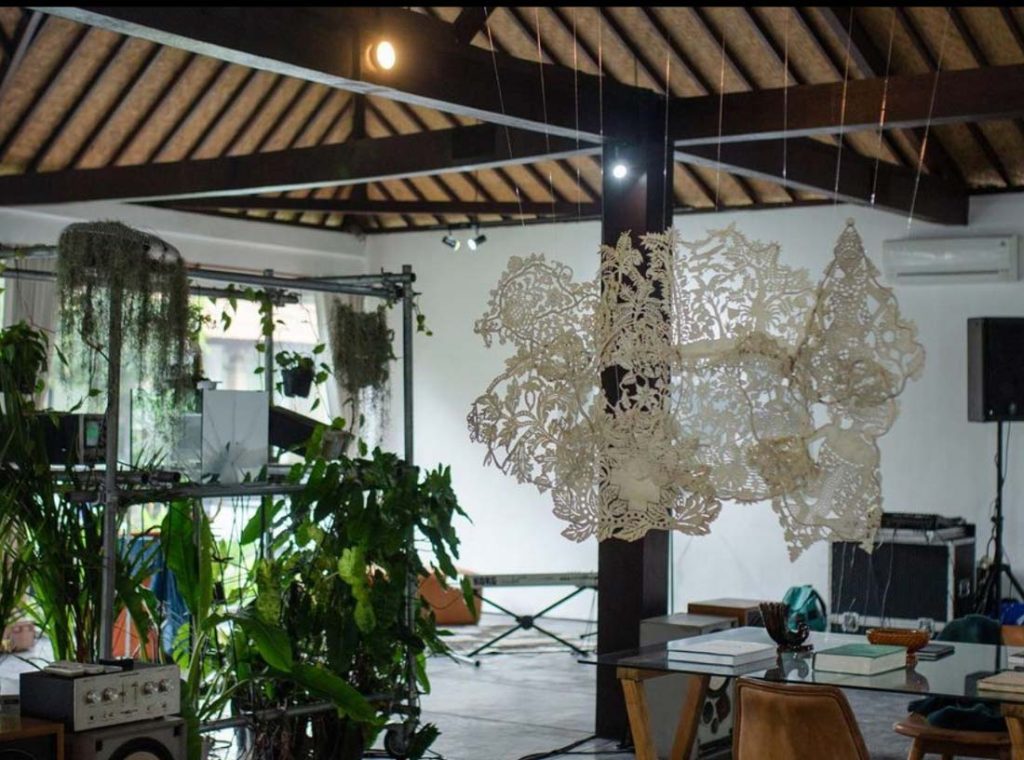 ---
"During 2021, I had the chance to meet many emerging artists who had returned home to Bali after studying in Yogyakarta and Bandung. It was fascinating to hear their perspective on Bali as their home and source of inspiration. They were also exploring ways to refine their visual language and detach themselves from their own identities to create more objective and skilled craftsmanship in the realm of visual arts," Krisna shares with NOW!Bali Magazine. "This experience became a paradigm shift for me, shedding light on the fact that their work was rarely showcased in Bali. It emphasised how instrumental their contributions and unique perspectives are in shaping Bali's art scene."
Born in Denpasar in 1992, Krisna Sudarma is a multi-disciplined designer and creative director of Kharma Studio, a Denpasar-based graphic design studio focusing on creative direction and consultancy within contemporary practices, developing the visions of small to medium-sized multidisciplinary brands. Inspired and dynamic, Krisna is a former Creative Director at Potato Head, a design consultant at Komaneka Gallery and has initiated various creative cultural projects, including Paras, which documents the Balinese tourism and hospitality culture and Persona, a platform presenting music, art, and fashion online and in the flesh to the international stage.
"Nonfrasa is my way of finding a catalyst, bridging the gap between cultural lineage and contemporary expression. I wanted to create a platform that values traditional craftsmanship passed down through generations and the diverse artistic choices made by individuals, whether through academic or non-academic paths," he said. "Nonfrasa aims to be part of an entity that reshapes Bali's art landscape by providing an inclusive space for dialogue, appreciating the cultural biases of the lineage, and nurturing the craftsmanship showcased in our gallery."
Upcoming: TOREH – A Printmaking Group Exhibition open 18-31 August 2023
Nonfrasa
Open daily 10am–5pm
Jl. Raya Sanggingan No.21, Kedewatan, Ubud
Instagram: @nonfrasa