The NOW! Bali Best Restaurant Bar and Café Awards is an annual campaign that was started back in 2015; the aim of the campaign is to promote the many high quality food and beverage establishments Bali is now home to and expose what has become a world-class food scene.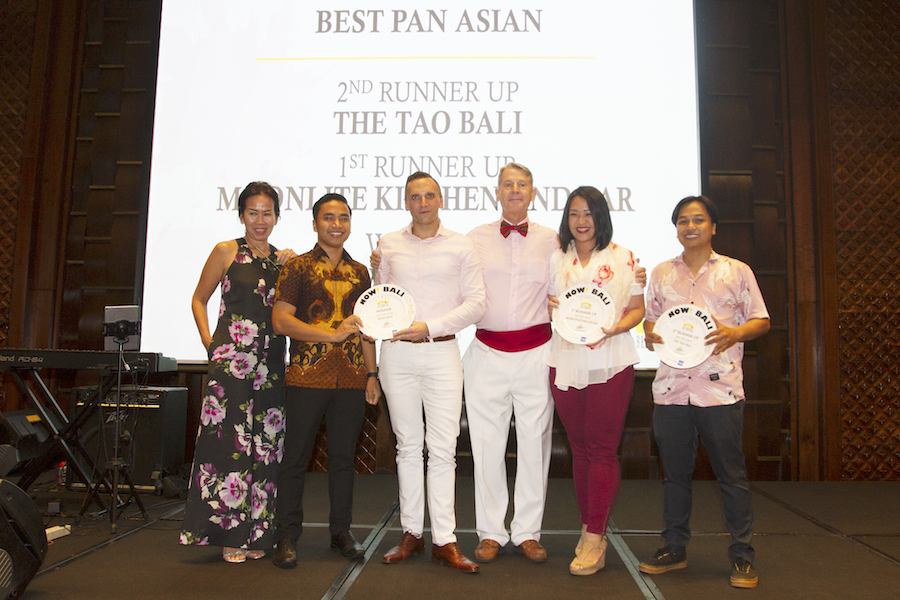 Whilst many come to Bali for culture, adventure, luxurious stays, relaxation or family holidays, one of the things that most surprises people when they get here is the food. Food may not be the initial pull for first time holiday-makers here but a few nights of wining and dining and everyone quickly realises how impressive the food and beverage industry really is in Bali.
Now a buzzing, independent restaurant scene ranging from expert coffee shops to fine dining establishments, Bali's culinary experience has grown in both quality and quantity over the years. This is something that needs to be promoted as one of the many reasons to come to the island.
This is why NOW! Bali started the NOW! Bali Best Restaurant Bar and Café Awards back in 2015, to bring attention to not only the range of restaurants but also to those that excel above the others. The NOW! Bali Best Restaurant Bar and Café Awards, or BRBCA for short, invites any quality, licensed restaurant on the island to participate, as long as they suit any of the 20 categories provided. After registering, the public are invited to take part by casting their votes for their favourite restaurant. Votes are live so that everyone can see how each venue is faring over the 2 months of voting.
Since 2017, American Express has been the Official Card of the Best Restaurant Bar and Café Awards in both Bali and Jakarta. Our voting page is found at best.nowbali.co.id .
NOW! Bali Best Restaurant Bar and Café Awards 2018
In 2018, 181 of Bali's top food and beverage venues joined the BRBCA. 20 categories were made available ranging from Best Café to Best Cocktail Lounge to Best Italian Restaurant. Through all of August and September 2018, these participating venues were fighting it out online to win the hearts – and votes! – of those who have grown to love Bali's bustling food scene.
Votes closed on 28 September 2018; this fierce voting campaign closed with 35,000 voters from Bali, Indonesia and the rest of the world all having their say. In the end, only the top 3 of each category are awarded: Winners, 1st Runners Up and 2nd Runners Up.
NOW! Bali Best Restaurant Bar and Café Awards Gala Night 2018
The Gala Night, an annual closing ceremony for the BRBCA, took place on the 25th October 2018 in the Kecak Ballroom of the Sofitel Bali Nusa Dua Beach Resort. Here, 300 of the island's top hospitality representatives joined to eat, drink and be entertained and of course to celebrate this year's winners.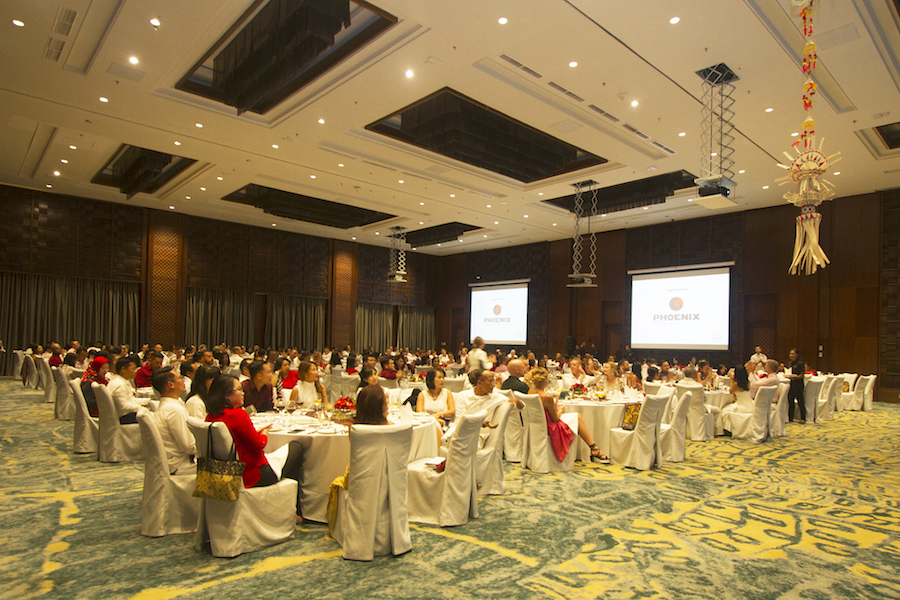 Dressed in the evening's theme of Red, White and Rosé, guests poured into the decorated foyer of Sofitel's ballroom, enjoying canapés and libations provided by Two Islands wines, San Miguel, Albens Cider and Coca Cola Amatil. The cocktail session was also a special launch for Two Island's brand new Sparkling Chardonnay.
Entering the beautifully prepared ballroom, guests were seated at round tables and welcomed by the General Manager of Sofitel, Sylvain Pasadeloup as well as Group Network Director of American Express, Perriz Azwir. Publisher of NOW! Bali and founder of the BRBCA, Alistair Speirs, also gave a welcome and made a big announcement that Phoenix Communications (holding company of NOW! Bali) will be bringing the world's second biggest dining guide, Gault & Millau, to Indonesia.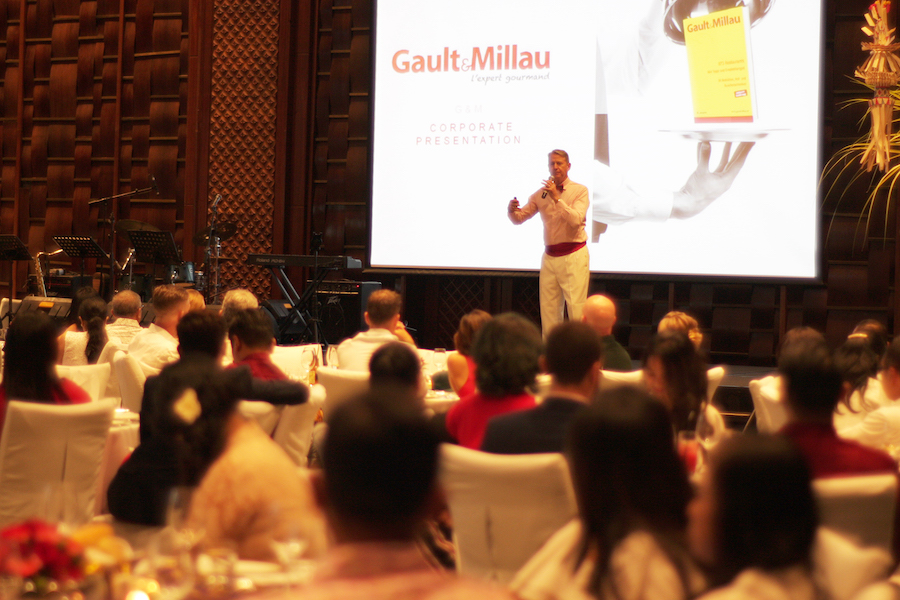 What followed was beautiful evening which included a 3-course dinner, entertainment by Jazz Central, lucky draw prizes and of course the awarding ceremonies. As tradition, The NOW! Bali Best Restaurant Bar and Café Awards Gala Night always includes a game. This year, inline with the theme, 4 contestants were entered into a blind wine tasting to wine an immaculate decanter from Riedel Indonesia (PT Putra Surya Internusa). Guests were also excited by the evening's Grand Lucky Draw, 2 return tickets to Bangkok on Thai Airways with 3-nights stay at Sofitel Bangkok Sukhumvit. The evening also presented prizes to a Best Dressed Woman and Man, who were awarded with a luxurious necklace from Atlas Pearls and skin care hamper from Sensatia Botanicals.
On top of the voting awards, there are two special awards revealed on the night: Editor's Choice Awards, where our esteemed editor handpicks venues for unique and specific qualities; and our Industry Choice Awards where 100 Bali-based food and beverage professionals judge their peers and vote for their top 3 venues on the island. All winners and runners up of the evening were presented with stylish Wedgewood plates as trophies, supported by PT. Doulton Indonesia.
All the excitement of the event was filmed with the help of AVB Media Asia.
Here we present the Winners and Runners Up of the NOW! Bali Best Restaurant Bar and Café Awards 2018:
Industry Choice Awards
Winner: BIKINI
Winner: Locavore
1st Runner Up: Cuca
Editors Choice Awards
Poppies Restaurant – Pioneer of Bali's Restaurant Scene
Sarong – Pioneer of High-End, Authentic Asian Street Food
Chez Gado Gado – Pioneer of Bali's Beachfront Dining Scene
Mozaic – Pioneer of 'Wine and Dine' Culture with its Degustation Menu
Madés Warung Kuta – Original Place to See and Be Seen
Naughty Nuri's Ubud – First Dining Destination
Best Cafe
Winner: Movenpick Café
1st Runner Up: TStore Cafe & Bar
2nd Runner Up: Sunny 16 Cafe
Best Pub & Sports Bar
Winner: The Sports Bar at Fashion Hotel Legian
1st Runner Up: The Best Brew at Four Points Kuta
2nd Runner Up: The BARBer at Sintesa Jimbaran
Best Cocktail & Wine Lounge
Winner: Above Rooftop, Lounge & Bar at Four Points Seminyak
1st Runner Up: The 18th Rooftop Bar at The Trans Hotel BaliT
2nd Runner Up: Naga Rooftop Bar and Lounge at Sthala Ubud
Best Beach & Pool Club
Winner: Aryaduta Bali Rooftop Pool & Bar
1st Runner Up: Finns Beach Club
2nd Runner Up: Sakala Beach Club
Best International Restaurant
Winner: Anarasa Restaurant at Movenpick Resort Bali
1st Runner Up: Feast Restaurant at Sheraton Bali
2nd Runner Up: S.O.S. Sunset on Seminyak at Anantara Seminyak
Best Steak & Grill
Winner: Henry's Grill & Bar at Aryaduta Bali
1st Runner Up: Dava Steak & Seafood at Ayana Resort & Spa
2nd Runner Up: The Beach Grill at The Ritz Carlton Bali
Best Vegan Restaurant
Winner: Spa Cafe at Ayana Resort & Spa
1st Runner Up: Herb Library at Adiwana Resort Jembawan2nd Runner Up: KAFE
Best Balinese Restaurant
Winner: Raja's Balinese Cuisine at Nusa Dua Beach Hotel
1st Runner Up: Pasar Senggol at Grand Hyatt Bali
2nd Runner Up: Mr. Wayan, Balinese Cuisine
Best Indonesian Restaurant
Winner: Tugu Bali Restaurant
1st Runner Up: Bejana at The Ritz Carlton Bali
2nd Runner Up: Ibu Kitchen at The Grand Mirage
Best Chinese Restaurant
Winner: Ah Yat Abalone Seafood Restaurant at Ayana Resort & Spa
1st Runner Up: Chopstick Restaurant at The Grand Mirage
2nd Runner Up: Table8 at The Mulia Nusa Dua Bali
Best Japanese Restaurant
Winner: JI Restaurant Bali at Hotel Tugu Bali
1st Runner Up: Sushi Tei Bali
2nd Runner Up: Genji Japanese Restaurant at Ayodya Resort Bali
Best Indian Restaurant
Winner: Queens Tandoor – Seminyak
1st Runner Up: Queens of India – Kuta
2nd Runner Up: Bumbu Delhi at The Grand Mirage
Best Pan-Asian
Winner: Kwee Zeen at Sofitel Bali Nusa Dua Beach Resort
1st Runner Up: Moonliet Kitchen and Bar at Anantara Seminyak
2nd Runner Up: The Tao Bali
Best Fusion
Winner: Kilo Bali
1st Runner Up: Ginger Moon Canteen
2nd Runner Up: The Damai
Best Mexican and Latin American
Winner: Above Eleven Bali
1st Runner Up: Unique Rooftop Bar and Restaurant at Rimba Jimbaran Bali
2nd Runner Up: Motel Mexicola Bali
Best Spanish Restaurant
Winner: Tapas Tapas Bali
2nd Runner Up: Velada Tapas Bar & Kitchen at The Westin Resort Nusa Dua Bali
Best Mediterranean Restaurant
Winner: Tamarind Mediterranean Brasserie at Nusa Dua Beach Hotel
1st Runner Up: Frestro & Bar
2nd Runner Up: Soleil at The Mulia Nusa Dua Bali
Best Italian Restaurant
Winner: Cucina at Sofitel Bali Nusa Dua Beach Resort
1st Runner Up: La Cascata at The Grand Mirage Bali
2nd Runner Up: Prego at The Westin Resort Nusa Dua Bali
Best French Restaurant
Winner: Ju-Ma-Na Restaurant & Bar at Banayan Tree Ungasan Bali
1st Runner Up: Pearl Restaurant
2nd Runner Up: Sip Wine Bar
Best Fine Dining Restaurant
Winner: Kayuputi at The St.Regis Bali Resort
1st Runner Up: Seasalt at Alila Seminyak
2nd Runner Up: Kubu at Mandapa, a Ritz Carlton Reserve