Some destinations are worth the journey, especially if you enjoy long drives and even longer walks on the beach. These glorious seaside spots offer a quieter disposition to their celeb-status counterparts but still nurture a vibrant atmosphere to soak up the sun, surf, or even paraglide! The only catch is finding them, but that's also part of the fun.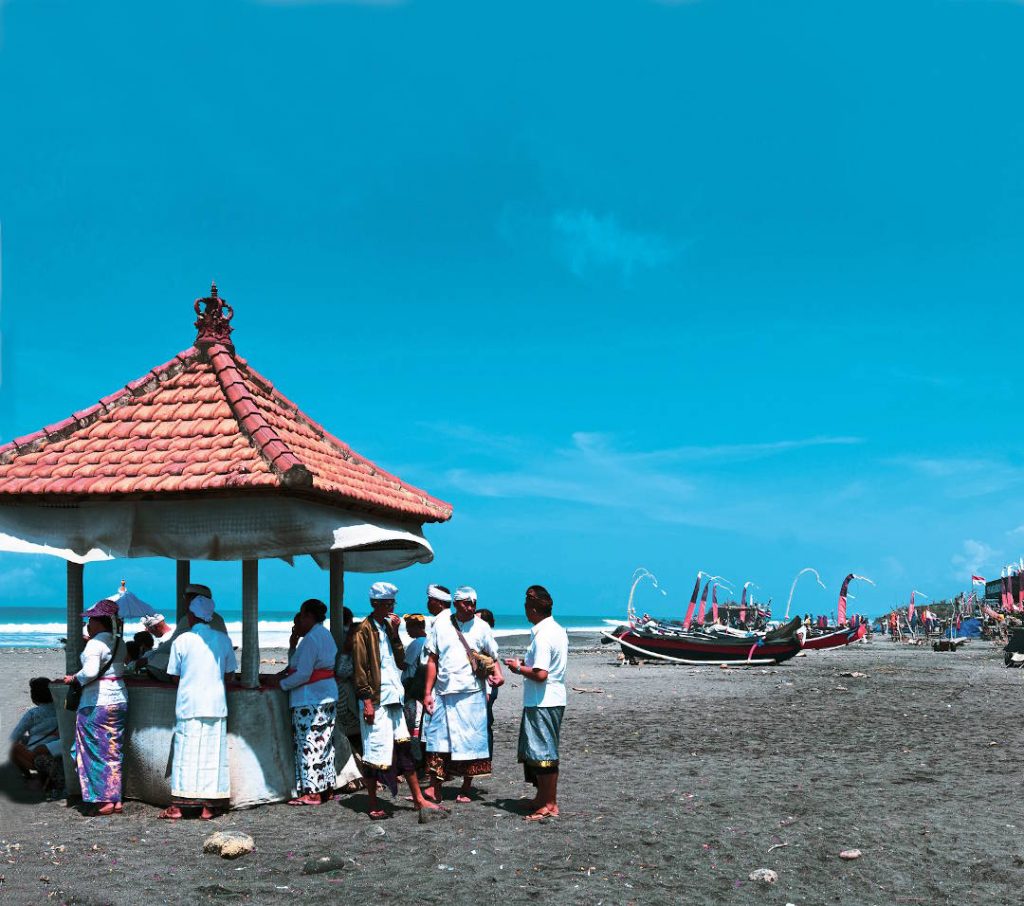 In Tabanan, Pantai Yeh Gangga is not your average black sand beach. This west coast beach boasts a long stretch of dark sand that is generally vacant – modestly adorned by rows of the traditional jukung boats. Despite having an on-site beach club, ample food stalls, and nearby resorts, Yeh Gangga maintains a peaceful ambience. Nestled roughly 30 metres from shore is a partly-submerged rock formation, serving as a shrine or temple known as Pura Batu Bolong. During the day, Pantai Yeh Gangga resembles a deserted beach, making it a humble spot for Balinese Hindu to perform rituals, such as ash releasing (nganyud) and the melasti cleansing ceremony. Towards the opposite end of the beach from the entrance, you'll find a rustic bamboo playground, a quaint shrine and a larger one adjacent to one another that bear Hindu tales depicted by statues and mythical creatures. The full experience at Pantai Yeh Gangga starts the second you enter Tabanan: fields of greenery, unrefined local life, exquisite religious carvings as house fronts. Ask any senior Balinese, they'll say that driving through Tabanan is as though getting a glimpse of Seminyak 30 years ago. Stick around for sunset, as this side of the coast offers the finest sundown show.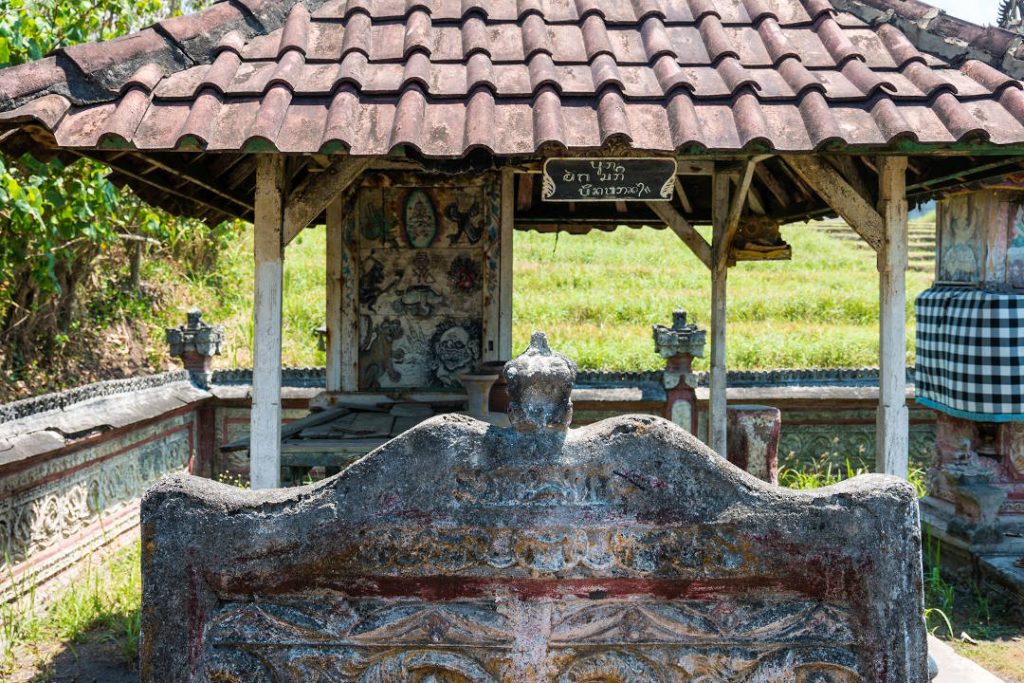 Pantai Yeh Gangga
Jalan Yeh Gangga I, Tabanan
---
Located in a small coastal town that serves as a ferry port, Pantai Bias Tugel can be reached enroute to Padangbai not less than 15-minutes away from this main port. Accessing the lagoon requires leaving your vehicle behind (in a narrow carpark, with small fee), trekking into a man-made passage and descending down. After a few hundred steps, you'll reach a compact haven in the form of a charming azure lagoon. This east coast beach is evidently clean – a fitting display of the local community's awareness and involvement, sometimes you'll even catch locals collecting trash just out of habit. The best time to go, based on observation, is midday to afternoon; you'll have enough time to catch the sun at its prime and enjoy the beach at its liveliest. Food vendors are aplenty along the coast, offering the staple nasi goreng, Bintang, and fresh coconut. The current is relatively strong for a casual dip but calmer once you get away from the shore break. If you plan to snorkel, you could bring your own gear and jump in at your own risk. Depending on the time of the day, Pantai Bias Tugel can be sleepy and serene, ideal to catch up on your reading list or just have a meditative lie on the sand. Whilst people watching is common in other beaches, here, you're more like to ship watch as there's always one passing back and forth the Port by the minute.
Pantai Bias Tugel
Padangbai, Manggis, Karangasem
---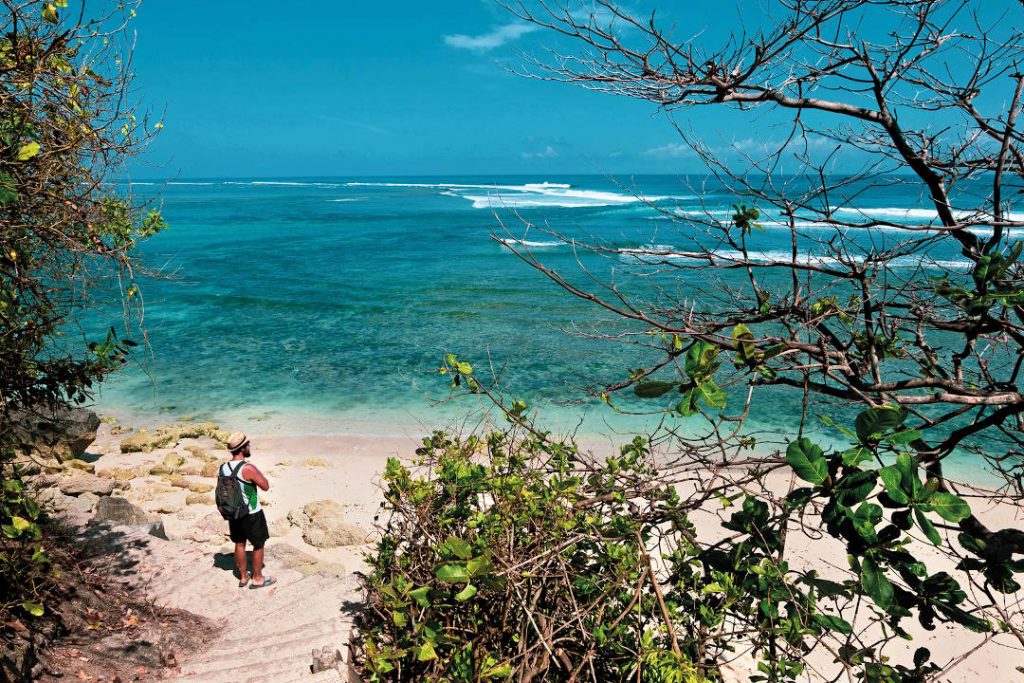 Drive south for a change of coastal scenery, where the sand is pearly white and the terrain wild and rocky. Once a hidden gem, Green Bowl Beach has received its rightful attention and now leans towards a surfer's must in south Bali, though its remote location still merits a mention and a spot in your Bali 'off the beaten track' bucket list. To access the beach, you'll descend via the steps built on the steep cliffside landscape. Take extra care if you're carrying a weighty load, e.g. backpack or surfboard, or if wearing loose items as wild monkeys are around. Without a doubtm the walk down will fill you with excitement – it's the climb back up that requires some patience! Any doubts or fatigue will leave as soon as you are welcomed by the warm, powder white sand, turquoise waves and cosy coves – although be warned, there are beach sellers here. The waves break far out in the distance, giving it the best of both worlds for those wanting to dip their toes close to shore and for those looking to brave the treacherous waves! If you seek solitude, the caves offer a perfect hideaway setup to take a break from the sun and sea. It's worth considering packing your wet shoes to protect sensitive feet from the shelly sand and fringing reef.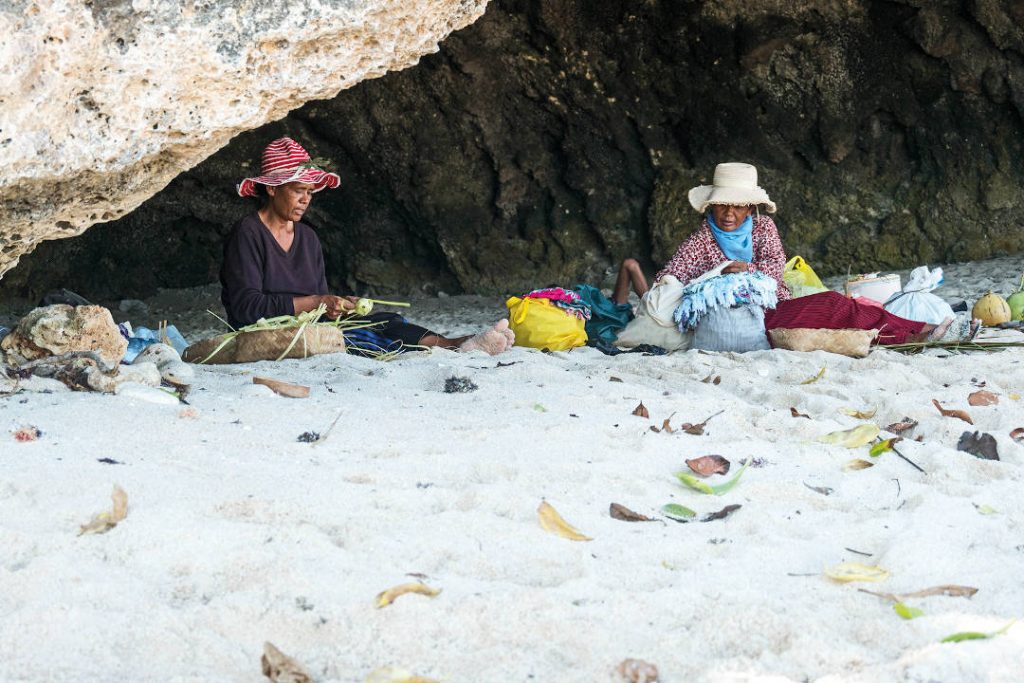 Green Bowl Beach
Ungasan, Uluwatu
---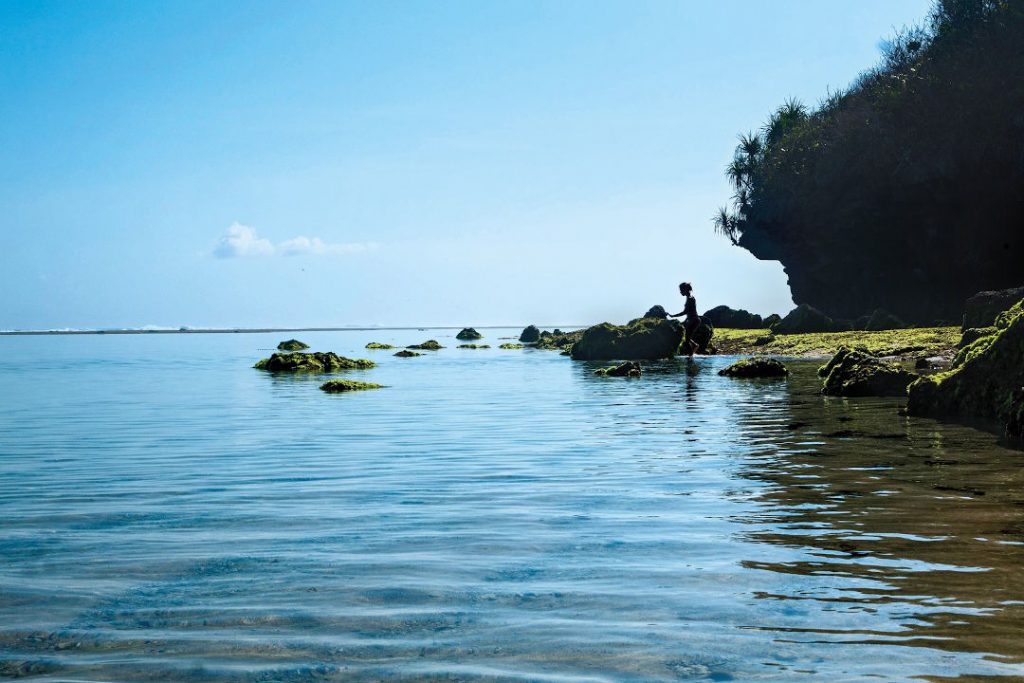 Minutes away from Green Bowl, there is Pantai Gunung Payung. Spacious and serene, the beach is an immense stretch of golden sand and clear, calm waters. There is another beach adjacent to Gunung Payung that can be reached through a mossy pathway during low tides that doubles as a striking photoshoot location. The beach is far from populated; if you're lucky, you'll bask in the whole strip to yourself and snorkel in absolute peace. Whilst this is the main highlight, those in the know flock to Pantai Gunung Payung for paragliding! Upon walking down to the beach, you'll notice shadows hovering above you tempting you to try the aerial sport for yourself. Story has it, Dutchman Bernard Fode was the first to paraglide off the neighbouring Bukit Timbis in the '90s, as he found it to be the ideal spot to take off. Today, you can paraglide from cliffs above Gunung Payung.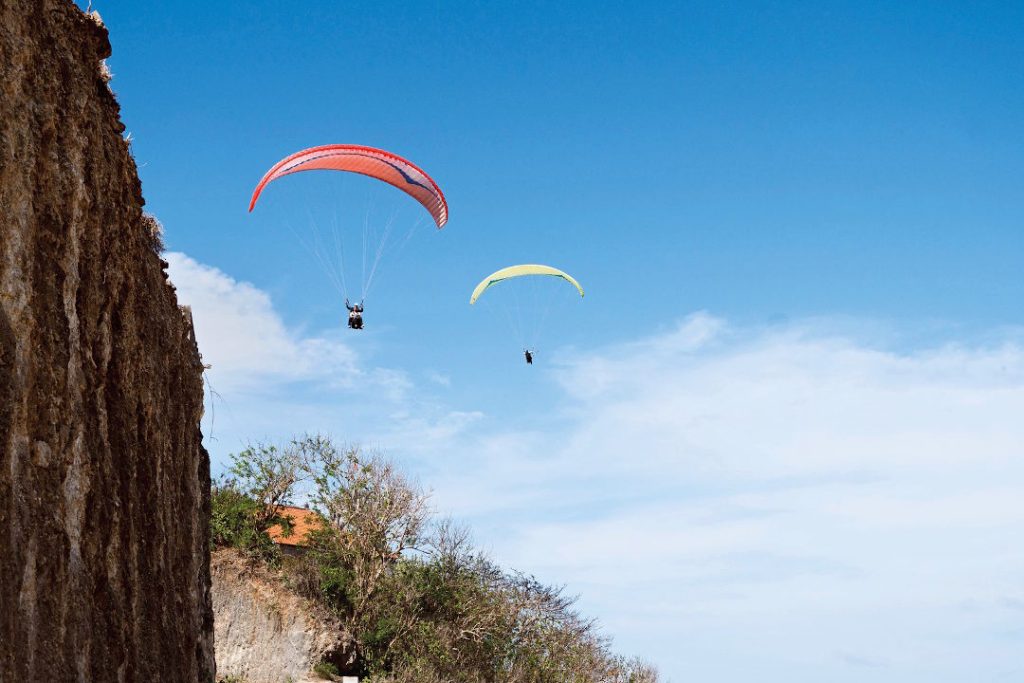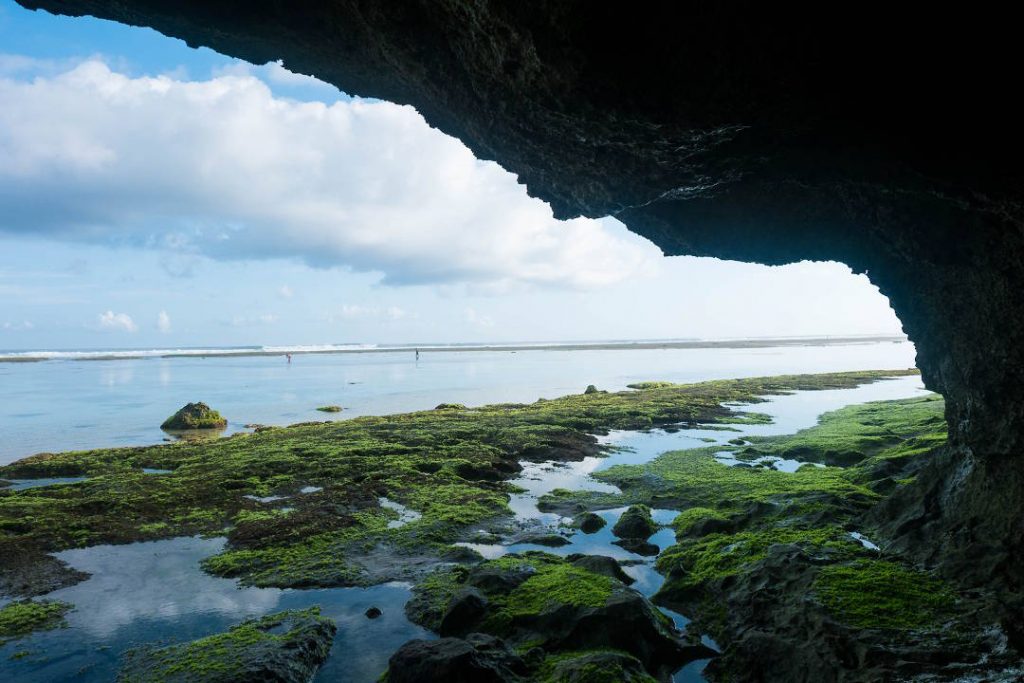 Pantai Gunung Payung
Kutuh, South Kuta