Despite the huge rise in Bali's food scene, which now bustles with all-day breakfast establishments, health cafes and niche dining spots, a fine dining experience remains a hard find. Fine dining requires impeccable service, polished furnishings, a unique dining atmosphere and, of course, food that stirs and stimulates the eyes, mounth and even mind of its devourer. Whilst rare on the island, Bali is blessed with a handful of such restaurants and any gastronome here should make the effort to taste and savour what they have to offer.
CasCades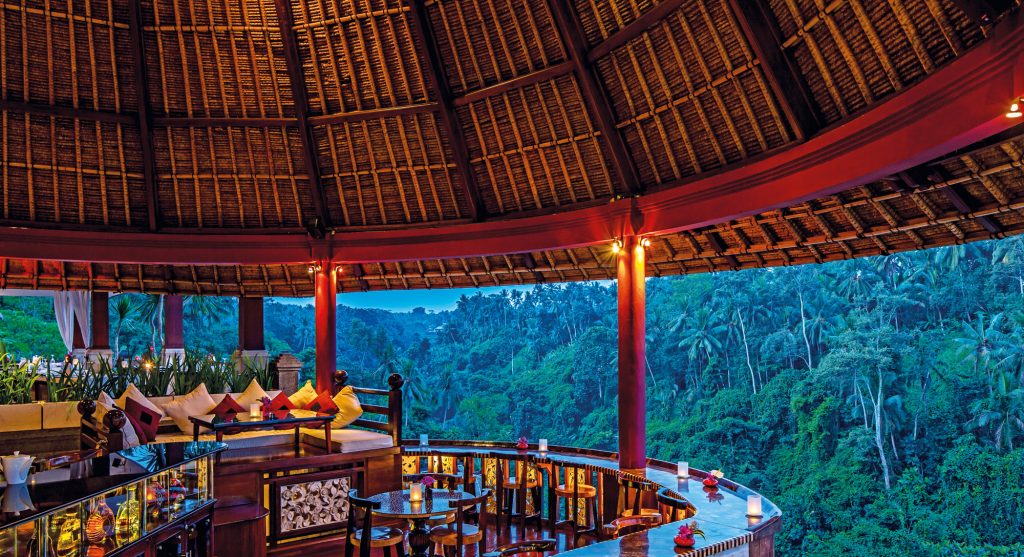 Offering jaw-dropping views from its intimate, thatch-roofed perch on a valley, CasCades Restaurant sets standards high for fine dining in Ubud. Found in the villa resort of Viceroy Bali, the restaurant's scenery over the Petanu River and verdant surrounding valley is truly spectacular; nighttime diners should come before the sun fully sets to enjoy the views and a drink at CasCades Bar. Although, those heading here for lunch can arrive in style as the Viceroy has its own helipad ready for any high-flying gastronome.
On the menu, Belgian Chef NicVanderbeeken has carefully crafted a varied menu; Chef Nic has mastered French techniques but has developed his own, truly innovative, modern flares and focuses on using only the highest quality of ingredients. The menu at CasCades offers the very best of classic fine dining dishes, such as their Foie Gras Terrine, but the restaurant also prides themselves in their refined and creative interpretations of local flavours and dishes such as their GadoGado or their RendangSapi, a must try for visitors. Those after a long, leisurely meal should experience the European or Indonesian degustation menus on offer; wine accompaniments are of course always recommended.
Cascades at Viceroy Bali
JalanLanyahan, BanjarNagi, Ubud
+62 361 971 777
www.viceroybali.com
Ju-Ma-Na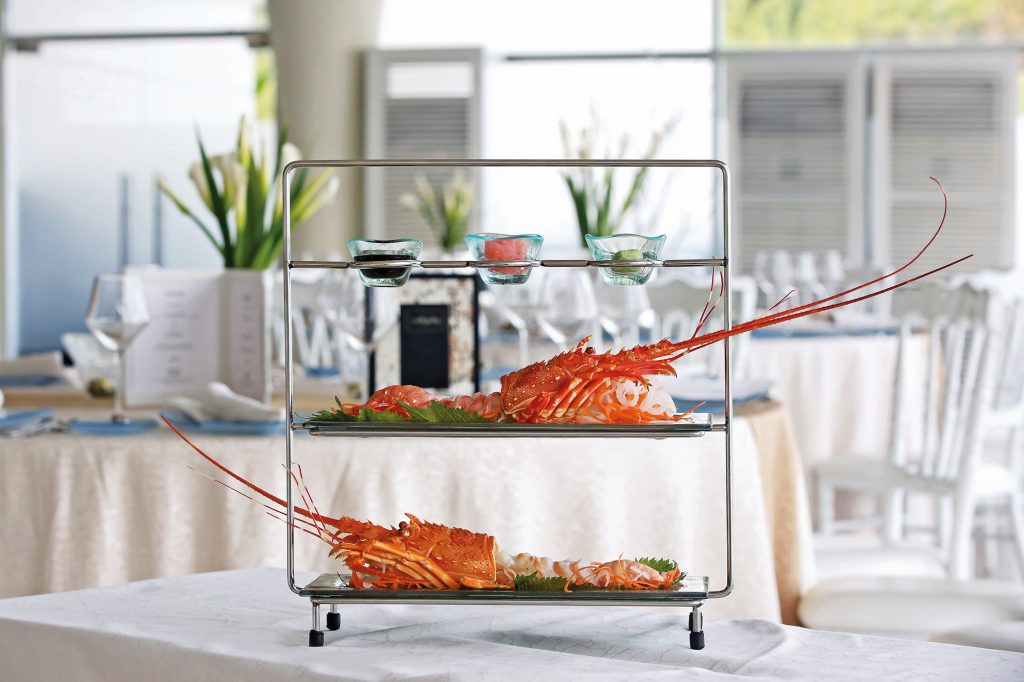 Blessed with a phenomenal location atop Bali's southernmost cliff, Ju-Ma-Na offers a unique culinary experience of French cuisine with a Japanese twist. The expansive blue views of the Indian Ocean blend into the pearly white of the Moroccan-inspired interior design, you'll fall in love with Ju-Ma-Na before you even sit at a table.
Seafood takes the spotlight in the restaurant, found in the palatial Banyan Tree Ungasan. Their signature dish, the Live Lobster, will impress any discerning seafood lover; offering the choice of court-bouilon poached, grilled or gratinated, with asparagus, parsnip and potato mousseline accompaniments. On special occasions or serving only once a month, the chef also creates a unique culinary experience with its Deconstructed Iconic Indonesian Cuisine. Combining modern and traditional elements, this special menu is prepared to celebrate monthly full moon event for Moonlight Dinner. Your dining experience here won't fall short of any red carpet treatment.
Ju-Ma-Na at Banyan Tree Ungasan
JalanMelasti, BanjarKelod, Ungasan
+62 361 300 7000 / 704477
www.banyantree.com
TeatroGastroteque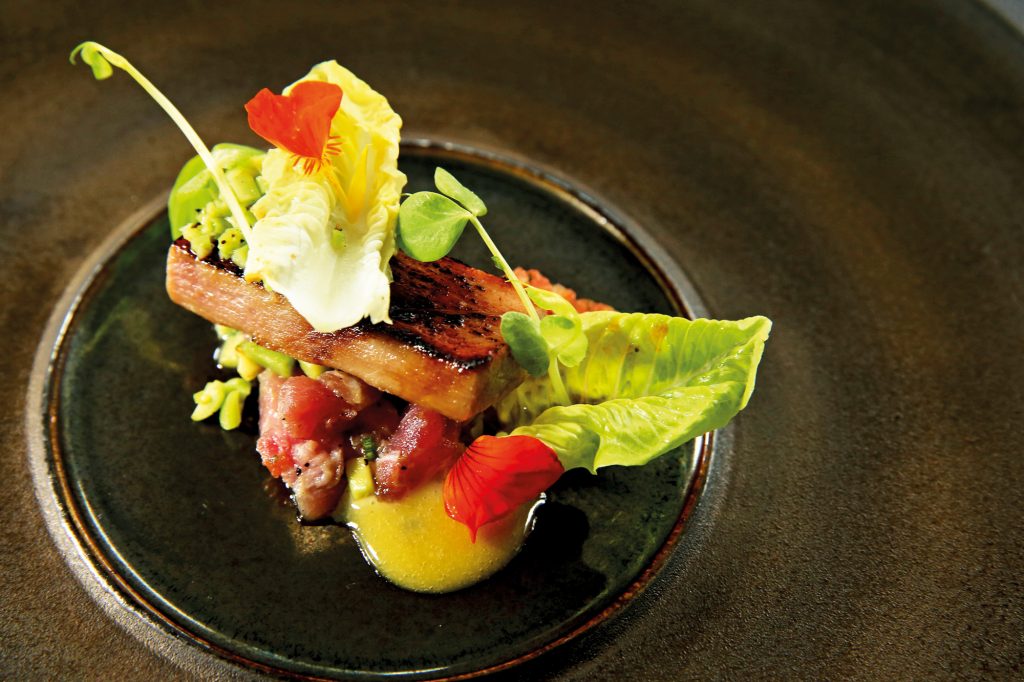 In an era when some of Bali's best restaurants are stationed within five-star resorts, TeatroGastroteque made its way to downtown Seminyak and, without striving for elegance, it has effortlessly become one of those places that make you want to dress properly for dinner.
Teatro has a simple menu, yet every dish is polished, focused, and delicious. The boutique fine dining restaurant offers something completely novel (a sophisticated Asian twist on the French cuisine), sources the best produce available in the market, and uses mostly local ingredients to deliver an authentic flavour highlighting the quality ingredients, with boldly alluring presentation.
With an active contemporary open kitchen and innovative plating with sophisticated food presentation on designer plates, Teatro delivers its theatrical elements to the dining table. Further acclaiming the kitchen's audacity is the Teatro's dessert creations; the wine list is snappy and commendably artisan producer focused. The service is genuinely friendly in that unique Bali genre, but also polished and highly efficient.
TeatroGastrotque
JalanKayuAya Blok C No. 1-2, Seminyak
www.teatrobali.com
Chez GadoGado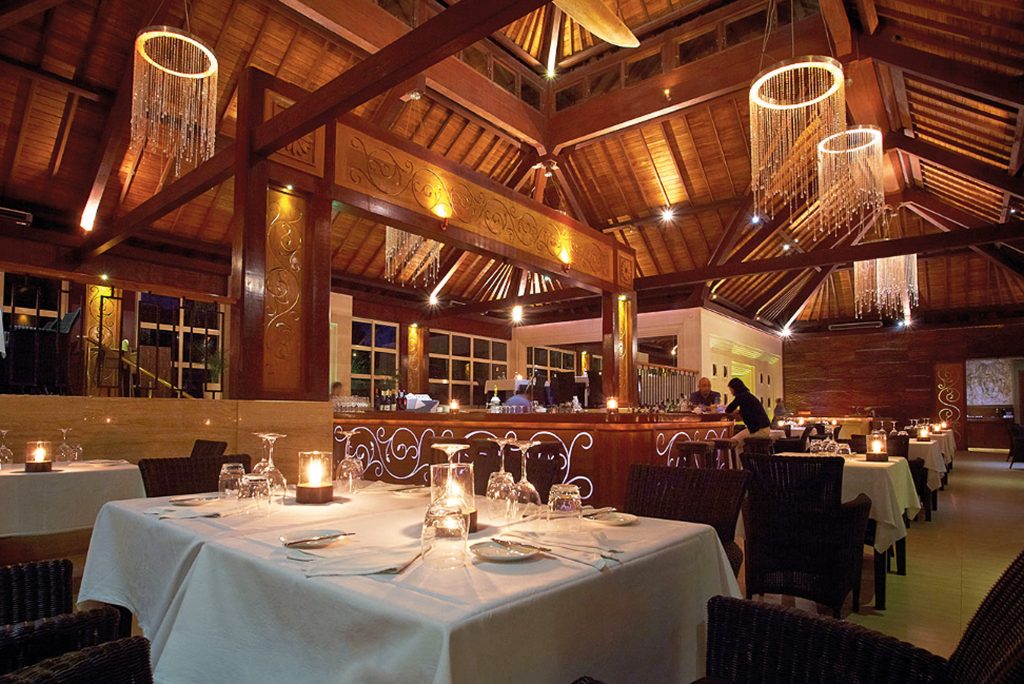 Specializing in eclectic all-day dining, Chez GadoGado is a chic and modern fine dining beachfront restaurant under the stars. With an impeccably trained team, and of course, that incomparable beachfront view, the restaurant has built an undeniable reputation over 30 years as the continuous heartbeat of Seminyak's internationally renowned culinary scene.
The menu houses offerings of Pan-Mediterranean cuisine and other ingenious creations of Executive Chef Quip; from reimaginings of local classics (like their warm, deconstructed gado-gado) to fine, unadulterated elegance (yellow fin tuna, rare, pepper-crusted, à la Niçoise, sauce gribiche). Accompanied by a wine suggested by GadoGado's Chilean sommelier and you have yourself a picture- and palate-perfect seaside meal.
Chez GadoGado continues to elevate their wining and dining experience with their recently installed outdoor bar, where guests can sit and sip while enjoying the best of Bali and Indonesia's fresh produce with "Tapas by The Sea".
Chez GadoGado
Jl. CamplungTanduk No. 99,
Seminyak, Bali, Indonesia.
+62 361 736 966
www.gadogadorestaurant.com
Ru Yi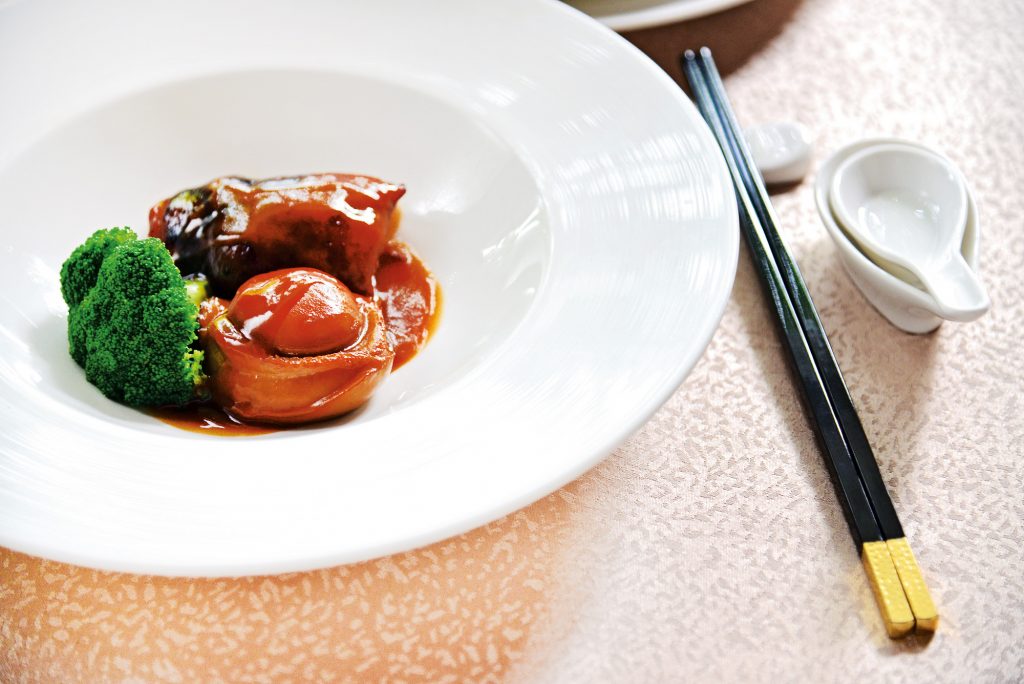 Chinese food tries to engage the mind, not just the palate. Hidden away from the eyes of the world, inside the gorgeous luxury villas of Awarta Nusa Dua, Ru Yi will take you for an authentic fine dining experience of China. The restaurant's offbeat interpretation of upscale Chinese dining is tempered by one of the finest, best in class kitchens serving the most delightful customary Cantonese-style Chinese cuisines in Bali. Choose your seating spots at the relaxing, romantic ambience overlooking their peacefully cascading water-feature or indoor where a Peranakan heritage style dominates the interior for an authentic feel.
As for the menu, classic Chinese fare is on offer, best ordered and set around the Lazy Susan to share. The Sea Cucumber braised in special Awarta Sauce is one such specialty, alongside the precious abalone. When you are ready to go home, take the opportunity to be elegantly dropped off by the resorts very own Chrysler, upon request!
Ru Yi Chinese Fine Dining at Awarta Nusa Dua
Luxury Villas & Spa
ITDC Complex Lot NW 2&3 Nusa Dua
+62 361 773 300
www.awartaresorts.com
Ah Yat Abalone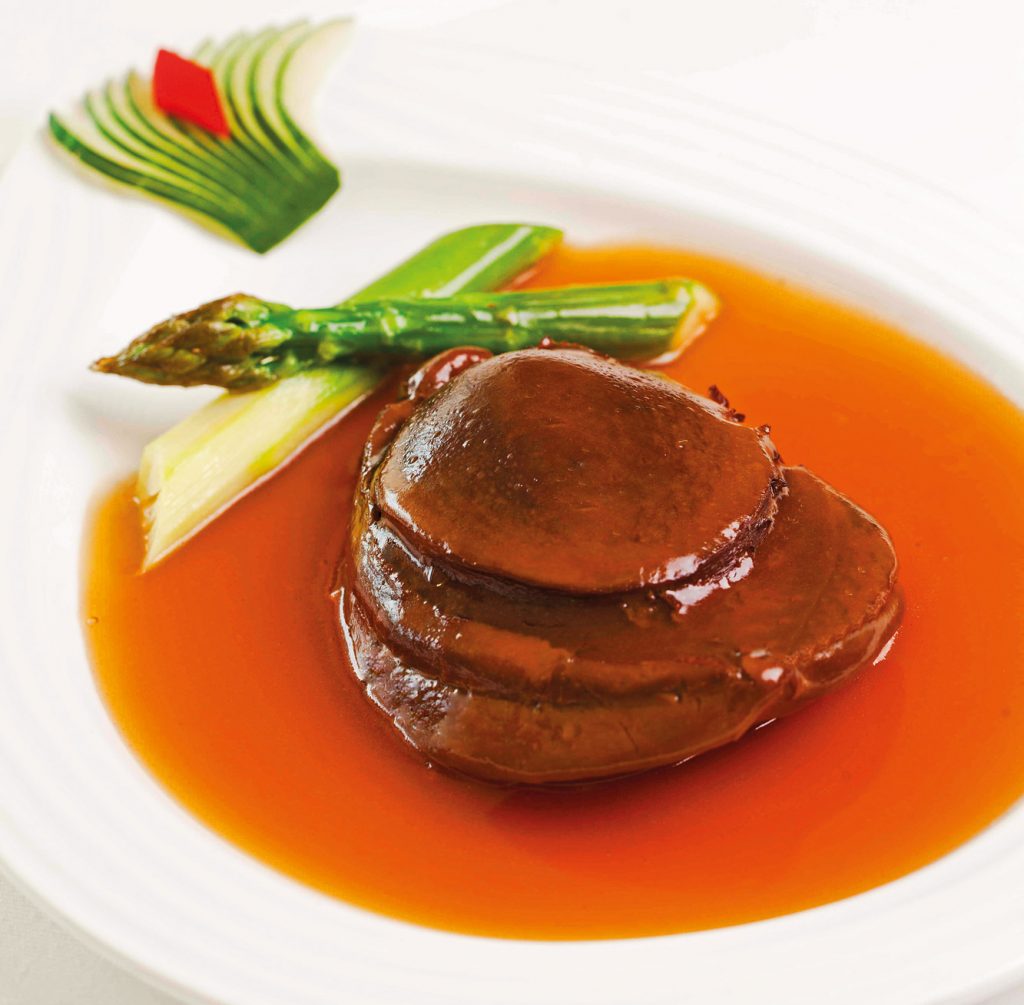 The Ah Yat Abalone restaurant is known Asia-wide for its offerings of decadent Chinese cuisine and here in Bali you will find them at the equally decadent resort, RimbaJimbaran. The restaurant embodies old-world Chinese hospitality and cuisine, in a modern, stylish setting. An eclectic mix of custom-made furniture and artworks contrasts with traditional Chinese table settings, matched by impeccable service from waitresses in dressed bright cheongsam dresses.
Reflecting Ah Yat's Cantonese heritage, the extensive menu features traditional delicacies alongside popular dishes, from Bird's Nest Soup to a selection 50 different types of dim sum. Each dish prepared by the culinary team is a work of art, presented with delicate craftsmanship and beautiful creativity. If you are feeling extra indulgent and wish to enjoy something incredibly luxurious, try their 'Japanese Crown Amidori Abalone' priced at IDR 15 million.
Ah Yat Abalone at RimbaJimbaran
JalanKarang Mas Sejahtera, Jimbaran Region
+62 361 846 8478
www.rimbajimbaran.com
Blanco par Mandif
Overlooking the natural views of the Tjampuhan River, at the feet of Blanco Museum, Blanco par Mandif brings Indonesian Heritage Cuisine to a new level of excitement. While the food and flavours are genuinely Indonesian, the presentation and the preparation techniques are modern and creative, reflecting Mandif's craftsmanship and passion for his traditional roots. This luxury restaurant spares no effort in bringing you the best. With table seating only around 10 diners, Blanco par Mandif is Ubud's newest culinary destination and is bound to give you an interactive dining experience.
Blanco par Mandif
Kompleks Museum Blanco, Jalan Raya Tjampuhan, Ubud
+62 361 4792 284
www.blancoparmandif.com
Kayuputi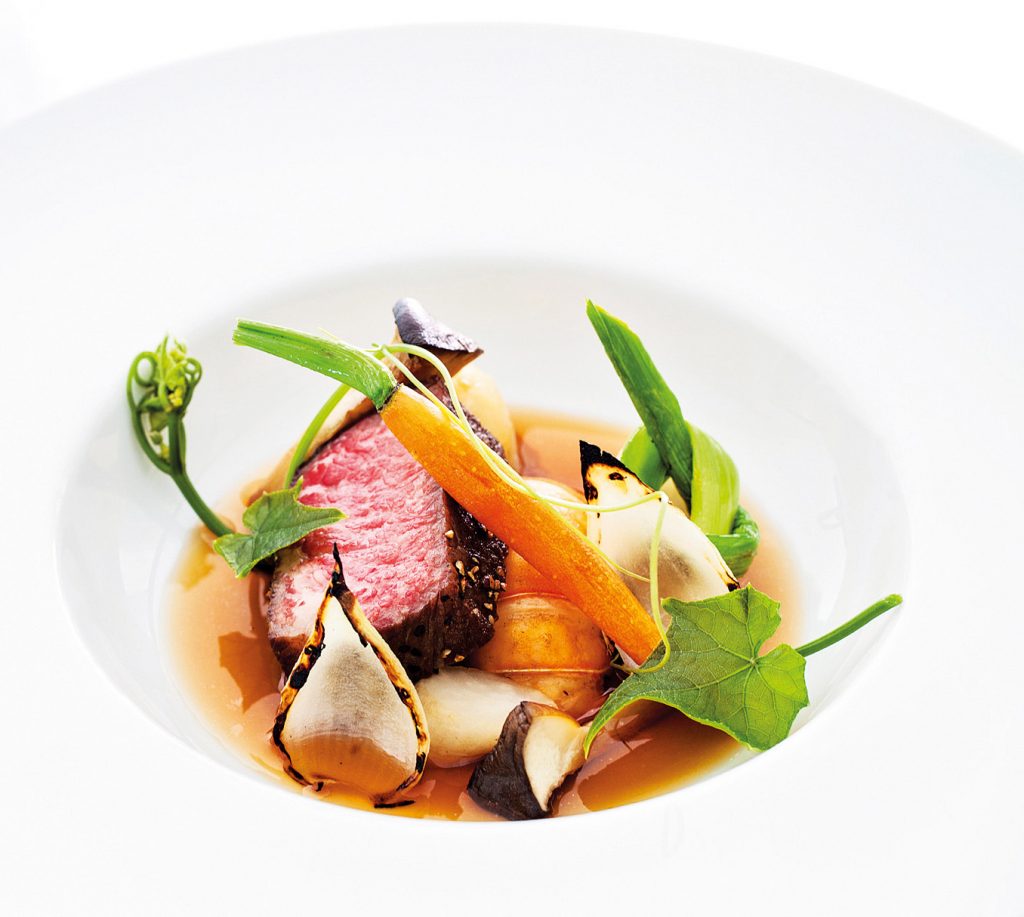 Elegant would be the best word to describe Kayuputi; dressed in immaculate white linens and perfectly polished tableware, Kayuputi houses fresh modern décor and an unquestionably sophisticated ambience. Set on the fringe of the white sands of Nusa Dua, diners breathe in the lightly salted air brought in by the cool ocean breezes, with unobstructed panoramic views of Indian Ocean. Private outdoor cabana dining is available, as well as seating in the restaurant itself.
Whilst the setting is impressive, the food too deserves high recognition. However, what sets Kayuputi apart from other establishments is its award winning wine menu, prepared by Chief Sommelier HaraldWisemann. His menu has won Kayuputithe Best Award of Excellence from Wine Spectator Magazine five years in a row. Their two-storey wine cellar has over 400 vintage wines and can be enjoyed at the Kayuputi Champagne Bar if not over a divine meal.
Kayuputi at The St Regis Bali Resort
Kawasan Pariwisata Lot S6, Nusa Dua
+62 361 771 327
www.stregis.com/bali