The luxurious five-star Renaissance Bali Uluwatu Resort & Spa breathes new life into its "Evenings at Renaissance" programme with the annual Global Day of Discovery, a celebration deeply rooted in the spirit of the neighbourhood and unique discoveries of quintessential local experiences to its guests.
The Renaissance Hotels, one of Marriott Bonvoy's impressive collection of 30 hotel brands worldwide, is a brand known for embodying discovery and the spirit of the neighbourhood of its respective locations. Each year, the brand celebrates its annual Global Day of Discovery, a day when over 170 Renaissance properties across the globe simultaneously showcase elevated experiences that highlight how the brand carries out extraordinary discoveries that transcend the norm of travel.
In celebration of the 9th annual Global Day of Discovery, Renaissance Bali Uluwatu Resort & Spa partook in the festivities which featured spontaneous adventures that place the brand's revamped Evenings at Renaissance programme in the limelight. As the hotel and travel industry is back in full steam, today's globetrotters specifically seek authentic local experiences.
At Renaissance Bali Uluwatu Resort & Spa, the Global Day of Discovery programme celebrated local traditions and puts a focus on the social impact and ecotourism of the property's surroundings. Held from 17-19 May 2023, the 3-day event was hosted by models and ecotourism advocates, twins Veronika Krasnasari and Valerie Krasnadewi, where guests were taken on immersive and holistic experiences.
Endek Woven Fabrics: The Balinese Artwork with Historical and Cultural Value
Kicking off the event, guests were invited to discover the rich history and culture of Endek, the traditional Balinese textile with Endek expert, Agung Indra, from Tenun Agung Bali as well as Bali-based fashion Designer, Dwi Iskandar. Various Endek products were displayed during the talk show, as well as a live demonstration of the Endek-making process by a local artisan.
Elevated Punchbowl Ritual & Balinese Fashion Show
Following the Endek talk show, guests were treated to a spectacular punchbowl ritual at the resort's R Bar, which showcased the indigenous flavours of Bali served in a punchbowl the resort's Head Mixologist, Yoga Tommy, as well as exquisite cocktails by renowned Indonesian mixologist, Kiki Moga. The evening also featured an ethnic Balinese fashion show by Dwi Iskandar, highlighting Endek Bali.
Coral Planting Activity at Pandawa Beach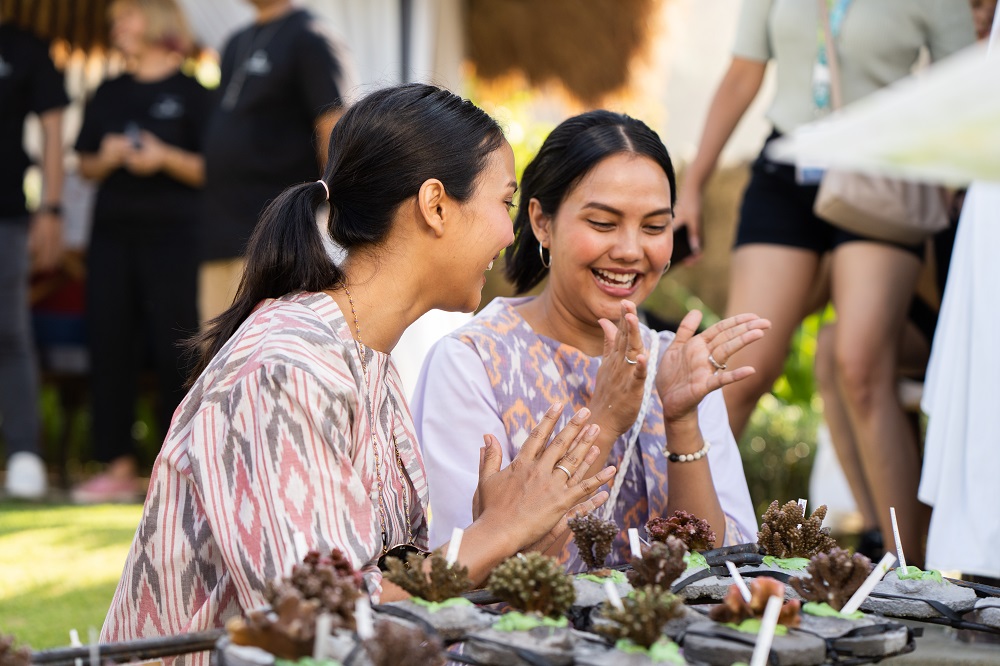 During the second day of the event, the activity consisted of an interactive tour of Pandawa Beach, where guests first enjoyed an ocean-inspired breakfast at the resort's Roosterfish Beach Club. Guests were then invited to discover the local community's sustainability initiative and efforts in protecting and preserving their beach and ocean with a coral planting activity.
ZeroWaste Tour at ZeroWaste Center by R.O.L.E Foundation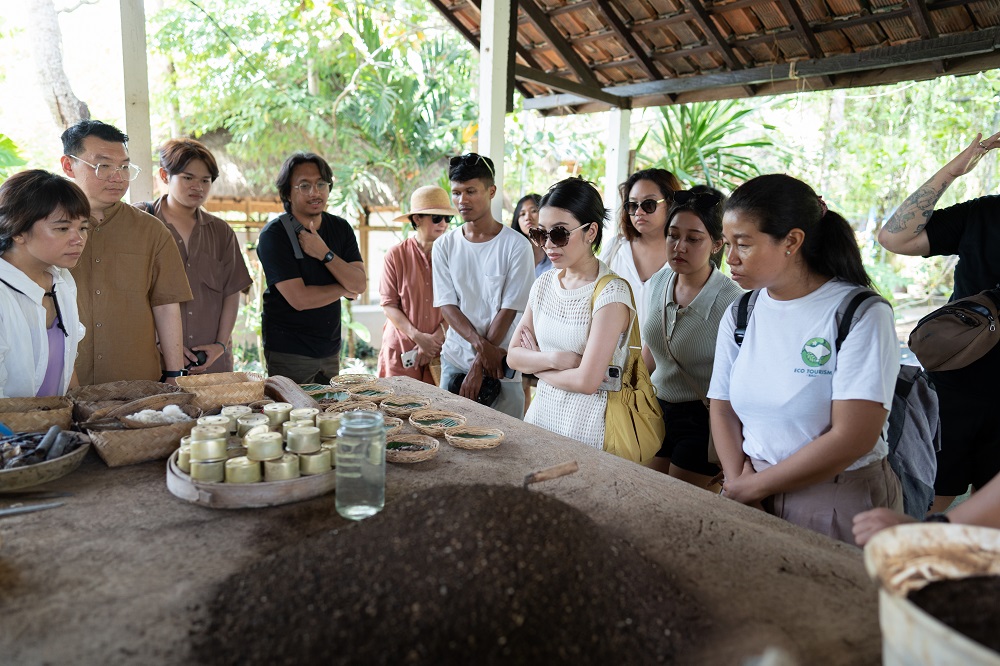 Departing from Roosterfish Beach Club, guests made their way to the ZeroWaste Center by R.O.L.E. Foundation and learned about the social community programme at the centre. There, guests were given a tour and participated in the various stations at the centre which focused on soap recycling, natural dyeing, paper recycling, waste management, composting, permaculture, and marine life.
Evening Indigenous Cocktails and Navigator's Chef Table
In the evening, Head Mixologist, Yoga Tommy, indulged guests with his innovative cocktails that reinterpreted classic cocktails inspired by Indonesian traditional drinks, served by the resort's expansive infinity pool.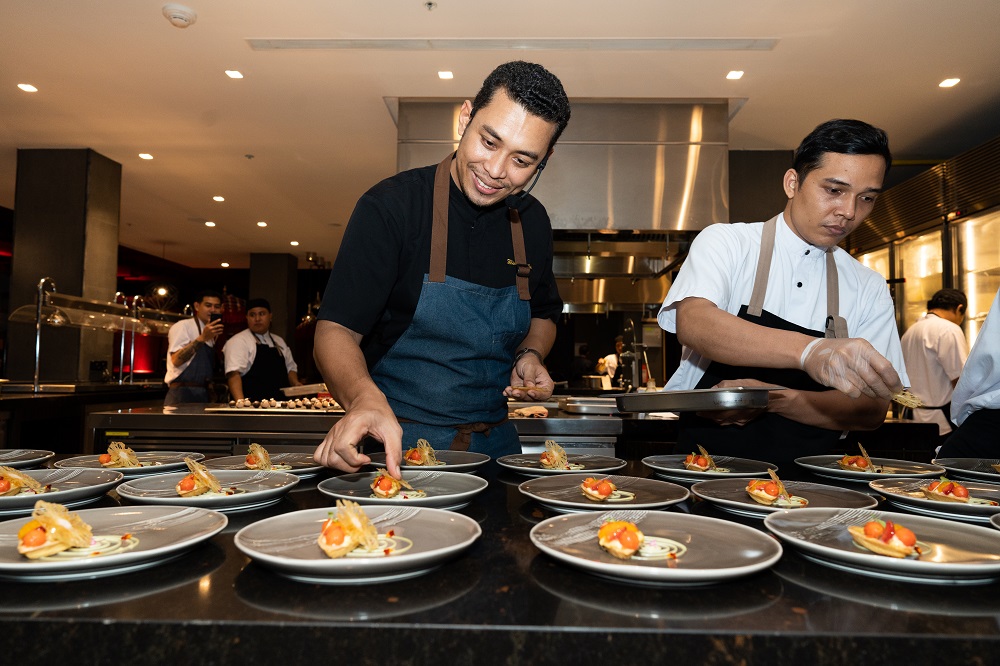 Following the sunset soiree, guests were treated to a mouth-watering Navigator's Chef Table Dinner by Head Chef, Wisnu Adiyatma, at Double Ikat restaurant. The dinner saw Chef Wisnu spoil guests with tantalising 12-course traditional Balinese dishes, prepared with a contemporary approach that incorporated island-grown produce and sustainable ingredients. Each course was paired with local wines, while Balinese flute maestro, Gus Teja, serenaded guests throughout the evening.
Ride & Discover with UNIKAT E-Bike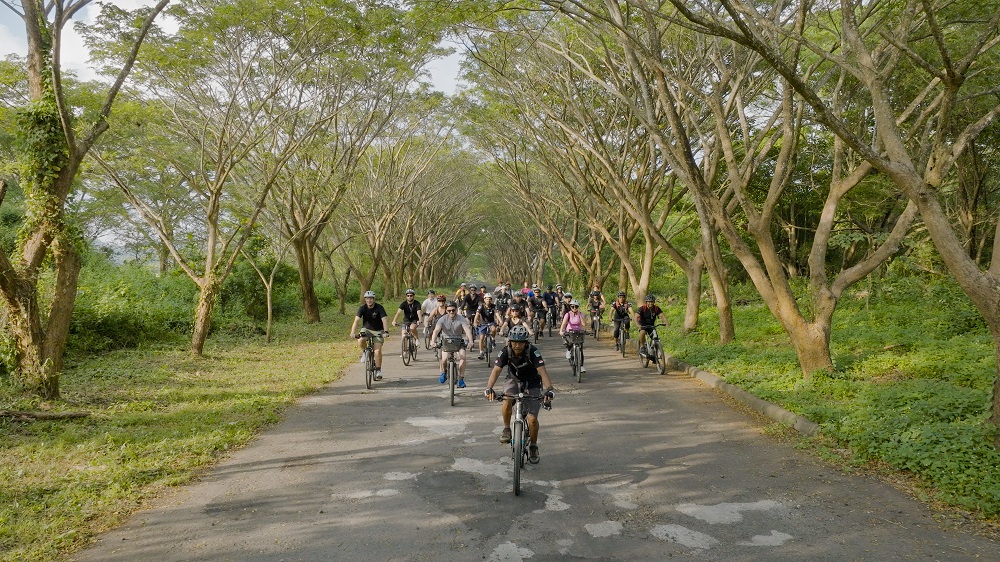 On the final day, guests were taken on a guided trip on electric bikes (or E-Bikes) by UNIKAT E-Bike, to explore the neighbourhood and discover Uluwatu's hidden gems, breathtaking beaches, and a local temple perched on a cliff edge.
Marriott Initiative Updates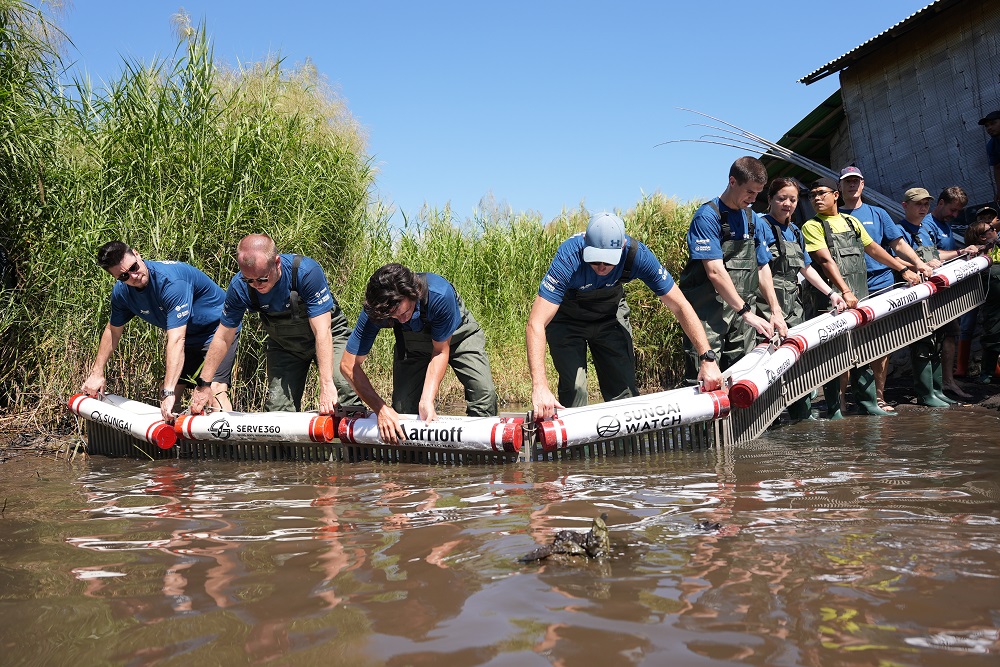 Marriott International in Indonesia is putting sustainability at the forefront and has partnered with an environmental organisation, Sungai Watch, to join in their efforts of cleaning and restoring Indonesia's rivers and preventing waste from entering the ocean. Spearheaded by Marriott Business Council Indonesia, this latest initiative aims to develop a waste solution plan in Singaraja and catapult sustainable impact for the surrounding community.
As part of the Marriott brand, Renaissance Bali Uluwatu Resort & Spa participated in this partnership, which was launched on 15 May 2023 with an inaugural trash barrier installation and trash collection in Singaraja. The event was attended by General Managers of Marriott Bonvoy's hotels and resorts in Bali. During the one-hour river clean-up, they managed to collect a total of over 230kg of plastic waste. For more information on Marriott International's Serve360 sustainability programme, click here!
Renaissance Bali Uluwatu Resort & Spa
Jl. Pantai Balangan I No. 1, Ungasan
+62 361 200 3588
renaissancebali.com