Sensatia Botanicals, Indonesia's leading natural beauty and skincare brand proudly launched its latest line of skincare collection featuring Giant Sea Kelp extract as its key ingredient: Seastem Marine Skincare Collection.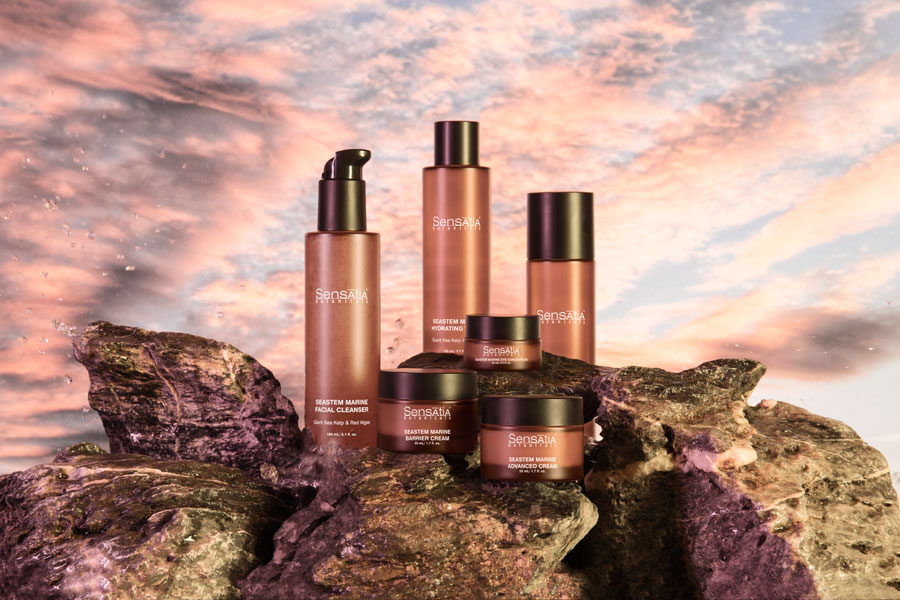 Expanding its natural skincare line with the latest Seastem Marine Skincare Collection, Sensatia Botanicals launched their latest collection on Thursday, 25 February 2021. Known for its regenerative properties and firming effect, the Giant Sea Kelp extract will help skincare connoisseurs achieve younger and healthier-looking skin. The latest collection features six different products comprising of a Facial Cleanser, Facial Toner, Essence, Eye Cream, Day and Night Cream.
Ingredients in each of these new products feature youth-enhancing nutrients, an essential component the skin requires to keep it moisturised and protected. The all-natural ingredients contained in these products provide targeted action and will visibly reduce signs of ageing when routinely applied in its intended sequence, determined by each products' purposes and application times.
The Seastem Marine Skincare Collection
Seastem Marine Facial Cleanser: This new facial cleanser features a formula that specifically targets the signs of ageing, gently washing away any impurities. This unscented gel, which helps to purify the skin and shield it against stressors, is formulated using marine botanicals such as sea kelp and red algae. It features mild exfoliation and rich in antioxidants and micronutrients that benefits all skin types such as tired and delicate skin.
Seastem Marine Hydrating Toner:An intensely hydrating toner that is full of anti-ageing components derived from marine nutrients. The formula, which contains a mixture of giant sea kelp, Centella Asiatica and hyaluronate, merges to moisturise dehydrated skin and improve elasticity. For long-term protection against dryness and environmental contaminants, it is advised to apply the toner twice a day.
Seastem Marine Essence: Lightweight and fragrance-free, this new essence is infused with fortifying marine nutrients that are formulated to replenish the skin and minimise pores. In addition to hydrating the skin, the giant sea kelp extract helps smooth out skin tone and protect skin from environmental pollutants which results in radiant and balanced skin.
Seastem Marine Eye Concentrate:The eye concentrate contains intense marine nutrients that help reduce crow's feet and puffiness and provide maximum hydration. It features regenerative components and firming effects that come from the giant sea kelp extract. The gel, which combines giant sea kelp extract with red algae and acacia, helps balance skin tone and protects the skin against environmental stressors.
Seastem Marine Barrier Cream: A lightweight and intensely hydrating day moisturiser, the Barrier Cream features marine nutrients that have anti-ageing and insulating qualities. The giant sea kelp extract in the formula will improve skin elasticity and shields the skin from pollutants, whereas the acacia extract increases collagen production and firms the skin.
Seastem Marine Advanced Cream: A softening and smoothening night cream, the Advanced Cream is packed with anti-ageing components that help lessen fine lines, wrinkles and sagging skin. The giant sea kelp extract helps enhance skin elasticity and creates a barrier against environmental pollutants, while the rich antioxidant formula deeply hydrates the skin and reduces fine lines overnight.
The Seastem Marine Skincare Collection is now available for purchase in all Sensatia Botanicals stores and on their official website. The new products are retailed starting from IDR 250,000.
For more information on Sensatia Botanicals and its products, please visit www.sensatia.com