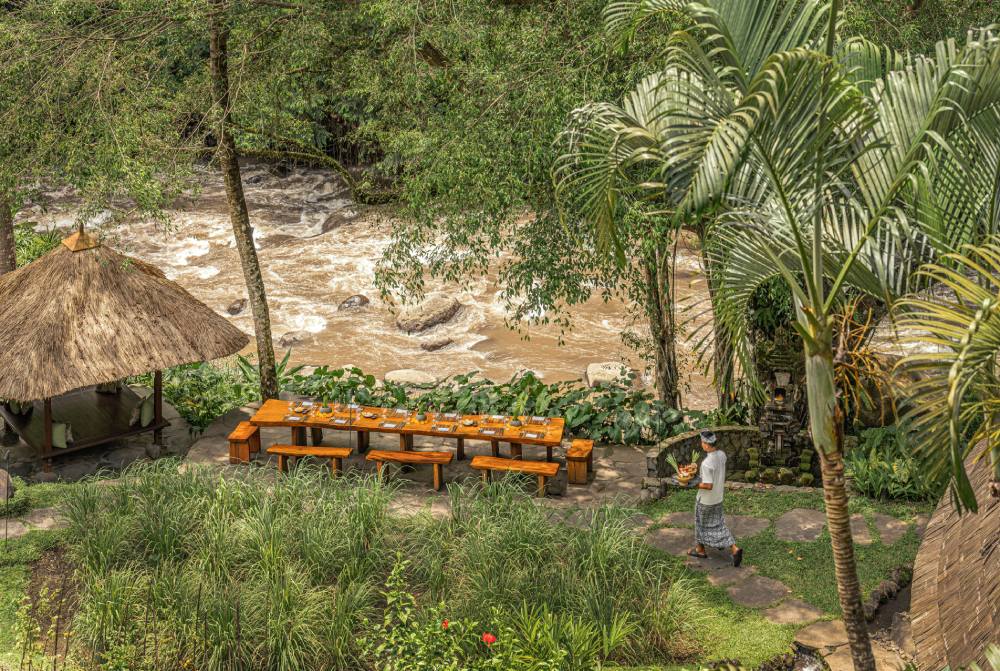 Nestled on the banks of the Ayung River, the Sokasi Farmer's Brunch boasts an unbeatable location for a serene Sunday Brunch where offerings of farm-to-table style Balinese delicacies can be savoured in the great outdoors. The brunch serves as a testament to the dining offerings found at Four Seasons Resort Bali at Sayan, Ubud. 
Normally the host of the iconic Chef's Table, where seven-courses of Bali's ceremonial dishes are cooked and served, Sokasi is certainly the home for local culinary discovery. The Sokasi Farmer's Brunch is an extension of this mission to put Balinese cuisine in the limelight. Head Chef Wayan Sutariawan leads this charge, a Klungkung native who draws on the cuisine of his own childhood and shares these truly local and lesser-known dishes with guests.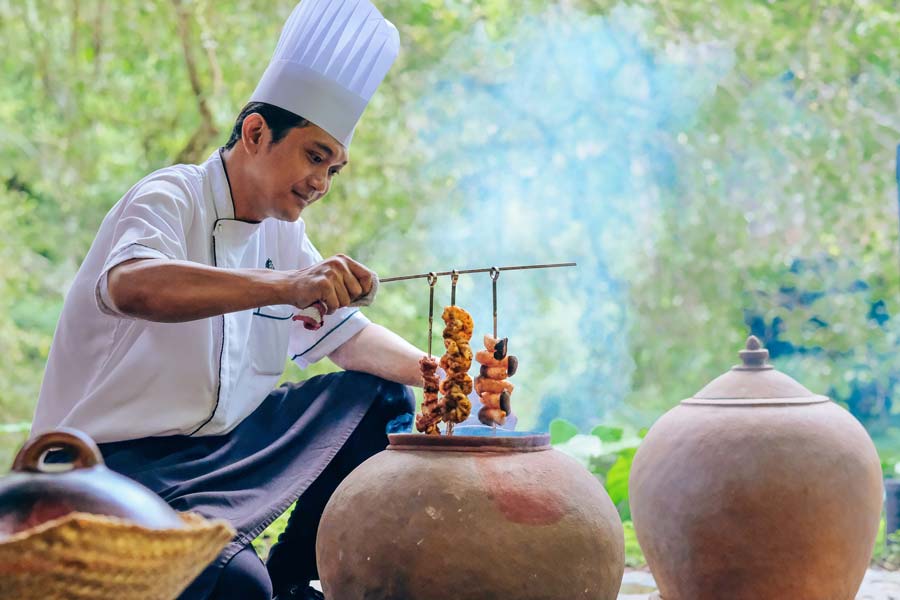 The brunch, offers blend of buffet and a la minute delicacies. Fresh, cool Balinese starters and sides balance out the tropical warmth of this al-fresco Ubud venue, with the likes of Gohu, a ceviche-like dish featuring fresh tuna, shallots, chilli lemon basil; Sari Laut Asam Segar, another refreshing seafood dish with poached praws, clams, clamari, scallops and relish. Vegetable dishes like the Rujak U Groh, a young coconut shell salad adds to the choices. It is these dishes that best showcases the farm-to-table concept, where many of the herbs and vegetables were sourced from on-site gardens.
At the centre of the offerings is the open-grill: a traditional fire pit is set up by the river, where helpings of Pork Belly, Lamb, Balinese Pork Sausage, Lombok-style chicken are all put to the flame, each with a different Balinese marinade of spices and herbs to give it a truly local flavour. Some of the meats are cooked in the traditional clay pot. Another specialty is 'Kerak Telor' — or the Rendang Benedict — a spin on an Indonesian classic featuring a savoury galette (crispy rice crepe), rendang-style beef, poached and green chilli with hollandaise. Following this is a host of cooling local desserts including refreshing coconut sorbet and es campur.
The brunch is available every Sunday, from 11.30am to 3.30pm.
Four Seasons Resort Bali at Sayan
Jl. Raya Sayan, Ubud
+62 361 977577
@fsbali | fourseasons.com/sayan