Spa services are part of the expanding tourism industry on the island, and therefore it is essential to learn the right skillsets to provide the best services to customers.
The spa schools in Bali encourage and educate the right thinking for spa aesthetics, massage and wellness training to its students. These courses are basically fun with a professional touch to help beginner students and experienced professionals expand their skills and improve their service portfolio. These schools offer courses that can be easily tailored to suit the requirements and objectives of students enrolled in the courses.
---
Mandara Spa
Not many spa companies provide in-house training for their employees. Most of them use a third-party service for this. In the southern part of the island, however, there are some well-known spas offering such services. In Kuta, Mandara Spa offers the opportunity for those who want to join their training at Mandara Spa Training Center. Not just limited to Bali, Mandara Spas can be found in diverse locations around the world.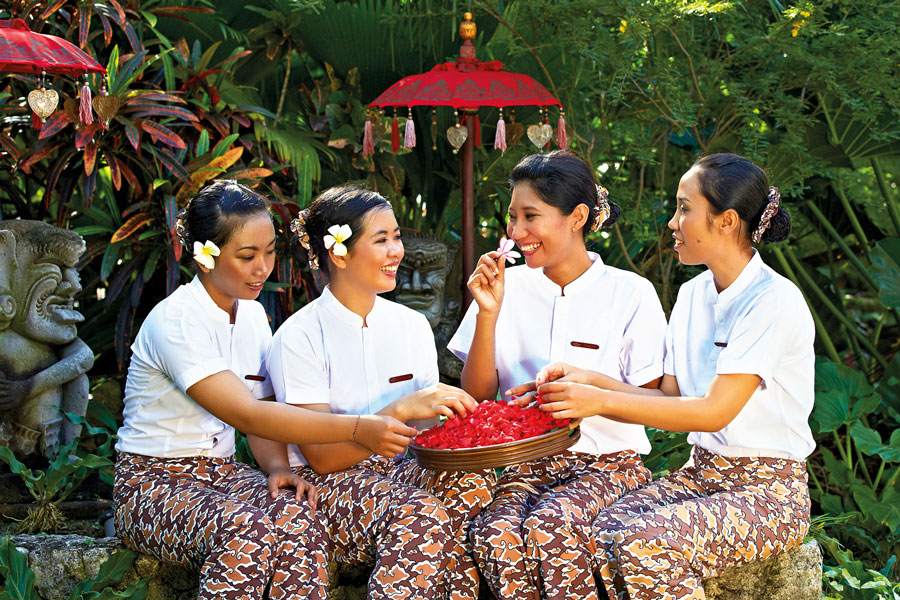 In Bali, their training approach focuses on the diversity of the Balinese culture and traditions. This ancient healing knowledge is passed down from generation to generation, from mother to daughter, from father to son, and as such is deeply entwined in the Balinese way of life. Massage techniques and the power of touch are the key factors in the training as they are part of the daily self-care system in Bali. It is this passion and reverence for balance and wellbeing that Mandara brings to every session of training.
Since Mandara Spas are spread all over the world, the training will prepare you to be a professional therapist who can compete in spa industry not just at a national level but also internationally. During the five-week training, the subjects covered include Balinese massage, foot massage, natural facial and scrubs. Here, you will also get a full understanding of the benefits of each treatment, explained in English. To make sure you are doing it right, there will be an evaluation on a weekly basis. The training is from Monday to Friday starting at 8 AM to 5 PM.
PT Mandara Spa
Address : Jalan Raya Kuta #707, Kuta (See on Map)
Telephone : +62 361 755572
Website : www.mandaraspa.com
---
Jari Menari
If you think five weeks of training is too much to handle, you can consider training at Jari Menari in Seminyak. Their passions are massaging, training and passing on vocational skills to those with a hunger for knowledge in the art of massage. With the intention to share philosophies and techniques by enhancing 'quality of touch' in massages, here, the students can choose to study either in one day or two weeks.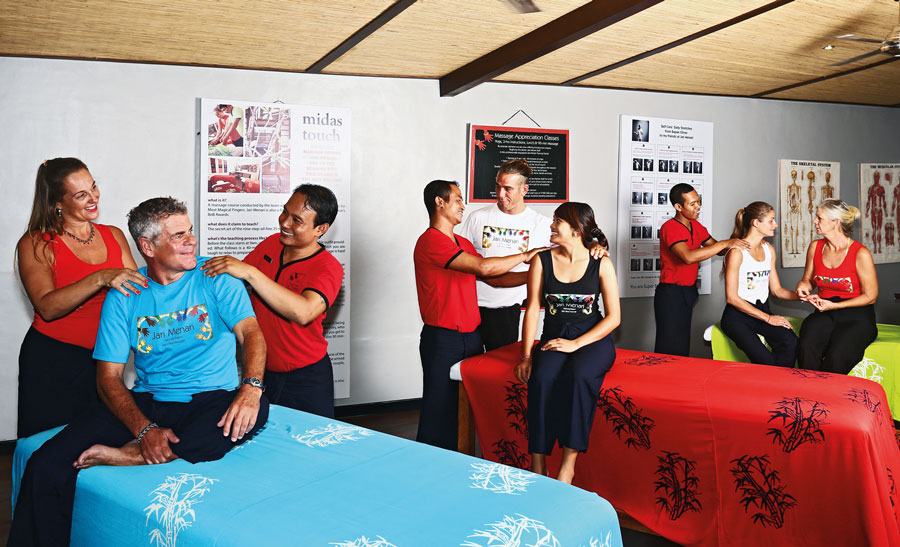 A one-day class focuses on the introduction to massage techniques and touch. This is taught by the Senior Practitioners and begins every Tuesday at 9 AM with an introduction to yoga. In this part, students learn about movement in their own body before continuing the flow of the delivery to make it never ending and smooth, lulling the guest into a deeply relaxed state.
After 35 minutes of yoga, there will be a quick break with some traditional snacks to prepare for the next 3-hour class. In this session, the students will give and receive the oil-free techniques, which are focused on the back of the body. This class is perfect for those already practising massages and those that have always wanted to try. The class includes a manual as a takeaway, along with a Jari Menari t-shirt.
After the class, another break is dedicated for lunch and the day concludes before 4 PM with students receiving a 90-minute session from one of the Jari Menari Team. For those who want to continue, they can go on with a half-day session on Wednesday, where the class addresses the front of the body. This class then puts the whole sequence together and meets from 9 AM until 1 PM on the second day.
At Jari Menari Massage & Training Centre, they offer a two-week class for students to learn the full Jari Menari sequence. This class has been designed for participants of all levels, ranging from newcomers to those who wish to acquire new skills in the healing art of massage or for those looking for a career in the wellness industry to current practitioners. The aim is to learn and master the full sequence of the Jari Menari signature massage at a comprehensive level.
Not only focusing on the techniques, the training course also addresses foundational concepts such as posture, draping, positioning and hygiene, as well as how to set the mood for a massage by creating a soothing, beautiful ambiance with aromatherapy applications, sound therapy, light and colours, room temperature, fresh air and tone of voice.
For the two-week class, they organise accommodations with breakfast included at the homestay, snacks and daily organic, healthy lunch at the training centre. The training also includes a one-time massage session with Jari Menari Staff and visits to local spas for students to compare the treatments.
All the classes are fun and will be under the tuition and guidance of Jari Menari's senior, all-male, Indonesian training team. You will definitely gain a privileged insight into the secret philosophies and techniques behind Jari Menari's highly-successful massage sequence, which blends rhythm, flow, and connection to create a truly memorable session.
At the end of the day, whether you finally decide to learn massage as a hobby or as a new career, spa training at the spa schools will put significant potential and integrity in your hands.
Jari Menari
Address : Jalan Basangkasa #47, Seminyak (See on Map)
Telephone : +62 361 736740
Website : www.jarimenari.com