Bali's food aficionados will know that Bali has a very active branch of La Chaîne des Rotisseurs.
For those unfamiliar with the "Chaîne," La Confrérie de la des Rôtisseurs is an international gastronomic society which was founded in Paris in 1950. The Chaîne is based on the traditions and practices of the old French royal guild of goose roasters, whose authority gradually expanded to the roasting of all poultry, meat and game. Chaîne is dedicated to promoting gastronomic values and fine cuisine.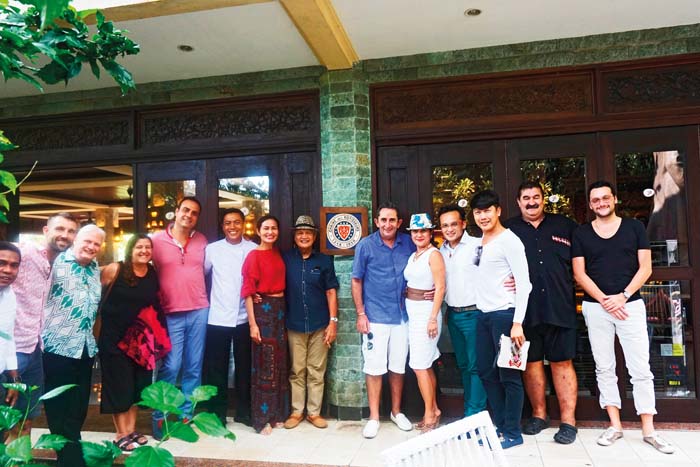 The Bali branch stages events throughout the year, and as you might expect, many of the members of Bali's Chaîne des Rotisseurs either own or work in one of the wonderful resorts, hotels, and restaurants that play host to over four million visitors to Bali every year.
This month we're showcasing one such venue – the sensational Ayung Resort, Ubud, impeccably managed by Chaîne member Frits Henskes, owned by a Chaîne member and proud to have 3 senior staff members also belonging to Chaîne. Although this wasn't an official Chaîne event, many members attended.
Advance publicity promised a Sunday brunch event that would be "intentionally unlike any other in Bali," and certainly Ayung Resort's executive chef, Made Lugra, and his very talented team put together an exceptional menu.
The 25 guests who attended the inaugural brunch chose from three specially prepared cocktails – Chilli Martini, Vodka Crush and a classic Bloody Mary with a sumptuous and exotic garnish.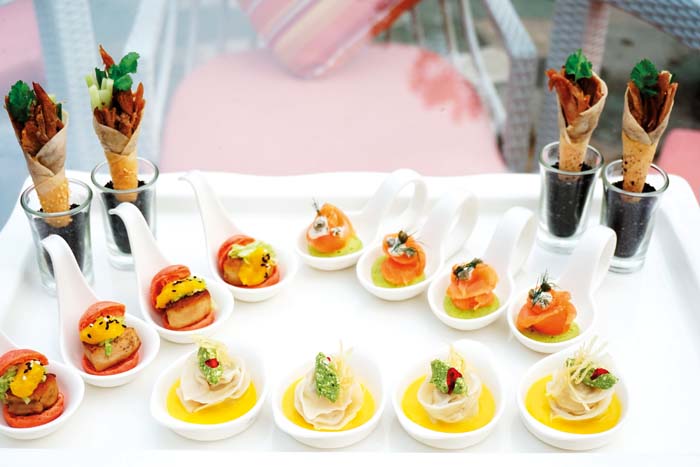 As we took our seats in the Wijaya Kusuma restaurant, we were reminded of the stunning panoramic views that Ayung Resort's fine dining room is famous for. And then the feast began – a delicately presented array of thirty dishes to delight even the most discerning palate.
Appetisers included caviar topped corn blinis, served with dill sour cream, melted leek mini chicken tandoori spring rolls, shitake aioli, crab tortellini in a delicate cream sauce, avocado – feta – pesto crumble, seared foie gras, beetroot crispy puffs, truffle cabbage, with melted leek and mango chutney.
The pastry chefs at Ayung Resort also prepared danish pastries and breads, freshly baked from the oven and served with preserves and fine cut marmalade.
Platters of charcuterie then made an entry. Layers of succulent smoked ham, thinly carved prosciutto crudo and salami nostrano, homemade chicken liver pâté and richly flavoured smoked salmon.
Seafood included oysters served with a cucumber & onion relish and coconut parmesan foam accompanied by a Bloody Mary oyster shooter. A delicious Asian tuna salad with Indonesian sesame dressing or classic Caesar salad with shrimps were healthy "diet conscious" options. More smoked salmon arrived, lightly infused into delicately scrambled eggs. Crispy puffs with smoked salmon, spinach, dill, crème fraîche and Eggs Benedict or anchovy dressed poached eggs completed the egg courses.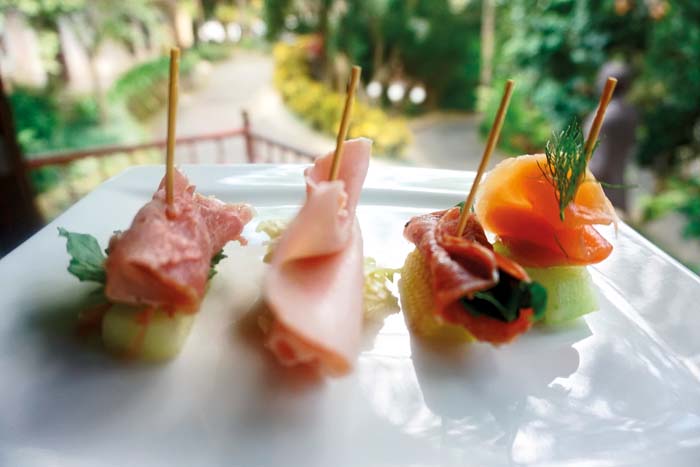 Guests opting for soup chose from a wholesome sweet corn and red bean soup with grilled prawns or a Boston seafood chowder, served with subtle croutons and coriander.
The "ocean" course brought out crispy skin baby snapper served with kecicang and fresh coconut foam. Also on offer was a duo of scallop and prawns with fennel & tomato reduction, glazed salmon served with a pithy barbeque sauce, and Dory fillet served with fennel and baby new potatoes.
The ensuing meat selection was a carnivore's delight!
Succulent and perfectly cooked duck breasts with a rich curry gravy, lamb chops, roasted prime rib of beef, served (to the delight of at least three English guests) with a traditional Yorkshire pudding, potato gratin, green pea & carrot gravy and drizzled with a light galangal sauce.
Lovers of Peking baby chicken were treated to delicate chicken breast served with quarter sized pancakes and accompanied by obligatory cucumber, spring onion and plum sauce.
Continental favourites included homemade Bircher muesli, a selection of soft and semi-soft cheeses served with fig jam, sesame crackers and Ayung baked breads.
For those that still had room for desserts, the sweet temptation included apple & pineapple crumble, piscok – banana, cheese, and one of the Ayung Resort's signature desserts – a sensational chocolate trio of crème brûlée
Matua Sauvignon Blanc from New Zealand's Marlborough region accompanied the meal while a delicious Hans Tchida Austrian dessert wine accompanied the sweet course.
Sundays in Ubud will never be quite the same!