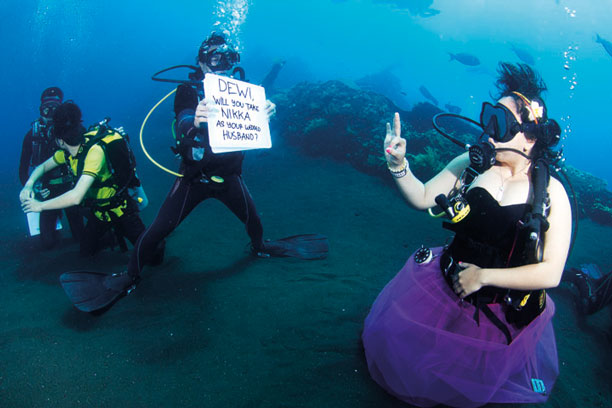 February is considered to be the month of romance by many people. Couples share their love and affection with one another, often choosing to take their relationships to the next level; the exchange of vows, promising each other to live side by side until the end of their time. It is a life changing and unforgettable moment. Couples looking to celebrate this union in a unique and exciting way with their family and friends can do so in Bali, surrounded by the wonders of nature
BIDP, a dive centre in Sanur, offers couples the chance to hold their nuptials underwater. They are experienced in organising such events and can even help with men looking to propose to their girlfriends (or vice versa). Of course, this wedding under the sea requires both the bride and groom to be comfortable with their environment, thus some training sessions in a pool or a diving class is strongly suggested.
Back in 2012, my boyfriend proposed to me at the USSR Liberty Shipwreck in Tulamben, 18m below the water's surface. We even had our wedding underwater, with 30 friends there to witness! BIDP organised the diving equipment for the lot of us in no time at all. We also discussed the scenario and made several plans just in case the weather or water conditions changed.
I couldn't contain my excitement as I slipped on my black bustier, embellished with a pink tutu for the occasion! The manager and Instructor Trainer, Jaka, conducted our ceremony. We couldn't talk underwater of course, so we wrote everything down prior to our dive. I still remember that magical day. A flock of surgeonfish and damselfish swam around us, this, alongside the colourful coral reef and shipwreck, were our wedding decorations. We exchanged rings and vows in front of our fellow divers, who hovered and floated at different positions around us. Camera's flashed as the BIDP underwater photographers and our friends took shots – the memory forever immortalized. We took a deep breath, removed our masks and kissed each other as man and wife!