The InterContinental Bali Resort has revealed a brand new look for their main breakfast venue, Taman Gita. Enjoyed for many years for it's al-fresco space and elegantly tropical atmosphere, a perfect spot to start the day, the restaurant's new look is a welcome addition for those enjoying breakfast or Sunday Brunch at this popular Jimbaran restaurant.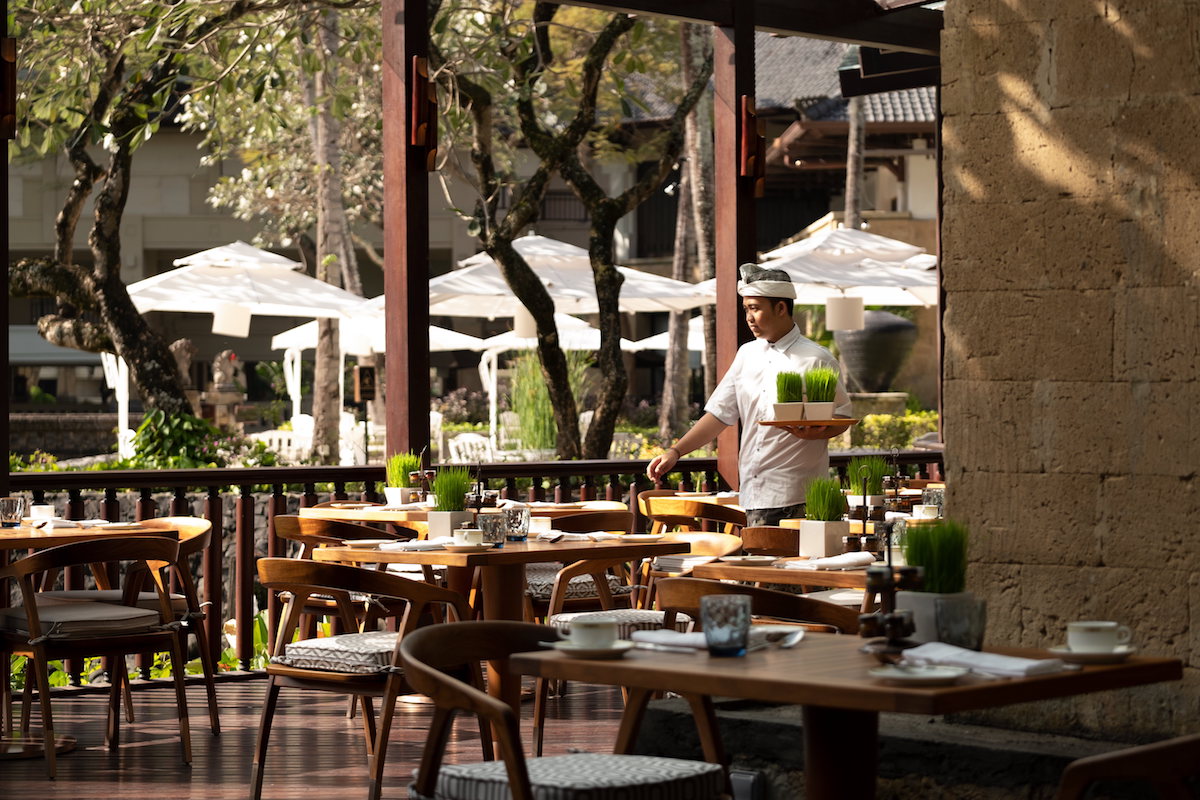 The InterContinental Bali Resort is known for its classical, luxury Balinese design; having opened back in 1993 this famous Jimbaran getaway has always paid homage to its island home. Beautiful statues, stones carvings, traditional roofs and more make up the look and feel of the InterContinental throughout their 14-hectares of tropical, beachfront land. Of course, these same design aspects extend to their many restaurants as well.
Taman Gita's new look however brings a more contemporary feel to the restaurant. This cool, air-conditioned space with its high ceiling and monumental pillars, as well as its alfresco terrace, has been refashioned with an elegant interior accented with Balinese ornaments. 
The restaurant flaunts a fresh and exciting new plumage fashioned in muted, earthy shades of olive and cinnamon, chocolate, teal, grey and black. Local timbers and stone, materials, chair fabrics and finishes are presented in a myriad of textures, while the ceiling pattern mirrors the ash grey and brown geometrical floor pattern with square sections framed by wooden beams housing recessed lighting, complemented by ring pendant lamps illuminating the tables from above. The use of natural materials and earthy colours brings Bali's tropical landscape into the restaurant in a sophisticated, modern fashion.
A pendulous bamboo lighting installation marks the entrance with a flourish, reminiscent of a set of Balinese wind-chimes; designer tables and chairs are crafted in dark wood with marble-topped finishes in the raised floor and banquette-seating areas, while solid timber slatted tables spill across the outdoor terrace. Banquettes feature Spanish-style lumbar cushions, which are suspended from a pole to ensure the optimum position for the back comfort of the guests, and cosy two-seater and four-seater sofas await breakfast guests in the entrance bay and the triangle bay, coordinated with mood lighting from classic table lamps.
In the buffet and deli areas, wall spaces are filled with shelves and alcoves showcasing Balinese artefacts. At breakfast time, glass fronted cooler cabinets are stocked with cold cuts and other goodies; tilted breadboards and wooden shelves display a wide selection of breads, and wooden crates are laden with freshly baked bread rolls above a tri-coloured hexagonal tiled floor. 
Finally, 'the land of music', where the name Taman Gita stems from, has not been forgotten –  the much-loved storyboard of wall plaques featuring pairs, trios and groups of musicians playing all the instruments of a gamelan orchestra amid the flowers and trees of a garden, endures as before, in perfect harmony with its contemporary new environment.  
The impressive design is the innovation of the Singapore-based 'James Park Associates' (JPA), a renowned design consultancy that has an extensive knowledge of Bali and Indonesia, and specialises in creating exceptional interiors that pay homage to the location. This new look and feel makes Taman Gita en par with the other restaurants found at the InterContinental Bali Resort, such as Bella Cucina (Italian) and Ko Restaurant, Teppanyaki and Cocktail Lounge .
The extensive international buffet-style breakfast here offers a vast choice of dishes to suit all tastes, including Indonesian, Western and Asian hot and cold specialties, an egg station for à la minute egg dishes, a meat carvery, freshly-baked pastries and breads, as well as an espresso coffee station, fresh fruit and vegetable juice bar and more. 
Why not come and enjoy the InterContinental Bali Resort's Sunday Brunch and experience this newly refreshed space? 
Savour an array of refreshed selection of gourmet items perfected with unlimited Champagne, live jazz entertainment, children's corner and exciting activities. We invite you to share a memorable moment and fun experience to enjoy a complimentary access to our swimming pools and Planet Trekkers Kids Club to complete your Sunday journey.
Sunday Brunch (12.00pm – 3.00pm): Price starts from IDR 650,000 net, Children from 6 to 12 years old will receive 50% off, Complimentary for children under 5 years old
InterContinental Bali Resort
Address : Jalan Uluwatu 45, Jimbaran
Telephone : +62 361 701 888
Website : bali.intercontinental.com