A day out in Bali can be so much more enriching than you'd expect; whether it's a cycling tour that exposes you to the local flora and fauna of Bali, or perhaps a visit to a museum that opens your eyes to exotic Balinese rituals. Often there is more than meets the eye, and a visit to the Bali Safari and Marine Park is no different.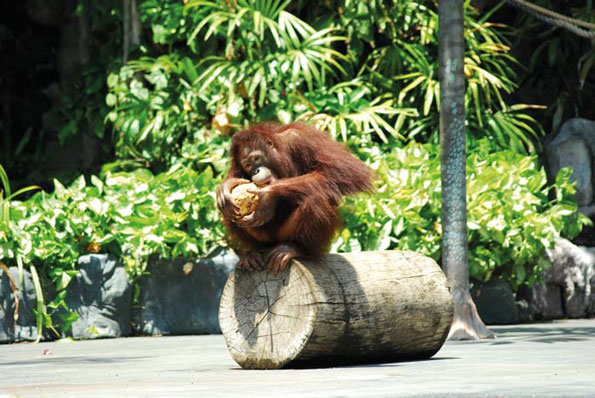 As you can imagine, you can't run a whole safari park without having a lot of love for animals. It is this love that Bali Safari wants to spread to all their visitors, and this is done through their various animal shows throughout the day.
Of course it's great seeing the animals roam the vast grounds during your Safari Journey, watching as the lions slumber in their dens and the hippos sink low in their pools to avoid the Bali heat, kids and adults alike can't help but revel in the sight of the animals simply 'being'. However, being in a vehicle as you venture through somehow separates 'you' and 'them', like the animals are external to our lives.
[metaslider id=24852]
Therefore, in order to bring us closer to the animals, everyday at 11am the park holds a fantastic Animal Educational Show. Seated outdoors looking towards the Hanuman Stage, backdropped by an impressive stone-carved wall not unlike the Goa Gajah in Ubud, the scene is set for a marvelous showcase of creatures big and small, scaly and furry, cute and well, not so cute too!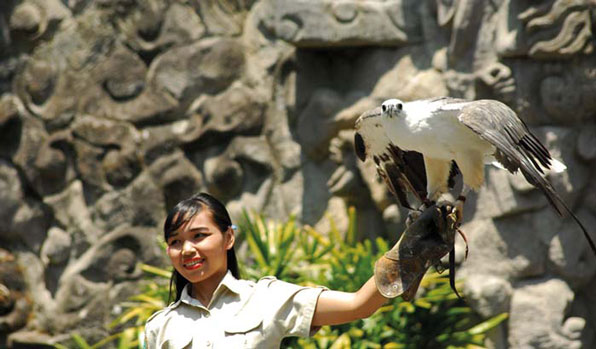 The show is entertaining but it's also very informative. The Safari Ranger shares stories and fun facts that help foster a greater understanding of wildlife. Beginning with the 'domesticated' animals, as the Safari Ranger mentions one, on cue, just like that, a flurry of them join him or her on stage: guinea pigs scurry, dogs rush past, cats leap and climb.
Everyone in the audience is laughing with excitement as this organised creature chaos unfolds before them! Then the Ranger moves on to birds, and again, as they are mentioned they swoop in from above to make their dramatic entrance. Snakes join the show too of course; two huge pythons are paraded around the audience, some guests shy away from the slithering reptiles, but you can see the curious children, excited, inching closer for a touch or a better look. Then the mammals take stage and perhaps the ones that steal the whole show are two of the four adorable – and very intelligent – orangutans, be it Chloe, Niluh, Eva or Nami.
______
It's incredible to see that each of them have their very own personalities; as they walk on stage, you can't help but notice how almost human they are.

_____
One climbs a tree, collects a coconut, peels it and begins to drink out of it just like we would. Throughout the show, the Ranger explains further about each animal and continues to remind us that we should love and care for them and our environment, and having this much more engaging encounter makes it so easy for children to take this important message in. Entertaining yet educational.
The Bali Safari and Marine Park holds another show that focuses solely on elephants. The Elephant Educational Show, playing at 11.45am and 4.30pm at the Kampung Gajah Stage, is a theatrical spectacle that tells the story of elephants in Sumatra and how they have struggled to live side-by-side with humans for so long. The Sumatran elephants and actors perform together on stage, like an animal-filled broadway. The show is by all means adorable, but better yet it conveys the importance of man and nature to live in harmony.
So, make sure you get to Bali Safari on time for these great shows. A day at the safari ends up being more than just sightseeing, it becomes a day of education and enlightenment. Kids will absolutely love it, but parents might learn a thing or two as well!
Bali Safari and Marine Park
Jalan. Prof Ida Bagus Mantra, Gianyar
Phone: 0361 751 300