The girl woke up and lifted her well-balanced shoulders. A watchful look came into her beautiful, Bambi eyes as an elderly woman of 70 or so approached her. "Enough is enough," said the latter. "You'd better accept your fate! Don't forget that you are a Dayu and that the choice of your husband is not yours. You must consider yourself lucky that Gus Komprong was still willing to take you as his wife, considering your behaviour. Showing off everywhere at the campus with that Ketut Obong. A shame to your ancestors and your whole Brahmin clan."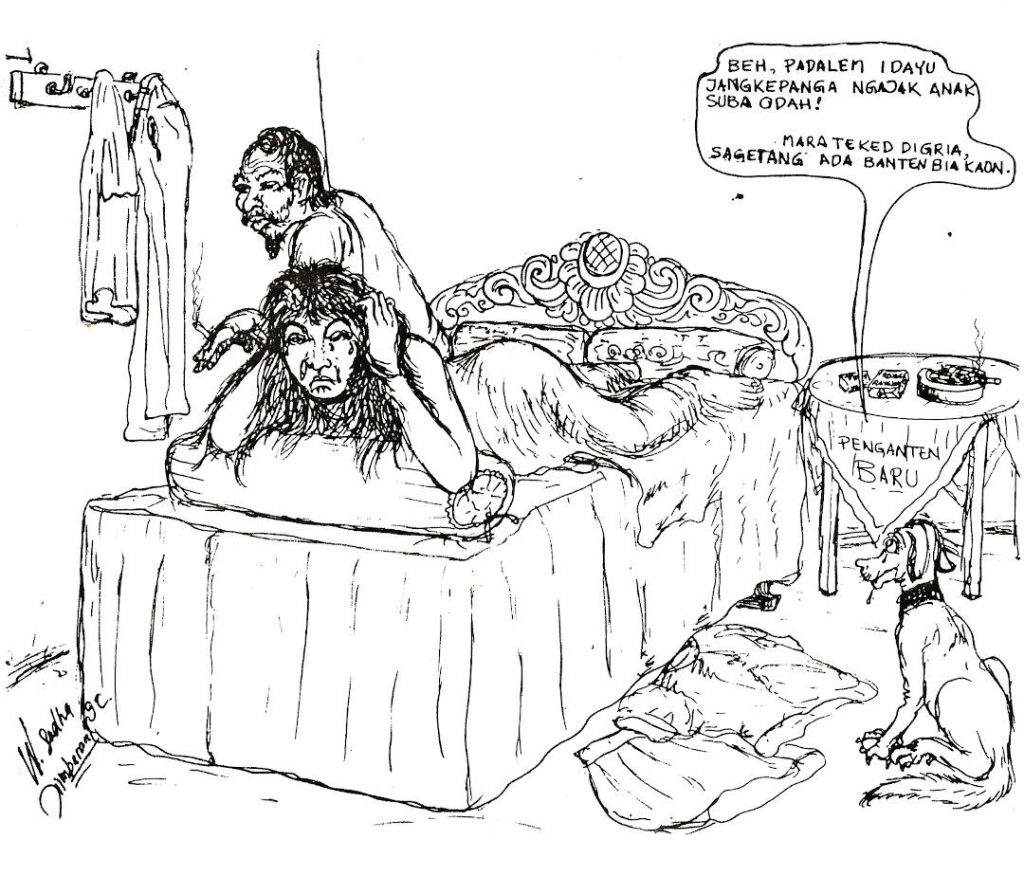 Dayu Biang, the old wrinkled woman who was scolding Dayu Ratih knew all too well what a Brahmin's duty was about, especially for the Brahmin women. When she was herself young and beautiful, she had been in love with a Gusti man from lower nobility. But young Brahmins had cornered him and beaten him up. As a result she never married and ended up preparing the offerings made for the ceremonies officiated by Ida Pedanda Nabe, her high-priest brother.
After throwing a last smirk, the old woman left. Still in shock, Dayu Ratih tried to recollect what had happened to her. She now found herself stranded in that damp, warm room, overshadowed by two big trees growing in the yard in front of it. She was now waiting…waiting for what? For Gus Somprong to show up again. The man she did not love. She was still weary, half asleep.
What had happened? The first thing she recalled was preparing dinner in the back of the small room she rented in Sanglah. Before she had finished cooking, she had heard a light knock on the front door. She had left the kitchen and opened the door to see who was there. She had seen three sturdy men, but shy, dressed in sarongs, like villagers on some sort of traditional errand. Not the regular type of visitors you have to student housing.
"Whom do you want to see?" asked Dayu timidly.
"Dayu Ratih," answered one of the men ."We have to pick her up. Are you the person we are looking for? "
"Yes. I am. But, who are you going to take me to, and what for?" She understood it was about her, about the fact that she wanted to be free and complete her studies.
"We are taking you to Ida Bagus Komprong. He is waiting for you. He said that the ceremony is ready and the guest are already waiting. Today is the day".
"You must be kidding," said Dayu Ratih. "I barely know him".
"But, please listen to me, Dayu," responded one of them in an unsettled voice. "We will have a lot of trouble if we fail to take you there. It is not only he who wants you to go there, it is also Gus Lingsir, your own father."
"Please leave me alone. I have nothing to do with Gus Komprong. Goodbye!" Upon these words, Dayu Ratih closed the door.
It was only the beginning of the nightmare. Her parents then came to her room and instructed her to follow the three men. Her marriage had been fixed years before, they said. It was the choice of the whole family. They had promised her to Gus Komprong ever since she was a young girl. She did not have a choice: she would not shame her family. Of course Gus Somprong was already married in Java, with two children there. But he now wanted children with full Brahmin blood, and especially a sentana male – an heir – to look after his ancestors' shrine. It is what mattered to her father, so, she had to yield. In fact, in the opinion of other Dayu from her own caste, Dayu Ratih was a lucky one, because it was not easy for a young Dayu to marry a youth from the same Brahmin caste. Since Brahmin women are not allowed to marry men from lower castes, many remain single.
In those days, Brahmin girls never disobeyed their father's injunctions. Denpasar was still too small a city to provide an escape. And Dayu Ratih knew it. She was also a proud Brahmin anyway. She had to go against what her heart really desired, a sacrifice. So after a short parting from her friends, she went. A car was waiting for the party; Gus Komprong had started a business in the tourism industry, and he had a car, a rare thing back then. Not a word was exchanged in the journey.
It was late when she arrived in a big Brahmin compound, in the East of the island. There were many of visitors seated in the main hall playing Chinese cards. Nobody knew her. She was quickly ushered to a room in the back, where she was greeted by an old woman with big earrings. "Rest until tomorrow. Go to bed, soon. Tomorrow you will be married. You must feel happy, that he is willing to take you. I see you are tired. Take my concoction, it is good for young women"… Dayu learned later that the woman was a sort of a matchmaker, known for her magic arts and ability to break a young woman's will with her charms, followed by a long, sleepless night. Dayu was puzzled. And remained puzzled for the whole length of the night.
She spent the next day in a sort of daze, spent amid gamelan music, jingling bells, offerings, people whom she did not know bowing in front of her. Of course there was Gus Komprong, fat and smiling, happy to have picked up the most beautiful Brahman flower of all.
As for the night following the wedding ceremony, how to describe it? A far cry from the few love movies she had watched in Denpasar. But she had to do her duty, as too many Balinese women end up doing it. He was rude. Overpowering, mentally as well as physically, Dayu Ratiih surrendered reluctantly. When he was finished, he told her, "Go to the bathroom and then make yourself a meal. There is no need for weeping. You understand?"
Dayu Ratih eventually accepted the 'wisdom' of Biang Lingsir's scolding. She accepted too, Gus Komprong's unloved body and bore him 4 children. He passed away a few years ago.
Now Dayu Ratih is an old woman. She has spent her whole life as a Dayu, a female Brahmin married to a male Brahmin, an Ida Bagus. She was respected, but wretched all the same.
At least the times are now changing. She lets Dayu Alit, her younger daughter, go out with Komang Wiradana, a bright young lawyer. The two plan to marry. Happen what may to Brahminhood. It took her one generation to fully understand.