Sarong, once nestled on a road leading out from the epicentre of Seminyak's Eat Street, sits elegantly behind a garden wall, a simply constructed house designed to reflect the beauty of its surroundings, at one time rice fields, and the delight of tropical evenings.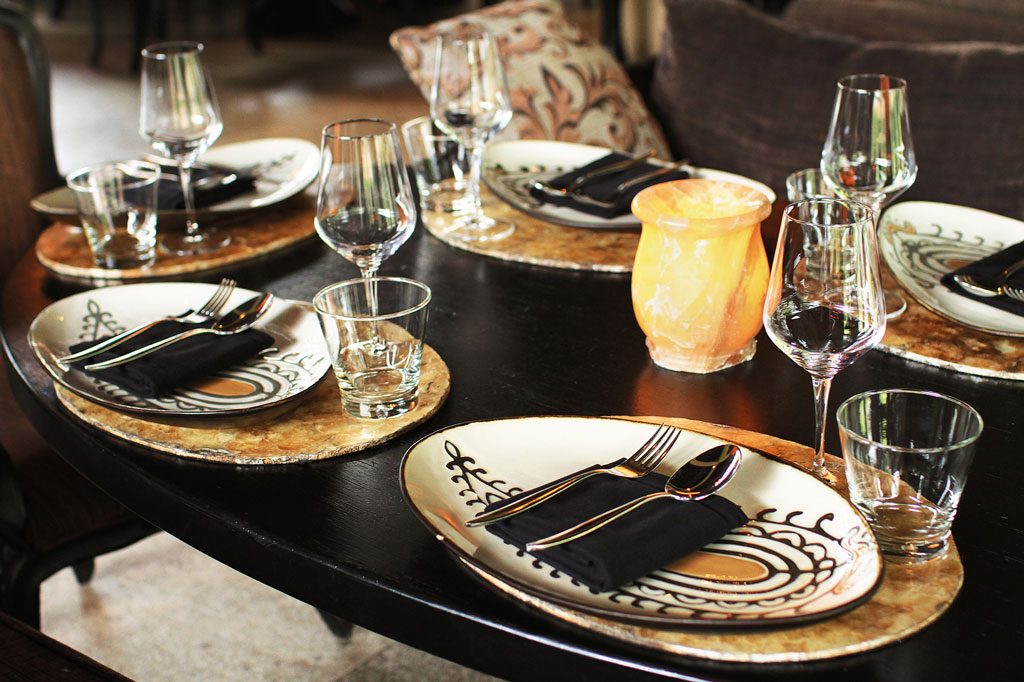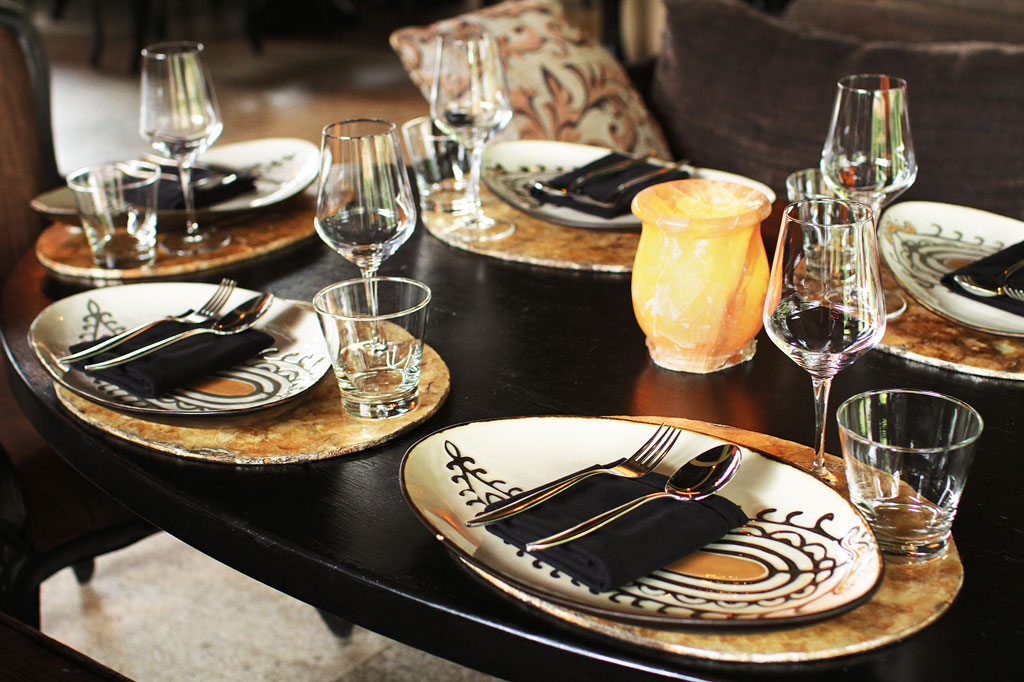 Adorned with long drapes that flow from ceiling to floor Sarong emits an aura of gentle romance as scented breezes waft in on the night warmth. Tropical notes of jasmine and frangipani compete at times with the aromas of the kitchen creating a heady perfume that furnishes the creative mind with the idea that one is truly lulled by an epicurean, yet poetic vision that can only deliver the very best to the guest.
Certainly it's a description that goes a  little over the top, but in all aspects so does Sarong. Once inside this garden bower the dining room gives out to bold statements of decor and a long deep bar of shining wood backed by an enormous mirror. And this is just the beginning.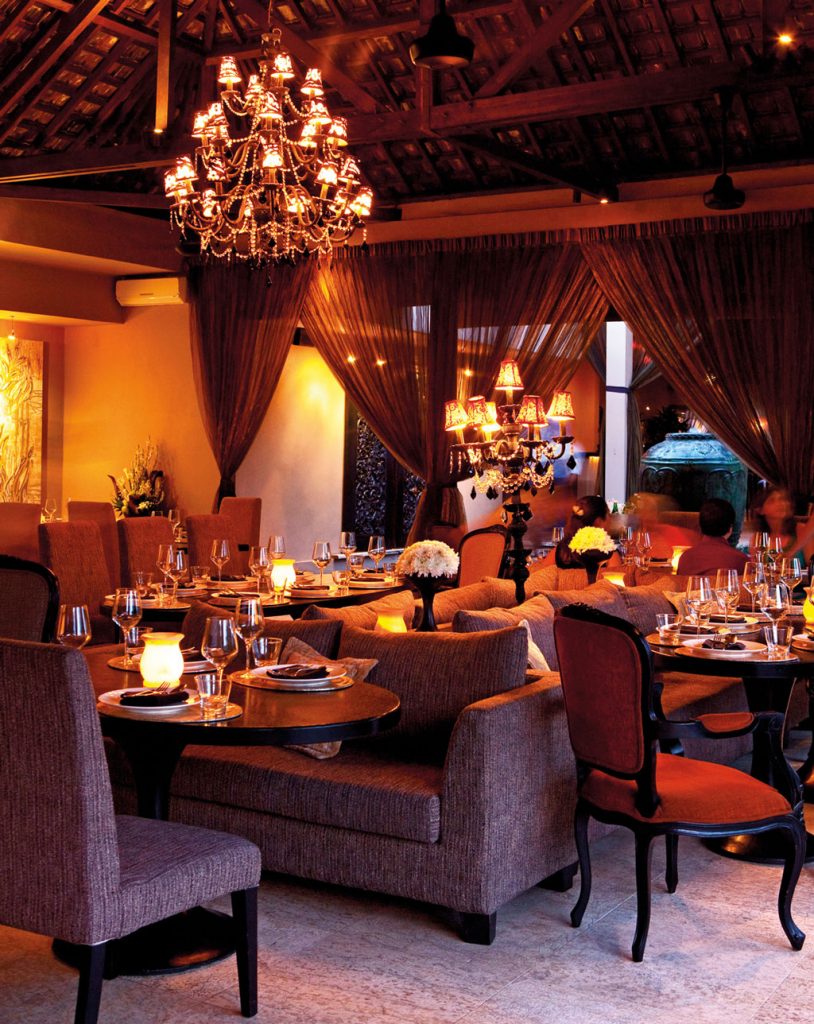 Over the years Will Meyrick and his team at Sarong have built on their fine reputation for the provision of ingeniously simple, authentic Asian cuisine in a high class dining style that echoes the indulgence of the Majapahits or the regality of the Raj as each dish, so elegantly presented, is described and served to the table.  
Service has never been more important and, as choice becomes a by-word for world class dining in Bali, the genuine appeal of a well trained staff, familiar in their roles, knowledgeable on matters of wine pairing, spiciness and complimentary dishes and courteous to all, is something that all restaurants must aspire to. It does not matter how great the produce of your kitchen, if your staff are not attending to your guests their tastes buds are going to be dulled by a lack of welcome.
Another aspect that is part of Sarong's secret to longevity and success is the frequency with which the menu is complemented by results of travel and adventure. This is not the work of a chef who decides to open another recipe book for more ideas, this is the kitchen of a team who have been lead on adventures to far flung lands by their executive chef, Will Meyrick.
Will is like a location scout, but rather than source settings he seeks out the grand feasts and the tiny kitchens, often insinuating himself into smoke filled rooms applying his charm to seduce pearls of wisdom from the conjuror of  a traditional dish, inquiring into just how spices are used to create the nuances of flavour that determine precision in flavour.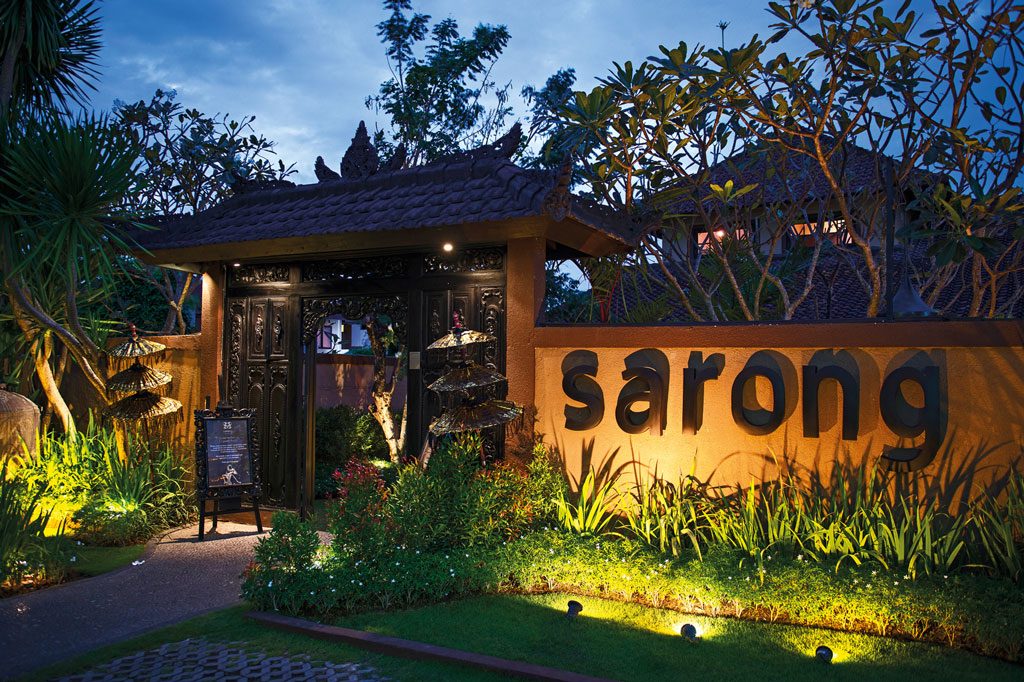 Alongside this adventuring on the menu, favourite dishes never seem to fall out of favour, it would be hard to imagine turning up to Sarong and not finding your favourite Pork Belly with Tamarind and Tamarillo or the world famous Butter Chicken, or heaven forbid, that the divine Indian themed Pavlova festooned with the sweetest of rose petals should disappear off the menu.
Time immune establishments are made like this. "Reliable, high quality, friendly, helpful, comfortable, satisfying and welcoming" are just some of the descriptions in online customer review sites. Even on pages where everyone becomes an instant instagramming independent food blogger,  Sarong is maintaining its discreet and powerful mastery in creating the perfect evening.
Sarong possesses the comfort of a club, the seating is deep and cushions are everywhere, the lighting is naturally dimmed for the evening with pools of warmth cast over tables to create intimacy. The bar is well stocked with wines, but in consideration of the prohibitive nature of import taxes the cocktail list proffers a lengthy list of aperitifs, long dinner drinks and after dinner palate cleansers like the classic Sarong Negroni or the Espresso Martini.
When NOW! Bali caught up with Will and his team recently we put forward the idea that maybe Sarong was certainly one of Bali's brightest jewels when it came to the island's fine dining scene. A hearty laugh ensued as Will admitted that his very first solo venture was a more of a nightmare at first, and with a great deal at stake he found it hard to comprehend how far Sarong would go. But as he continued it was clear that his vision for Sarong, what it could bring to Bali in terms of dining concepts, of the introduction of indigenous cuisines of Asia, of cultural history was there in the beginning. 
The very many guest chefs, some just invited to cook quietly for the experiences, others met with fan fare, and of his own staff making their way in the world to become at home in Hong Kong or to return home to their village to improve coffee production are just some of the growth positives that Sarong has created. "Awards are great, they really put places on the map, but that is not our measure of success". Will tells us, "Sarong is like a family that is always welcoming new members, our family expands with each new guest, each new staff member, even each new dish, yet we never forget or lose touch with the ones who move on, and that is better than any award, the existence of a large community of people who have enjoyed the Sarong experience from many different perspectives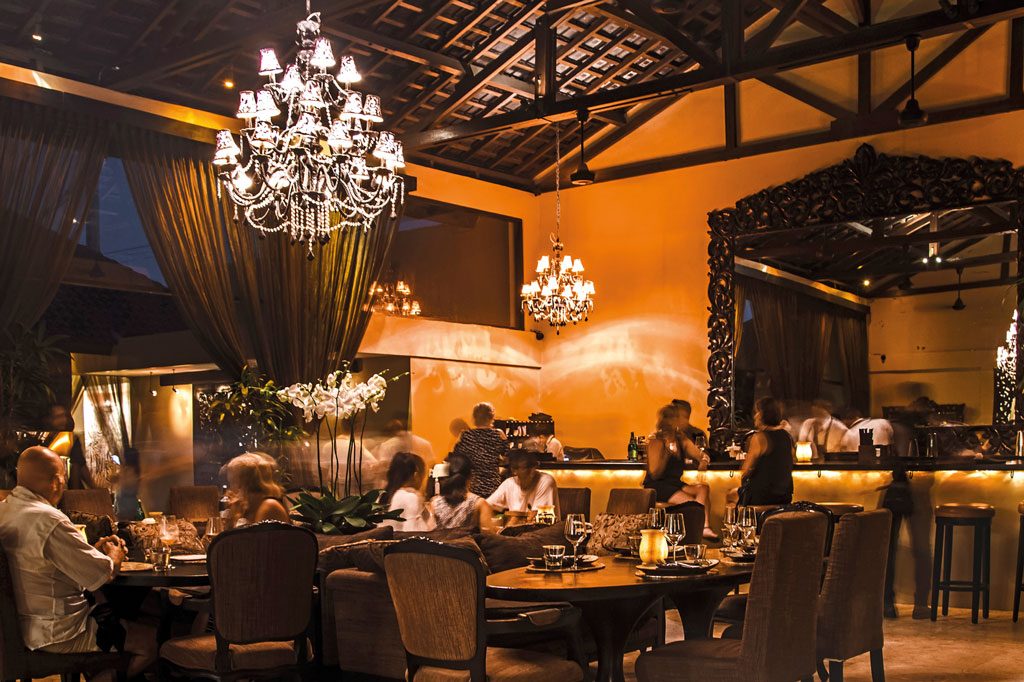 At NOW! Bali we remember with fondness attending the opening event, the very first evening Sarong opened to the public, we remember the special event that had us tasting pigs ear in a salad for the first time and tucking into the wonderful bone marrow volcano dish that travelled back from a trip to Sri Lanka in the company of some highly regarded International food writers, but what we like to recall more frequently and the reason we return are the times Sarong provides us with the elegant atmosphere, the exquisite food and the comfort to mark special occasions, negotiate our way through romances and support our celebrations.
Sarong by definition is a light wrap of fabric, and Sarong the restaurant has taken that definition to wrap itself elegantly around the zeitgeist of Bali's fine dining scene.