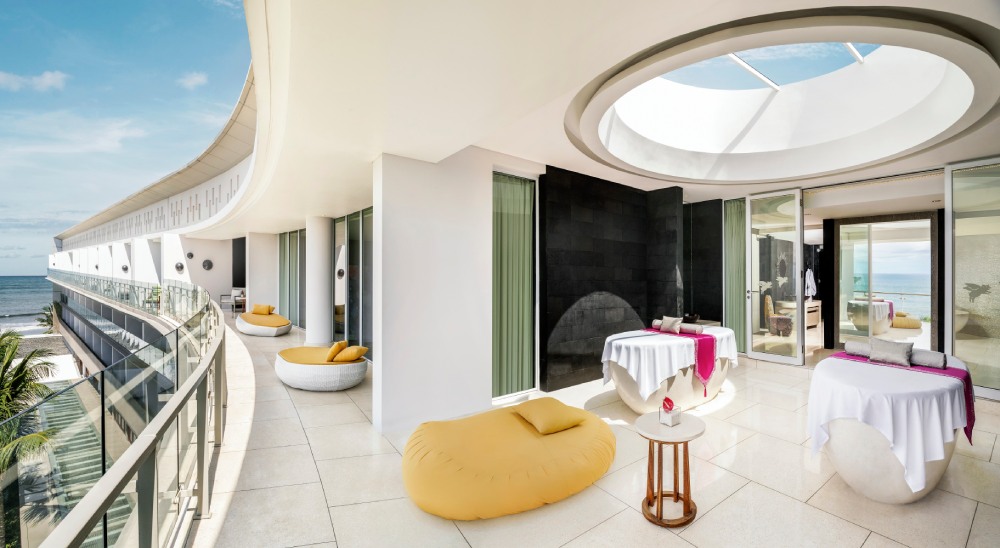 Perched atop the W Bali Seminyak's highest floor is a private, palatial accommodation. A secluded haven of luxury known as the EWOW Suite. On this issue's Room Raider, we explore the aptly named 'Extreme WOW Suite', a two-storey private abode that takes centre stage in the resort's main building, granting guests uninterrupted views of the ocean expanse.
W Bali – Seminyak is renowned for its luxurious lifestyle-driven concept, a resort that pulses with life and energy, seen through its music events, vibrant brunch experiences and all-around entertainment focus. The beachfront resort has consistently drawn in modern travellers with its tapestry of opulent rooms, suites and villas, but nothing quite compares to the EWOW Suite.
Accessed from the 4th floor of the resort, everyone who enters the 532 sqm sanctuary says the same thing, "Wow!" It is the penthouse of penthouses, a dazzling lifestyle destination in its own right, with décor and facilities to match.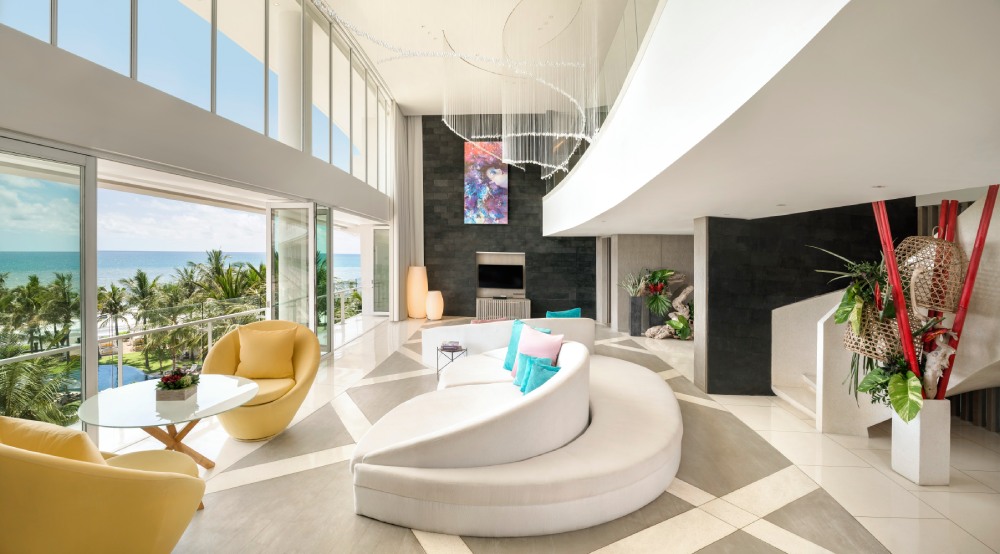 You'll be welcomed into the spacious living room, bedecked with a large multisided sofa and plush loungers, cutting-edge entertainment systems including a 55" flatscreen LED TV with AV output, DVD/CD player, iPod docking station, and BOSE® Surround Sound System, framed by window panels and sliding doors opening to the expansive balcony, spanning from one end to the other.
A striking crystal-embellished fixture hangs as a centrepiece on the ceiling, mimicking that of rainfall, elevating the sense of luxury through its décor. The suite seamlessly combines modern minimalism with classic charm, featuring wooden and terrazzo flooring, neutral tones and pops of colours in its furnishing and décor.
Walking over to the dining area stands an 8-seater wooden dining table and a terrazzo-embellished kitchen island. Guests staying at EWOW can hire a private chef to cook for them, making this the perfect place to host private dinner parties.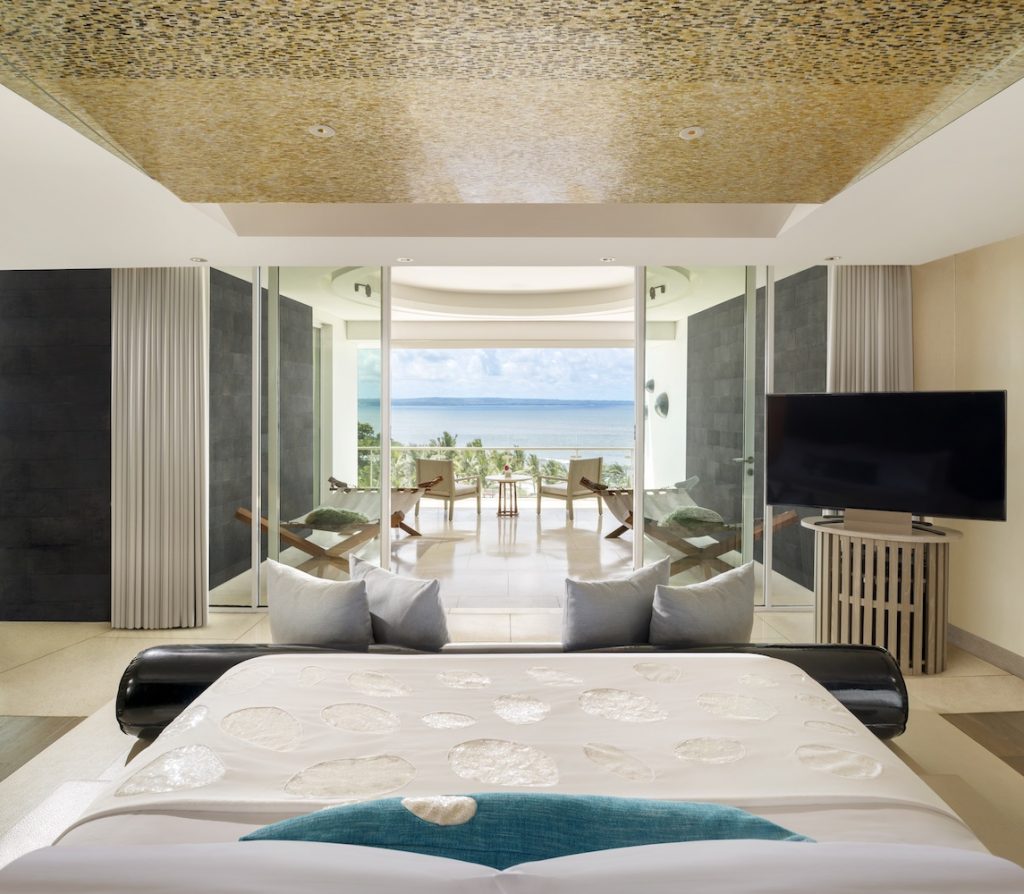 The EWOW Suite accommodates up to 5 guests, with two bedrooms offering top-tier comfort. The guest bedroom is located to the right of the entrance, featuring the signature W bed, with lavish bedding and plush pillows, an expansive marble bathroom with double vanities, and a separate shower and bathtub, the spacious guest bedroom has balcony access.
A spiralling staircase takes you to the upper-floor terrace, a mezzanine with views that capture both the exquisite living room below and the ocean beyond.
An office area, complete with a working desk, ergonomic chair and electrical outlet, leads you to the master bedroom. Featuring the same amenities, the king-sized bed is centrally positioned on a tiered platform and features a large walk-in closet, a toilet, and sliding doors that open to the balcony decked out with lounge chairs and hammocks.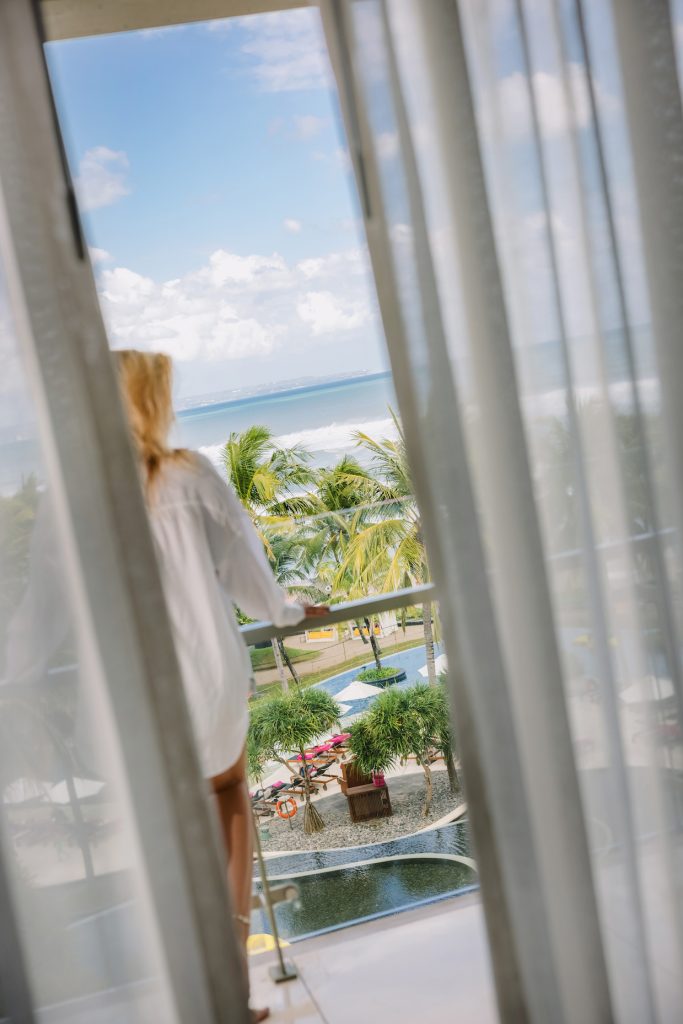 The master bedroom's balcony connects to the far end, which features even more lounging areas, as well as double massage beds where guests can request therapeutic in-room massages with front-row views of the stunning surroundings. Meanwhile, the primary bathroom can be found to the left of the staircase, where guests will discover a capacious spa-like bathroom with a natural skylight, a steam room, a standing shower, double vanities, and an oversized bathtub to unwind and soak in ultimate comfort.
Other facilities and amenities in the EWOW Suite include 24-hour room service, complimentary bottled water, and a minibar, while the kitchen features a pantry area, refrigerator, mini fridge, dish cleaning supplies, and silverware. It also features 8 phones, high-speed Wi-Fi access, and multiple TVs with international channels.
Living up to its name, a stay at W Bali – Seminyak's EWOW Suite guarantees a magnificent experience, with ample living spaces, top-notch amenities, and the promise of being treated like modern royalty.
W Bali – Seminyak
Jl. Petitenget, Seminyak
+62 361 300 0106
reservations.wbali@whotels.com | wbaliseminyak.com