If you have yet to visit The Healing Village Spa at Four Seasons Resort Bali at Jimbaran Bay, then be prepared to be transported to a tranquil sanctuary centred on the latest in global wellness practices.
Here, age-old wisdom is combined with modern awareness in innovative healing treatments under their seven pillars of healing attributes: water, community, gemstones, light, sound, plants, and love.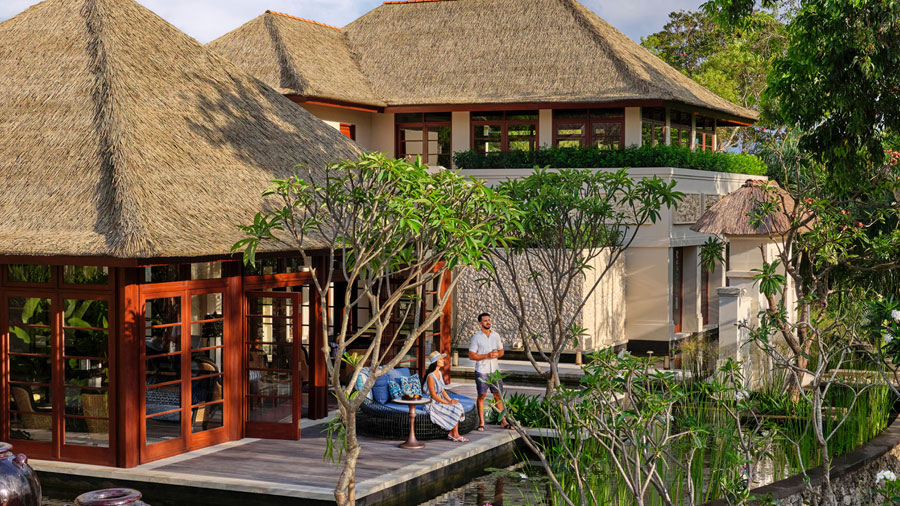 The Healing Village Spa at the prominent Jimbaran resort underwent renovations last year and reopened in September 2020. The spa centre received major upgrades from its previous 2,000sqm establishment to now comfortably nestle in a two-storey building that is 70 percent more expansive. On top of the infrastructural changes , the Healing Village Spa has implemented some soft changes too, by incorporating light, sound, thermal and colour therapy into their treatments.
The revamped Healing Village Spa features a contemporary Balinese design that encompasses 10, all-suite treatment rooms. This includes six double rooms for couples comprised of a private outdoor relaxation area, outdoor bathtub, and shower. The spa also features the Illume Room and the Longevity Garden. The spa uses products from ISUN, a dynamic skincare brand focused on a "quantum healing effect", which is derived from wild-crafted organic ingredients imbued with the power of gemstones.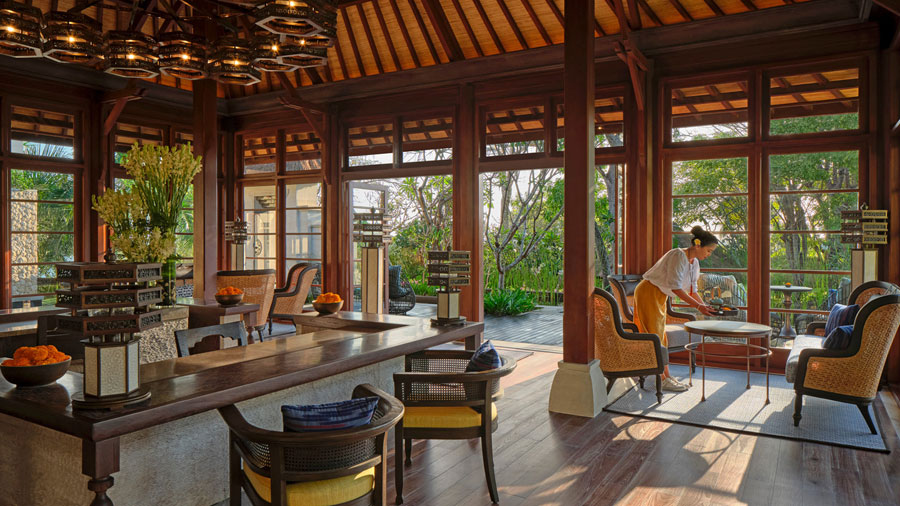 The Healing Village Spa features several highlights to ensure the healing of the body, mind and soul.
---
The Illume Room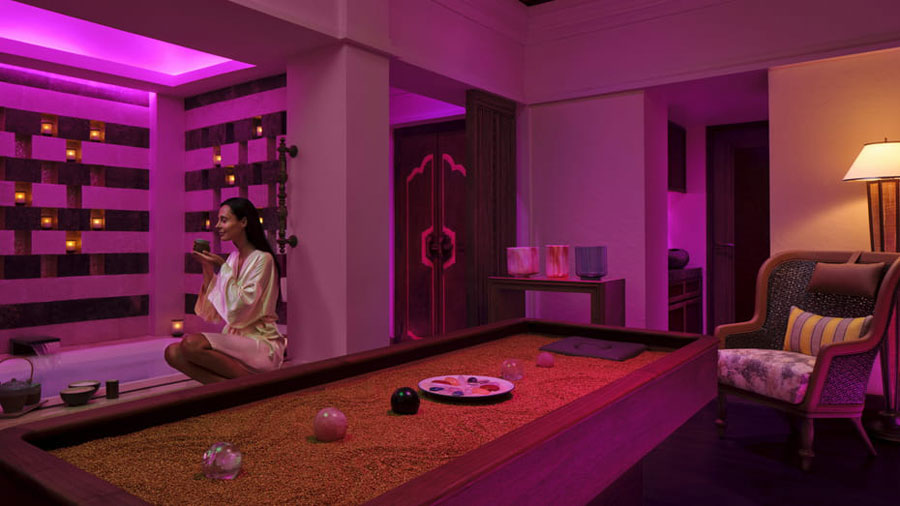 The Illume Room, which is the first surround sound spa suite in Bali, is a cross-section between the physical and metaphysical. Featuring a heated quartz-sand bed, which is made out of crushed crystals, it is utilised for inversion therapy and undulating massages. To maximise powerful colour therapy healing, it is sealed from outside sources of light. Designed with surround sound technology, the Illume Room showcases original music, "Sounds of Jimbaran", specially composed and recorded on-site for the spa. It also displays seven alchemy singing bowls, boosting the high vibrations of the uniquely designed room.
---
The Longevity Garden
The Longevity Garden is a place to purify in a peaceful, private steam room haven with views of verdant tropical gardens. Here, guests will undergo a thermotherapy process, including DIY salt scrubs and mud wraps, infrared mats to assist in absorbing minerals and extract toxins, sun-warmed stone loungers, and a refreshing ice bath. These are all mixed to ensure reduced inflammation, increased circulation and endorphins, as well as quicker muscle recovery.
---
Gemstone-centric Treatments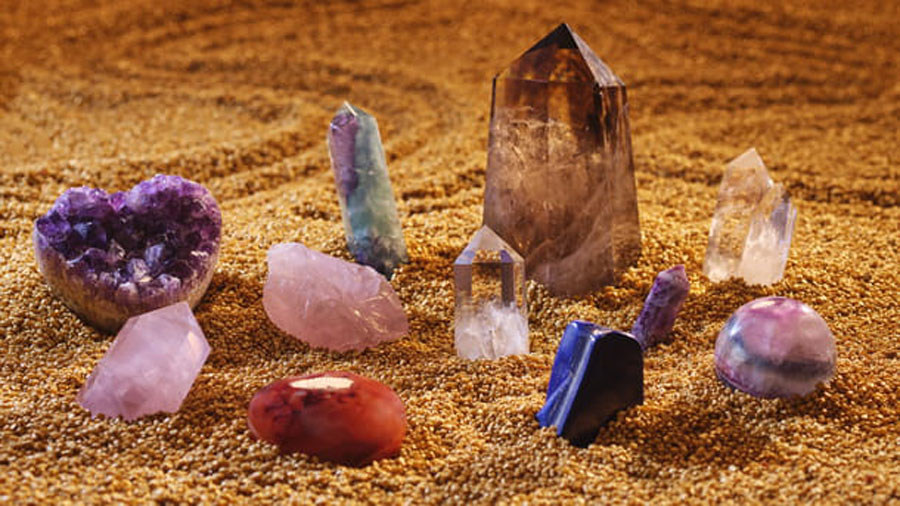 Treatments that utilise the deep-rooted properties of gemstones, something that has been valued in local culture for a long time and held in greater knowledge due to quantum physics research. The Gemstone Joy treatment, an exuberant ritual that employs resonant gemstone oils along with vigorous crystal massage wands that brings out a peaceful balance. The Celestial Light Facial uncovers radiant skin through the fusion of sound and light vibrations with crystal wands.
---
Vichy Showers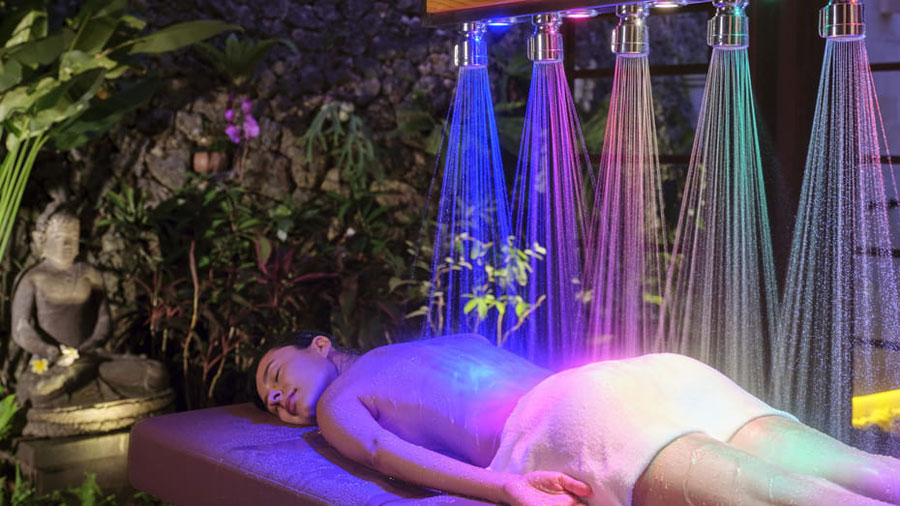 Boost circulation with a citrus-spiced oil and clay wrap, with 15 natural powders to aid toxin release. Let the vibrations of chromotherapy literally wash over you with a Vichy shower delivered through coloured beams of light, to tune your energy to the frequency of Mother Earth. A deep tissue massage completes this powerful, sensory experience.
---
Balinese Rituals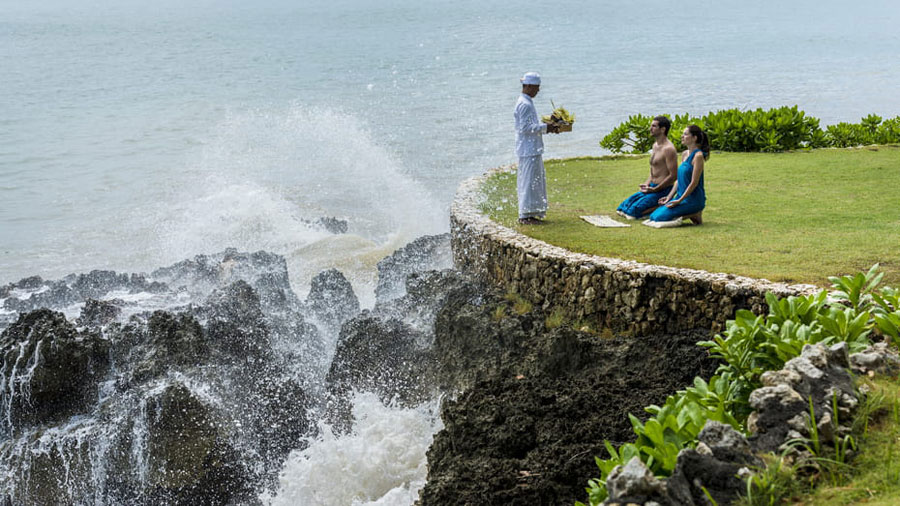 In honour of its island home, the spa also features a plethora of Balinese rituals. Give in to the wisdom of a centuries-old healing culture via oceanfront energy healing, classic yoga poses, traditional massage, a Balinese gong sound bath, and a flower blessing conducted by a Balinese priest.
Additionally, the wellness destination also showcases Rossano Ferretti Hari Spa, the only one in South East Asia. An exceptional addition to the spa village by world-famous hair care maestro, whose credentials include luxury salons across the world, from Milan, Mumbai, New York, London and Dubai. Catering to both local residents as well as Bali visitors, the Italian celebrity stylist is ready to work their magic using the Ferretti Method, a highly personalised technique that works with the natural fall of the client's hair and facial contours.
Climbing up to the spa's upper floor, guests will find the Fitness Centre equipped with cutting-edge fitness equipment along with magical ocean views. Personal trainers are available along with wellness programmes consisting of innovative yoga and mediation sessions. A year-round of visiting practitioners allow guests to experience private therapies with some of the world's leading experts, from Reiki and Clairsentience to Aura-Soma Colour Therapy.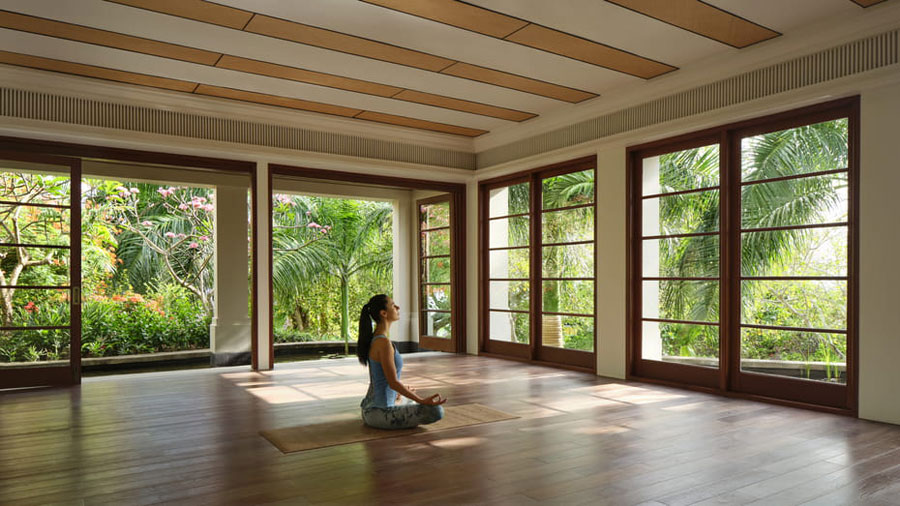 Moreover, Four Seasons Resorts Bali launched the Cancer Care Massage in 2021, a movement to repair misguided beliefs that restrained cancer survivors from experiencing the holistic benefits of massage. This comes after intensive training with a certified specialist, Christine Clinton, following the Standards Authority for Touch in Cancer Care, acknowledged as the national standards in the UK and Ireland for spas, salons and therapists.
The Cancer Care Massage is available as a 60-minute or 90-minute massage, which incorporates bespoke oils to relieve dry or radiation-irritated skin, release scar tissue and provide lymph support. The treatment is a tailored experience that is recommended during any stage of the cancer journey, from pre-treatment, during treatment or rehabilitation.
Therapists will go through in-depth consultation with guests during the first session to find out the type of cancer, treatment and side effects guests have so that they can adjust the treatment with the guests' condition. The treatments incorporate sleep therapy, colour therapy, sound healing, touch therapy, energy rebalancing, yoga, meditation and good nutrition.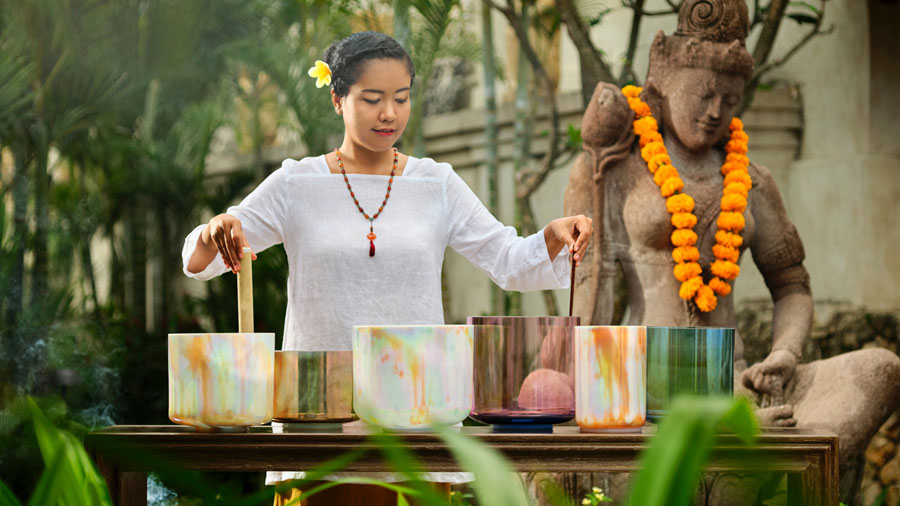 For more information, please call +62 361 701 010 or visit fourseasons.com/jimbaranbay
The Healing Village Spa
Four Seasons Resort Bali at Jimbaran Bay
Jimbaran, Kuta Selatan, Bali
+62 361 701 010
fourseasons.com/jimbaranbay