Like an eagle taken away through a nice explorative flight over the clouds, I was taken away by my experience at the Hotel Pullman Bali Legian Nirwana. It was after a usual day of work, as the sun was setting down on the horizon, that I was looking for something to do before heading home – I had earned a rest. I needed to go to a place where the environment and the people would allow me to do nothing but unwind. My colleagues and I ended up finding our solace at IP Rooftop Bar, a highly recommended place for a cool drink and a great view of Bali!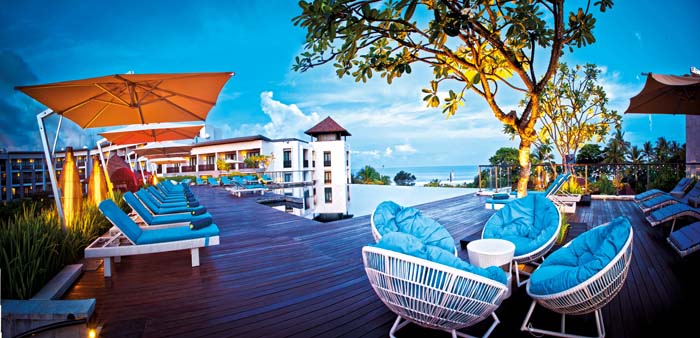 As I strode up towards the beautifully designed rooftop, I was happy to breathe in the fresh seaside air that surrounds the hotel. Upon getting to the rooftop, I was wowed by the attractive architecture and interior of the bar; simple yet very elegant.
Sitting at an angle from which I could clearly observe all directions, I glanced at the calm to the east and the blood red sphere, now sinking on the western horizon. I gazed at the calm azure waters of the Indian Ocean and took in the beauty of Kuta Beach. Perched up above the usually bustling Kuta scene, everything seemed to slow down. I didn't hear anything but the wind. The rush of the streets and noise of the crowds disappeared.
The drinks which graced the menu revealed just how fancy the drinking culture really is at this venue. Looking around I noticed people having a great time with their friends or lovers. The dishes being served on the tables looked exactly how they had been described on the menu, and the DJ played sunset tunes to suit the vibe.
All of a sudden, it was 7 o'clock already. As Michael Jackson said in one of his songs, "Like a comet blazing cross the evening sky… gone too soon," and so was the sunset. That was my cue to finish my drink and head home to my loved ones. As I waited for the elevator, I promised myself that I would come back here. IP Rooftop Bar has now become my little post-work haven, andI know where to go after a tiresome magazine deadline. Yup, sunset & sip.
Hotel Pullman Bali Legian Nirwana
Jalan Melasti No. 1, Legian, Kuta, Badung
Bali 80361, Indonesia
Phone: +62 361 762500
Email: H6556-GM3@accor.com