The Island of the Gods is not only a destination for culture and travel, but also for leisure and luxury. From a signature "Bloody Mary" treatment to four-hand indulgence and 300-minute plus rituals, these establishments know luxury and impeccably deliver it to any leisure seeker in Bali.
Luxurious spa pampering and wellness therapies are taken to an unprecedented and new level at The St. Regis Bali Resort. Previously known as Remede Spa and serenely nestled in the midst of a koi pond, the spacious Iridium Spa at the resort is dedicated to creating exceptional experiences.
Inspired by the Indian Poet, Kabir (1398-1448), who wrote 'the moon shines in my body", a moon and butterfly theme runs through the spa facilities, both in the treatment rooms and the main walking areas where, through the magic of lighting, butterflies actually seem to gently flutter around, creating an extended atmosphere of calm and relaxation.
Iridium Spa
The Iridium Spa offers a comprehensive menu of facials, massage and body treatments, as well as full salon services including manicures, pedicures, make-up, waxing and hair salon combined with signature touches creating an indulgent spa experience. The highly trained spa staff recognise that each guest, face, and body is unique and therefore no two facials or massages are the same. The spa therapists customise each treatment to ensure you receive the most appropriate, beneficial treatment to meet your individual goals.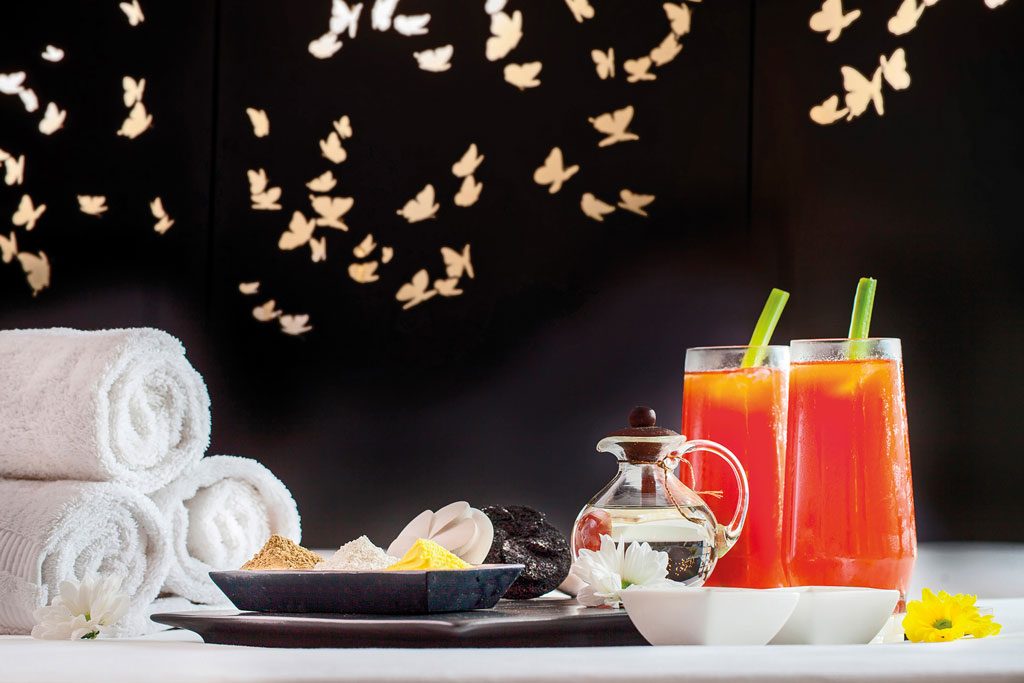 Customised massages are for relieving over-exerted muscles, or simply encouraging the mind and body to escape reality, incorporating specialty products and techniques essential to ultimate relaxation and rejuvenation. Massage therapists borrow from a variety of methods including, Shiatsu, Swedish, deep tissue and reflexology, enhanced with parafango to ensure the most complete massage treatment. The signature Lulur Experience of Indonesia includes gentle exfoliation with a paste of sandalwood, turmeric, ground nuts and rice.
Another signature ritual which pays homage to a timeless tradition is the "Bloody Mary". This signature ritual pays homage to a timeless tradition. Refreshing with a jolt, the treatment begins with a stimulating tomato, pineapple and wasabi reviver followed by skin purifying vodka tomato and clay body wrap. A detoxifying massage and an invigorating tomato vermouth and mineral salt bath follows, after which you can feel thoroughly recharged and revived, ready for your freshly shucked oysters in coriander tomato water, served in the spa gazebo. This signature treatment is a definite must for the 'spirited' spa seekers.
Iridium Spa
The St. Regis Bali Resort, Kawasan Pariwisata Nusa Dua, Lot S6, Nusa Dua
+62 361 847 8111
www.marriott.com
The Spa at The Bvlgari Resort Bali
A unique space, exclusive treatments – based on traditional Asian traditions and techniques – are the distinguishing features of the oceanfront Spa at the Bvlgari Resort Bali. The architecture reflects an overall contemporary approach to design combined with traditional elements such as an antique Joglo house from Java, dismantled and accurately reassembled at the site, as well as the same precious native woods extensively used throughout the resort. The Spa features a prevalence of water ponds and large windows creating a blend of surfaces and chromatic harmonies to offer a modern and relaxing environment.
A unique concept of service and traditional Asian techniques – enhanced by modern practices in physiology and natural products – ensure the most personalised and attentive care. The Spa menu has been conceived to offer a complete range of Balinese, Asian and European therapies. Treatments offered include Bvlgari Signature Experiences, Balinese and Ayurvedic rituals, intensive facials, body wraps and holistic massages, provided by an expert staff of professionals.
The exclusive collection of "Bvlgari Signature Experiences" includes The Unforgettable Double Bvlgari Royal Lulur, a royal ritual experience realised by four highly experienced therapists (two for each guest) who work in synchronised harmony to deliver a unique treatment that includes a body massage rich in exotic oils and herbs. Other signature treatments consist of the Hot Stone Therapy, where heated volcanic basalt lava stones are placed on specific energy points or Chakras inducing deep relaxation and dissolving stress; and the Holistic Back, Face and Scalp Massage designed to re-hydrate the skin and release tensions using special hot stones and aromatic oils.
Each treatment or package begins with a Balinese foot ritual, while organic tonics such as tamarind juice or hibiscus ice tea are offered to guests to complete the Spa experience. The after treatment choice includes ginger and coconut cookies. A complete menu of Spa cuisine is also available.
The Spa at The Bvlgari Resort Bali
Jalan Goa Lempeh, Banjar Dinas Kangin, Uluwatu
+62 361 847 1000
www.bulgarihotels.com
Away Spa
De-stress like never before at AWAY® Spa, where you can turn off the world and emerge rejuvenated, revitalised and back in the game. Let's face it, your skin needs some love, and true relaxation is more than skin deep. From full body timeouts to sensational treatments to surprise your spirit, this W Bali spa will whisk you 'away' from it all whenever you need it — they are open 24 hours daily to keep you feeling and looking your best always.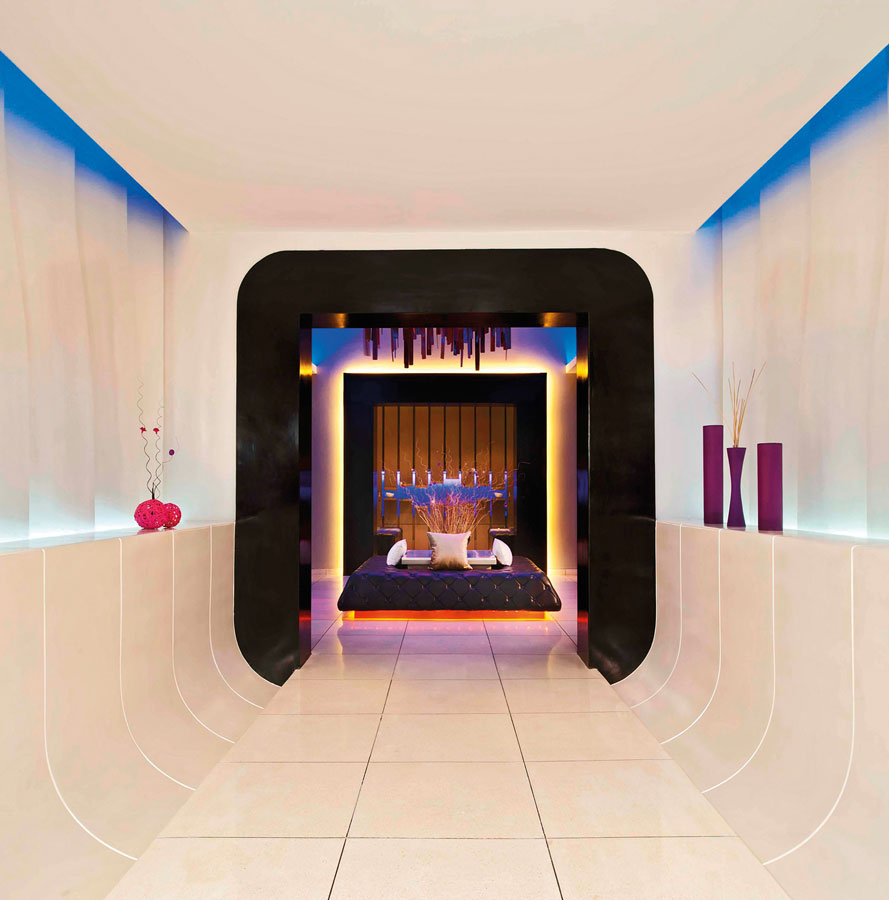 With an extravagant spread of indoor treatment areas for total privacy and complete renewal, an extraordinary vibe welcomes you to explore sensory delights set against vivid colours, playful scents, imaginative sounds, energising light and detoxifying potions. Discover a gorgeous array of spaces, each highlighting local architectural details and design, as you succumb to natural healing therapies sensationally performed by superstar therapists.
The spa comprises three single treatment rooms with meditation platforms, two double treatment rooms with vitality baths, two spa suites with wet and dry treatment areas, a facial room, a hair salon and a mani-pedi lounge. Got more time? Then pause and indulge in the spa's 6.5 hours treatment where you'll be treated to a series of rituals with champagne and lunch in between.
Before and after your appointment, kick back in the separate male and female changing rooms with hot stone bath and a cold jet set vitality pool. A chill bar and decompression (detox/oxygen) lounge redefine escaping the limelight, even as you sport a post-treatment megawatt smile.
AWAY® Spa
W Bali – Seminyak, Jalan Petitenget, Seminyak
+62 361 3000 106
www.marriott.com