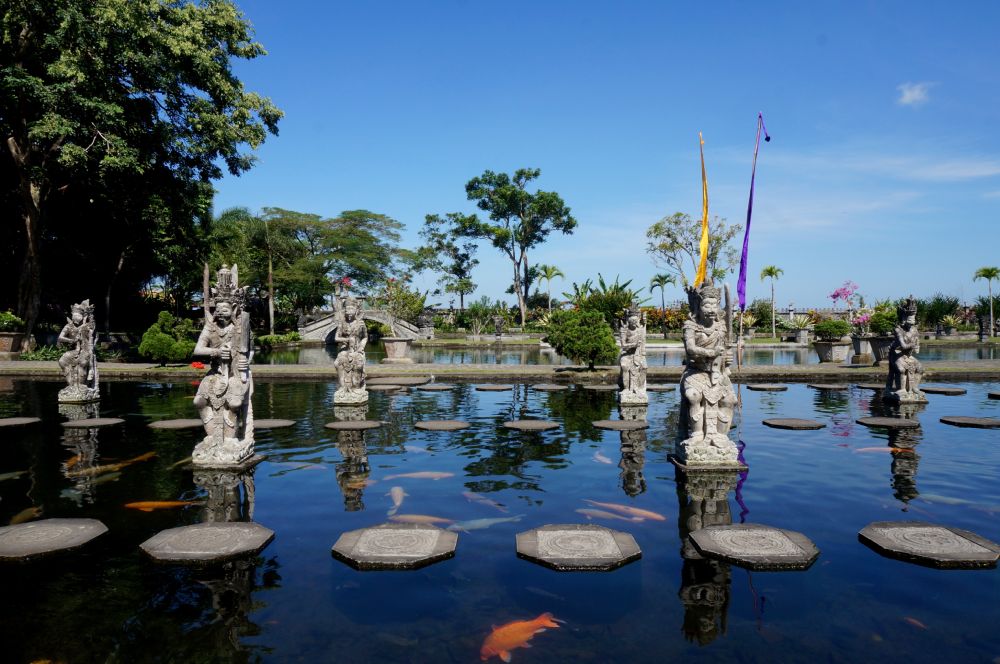 On the borders of Amlapura, Tirta Gangga is one of the most distinct and recognisable places in Bali, a place where history meets leisure, and architecture meets nature. This estate, built in 1946, is the sister site to Taman Ujung, also built by the King of Karangasem.
Stepping into the one-hectare water palace complex, the atmosphere of authentic royal grandeur will instantly become evident for every visitor. Being a posh noble, who was also an advocate of beautiful architecture and an art patron, the king himself was the architect of the water palace who worked in the mud together with his labourers, digging out the pools and ponds.
Today, the water palace's labyrinth of pools and fountains surrounded by a lush garden, stone carvings and statues is one of the most photographed places of interest on the island. The water palace, meaning "Water of the Ganges", displays a unique blend of Balinese and Chinese architecture as portrayed in the palace's centrepiece, an eleven-tiered, pagoda-like fountain. It has been rebuilt and restored after the property was almost entirely destroyed by the eruption of Mount Agung in 1963.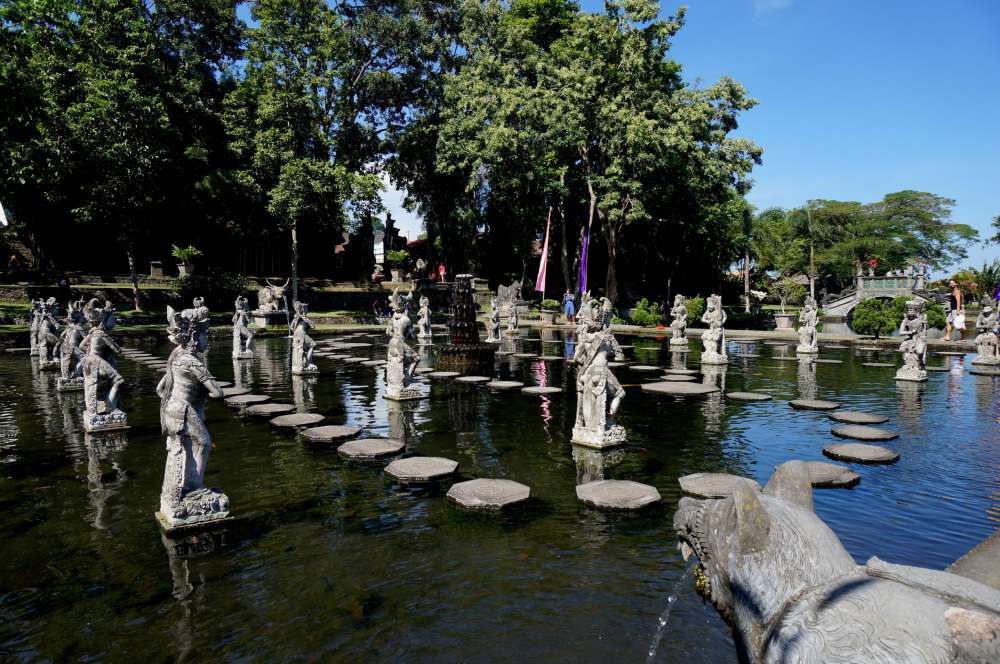 Comprised of three separate areas, this royal bathing-cum-relaxing complex now allows every visitor to get a taste of the life of Balinese royals. On the first level of the water palace, the part of the property that is probably the most eye-catching, visitors can find two large fish ponds with dozens of Balinese statues and beautifully positioned stepping stones for everyone to wander through the pools. The second is where two spring water swimming pools are located, where visitors can access the swimming pools and take a dip. On the third level, you can find a restaurant and bungalow units; this area used to be part of the water palace where the king built his country home, affording breathtaking views of the palace's water features below and the verdant surroundings.
The water of Tirta Gangga has always been regarded as holy and is regularly used for religious temple ceremonies. During important celebration days, Tirta Gangga is the destination of colourful processions with offerings, umbrellas, flags and other tributes. Led by the local temple priests, ceremonies are held in the spring, accompanied by chanting and the music of the 'Beleganjur', a gamelan group of small gongs with each musician striking a specific, different note on the musical scale, all blending in harmony.