Water is the most perfect traveller because it becomes the path itself when it travels. Sometimes we need to follow a path to undertake the most beautiful journey of our life. There are innumerable paths in Bali that will lead you to untouched places, and if you push yourself a bit harder to really explore the secrets that Bali has hidden far away from the commercial tourists, you will discover these places. Tukad Cepung Waterfall is one of these places that you might want to consider putting on your travel checklist.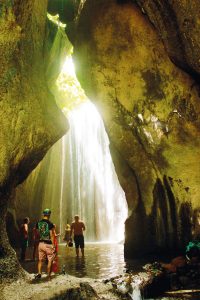 Located 30 kilometres north-west of Ubud, you will witness a rare view of a waterfall that should not be missed. Though there are plenty of waterfalls worth visiting in Bali, Tukad Cepung Waterfall is one of its kind. If you are coming from Denpasar, you can reach Dusun Penida Kelod in Bangli by car or motorbike in about two hours. Local buses leaving from Denpasar can also drop you at Bangli, and then you can trek your way to Tukad Cepung Waterfall. Alternatively, you can book a one-day tour with one of travel agencies or hire a private driver who is familiar with roads in Bali.
Tukad Cepung Waterfall still remains as the best virgin waterfall of Bali. The fact that this spot is not known to a lot of people and still not under the commercial tourist spots, you are not under any obligations to pay anything to enter area. However, since the area is well-maintained by the local villagers and some of them contribute in showing and/or explaining the waterfall to the visitors, it would be kind if you gave a tip so they can continue to maintain this hidden spot.
Tukad Cepung Waterfall has mesmerized everyone who have managed to spot it. Well-guarded by the cliffs, this waterfall is difficult to locate for the first time visitor. A few hundred stairs down the cliff is worth the effort once you arrive at the destination. The circular cliffs give you the feeling of being in a cave, while the open sky right from where the waterfall emerges, gives you the most enchanting view. The sunlight falls on the glistering waterfall creating a rainbow, which feels as though it is projected right up to you. If you have never seen water flowing from the sky, then this would be your chance. Unlike any other waterfalls in Bali, Tukad Cepung Waterfall does not flow into a river, stream or jungle, but it flows gently down the cliffs. The river can be seen from up above, meanwhile the waterfall can only be viewed once you walk down the stairs and into the cliff.
Since the water gets accumulated within the cliffs, it gets really deep during the rainy seasons. For that reason, it is not recommended to visit Tukad Cepung Waterfall during monsoons. But during other seasons, you can stand and observe the water neatly flowing down and making a narrow stream inside the cliff. This place is comparatively cooler and offers an immense sense of peace and tranquillity.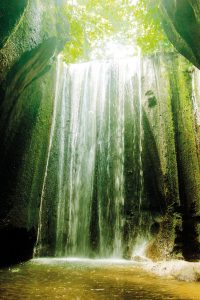 Bring your bathing suits when you visit this place because once you see this magical waterfall, you will most definitely be tempted to go in and embrace it. You will find some of the visitors standing under the waterfall and having a good time splashing water. Since the place is well-maintained, you should expect to see a clean and hygienic surrounding area. Try to live in the moment by relaxing near the waterfall, listening to the water flowing and gazing at the amazing rainbow of colours created by the sunlight. There is a quote, "Many quiet rivers start from noisy waterfalls, but none of them jumps and does not foam up to the sea. But it is often a sign of great peace of mind, and hidden forces." You will feel every inch of this saying once you see or rather absorb the beauty of Tukad Cepung Waterfall.
After several hours of being one with nature, on your way back home, you can make a few stops around the area. Tukad Cepung Waterfall is close to Pura Dalem Penida Kelod, which also known as the Temple of Death. It is a place of pilgrimage for those seeking protection from sickness and evil. You can also pay a visit to the old temple of Ratu Gede Pancering Jagat in Trunyan, which is famous for its megalithic 4-meter high statue and the "Barong Brutuk" dance performance. If you wish to take away some local souvenirs, the roads around Kintamani offer you a good local shopping experience as well as eating spots. You may need this after a day-long trek in Bangli.
WATERFALLS NEARBY
Two more waterfalls in this area are Tibumana Waterfall and Kanto Lampo Waterfall. Tibumana Waterfall is a 20-meter high twin waterfall with a calm shallow pool beneath, while Kanto Lampo Waterfall is a newly formed waterfall which flows through the lush forests of Bangli. You can follow the forest trail not only to enjoy the waterfalls but to stop and fish for eels and other small fish. You can also visit a cave which is normally used for meditation by local people. All these activities are interesting treks for family with little kids.
Tukad Cepung Waterfall
Dusun Penida Kelod, Bangli